Beach Mats are a must-have if you want to enjoy soaking in the sun and get that perfect tan during the summer season. A lot of people complain about developing allergic reactions on the beach because of long hours of exposure to the sand. Having a beach mat with you will ensure that your skin is not exposed to the sand directly or any allergy, rashes causing particles.
There are so many beach mats available for buying online; however, sometimes, too many options could be the challenge.
In this review, we will discuss various about top 10 affordable beach mats that are in demand this year
Best Beach Mats to Buy in 2023
10. ISOPHO Beach Picnic Blanket For Adults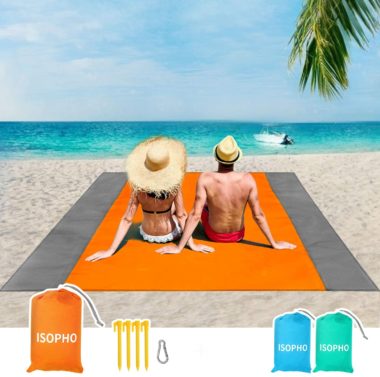 This sand proof and waterproof extra-large size beach mat is a one-stop solution for all your beach vows. The oversized mat from ISOPHO is lightweight so that you can easily pack it up and carry it along. Further, you get a sand-resistant and moisture resistant beach experience, nothing else but tan.
Since the mat is waterproof, it becomes effortless to clean it with just a cloth piece. We further delved into understanding the fabric behind this waterproof and easy to clean beach mat. The material used is 210 T Parachute Nylon, which is an undisputed leader in the beach blanket category. Further, the material is skin-friendly and retains the cool texture even after hours under the sun.
Above all, if you are thinking about how to clean this extra-large beach mat, then simply put it in the washing machine.
Key Features
Oversized beach mat is elementary to pack when you are going for a beach picnic with your family
Its lightweight and easy to clean fabric makes it an obvious choice for beach holidays and enjoying the tan season.
In case of rain, the beach mat can also be used as a rain shelter, making it a multipurpose piece and value for money.
9. WolfWise Picnic Blanket with Waterproof Backing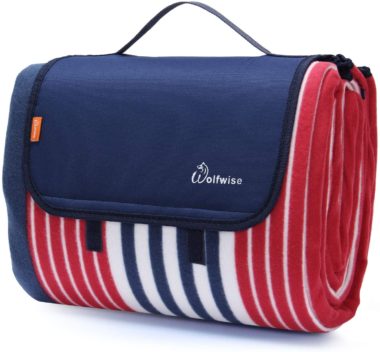 How about getting a waterproof beach mat, which is the family size, and comes with a waterproof backing sounds like all in one. WolfWise Picnic Blanket is ideal for using on the beach, indoor, and any terrain. You don't have to worry anymore about the fabric of the mat before leaving your toddlers to play and on it. This Picnic Blanket is made of skin-friendly material that can even be used in the kids' room.
While the material on the top is smooth, the bottom is made of waterproof PEVA to ensure that the mat does not absorb moisture from the sand or grass. Backpack the mat worry-free and go hiking, beach picnic, backyard plays, beach events, and so on.
Key Features
Safe for the kids as the material used in the mat is eco-friendly, non-toxic and super soft
Comes with a waterproof backpack to ensure safe storage of the mat after every use
Waterproof bottom made of PEVA keeps the top dry and moisture-free making it ideal even for indoor use
8. Angemay Durable Thick And Skin Friendly Portable Beach Mat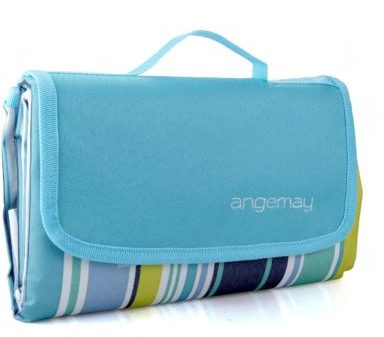 If you are looking for a tear-resistant Beach mat holiday, then consider your search ending with this beach mat from Angemay. Not only, this beach mat is oversized but also easily foldable, making it a perfect fit for outdoors.
Since outdoor usage means higher exposure to the harsh environment, dust and dirt Angemay has taken special care in selecting the material. To retain the softness, the mat is carved out of soft polyester, and the underside is waterproof.
Further, the mat is quite easy to clean, which means you do not have to think twice before leaving your kids to play on it. Moreover, it can be used frequently for outdoor trips and carried around worry-free in the backpack.
Key Features
The super soft and sturdy material makes it perfect for use in both indoor and outdoor set-ups
Easy clean on both surface and underside adds to the low maintenance feature of this beach mat
The mat is sand proof and, therefore, perfect for using on Beach holidays without any worries.
7. Bear Outdoor Compact Pocket Picnic Beach Mat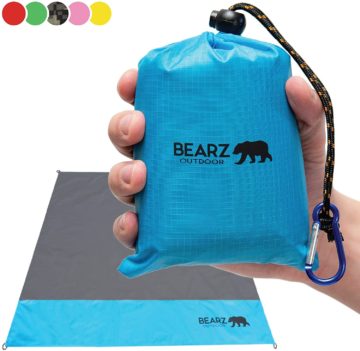 This ultra-compact but all-purpose Beach mat cum blanket from Bear is all things adventure. Easy to carry and very durable for all sorts of outdoor activities, this blanket is made of puncture-resistant material.
It's incredibly compact size makes it perfect for carrying along everywhere, even when you are not explicitly going for hiking etc. The idea is that you can simply toss this palm-size waterproof blanket in the back of your car.
Making it even more practical to use, the corners of the blanket come with four pockets on all sides. You can fill the corners with stone or sand to keep the mat in place.
Key Features
Palm-sized mat is easy to carry around and carry with the rest of the luggage without having to carry an extra packing
It is puncture resistant, therefore, making it multipurpose such as rain shelter
Corner Loops and pockets ensure that you can use camping stakes or even manage without it
The lightweight and easy to hold pocket-sized blanket comes in a range of bright colors
6. ABETER Dual Layer Mesh Technology Waterproof Beach Mat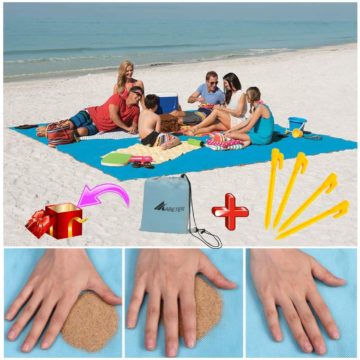 What we liked the most about this Beach Mat is its dual-layer mesh technology, which allows the sand to fall free from the mat, keeping the entire area clean. Of course, the last thing you would want is to get soaked in the sand instead of the sun, and this waterproof Beach Rug just takes away your vows.
Features like waterproof, dual mesh layer, easy to clean, and wash make it a strong contender in our buy list. Additionally, the lightweight and compact size of this beach mat sure take away those extra brownie points.
Key Features
Sandproof fabric of the mat makes it convenient for outdoor events, beach holidays and hiking
Four nails on each end make it easier to fix the position of the mat and easy to use
The bottom layer of the mat prevents any sand particles coming from underneath
5. WildHorn Parachute Nylon Breathable Beach Blanket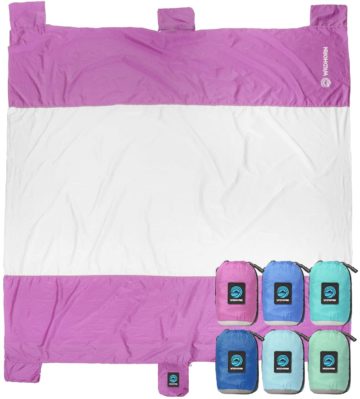 Oversized when opened and compact to carry, this beach blanker from WildHorn is perfect for beach holidays and outdoor events. One of the best features of this beach mat is the parachute nylon fabric, which makes it durable for several years.
Not just that, but the pockets on all four sides with two additional pockets also ensure that the mat stays in its place. Take the mat outdoors worry-free as the sand would not stick and can be washed away or just shake it off.
Key Features
Multiple pockets patented design ensures that you safely store all your valuables while relaxing
WildHorn Beach mat is suitable for the entire family, therefore, taking out the headache of carrying extra mats.
The fabric can be washed off after every use and quickly dried, guaranteeing low maintenance and longer life.
4. Roebury Washable BPA Free Compact Beach Blanket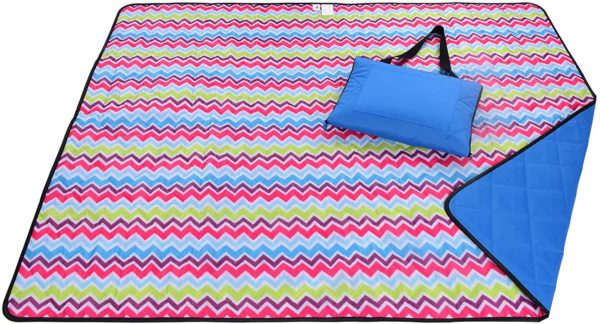 If you are looking for a durable and good quality Beach mats for the entire family, then this product suits your needs. For those who are worried about kids' exposure to harmful chemicals can take a sigh of relief. The oversized mat does not contain any toxic chemicals and is both BPA and smell free.
Moreover, the tote bag which comes along with this beach blanket makes it easy to carry anywhere, worry-free. You can take along this mat not only on the beaches but also events, festivals, outdoor concerts and so on.
Key Features
Perfect for the entire family and even kids as the mat is free from BPA, chemicals, and smell
It can be used for most of the outdoor events from hiking to concerts and festivals
The inner lining of the mattress dusts off the sand particles quickly
Easy to carry a tote bag that can be carried on the shoulder as well
3. Wekapo Triple Stitched Durable Anchored Beach Mat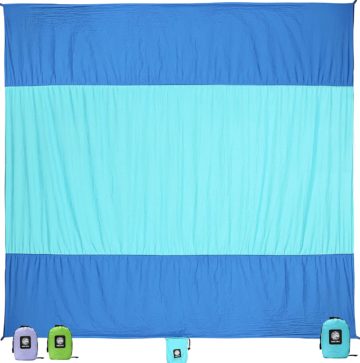 A super durable and sturdy beach mat with a triple stitched layer, this is an all-weather mat. Use it for your entire family on the beachside to soak under the sun or just double it up as a rain shelter. The material used for this blanket is ripstop nylon, which is known for its strength and easy maintenance.
Additionally, the fabric is both breathable and lightweight, and the little droplets of water left behind after wash will dry up quickly.
Key Features
The vast size of the mat makes it comfortable for the entire family to sit and relax
Wekapo beach mat is heat resistant, moisture resistant and sand resistant
Lightweight and the compact mattress comes with six metal stakes for anchoring loops
2. Wellax Quick Dry Nylon Fabric Beach Mat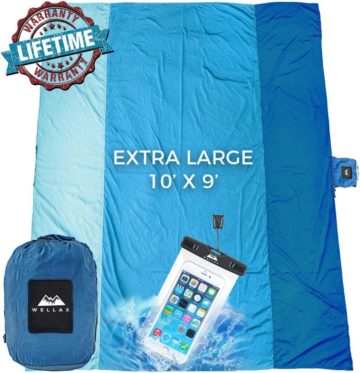 Make your camping extra comfortable and luxurious with this oversized and soft beach mat. Apart from being water repellent and easily washable, this beach mat from Wellax is also anti-heat and durable. Unlike other Beach Mats, this one is built-to-last and is perfect for all outdoor activities from beaches to outdoor concerts.
Moreover, the four pockets on each side ensure that the mat does not get carried away with the water or sand.
Key Features
Waterproof case for storing the beach mat makes it easy to carry and also enhances durability
Beach Mat is made of RIP-STOP nylon fabric which makes it sand and water-resistant
Four Sand pockets to ensure the placement of the mat without slipping away with the waves
1. Camco polypropylene weave Weather Proof Beach Mat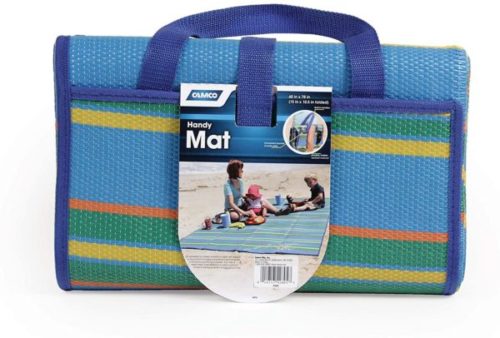 Perfect for outdoor events, beach holidays, concerts, and hiking, this beach mattress from Camco is durable and easy to maintain. You need not worry about the weather outside as the mat is made of durable polypropylene weave, perfect for all weather.
In addition to the above features, this mat is also easy to clean. All you need is some water and soap to clean the mat correctly.
Key Features
Made of Strong, weatherproof and durable material ensuring better usability
Built-in handles and convenient pockets on either side of the mat keep the belongings safe
One of those Beach Mats that are oversized and comfortable for four adults on any occasion
There we have the list of Sand resistant, and all-weather Beach Mats curated for you. Select the one that suits your needs perfectly without compromising on quality and features.