Cabin tents are the best tents for outdoor use, mainly in the woods, since the tents are crafted with weather-resistant materials plus are easy to set up. These types of tents are also quite spacious to provide enough space on the interior for crowd sheltering. The cabin tents come in different styles where some can fit four people, and others are extra-large to fit up to12 people.
So, which are the top best cabin tents on the market right now? In this article, we will review the top ten best models you may need to look at.
CORE 9 Person Instant Cabin Tent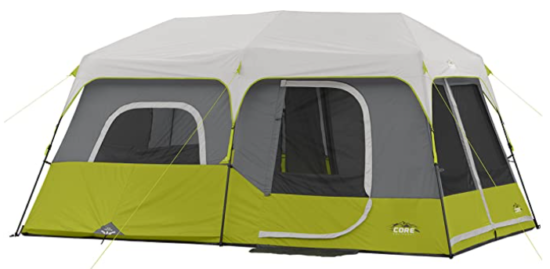 If camping is among your New Year resolution, you need to get this Core cabin tent for your shelter needs. The Core tent is quite large since it can fit around nine people and two queen-sized air mattresses. Setting up this tent is smooth as it has an instant set up design. No need to deal with multiple tent poles set up when assembling it.
This is a tent for all seasons since it has the quality and weather-resistant materials. The canvas repels rainwater to secure you during the rainy season. The tent has an electric cord port if you want to install power in the tent or connect a fan during the sunny days. The tent covers feature the zipper closure design for easy access in and out.
Special features
This tent comes with a waterproof rain flyer
Setting up the tent is quick and easy
Has electric cord port
The tent comes with room dividers for privacy
Wenzel 8 Person Klondike Tent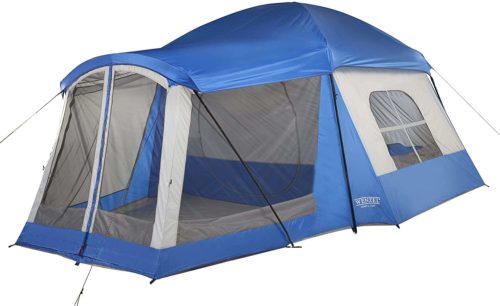 If you are looking for a versatile cabin tent that you can use when watching sports and other outdoor activities, this model is a great choice. The tent has screen walls on the side that provide good visibility of the exterior without showing off the interior. This tent has a T shaped door with zipper closure for smooth accessing inside and out.
This cabin tent is mainly recommendable for use during the summer seasons. It allows excellent airflow and natural sunlight, so you dot necessarily need to use power even at night. However, the tent is also safe to use during rainy days as it comes with a removable roof flyer to secure you from rainwater.
Special features
This tent has durable fiberglass poles
Setting up the tent is easy since it comes with all accessories
Have mesh walls for good visibility
This tent can fit up to 8 adults
Coleman 8-Person Tent for Camping

Create a comfortable shelter outdoor for your family or friends using this cabin tent from Coleman. The tent is ideal for all around the year since the cover has waterproof crafting to secure you from rainwater in the winter seasons. The tent also comes with an extra rain flyer roof to ensure no rainwater can penetrate the interior. This cabin tent is more of a house than a tent due to its design.
It features the swing door mode to access the users in and out of the tent smoothly. Apart from providing a large interior room of 16 x 7 feet large, this tent has extra storage pockets where you can store your small essentials for easy access.
Special features
The height of the center pole measures 6′ 2feet high
The tent comes with extra anchors for optimal support
Pitching the tent takes 15 minutes
Has waterproof polyester cover
Ozark 10-Person 2 Room Cabin Tent
This is a quality family camping tent worth investing in. This cabin tent from Ozark is quite roomy on the interior since it can fit 10 people. The tent is comfortable to use in all-weather climates since not only does it secure users from rainwater, but it has large side windows that allow free flow of air for breathability and natural light inlet.
This tent will, for sure last you for a long time, thanks to the quality and premium material crafting. The side covers are made of durable waterproof 68D coated polyester fabric, while the poles have fiberglass materials.
Special features
This tent fits two queen-sized air mattresses or ten people
The tent has electric cables for easy cables connection
It comes with a carrying bag
This tent comes with dividers
KAZOO Family Camping Tent Large Waterproof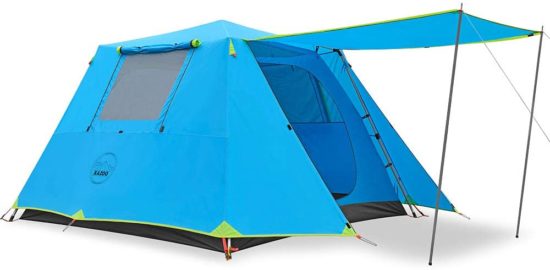 A pop-up tent is always a good option for people who don't want to go through the hustles of setting up an outdoor tent, and this model from KAZOO is evident. The cabin tent is easy to set up such that a single person can do it. However, it has a large interior which can fit around 4, 6 to 8 people, depending on the extra accessories you are tagging for the trip.
The poles of this cabin tent are made of strong and stable alloy aluminum materials, while the covers have double-layered fabric to secure you from the harsh outdoor elements. You don't need to struggle with natural light while in this tent as it has mesh-like windows on the sides.
Special features
This tent comes with a 2-year warranty
It has a beautiful and unique design
Setting up takes at most 30 minutes
The canvas walls have double layers for security
KTT Large Tent 8~10 Person, Family Cabin Tents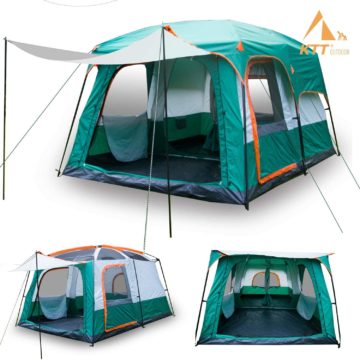 With a floor space of 106.25 square feet all around, this is a multifunctional tent that you can use for adventure activities and for holding guests at home as well. The tent is large to accommodate up to 10 individuals. It is crafted with quality materials that do not interfere with one's comfort. For example, some tent parts have high-density mesh covers to allow breathability and good outdoor visibility. The tent is still safe to use during rainy days since it has double-layered polyester covers that are well seamed on edges to secure rain penetrating the interiors.
No need for your guests to squeeze each other, trying to access the interior or outside the tent since it has three access doors. This tent is safe and comfortable to use in the woods since it secures one from outdoor weather elements and bugs as long the doors remain closed. Besides, it has side anchors, so you don't need to worry about the tent getting blown away by the wind.
Special features
This tent can fit up to 10 people
The tent is waterproof
Features three doors for easy access
Has mesh cover on the side for breathability
Coleman Cabin Camping Tent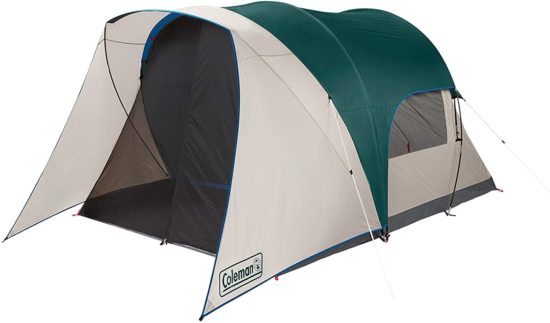 Traditionally, this tent is crafted to fit four-person, but the screen porch adds 35 percent space to fit six people. This tent has premium polyester covers with excellent sealing to secure you from bugs and weather elements so you can enjoy your stay outdoors.
This tent comes with a detachable rain flyer on the roof area for that extra protection from rainwater. When it comes to stability, this tent has strong poles for efficient stability. The tent can withstand areas with high winds of up to 35mph.
Special features
This tent comes with a 1-year warranty
The package comes with a carrying bag
Has excellent ventilation for breathability
Measures up to 6 feet tall
Columbia Mammoth Creek 6 Person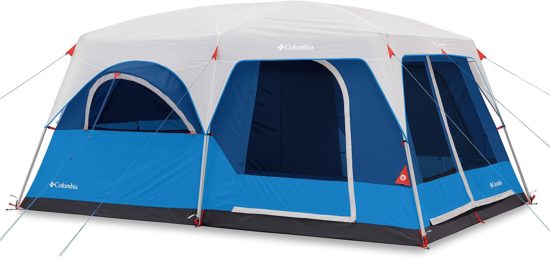 This cabin tent is quite spacious as it has a straight wall design that adds more space on the sides. The tent is easy to pitch since it does not involve a lot of steps. It has pulled up/down windows for easy opening and closing.
Apart from providing security on the top area, this tent comes with flooring to ensure no moisture can get to your beddings. The advanced Omni-shield coated fabric ensures no wetness can get inside the tent for the users' safety.
Special features
This tent is quite spacious
It can fit up to 10 people
The tent has fiberglass poles for reliable stability
The tent has pulled up/ down styled windows
Timber Ridge Camping Tent for 6 Person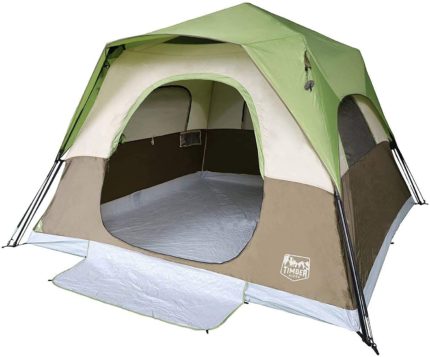 Have some fun and quality time with your friends away from home with this amazing cabin tent. The tent is recommendable for six people and provides great security from the outdoor weather elements. The tent is easy to set, and ideal for all weather climates. You can use the tent during camping, hiking, and picnic activities.
You don't need to worry about the wind sweeping your tent away since it comes with extra outer anchors to add stability and support to the tent.
Special features
This is a versatile outdoor cabin tent
The tent is suitable for six people
Setting up is easy
The tent comes with flooring
Coleman Prairie Breeze Lighted Cabin Tent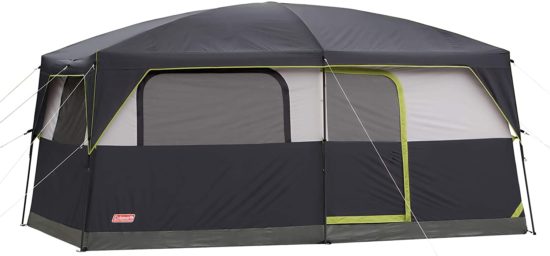 What stands out on this Coleman cabin tent is the inbuilt LED light for illumination. So, you don't need to stress buying multiple lights to equip the tent at night. This tent also is quite spacious and features a house structure to provide a warm and comfortable space for your family.
The interior space of this tent is large to fit up to 9 people. If you wonder if you can tag the tent when going camping in winter, then the answer is yes! The tent has the weather Tec system and rain flyer that ensures no rainwater, even a drop can access the tent's interior parts.
Special features
The tent comes with an inbuilt LED lamp
Can fit nine people
The poles are made with quality fiberglass materials
Conclusion
These are the best cabin tents to consider buying for all your outdoor activities. The tents have weather repellent materials such that you can use them in different seasons. These tents are made in different sizes; thus, consider the number of people who will use the tent so you can buy the right size. Check this useful equipment best tent stoves while performing your outdoor stuff.