Exercise is important in everyone's life. The busy and digital life of ours tends to occupy a lot of time. However, that's no excuse to not stay fit and delve into an unhealthy lifestyle. So, having certain exercise equipment at home is always smart. One such piece of equipment is a folding weight bench that is going to keep you active. Include it in your daily exercise routines and attain the fitness goal that you have been looking for.
In case, you are looking for a folding weight bench review, then you have come to the right place. We aim to review all the top products with full honesty and so, know our view.
Why do you need an adjustable folding weight bench?
The next thing that you need to check when you are going for a weight bench is the degree of adjustment that your bench provides. Some benches have very little maneuverability while in others you can adjust the backrest among 7 levels and the seat among 4 levels. While the latter is the best possible option, it again depends on the kind of workout you are likely to perform and thus should choose accordingly.
Who can use a folding weight bench?
If you are into working out regularly and like bodybuilding, then you know the importance of a good weight bench. It is the constant companion that helps you to maintain proper posture as you conduct the many workout exercises. Whether you are a pro or a beginner, if you are thinking of getting a workout bench for your home, there are certain factors that you need to carefully monitor. Basically, if you are buying a workout bench, you have to decide on the kind of exercises you are going to perform and then choose a bench accordingly
Top Best Folding Weight Benches in 2023
10. Flybird Foldable Bench for Strength Training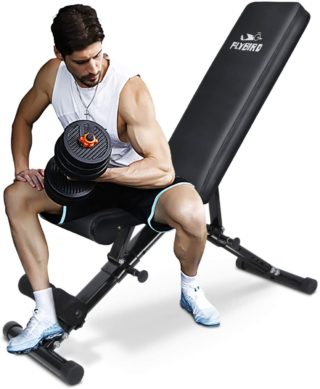 The Flynbird Bench for Strength Training is an excellent option to go for when you are looking for weight training benches. This bench is of steel frame and is quite capable of supporting 620 lbs of weight, your body weight included. Next, it is easy to adjust and assumes multiple positions to aid you with all kinds of home workout routine. The Flybird workout bench assumes a very compact structure when folded- it folds completely flat. This makes it easy to store this bench in horizontal or vertical directions.
The foam padding on the bench is also quite comfortable and aids you in your workout. When fully opened in an upright position, it occupies 49.2-inches in height, 15.7-inches in width and 44.5-inches in depth.
Key Features
This foldable bench with its durable steel frame weighs a small 37.35 lbs allowing you to easily carry it around.
It is a commercial product that one can use in professional spaces.
The auto lockable nature ensures full security while working out.
9. Marcy Utility Workout Bench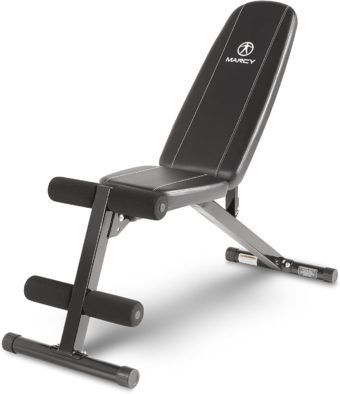 Certainly, ideal for a beginner to working out, it is an affordable and durable adjustable bench for your home gym. This is a relatively cheaper weight bench with an impressive design that allows you to do multiple workout routines. The seat on this workout bench is not adjustable but the back can be adjusted to assume 6 different positions for different sets.
Furthermore, the bench is also loaded with super thick foam pads for the knees and ankles. These pads allow you to get a lot of exercises done that other workout benches do not permit. The bench has a solid construction with powder-coating but it can also withstand a lot of loads.
Key Features
At only 30 lbs, this bench is a lightweight option with a durable frame that could last you a long time.
The feet come with padding that ensures a non-slip action while also protecting the flooring.
It will simply fold flat when one isn't using it.
8. RitFit Foldable Weight Bench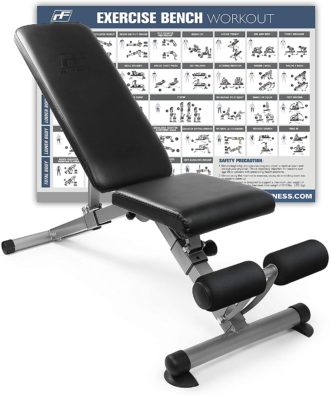 The RitFit Foldable Weight Bench could become your ultimate friend in helping you shape your body. This foldable bench comes loaded with a chart describing 36 different exercise positions. As a result, you can start the moment you unpack it. The bench has a weight of 36 pounds and is composed of an entirely solid frame. The seat on this weight bench is adjustable between four different positions. Hence, allowing you much versatility in exercising.
Given that, the ankle support is heavily padded to give you maximum comfort as you work out. The support is also adjustable to meet your needs efficiently.
Key Features
The added half-crescent supports just below the crossbar on the front add extra stability making it wobble proof.
It is suitable to do all kinds of exercises where you may be lifting the heaviest of weights as it supports up to 510 lbs.
You can attain 5 different positions when going back and 4 different seating positions when working out in it.
7. Finer Form Flat Bench Foldable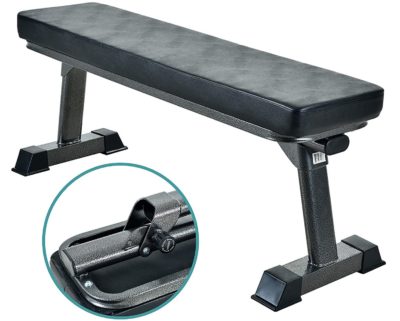 If you are someone who lifts heavy and is looking for a sturdy bench to support you and your weights, then goes for this. This is a very dependable device given that this bench can support up to 1000 lbs of load. That is some serious weight to think of! This is a flat bench unlike the other benches on the list but its durable and sturdy nature has given it a spot. In fact, this is the best bench you can buy if you are planning on lifting heavy.
Moreover, it also comes with a 3-inches thick foam padding. It allows you to exercise comfortably without any undue pressure. Lastly, it is so impressive that it is capable of taking a weight capacity of 1000 pounds
Key Features
When you fold it down, this bench will fold entirely flat. This makes this bench very easy to store when you are not using it.
The bench covers an area of 45-inches x 12-inches and is at a height of 18.5-inches from the ground.
It certainly proves to be ideal for abs exercises.
6. Gymenist Foldable Bench for Workout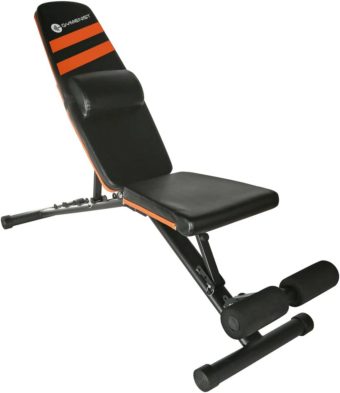 Indeed, a versatile piece of workout bench for your home gym arrangement, then you will find this to be quite the contender. This is a super lightweight weight bench at only 29.95 lbs and is very easy to carry around with you. The bench allows for all kinds of exercise routines with great stability. This is because of the end caps loaded on the feet. Hence, they can be rotated on an uneven floor to give the bench extra balance.
Given that, it also has very comfortable ankle support that makes it easier to deal with lots of exercises. You will also get a curved, ergonomic cushion with this bench. Thus, you can use it as a support for the neck or back or wherever required.
Key Features
The carry handle added to this is a terrific addition and makes transportability with this bench so much easier.
When the bench is fully laid out it covers a space of only 34-inches x 18-inches x 10-inches.
It comes fully assembled and so, you do not need to waste your energy on assembling it.
5. Finer Form Multi-Purpose Weight Bench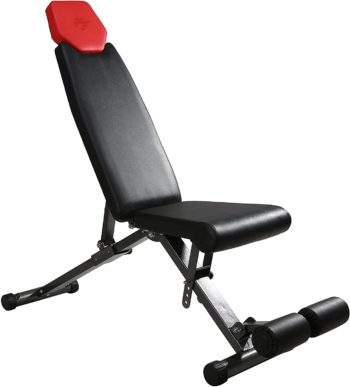 If you are tall and cannot seem to find an appreciable workout bench to suit your needs, you can check out this brilliant option. The vest feature behind would be its taller backrest- like it is designed for the sake of taller people. This weighing bench comes in entirely solid construction that can withstand a load of up to 660 lbs. Well, this means that you can easily lift all those heavyweights with this bench too.
The backrest can be adjusted between 8 different positions to meet the requirements of different workout routines. Finally, it has a width of 10-inches to adjust the person's body. Besides, it covers 34.5-inches in height and 14.3-inches in depth.
Key Features
This has a completely solid construction of steel for bearing the heavyweights and usage.
It has a weight of only 32 lbs making it easy to transport.
You can fold it easily for convenient storage.
4. Ativafit Foldable Workout Bench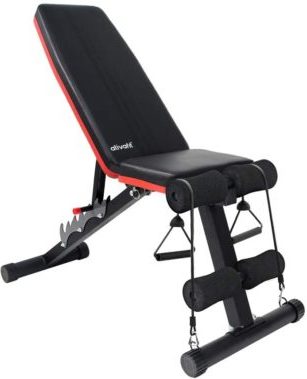 This is a real lightweight bench that can help you around with most of the basic workout routines. This bench is designed for the purpose of low weight workout and not designed for a heavy workout. And thus poses some limit to versatile use. A promising feature about this workout bench is that you can attach removable resistance bands to it. This small detail further enhances the type of workout you can perform with this bench.
Given that, the bench also has one of the shortest dimensions when it is folded down. This makes way for very easy storage options allowing you to store it in even the smallest of spaces when not used.
Key Features
It is designed to support up to a load of 330 lbs including your body weight.
This is one of the most lightweight benches that you can ask for weighing only 22.5 lbs.
It comes with foam padding for keeping you comfortable even while working out.
3. Doufit Multi-Purpose Weight Bench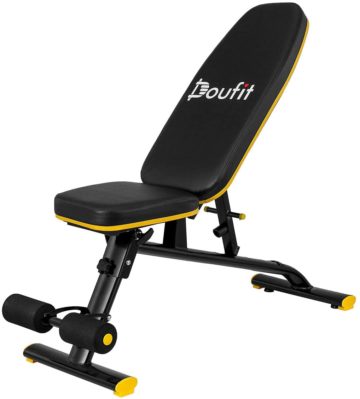 The Doufit Multi-Purpose Bench could be called an all-rounder when it comes to workout benches. This is a truly admirable device to have in your home gym setup. The backrest loaded on this bench can be tilted at 6 stages starting from a 120-degree incline. Plus, it will be going all the way to full-flat orientation. The seat is adjustable between four levels to attain maximum usability out of the bench.
Moreover, the seat and backrest are so designed to take up the contours of your body and give an ergonomic fit. This makes way for more comfortable working out situations.
Key Features
If you are looking for the most comfortable and well-padded seat and backrest in your workout bench, then this is the rightmost choice for you.
It is also paired with a triangular frame that greatly enhances its sturdiness and durability.
The pipe framework is very adaptable to support heavy weights by easily distributing them throughout the bench body.
2. ADVENOR Weight Bench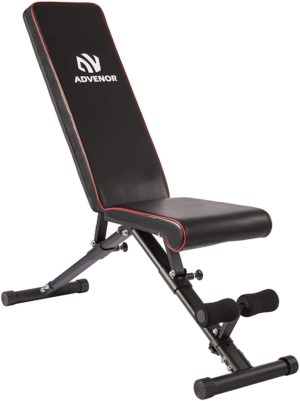 Certainly, a bench that will help you with tons of exercises in a comfortable manner, you can try the ADVENOR Weight Bench. This bench has a construction of a steel pipe framework and is designed to support loads of up to 800 lbs. Next, the bench is lined with 2.2-inches thick foam padding. Thus, providing your back with a comfortable place to lie on as you work out.
The bench is foldable when you are not using it. Since it folds down completely flat, it becomes very easy to store this weight bench. The backrest is adjustable between 7 positions and the seat between 3 positions. Therefore, offering you a wide range to conduct different routines.
Key Features
Its powder-coated steel pipes are resistant to corrosion and rusting and will last a very long time to come.
The feet are loaded with anti-skid caps that also ensure that they won't scratch and damage the floor.
Features an extra-wide seating area at 12-inches allowing you ample space to comfortably carry out your workout routine.
1. MCNBLK Foldable Weight Bench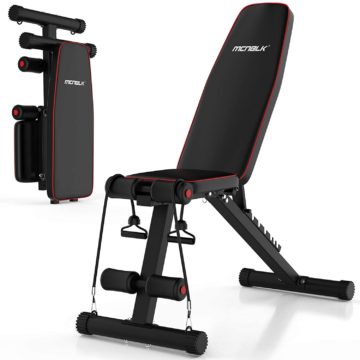 The MCNBLK Foldable Weight Bench is a cheap and good solution for beginners as well as for pros. This is a simple bench with a good design that allows you to safely do all your exercises and lifts. The backrest loaded on to this bench is adjustable. And you can set it between 7 levels to get the arrangement that you need. The bench is loaded with thick foam padding to ensure a smooth and comfortable workout session.
When you buy this appreciable bench, you will also get resistance bands included in the pack. This helps you around with lots of strength exercises.
Key Features
This weight is not designed for extremely heavyweight workout routines given that it can only support loads of up to 400 lbs.
The 1.8-inches foam cushioning provides extreme support when working on it.
What are the important features of a folding weight bench?
The very first thing that you need to check when going for a bench is the load that it can support. Though most benches are made from steel or iron rods, the load that they can support varies greatly. If you are planning to lift heavy loads, it's important that you go for a bench that can support the load of you and the weights combined.
The supporting structure is also very crucial as the bench will see heavy loads. You should always go for strong and sturdy materials such as iron and steel which are less likely to falter. Make sure that the feet of these benches are lined with non-skid rubber to grant them extra stability. The rubber also ensures that the bench will not accidentally scratch your floor.
The last thing to consider when looking for a workout bench is the price of it. If you believe that you will get a really remarkable and sturdy bench on paying a little bit more than usual or your allotted budget, go for the call. When you are working out, the quality of equipment is very important such that you maintain proper posture and do not hurt yourself accidentally. If a few bucks extra can guarantee, you should always take the leap.
Final Verdict
You will certainly not miss any more workouts as these folding weight fitness benches will help you stay in proper shape. So, no chance of missing any gym sessions in any way.