When it comes to the best outdoor chairs, timber ridge chairs will always win durability, comfort, and even ease to transport. These chairs are great to use at the pool areas, garden, patio, and other outdoor spaces. You can tag them when going for outdoor activities like camping or picnics. These chairs are mainly made with metal or steel materials with polyester and other strong fabric paddings.
Some models are adjustable at the backrest to offer great support while seated. However, note that the timber ridge chairs have a weight limit. So check out the weight limit the chair can hold when buying it for safety and durability. Below are our top ten best choice models in 2023.
Best Timber Ridge Chairs Review
Timber Ridge Zero Gravity Chair Oversized Recliner Padded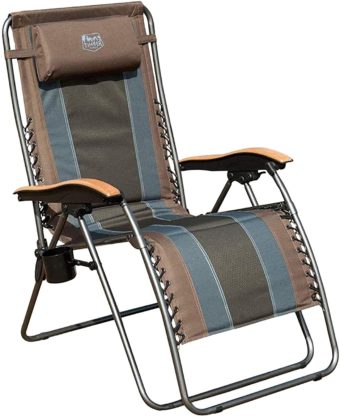 Whether you need some ridge chairs for your patio or tag when going camping, this is a good option to consider. The chair has an oversized style to provide enough sitting space, including for large individuals as well. This ridge chair is constructed for outdoor use since the materials can pretty much withstand the outdoor elements. The tubes feature stainless steel materials resistant to rust and corrosion.
The seat and the backrest are made with polyester fabrics for comfort and support. The chair features the reclining mode, which is easy to adjust using the available lever. Your comfort is further guaranteed on the backrest section since this chair comes with a padded headrest where you can relax your head while lying down to take a nap.
Special features
This chair can support 350 pounds
Has weather-resistant materials
The chair reclines for total support and comfort
It comes with one year warranty
Timber Ridge Director's Chair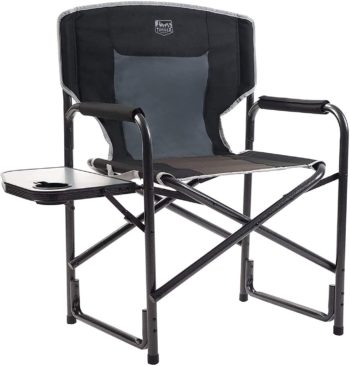 Enjoy some quality time outdoor by relaxing on this timber ridge chair. The chair is quite comfortable and strong such that it can support a person weighing up to 300 pounds. The chair comes with a side tray essential for placing your drink or a food plate while eating.
This ridge timber chair is perfect for people who love fishing, camping barbecue as convenient to pack to carry. The chair features a foldable form, plus it is light as well. It is comfortable to sit on for long as it is padded all around, including on the armrests.
Special features
This chair only weighs 6.7 pounds
It is foldable for convenient carrying
The fabric materials allow free flow of air
This chair can hold a weight of 300 pounds
Timber Ridge Camping Rocking Chair Padded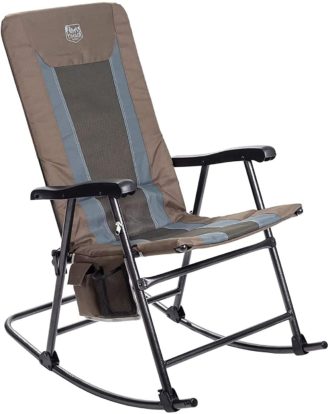 This is pack and goes type of chair since it is foldable for easy stacking in your car and weighs limited weight for smooth portability. In this case, the ridge chair is a great choice for people who love camping and other outdoor activities. This chair is designed to provide great comfort since it has a locking mechanism that provides an ergonomic sitting angle for all.
This is also a great choice of a chair if you are outdoors with your baby since you can get them to sleep by rocking him/her on the chair. The frame and fabric paddings are made with high-quality materials that can hold a weight of 300 pounds.
Special features
This chair has steel tube frames
The chair is resistant to outdoor weather climates
The chair has polyester padding
Has an ergonomic rocking mechanism
Timber Ridge Camping Chair Folding Heavy Duty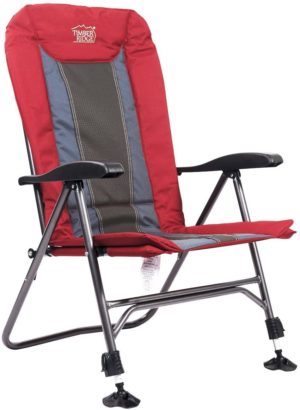 I would recommend this chair for people who love fishing since it provides an excellent resting area as you wait to catch the fish. The chair has weather-resistant materials, one of the reasons it is safe to use in water areas. The chair has an adjustable backrest so that you can set it up at the most convenient leaning angle.
You can opt to sit upright or lie down to take a nap on the chair. The legs extend from 15.5 to 21.5 inches high to provide great sitting height for all people. This chair's frame is made of metal materials that have a coating to safeguard it from rust and corrosion.
Special features
The backrest of this chair is adjustable
The legs are adjustable in height
This chair can be used by a person weighing 300 pounds
It comes with one year warranty
Timber Ridge Camping Chair 400lbs Folding Padded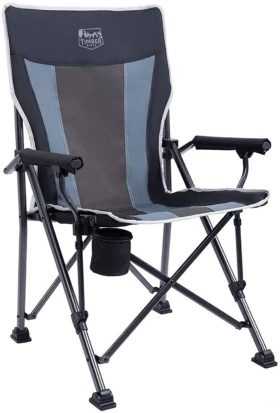 You don't really need to drain your savings to buy family camping chairs, as this timber ridge model is quite affordable. However, the chair's quality and durability are still intact, considering the frame can support a person weighing 400 pounds. Another feature that stands out on this chair is the high back design.
You don't need to strain your back when leaning on it, a great feature for tall people. This chair is reliable for all outdoor activities ranging from fishing, camping, hiking, and for those who enjoy holding barbecue parties in the garden.
Special features
This chair comes with a cup holder
It can carry a weight of 400 pounds
This chair is fully padded
This timber ridge chair is quite affordable
Homall Zero Gravity Chair Patio Folding Lawn Lounge Chairs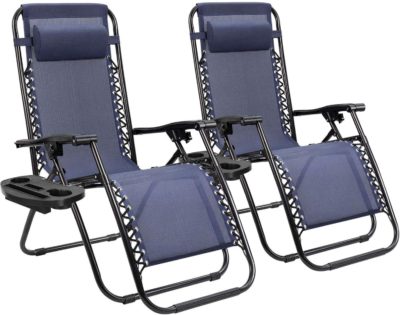 Once you purchase these chairs, all you need to do is find the most comfortable space to set them up since they come fully assembled. The chairs are made with premium materials that withstand the outdoor climates. Therefore, it is safe to leave the chairs outdoors. These chairs are the best to use away from home since they offer a comfortable and safe resting space.
They are fully padded on the seat up to the backrest. Thus, you can comfortably lean on the chairs to take a nap. Besides, the chairs have a reclinable backrest to suit people who may need to adjust the back support.
Special features
The chairs' backrests adjust up to 170 degrees
They can hold 300 pounds each
These are multifunctional outdoor timber ridge chairs
The chairs do not require any assembling
Timber Ridge XL Padded Zero Gravity Lounge Chair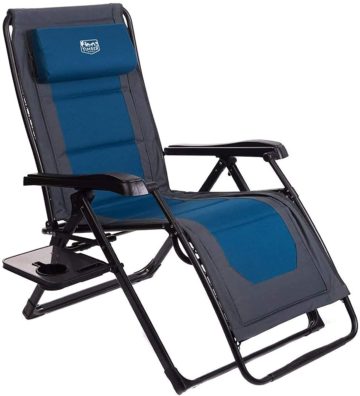 This chair is made in an oversized design to ensure the user is comfortable while relaxing on it. This timber ridge chair is perfect for carrying outdoor activities like fishing, camping, picnic, or if you need chairs to use on your patio. The chair provides a great relaxing surface, and it is adjustable on the backrest section.
So, you can set the chair to sit upright or lean on it. The chair has a patented locking system that secures your adjusted angle for total comfort. You don't strain to access your drink or cup of coffee from the ground as this chair has a cup holder that accommodates most sizes of cups and bottles.
Special features
This chair can carry a load of 350 pounds
The backrest reclines
The chair comes with a 1-year warranty against manufacturing defects
The chair has a cup tray
EVER ADVANCED Oversized XL Zero Gravity Recliner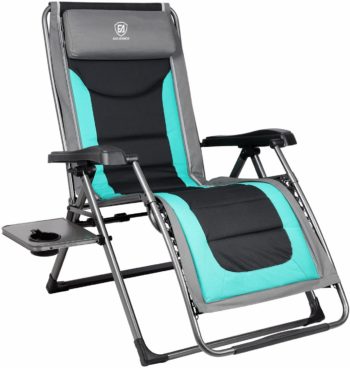 This oversized lounge chair can comfortably hold a person weighing 350 pounds. The frame features stainless steel materials with a coating to secure the chair from damages; thus, it is a reliable outdoor chair. This chair is made in an ergonomic style; hence, the great comfort it provides.
The backrest can recline to different angles, and it has an adjustable headrest that provides great support while leaning to nap. This chair comes fully assembled for you. So, you just need to unfold it and set it up to use. The chair is ideal for all outdoor adventures since it is comfortable and easy to tag along when traveling.
Special features
This chair offers lumbar support
Can carry a weight of 350 pounds
The headrest is adjustable
Setting up is easy as it does not need assembling
Timber Ridge FC-630-68080 Zero Gravity Locking Outdoor Lounge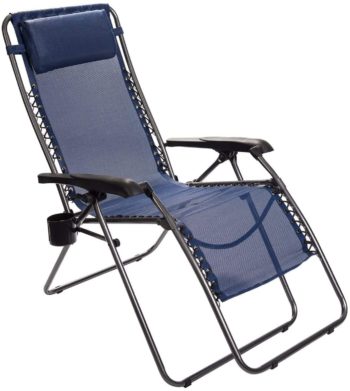 Get it now on Amazon.com
Chill with your friends or family on this reliable timber ridge chair model. The chair adjusts at different angles, so you can get the most comfortable sitting position when basking under the sun. This chair is comfortable to travel with since it is foldable to a compact size, so you don't squeeze the space in your travel track.
It has a steel frame with polyester padding on the top. Both these construction materials are durable and resistant to outdoor weather damages. Besides, this chair is quite strong to support a weight of up to 300 pounds.
Special features
This chair comes with a side cup holder
The backrest adjusts to several positions
This chair also offers lumbar support
The chair is foldable for easy carrying
PHI VILLA Padded Zero Gravity Lounge Chair
This is an ultimate comfortable timber ridge chair for outdoor areas. The chair is perfect for the patio, swimming pool area, or you can carry it when going for outdoor activities. The chair has quality materials construction such that it can hold a weight of 300 pounds.
It is made of strong alloy steel materials, plus polyester padding on the seat and the backrest attached with bungee cords that are quite strong. This chair has extra padding on the headrest to ensure you have great comfort and head support when leaning on it.
Special features
This chair features an attractive design
Has strong material construction
The chair has great padding
It is portable
Conclusion
The timber ridge chairs are the best choices for people who love outdoor activities or adventures. These types of chairs are made with quality materials that can withstand outdoor elements. If you love fishing, camping, or going for family picnics, these are the top ten best timber ridge chairs worth checking out.