Who doesn't love the trampoline? However, have you ever imagined getting a trampoline made for water? Well, now you do not need to go to water parks in order to have such fun moments with friends and family. Take your water trampolines to the nearest water body and have unforgettable moments. It is not only ideal for kids but adults as well. So, you can now not worry about safety but indulge in some beautiful moments.
To keep your fun moments preserved forever for good memories, the water trampoline buying guide will help you. We have put down the best selection of products and you will surely find one for your home.
Here is a list of Water Trampolines in 2023
10. Island Hopper Bounce N Splash Water Bouncer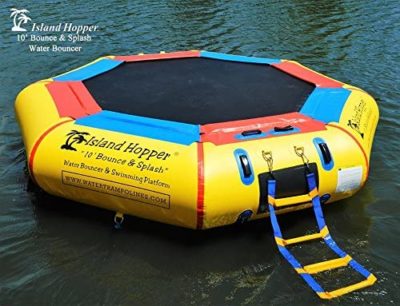 With this water trampoline, make your summer even more enjoyable. The product being a good 10 feet, is suitable to be used by both kids and adults alike. The trampoline is a heavy-duty product. It uses commercial quality 1000 Denier PVC material. PVC lends the product the right amount of sturdiness, along with extending the life of the product.
Moreover, the item does not make use of any spring. Besides, it also helps to teach your children swimming, adding 8 assisted swimming handles to the trampoline. In order to make it comfortable, it has a ½-inches foam padding for making the users feel comfortable.
Key Features: 
To make it easier for your children to climb on the massive trampoline, it comes with a 4 step ladder.
It will provide you with a safe bounce. This uses the tube flex technology making use of the interlaced nylon webbing.
Indeed, a spring-less product that will let you enjoy it fully.
9. RAVE Sports Splash Zone Plus Water Bouncer

RAVE has created a long line of successful trampolines, and this one will not fail to meet your expectations. The bouncer will be a perfect addition to your fun summer days. The trampoline comes with many added accessories. With the 7 feet slide, your children can do much more than just bounce on the trampoline. Moreover, it also comes with a log that can be used for support.
To make things easier, the bouncer sports an EZ-Up boarding platform as well. The bounce surface is directly connected to the inflatable tube. Lastly, the 4-points are there to anchor the product and keep it stable.
Key Features:
It does not make any use of springs. Therefore, it is much simpler to set up.
The trampoline is far lighter than the usual products making it much easier to carry.
Even if the product is light, do not worry about the weight capacity. The bouncer is able to hold 600lbs at once.
8. RAVE Eclipse AJ-120 Trampoline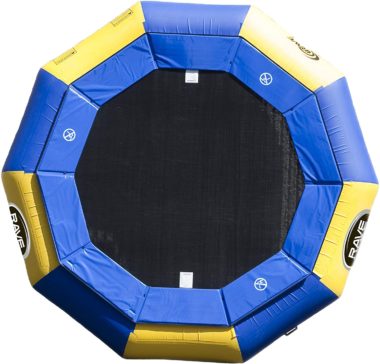 Another amazing water trampoline from the RAVE line, this will make sure to meet your every need. If you like the extra bounce in your trampoline, this product is ideal for you. The trampoline has springs which will connect the jumping surface to the supporting structure. One great feature of this trampoline is that it is customizable in various ways with the multitude of attachment options available. RAVE also does not forget the essential addition of an anchor connector kit.
With the availability of an easy access ladder, getting on the water trampoline is far more convenient. Its surface has black nylon webbing that will easily tackle your weight without hurting you.
Key Features: 
Functionality is not always enough. For that reason, this product is made available in 2 very interesting color combinations.
Either 4 children or 2 adults can enjoy jumping on these at a time.
With this product, you will not require to spend one extra penny. The trampoline comes with its very own high-speed deflator/inflator.
7. RAVE Bongo Water Bouncer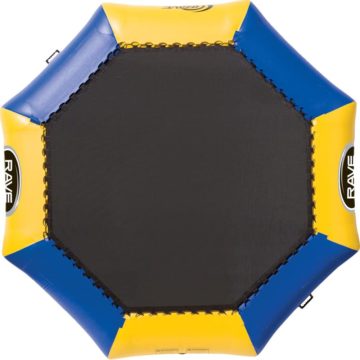 This water bouncer is one of RAVE's best products, and therefore, it will surely satisfy all your requirements as well. One interesting feature of the product is that the jumping surface is replaceable. Hence, no matter how the surface might get damaged, you can always replace it. Besides, helpful instructions are provided along with the package which guides you through the process of replacement.
With the help of an interlaced nylon rope, the jumping surface is directly attached to the tube. You get a surface that is of 66-sq ft and weighs 50lbs to keep it stable.
Key Features: 
Since everybody has a different need, this bouncer makes sure to cater to all being available in 4 different sizes to choose from.
The bongo is large enough to allow you some family time. It can easily fit 2 adults or 4 children.
The product has commercial-grade PVC. Thus, you do not have to worry about the durability of the product.
6. Brand Popsport Water Trampoline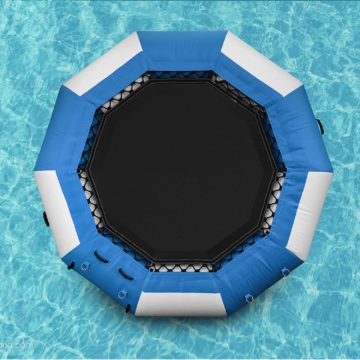 If functionality cannot catch your attention, this will surely do the job with the two different alluring colors it allows you to choose from. One really useful improvisation of the product is that the ladder is detachable. Thus, it is attachable to different sides of the trampoline. The exceptional PVC tarpaulin assures you of the long-lasting ability of the product. To make it a high-quality choice, it is heat, cold, and even fire-resistant.
Besides, it is also able to withstand the usual wear and tear effects. To allow you to have better control of the bouncer, hand grips are added to the design on the side of the bouncer.
Key Features:
Since one can deflate it, you can store it up in very small spaces with ease.
Your safety should always come first, and this product assures you with by being SGS certified.
This is eco-friendly and the built-in handles will let you carry it to different locations.
5. Island Hopper Bounce N Splash Water Trampolines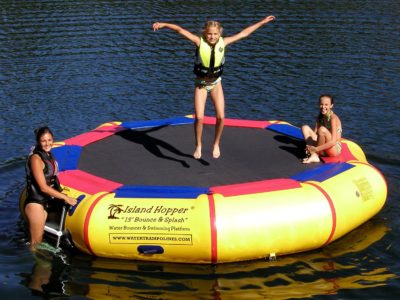 With its spectacular performance, this product has won the hearts of many Thus, when it comes to quality, you can rely on this product. Unlike most water trampolines, this product makes use of tube flex features, which makes the bouncer considerably lighter. Therefore, this is much more travel friendly.
To provide you with a soft and safe platform, the bouncer also features half an inch foam perimeter padding. Because of the absence of springs, the product can be set up fairly quickly as well. The product has an interlaced nylon webbing design.
Key Features: 
To make the trampoline stay in its spot, 6 anchor secure D rings have been added to the design of the product.
This helps the younger ones with swimming. As many as 10 assisted swimming handles are present on different sides of the trampoline.
The quality is beyond apprehension as it has got the quality assurance from Aqua Sports Technology.
4. RAVE Sports O-Zone Plus Water Bouncer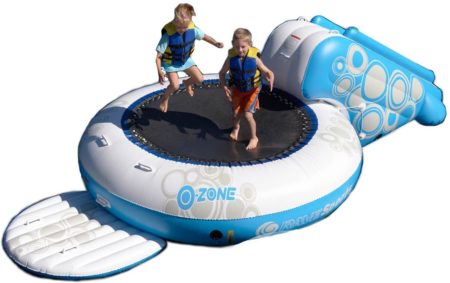 This product is truly one of it's kind when it comes to water trampolines. To help you enjoy the summer even better, this product also provides you with a water slide. As a result, the kids can jump and slide as they prefer. Usually, boarding is tough for your little ones. For that reason, this product also provides an EZ boarding platform. In fact, the slide is 17.3-ft long to help your kids slide down through this fun section. On top of that, having a low profile design with two handles, this product is suited for all ages alike.
Finally, weighing just 60-pounds, you can transport this to the destined location without any problem. And any kid who is below 10-years can take advantage of this trampoline.
Key Features: 
Keeping the practical necessities in mind, this also has the thoughtful addition of an anchor bag.
If you have never used such a product, no need to stress out. An easy user manual will guide you through each step of the setup.
The anchor bag has nylon as it's material. Therefore, you do not need to question the durability.
3. Island Hopper Turtle Hop Water Trampoline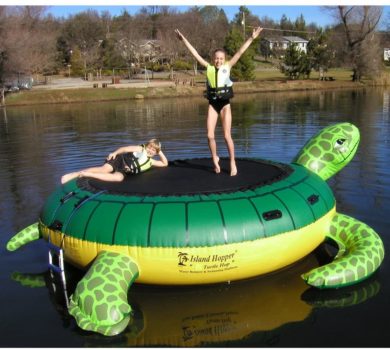 Name what you are looking for, and this water bouncer is sure to be already providing it. The bouncer is in the interesting design of a turtle, graphically enhanced, making it a sure favorite among children. The product has electronically welded seams, which will not come off in ages.
Moreover, the turtle design with the head and feet, provide a much more stable foundation to the bouncer. If that was not enough, this product also provides a hand pump to the whole package so you can inflate the bouncer in no time.
Key Features: 
If you have any doubts about the quality of the product, Island Hopper drives them away with an impressive 1-year long warranty.
To make it more convenient to carry the bouncer from place to place, it also comes with a handy storage bag.
Since the product comes as a complete set, you do not have to spend time assembling it.
2. WOW World of Watersports Trampoline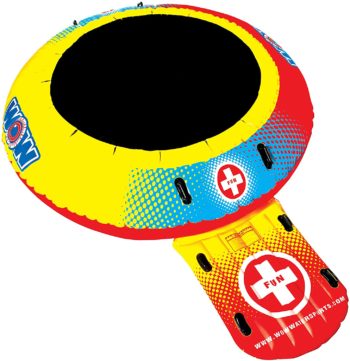 If your primary concern is durability, go for this product without any second thoughts. The water trampoline makes use of heavy-duty PVC material. The material not only lends strength to the product but at the same time, enables it to withstand various elements. Keeping your safety in mind, the product has also included padding between the bouncing platform and PVC body.
With the help of the large anchor bag, you will be able to keep the product stable in one place. In case you are looking for a compact design, you are in luck. This bouncer is suited for two people.
Key Features: 
Even though it is compact, the product is able to hold a good 240 pounds at a time.
With the help of the speed valves, the bouncer is inflated much quicker than average products.
1. Brand Sportstuff Funstation Bouncer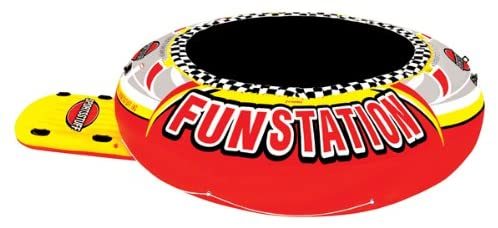 This water trampoline has been designed with a lot of care. The product has a boarding platform to help children climb easier. The platform is removable, which helps to keep it safe and clean. Moreover, the removable design takes up much less storage in space. It also has molded sturdy PVC handles which makes it much easier to maneuver the bouncer.
Further, the padded nylon collar keeps you safe while you can jump up as high as you want. More than that, even the anchor system is included with the product itself.
Key Features: 
To cater to the different demands of people, this bouncer is made available in two different sizes to suit your preference.
Because of their single chamber design, inflation is absolutely hassle-free with this item.
With the commercial-grade K80 PVC material, the bouncer easily lasts you through ages without any complaints.
Take outdoor fun to a different level. The inflatable water trampolines will let you take your fun in the waterbodies and you can jump in and out of it anytime.