You might be a passionate photographer or a professional filmmaker looking to capture the best photos and videos. A great-quality camera or video recorder is a basic essential. Still, to garner top-class outputs, you might as well invest in a good camera slider that assures maximum stability for your camera. Instead of moving the camera using your hands, the use of a slider ensures smooth movement, helps you bring dynamism to your shots, and makes a commendable difference to the overall shooting experience.
There are many camera sliders available in the market, with each brand competing to bring about the best to customers. The actual problem lies in selecting a good slider that's great to use as well as economical. Given here are the top 10 best camera sliders in 2023 that could help you choose what's best for you.
The Best Camera Sliders in 2023
10. IFOOTAGE Professional Camera Slider
The slider is made of the finest carbon fiber, is provided with stainless steel joints, and the tube's thickness is 2.5 times more than standard tubes promising utmost durability, sturdiness, and a smooth slide. Connect the slider to a video monitor or any external device-we have a versatile device in our hand that can work wonders.
The device is ideal for all types of shooting, compatible with different kinds of tripods, DSLR camera,s and could be easily carried around as it is stable (triangle design structure) and lightweight.
Key Features
Smooth and quiet operation possible with the help of 6 bearings that also promise a long life of the slider (almost five times more durable comparatively)
Experience maximum precision and torque with the help of the high torque belt provided that's much advanced. The equipment has almost close to zero wheel clearance
9. ASHANKS Motorized Camera Slider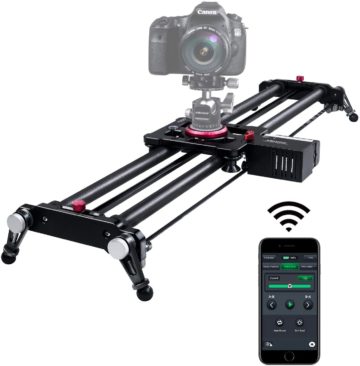 The slider is made of a durable carbon fiber body that's lightweight too but can support cameras up to 18 pounds of weight. If you love trekking, climbing, or outdoor adventure and are surely interested in capturing memorable moments, the ASHANKS slider comes with an anti-shake design feature. The feature helps you capture photos/videos on the move without shakes or quakes.
The slider supports 120-degree panorama shots, time-lapse photography and video making with the help of 4 bearing rollers that provide complete balance.
Key Features
The slider comes equipped with a new and powerful motor that provides smoothness and stability to any videos or photos that you shoot
Ideal for use in making live video recordings or film-making as the slider is fully professional enabling you to take great pictures or videos that are precise
The slider is one of the few models that are stable when shooting in sloping positions, and this is tricky. It provides good hold while shooting in horizontal positions as well as tripod stands
8. Zecti Camera Slider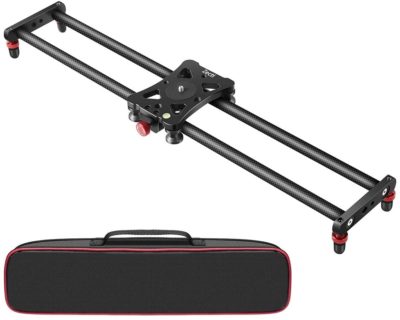 Personal or professional use, the Zecti slider perfectly fits the bill as it comes with four precision bearings and carbon fiber rails that support a significant weight load. Zecti slider made of aluminum alloy and carbon is robust and durable. The slider is stable, lightweight, and easily carried around using the case provided.
Key Features
The slider is good to use on any surface as the legs are adjustable and provide non-skid rubber support
Multi-angle shooting support. Place it on the ground or any angle (vertically, horizontally or slantingly) on the tripod
Slide plates are designed to hold most DSLR models and provided with a locking knob for safety
7. Kamerar Fluid Motion Video Slider
The slider comes with a flywheel counterweight system that helps you experience a smooth and consistent slide compared to other sliders. You also have handles provided that help you hold the slider comfortably, improving stability and precise capturing of videos/photos. The stainless steel flywheel and carbon fiber rails make the product as sturdy and durable as possible ideal for use among individuals who keep moving around.
The slider comes with multiple mounting options and also has a side-mounted brake to lock the camera intact.
Key Features
The slider comes with a high-quality carbon fiber rail that's strong but lightweight. The rail along with the slider carriage creates a sturdy frame that can hold up to 10 lbs. of camera weight
The legs are fully adjustable, making it easy to capture photos/videos on uneven or hard surfaces by simply adjusting the height and angle of each leg individually. Every leg also comes with a rubber padding that helps you gain stability
There are 6-rollers that smoothly slide on the carbon railing. Such, even weight distribution minimizes noise generated
6. GVM 120-degree Panoramic Shooting Slider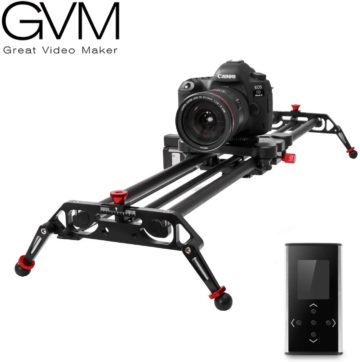 Enjoy a versatile shooting experience with 6-in-1 camera slider-tracking shooting, panoramic shooting, time-lapse, video capture, free Set starting point, and ending point. You can also benefit from a fixed point or panoramic shooting by adjusting the red knob on either side of the slider to different positions as given in the instruction manual.
Cool your eyes by shooting on a 120 degrees panoramic view by adjusting the red knob on both sides of the slider to the lower left and upper right.
Key Features
You have maximum control to customize the starting and ending points as you wish, sliding speed, dwell time, sliding distance, number of pictures and pause time
Supports two different shooting modes: manual and electric
Comes with a new motor and light carbon fiber which works hard in providing a noiseless slide making the model an outstanding dolly tracker and camera slider
5. Neewer Adjustable Legs Camera Slider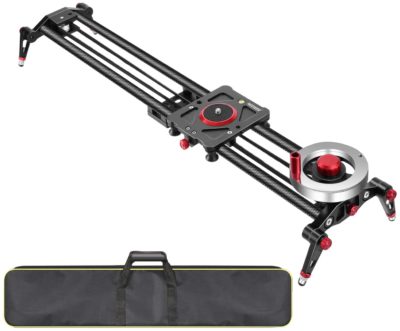 Are you interested or professionally involved in video recording, landscape shooting, hone studio shooting, or outdoor photoshoots? Please don't fail to purchase the Neewee slider with flywheel counterweights. The flywheel counterweight and belt-driven pulley mechanism make sliding smooth, and the handle provision improves control over your camera movement.
The slider is heavy and robust made of heavy-duty carbon fiber rails, and the stainless steel flywheel that helps produce a smooth slide is lightweight and perfect for regular use.
Key Features
The slider has 6-bearing rollers that provide a smooth slide on the sturdy carbon fiber rails. The 6-rollers help in distributing the weight evenly and also reducing noise as much as possible during the sliding movement
The slider comes with fully adjustable legs that help you quickly level the slider. You could shoot on any surface-hard, uneven or smooth-without any troubles as the height and angle of every leg can be adjusted individually
Comes with a storage bag that makes it easy and convenient to carry the slider anywhere you go
4. Grip Gear Electronic Camera Slider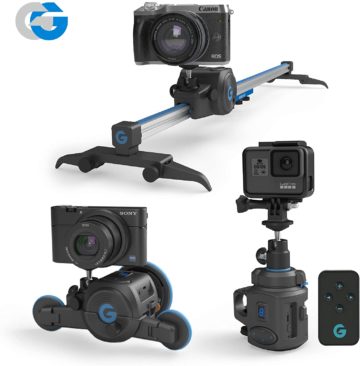 Here is a sophisticated camera slider that would be loved by gadget gurus as this model is a 9-speed electronic camera slider with a motorized panoramic head. This is the world's smallest remote-controlled electronic camera, which provides users with a beautiful 360 degrees panoramic view experience at a languid speed to capture every intricate beauty of the picture.
But, if you plan to buy the slider, ensure that you have basic camera knowledge. The slider supports multiple angles and different views, including the Dolly view and Panorama view.
Key Features
The slider is lightweight, durable and is a recommended choice for those who go on frequent outings and trips to capture the beauty of landscapes and mountains
It can work with many different camera models, including GoPro, mirrorless, and smartphones, up to 750g of weight. iPhone 7,8 and X users are recommended to use the front camera when in slider mode.
Excellent battery life-runs up to 2 hours on rechargeable batteries. Capable of both manual and electronic power mode
3. Neewer Aluminum Camera Slider
The Neewer camera slider is perfect for shooting all relevant videos and photoshoots with your favorite DSLR camera or video recorder as the manufacturer has taken extreme caution in making the model with 4 U-shaped ball bearings that guarantee smooth sliding and minimum abrasion on the aluminum alloy tubes. It also features multi-angle shooting vertically, horizontally or at 45 degrees.
There are four durable wheels provided at the base of the slider for making movement as smooth as possible, equipping the slider with maximum stability. The high-density bearings and excellent material quality keep the slider quiet while moving the camera.
Key Features
The height of the legs is adjustable, and so is its position making it ideal for use in professional filming. Legs are foldable too making it easily portable
The slider plate comes with a threaded hole to facilitate the holding of most DSLR cameras, and there is a rubber pad that helps you avoid scratches on your camera's bottom.
Provided with a carry bag that makes it convenient for users to transport and store the slider safely
2. GVM Motorized Camera Slider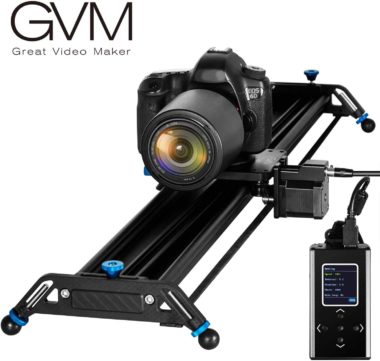 Made of aluminum alloy, the GVM slider guarantees smoother slide comparatively, which is critical while capturing videos or photos. Such a smooth slide is possible due to the four super-smooth roller wheel bearings. Place the slider as per your convenience anywhere using the four independently adjustable legs.
The slider is made with precision CNC machine processing and comes with a level bubble that keeps the camera well-balanced. The non-slip feet provisioning helps in stably holding the equipment.
Key Features
Make your shooting experience a memorable one using the 120 degrees panoramic shooting feature that makes shooting videos, pictures, landscapes, and other things precise and clear. There is also an option for time-lapse photography where you are given an option to set the speed and picture quantity
Ability to shoot at multiple angles: horizontal, vertical or 45 degrees
1-year free warranty and 30 days refund guarantee if you are unsatisfied with the product with 24 hours customer support on all days of the week
1. Neewer Carbon Fiber Camera Slider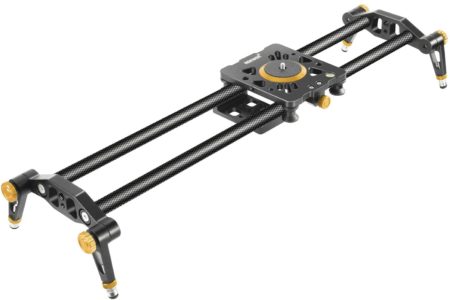 Neewer, a brand that's catapulted to fame with pro-quality audio and video equipment, has once again proved itself to be the best with the carbon fiber slider model that enables multi-purpose use. The track can be used on the ground as well as on a tripod directly connected to the camera or could connect with the camera using the ball head as an intermediate accessory.
The ball bearing (there are 6 of them shaped like a 'U') is a pivotal part of the slider as it promotes smooth movement and causes minimum abrasion on carbon fiber tubes. The model is perfectly suitable for supporting a DSLR camera, DV video camcorder, and even for use in film photography, providing superb outputs that would be a treat to our eyes.
Key Features
You can shoot at different angles: vertical, horizontal or even at 45 degrees by making use of threaded holes in the device
Leg height can be adjusted to suit our comfort, and the leg comes with locking knobs and a gear-shaped joint interface for maximal adjustment options
The product is provided with a carry bag that makes it easy to carry the slider wherever you go
Explore the beauties of nature and capture the subtle moments of life by shooting videos/photos using any of the camera sliders from the list mentioned above for an exhilarating photography experience. A camera slider is necessary to provide stability and finesse to your photoshoots.