A LED projector comes in handy for multiple purposes. Whether you are giving an official presentation or having a theatrical style movie night, a projector can be very essential. These projectors are capable of producing bright images and excellent moving pictures. Furthermore, these projectors are compatible with all kinds of devices like USB, HDMI, TV stick, and others. Plus, the LED bulb that this projector uses also provides an excellent service life.
Often we want to skip our cozy nights and have a gala time with friends and family at home. For those memorable nights, buy a LED projector and keep making memories.
Why are LED projectors better than other projectors?
The LED projectors can be beneficial for personal uses for a number of different reasons. With the long screen exposure these days, you would want to minimize the harm done to your eyes as much as possible. With the LED light source, you can effectively achieve this, making them a great choice to use for teaching children as well. Also, the LED source tends to consume much less energy than usual, helping you to save up on your electricity bill as well.
Which is the best-LED Projector?
The Yaber LED projector, by all means, is the best deal you can land on a LED projector. While most products will offer you 5000 lumens brightness, this superior product flaunts a Y31 7200 lumens brightness, by virtue of which, you will be able to clearly view things, even in broad daylight, enjoying movie time even during the day.
Giving regard to practical necessities, the LED projector also comes with a lens cover, which you will hardly find in any other product. This will keep the lens crystal clear, so you always view nothing but vivid images of the product.
Not all people are great with technology. Although, compromising on your experience can never be an option. That is why, this product even has a special feature of automated keystone correction, so you do not have to struggle for the perfect angle. Besides, while most products allow up to 15 degrees, this product has an extensive 50 degrees range for you.
Also, the cooling technology of this product is something worth commending. The product has fans, which automatically adjust to the temperature of the mainboard and light, so your projector does not run any chances of getting all heated up with long usage.
List of Best LED Projectors Review
10. GooDee LED Projector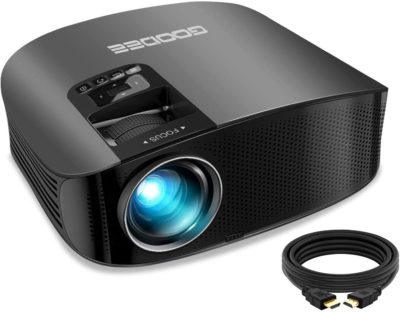 If you are on the lookout for a LED projector that is travel-friendly, your search is over. This product is ultra-compact, so it can fit into some of the tightest places, without any problem. Therefore, you can carry it with you anywhere. Furthermore, the product makes use of a LED light source bulb for this projector, unlike the LCD ones. Therefore, the energy consumption will be comparatively less.
Besides, the LED light source also protects your eyes from any harm. Hence, making it ideal to be used for teaching children, without any concerns. The stereo speakers are built into this device, so you do not need to go for external speakers either.
Key Features:
This product can be used to even project your smartphone.
The life of this lamp is 30,000 hours that is pretty long when compared to other brands.
Not only compact, but it weighs a bare minimum of 0.59lbs.
9. Mydash LED Projector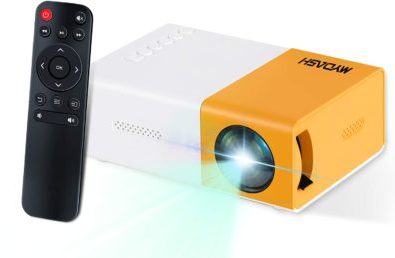 With this product, you will never run out of charge no matter where you are. The product can be charged with portable power chargers. Thus, you can quickly plug in the USB cable. And you will not have to stop the video projection in the middle, wherever you be. Moreover, with this product, you do not have to bother about the compatibility of the device.
The projector goes with USB to TV-Box and everything in between. So you can play it through any type of device you like. If that was not enough, with this product, you will not need to get up. The remote control allows you to control the product without moving your feet.
Key Features:
The item can be used both indoor as well as outdoor.
Also, the projector has as much as 30,000 hours of lifetime, lasting you for a long time to come.
Moreover, it comes with 1 year of warranty. So, you can get immediate help if you face any trouble.
8. Meer LED Projector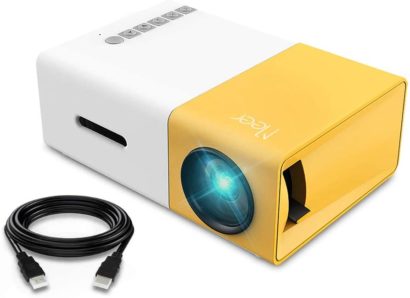 This product pays special attention to ensure the quality of the item. The projector makes use of ABS plastic for the body of the product. This material is well-reputed for its sturdiness. Therefore, you can be assured about the extended life of this product. Further, for the ones who are sensitive to smell, you will be glad to know the product is free from any such peculiar smell.
Not only that, this decreases industrial pollution, making it suitable to protect you and your family's health. As far as mounting goes, you will be able to choose whichever you like best from the wall to ceiling, to a tripod.
Key Features:
The light source of this product proves to be harmless for your eyes.
You can control it through the remote that comes with this product.
The item is a tad bit more eco friendly, being energy saving in its nature.
7. Vankyo Leisure 3 LED Projector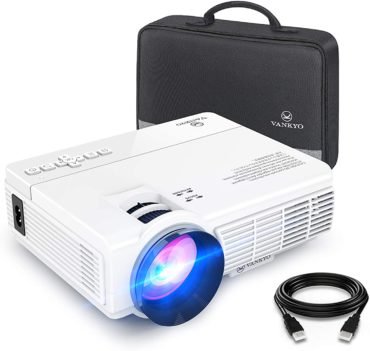 If you tend to travel a lot, this product will be great for you. The product has earned the title of Bestseller on Amazon for no mean reason. Next, the projector comes neatly packed in its own case. As a result, you can carry it anywhere with a convenient handle on the case. Besides, this product looks after many other little details to improve your viewing experience. The projector enjoys a special advanced cooling system.
Because of this, not only does it run no risk of overheating, but it also tends to work really quietly, not distracting you with any loud noises. If that was not very impressive, the projector also provides you with key correction. So your viewing angle is always perfect.
Key Features:
The product vouches to provide 60% more brightness than the usual projectors.
Next, the sound quality is excellent with the Hi-Fi level speaker built inside the projector.
This projector is powered by an MStar Advanced color engine.
6. Smonet LED Projector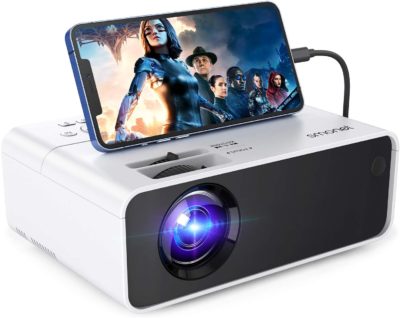 With this product, you get the privilege of great resolution. The native is 720p, while the product supports up to 1080p, so you can enjoy the clearest and vivid images. This projector allows you much freedom to adjust the projector as you prefer for the best viewing experience. Not only do you get the key correction up to 15 degrees both up and down, but also, the projector. It allows you to control the focus on the screen, so you do not have to suffer from a blurry screen.
Being compatible with things like TV stick, the projector can be a great option for presentations. As a matter of fact, it has a projection distance of 16.4-ft that is going to enhance the watching experience.
Key Features:
With as much as 5000 lumens, you do not have to question the brightness of this item.
This weighs over 3-pounds that makes it easy to carry around.
You would get a 12-month long warranty on this product plus even the benefit of maintenance.
5. ManyBox LED Projector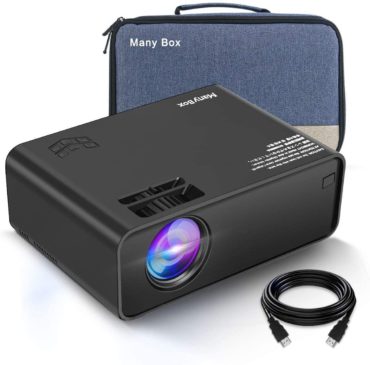 If you badly need a LED projector that will not burn a hole through your pocket, go for this product without any doubt. While the item is really affordable, the product does not make any compromise with the quality of the item. The projector comes with its very own case. Hence, you can keep the projector protected from dust, when the product is not being used.
Moreover, even though it might not be expensive, the projector is able to project a 180-degree big screen. This means it is as much as 200 inches, so you can enjoy a home theatre experience. The projector can project really well even from a 3-9ft distance, although it can go up to a good 12ft.
Key Features:
This product has not one, but two built-in speakers for crisp clear sound.
One can fully control it with the help of a remote.
Besides, the lamp life of this item is a whopping 45,000 hours.
4. Yaber LED Projector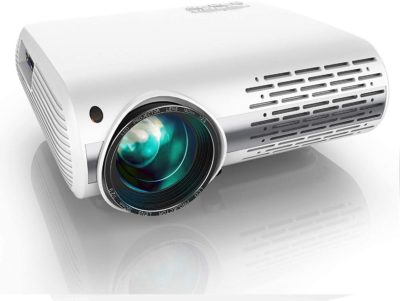 This product is one of the high-end items, trying to provide you with the best that is available out there. While it works amazing at home, you can use this item to project even outdoor without any problem. Unlike other products, this projector has an exclusive 4D keystone correction. This means the product provides both vertical as well as horizontal correction up to a good 50-degrees on both sides. Besides, if you are not great with the manual stuff, the projector even has an Auto Vertical Correction, as well as a One-click Restore feature.
With the innovative intelligent temperature control technology, the speed of the fans gets automatically adjusted according to the temperature of the light source and the mainboard. While other projectors allow HD resolution, this product can even support the 4K resolution.
Key Features:
If you are not satisfied even with 5000 lumens, this product provides you with Y31 7,200 lumens.
With the press of a simple button, you will be able to control the brightness to your own liking.
To keep the lens clean, you even get a lens cover with this product.
3. Apeman LED Projector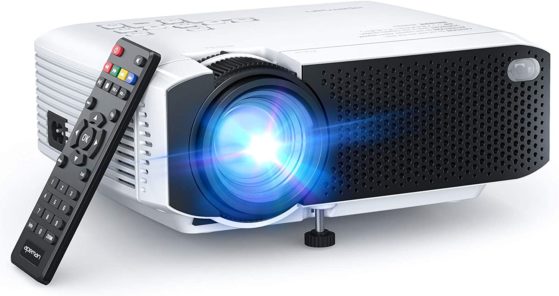 Spending most of the time in your house, you and your children are bound to get bored soon without anything else. With this product, you can upgrade your gaming to a whole new level with some great family bonding by turning your house into a theatre. While technology is the latest LCD, this is combined with the blessing of the LED light source. Therefore, your eyes do not run any risk of damage with long exposure.
The product is compatible with more than 10 different types of devices, so you do not have any issues with compatibility. As a matter of fact, the LED lamp in it has a life of 55.000 hours and. Plus, it even has a cooling system that is pretty silent when it functions and keeps you in a peaceful state.
Key Features:
Also, the product promises as much as 80% extra brightness.
One can project it to a screen of a maximum of 180-inches for full clarity.
You can also use your TV stick as well as Chromecast with this projector.
2. VicTsing LED Projector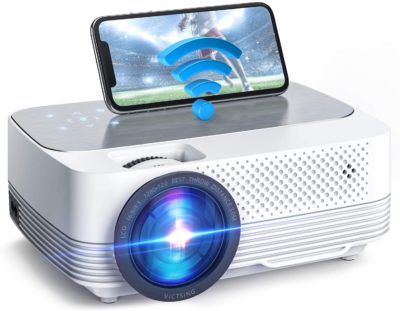 If you want to say goodbye to the trouble of wires and cables, choose this product to end the torment. The projector supports a wireless connection, so you can play anything seamlessly. Besides, if your connection is not that stable for some reason, the projector can be still run in the traditional wired way. The product allows you much freedom as to the type of mounting, from wall to tripod, to ceiling. So you can view it however you like.
While the dark environment is ideal for projectors, this item can even be used in the day with its exceptional and effective brightness. Moreover, the noise on this item is reduced to as low as 42.5dB, which you will not even notice.
Key Features:
The maximum throw distance can go up to 16.4-feet easily.
Its touch control icons light up when you touch them. So, you can change the settings even in the darkness.
1. CiBest LED Projector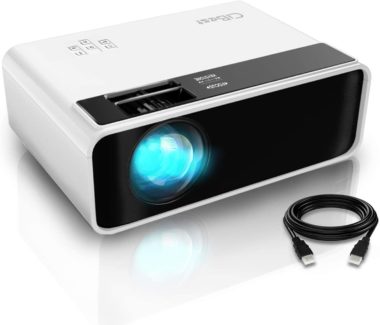 Firstly, it is not only compact but really light, so you can easily move it from place to place. With this product, you do not have to run to the projector every time you need to change something. The handy remote lets you control everything from your seat. Aiming for quality, this projector gives you a lifetime warranty on the product, so you can buy the item without any qualms about the durability of the product.
More than that, the product has a 2000:1 contrast ratio. As a result, giving you nothing short of the original colors that are captured on the screen. For easy and perfect mounting, the product comes with an adjustable foot. There will be no mishaps of tipping or falling off.
Key Features:
You get manual keystone correction on this item.
This product also has an eye protection feature.
Watch in 1080p resolution for full clarity and clear experience.
How is a cooling feature necessary for a LED projector?
The cooling system of any LED projector will prevent the product from getting overheated when the projector has been running for a long time, thereby, keeping the projector safe from any damages due to excessive heat. Besides, when the projector gets overheated, it will tend to make noises as well. Therefore, as long as your cooling system works well, you will not have to bear any disturbing noise coming from your projector while you view something.
What charging source will be the best for your LED projector?
If you get to explore this a little, you should go for a projector that can be charged through a USB cable. That way, you do not have to stick to the wall socket or run for extension cords. Besides, the USB cable enables you to charge the product anywhere you like. Therefore, if you want to take the product on an outdoor trip, you will be able to project anything outdoor as well, as long as you have a clean screen, cutting the trouble of wires.
Now, keep watching and have a theatre-like experience. Check on the LED projector price and bring the best quality product for your home.