Managing organic waste is among the most challenging and irritating tasks of the whole kitchen and household duty. No one can stand out from the stinking smell of fruit flies wandering the place or surrounding the bin.
Usually, the disposal of organic and inorganic matter poses several problems. It becomes increasingly irritating to keep the waste enclosed and prevent it from leaving any foul smell. For example, if you have a dog at home, it can quickly scatter all the junk from the floor's compost bin. When you throw food waste and other materials together, it becomes smelly and looks extremely bad if not covered or cleaned correctly.
What if sudden guests arrive at your home?
They will be able to smell the nasty odor caused by the trash.
Therefore segregation of both kinds of waste is an integral part of the waste treatment process. Since organic matter is biodegradable, it can be easily converted to manure and degraded rapidly without influencing our environment. So, if you are fed up with smelly-stinking kitchen corners or places in your house, it is high time you switch to a more sophisticated method of waste disposal.
You can easily order some of the best compost bins, which would tackle all the waste matter problems. Compost bins are used to keep organic waste and let it degrade over some time. Therefore, if you want to buy a compost bin for your home, here are the top compost bins in 2023.
Best Compost Bins Review
This is a list of the best composting bins that can be used by customers these days. These bins are eco-friendly as they are BPA free, and most of them are made up of polypropylene. Many bins are available in stainless steel and recyclable plastic design, which you can use according to your convenience and preference.
10. Oversized 1.3 Gallon Compost Bin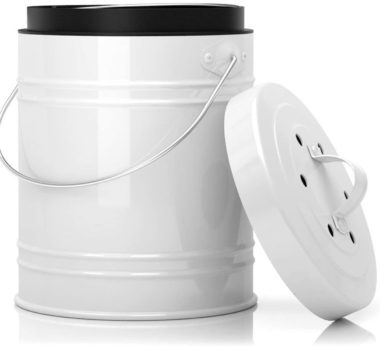 The Oversized 1.3 Gallon Compost Bin is manufactured by Cooler Kitchen and weighs around 2.65 pounds. The high-quality compost bin is made up of carbon metal, which prevents it from early damage and rusting. You don't need to get yourself all messed up to clean the bin since it is equipped with a removable plastic container that you can clean after emptying the bin.
A conveniently large-sized bin with an easily assembled lid is all you need to manage organic waste properly. Compost Bin measures around 12.2 x 9.02 x 8.9 inches. Compost Bin is fitted with black and white charcoal filter papers of about 4″.
Reasons to Buy
This compost Bin is Odor-free and smell-free.
It has a large container size of about 6 L capacity.
It is resistant to Fruit flies and insects.
9. FCMP Outdoor Tumbling Composter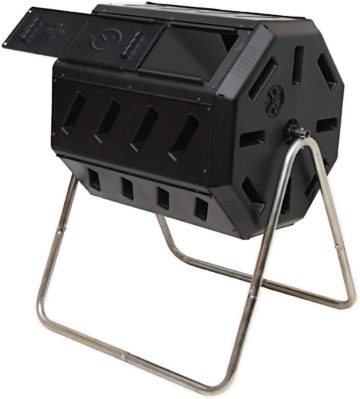 It is an octagonal black colored chamber. This composter is manufactured by FCMP and has significant advantages. You don't have to mix the organic material from your hand. The unique tumbling design enables us to blend the organic matter in just 5-6 rotations rapidly. Another exquisite addition to the unique design of the composter owes to the double-chambered structure. It enables you to add the waste from one side while the other side is left to rot and degrade properly.
The composting chamber has small apertures to allow the movement and exchange of oxygen through the organic compost. The item is preferably an outdoor product and weighs around 27.9 pounds and measures around 36 x 30 x 28 inches. It has a large capacity of about 37 gallons.
Reasons to Buy
It has an exquisite Tumbling Chamber
It is made of corrosion-resistant material with a galvanized steel frame.
The material inhibits UV rays and is free from BPA.
8. Redmon Compost Bin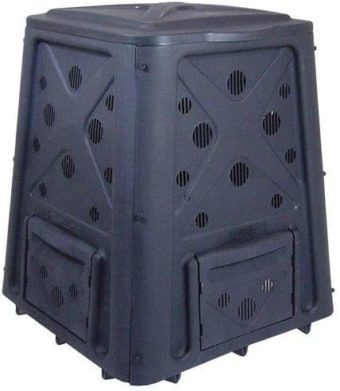 Redmon Green Cultural Compost Bin weighs around 15 pounds and is about 26 x 26 x 30.75 inches in size. Redmon Green's cultural bin is entirely environmentally safe and comprises 80% of recycled plastic. It is completely BPA free and is extremely easy to assemble. Moreover, it is made up of four doors of about 13″ width and 8″ height. It is extremely useful and has a high customer satisfaction rate. The compost bin is made up of a snap lid and has completely UV safe material.
Reasons to Buy
Redmon provides all-weather Durability
Heavy Material Construction makes it sturdier.
The holes present in four panels provide excellent aeration.
7. Miracle-Gro Outdoor Bin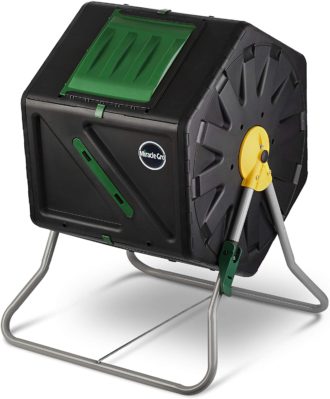 Miracle-Gro Outdoor Compost Bin is manufactured by DF Omer. The compost bin weighs around 13.02 pounds, and its dimensions are 24.13 x 21.5 x 4.33. It is made up of heavy-duty material in a hexagonal shape. Miracle-Gro Composter is well equipped with mixing bars for faster curing. The six-sided tumbler has a large capacity of around 27.7 gallons. IT is made up of UV-resistant plastic, outdoor compost comes with gardening gloves for ideal use.
Reasons To Buy
It is compact and portable.
Has properly aerated chambers.
It has a unique tumbling design.
6. Xbopetda 2-in-1 Compost Bin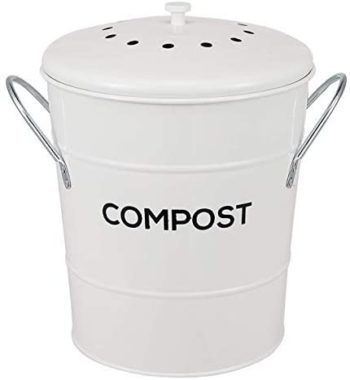 Manufactured by Xbopetda, this 2-in-1 stainless steel compost bin is perfect for a small scale usage for storing kitchen waste or little household waste. This compost bin is highly stylish and compact. You can easily fit anywhere and can be kept on or below the kitchen shelves. Xbopetda bin is equipped with a removable plastic bucket, which is dishwasher safe and extremely easy to clean.
Also, the bin consists of white charcoal filters that tend to block any stinking smell or odor.
Reasons to Buy
It is odor-free
Is compact and Portable
It has a stylish design
Xbopetda compost bin occupies little space.
5. itouchless Stainless Steel Compost Bin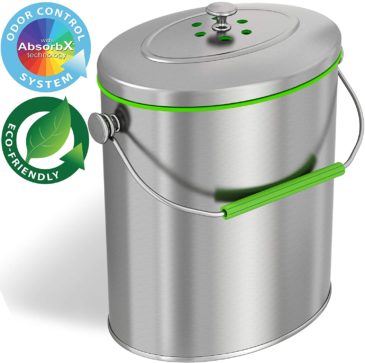 An extremely elegant stainless still compost bin with a 6-liter capacity is an ideal pick for your kitchen. You can store vegetable scraps in it and mix the organic compost with soil after some time. The handle is made up of stainless steel makes it easier to carry in and out of your house. The compost bin's width is about 8.5," which gives a wide opening for storing organic materials like eggshells, vegetable peels, etc.
Reasons to Buy
It has a BPA free and Food safe inner plastic material.
Charcoal filters help in Odour Reduction.
It has a tight-fitting lid.
4. Tiyafuro Compost Bin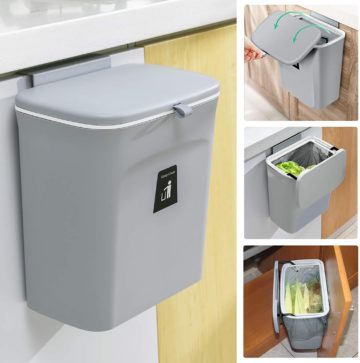 Tiyafuro Compost bin is a very stylish and effortless design. It weighs around 1.56 pounds and is made up of polypropylene. Polypropylene offers a durable, odor-free, and strong structure to the compost bin. It is extremely easy to clean with soap and water and requires very little maintenance. It can be installed under your kitchen shelves, washroom sinks or can be kept on the floor.
Tiyafuro Compost Bin has about 2.4-gallon capacity. Its size can be depicted as 10.2 x 6.3 x 11.6 inches in dimension. Tiyafuro Compost Bin is very affordable, effective, and useful.
Reasons to Buy
Can be easily installed through hook-up design or pasting board.
It is odorless, fruit fly, and pest resistant.
It has a compact, portable, and highly durable design.
3. Full Circle Fresh Compost Bin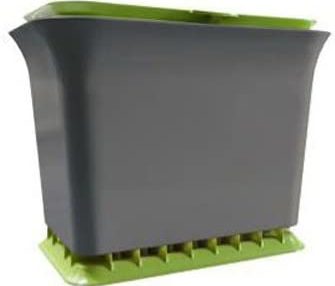 Manufactured by Full circle, this bin is made up of high-quality material and is environmentally friendly. Full Circle Fresh Compost Bin Weighs around 1.4 pounds and is highly portable. You can easily carry the bin from your kitchen to the garden or vice versa. The product dimensions of the Full Circle Fresh Compost bin are 11.38 x 8.5 x 9 inches. The compost bin comes with several compost bags tied through the plastic thread, and waste can be stored.
Fresh Compost Bin is odor resistant and too lightweight. It is made up of eco-friendly materials like earth recycled plastic and recycled stainless steel.
Reasons to Buy
The full circle comes with a unique patented design
It has proper air circulation and is lightweight.
It has a stylish and portable design.
2. Rubbermaid Commercial Compost Bin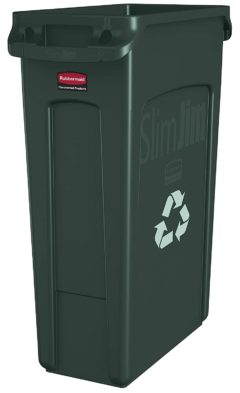 The slim jim trash can have a very high capacity of around 23 gallons and is exceptionally durable. These trash cans consist of four venting channels, and proper aeration is provided to the organic matter. The ergonomic handles make these trash cans even sturdier and robust. They have a highly durable material and extremely easy to maintain. The Rubbermaid commercial compost bin is about 7.6 pounds and has dimensions of around 22 x 11 x 30 inches.
You can use it anywhere for the washroom, kitchen, office, bedroom, etc. Rubbermaid's commercial compost bin helps to manage the organic waste properly without applying any extra effort.
Reasons to Buy
Rubbermaid offers high durability and heavy-duty construction
It is a space-saving material
Rib-strengthened rims make it sturdy and strong.
1. Mifflin Infinity Compost Trash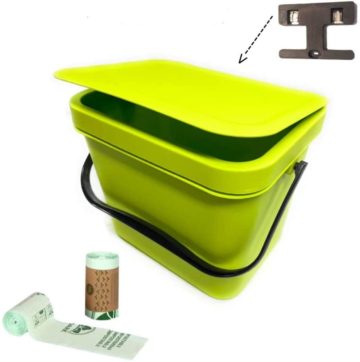 Mifflin Infinity Compost Trash Bin can be used for both purposes – indoors as well as outdoors. Having a capacity of around 8 L, this compost bin has a proper ideal design for being kept at homes, kitchens, and washrooms. Fifty compost bags are provided along with Mifflin compost trash and weigh around 1.22 pounds Mifflin Infinity Compost Trash measures around 10.4 x 9.3 and 8.2 inches.
Reasons to Buy
Mifflin trash provides a rotation handle for portability and maneuvering.
It has a clean and eco-friendly design.
It offers easy installation.
Quick Buying Guide
Buying a compost bin is not a complicated task. Of course, you can just compare and look for the better-looking one. But, you need to keep certain things in your mind before buying a product. After all, you are not planning to invest in a compost bin every month!
Capacity: As a wise buyer, you would first want to look at the capacity. If you are living with your family, there will be more trash to throw. You could go for an 80-gallon capacity compost bin. If you want to place a smaller bin, then 40-gallon is enough. Ideally, go for the larger capacity one.
Usage: If you are keeping the compost bin outside, a larger one would be better. For kitchen usage, a smaller compost bin will be useful.
Ventilation holes: Larger holes are better. The compost bins should come with ventilation holes (larger the better). These will offer oxygen supply to the compost that you are wishing to create.
Material: Some of the compost bins are made of stainless steel and others are made of plastic. It depends on you as to what build quality you require.
Warranty: Does the compost bin come with a warranty? If you are not happy with the quality, there is always a way to get refunds.
Please remember to buy the product from a genuine platform such as Amazon. It gives you the luxury to compare reviews and ratings. When real users leave reviews, you are able to judge the product. There is no other way to find out about the product apart from seeing and comparing reviews.
We advise our readers to make wise buying decisions! After all, you are spending your hard-earned money. Each of the products mentioned above is of the different price ranges. Compare the features and price. At the end of the day, it boils down to your budget and the features you are looking for. Yes, some people actually look for color and design options too.
Conclusion
This was all about the top best compost bins that you can purchase to improve your kitchen or house standards. These bins are smell resistant and can be easily cleaned by the use of simple soap and water.
It also becomes a more sustainable approach since the containers are environmentally safe and do not pose any threat. If you also want to buy an ideal compost bin, go to the product links and order yours today. Make sure you compare each of the products before making a decision.