A good hot glue gun is the kind of thing you don't think you need unless you badly need one. Once you start using it, you will realize that a cordless hot glue gun is in many ways superior to the others as it gives you the freedom to move around without worrying about tripping on wires or messy cables cluttering your garage. From the smallest of repairs around the house to big renovation projects, a top-rated glue gun is a must-have for every house, however big or small.
For a novice, finding the right gun at your nearest hardware store can be a confusing experience though, especially if you need it urgently. But, help is at hand. We have put together our highly-researched list of the 10 best cordless hot glue guns for you to pick one that suits your needs and budget.
Here is a list of Cordless Glue Guns in 2023
10. Dual Temp Hot Glue Gun from Gorilla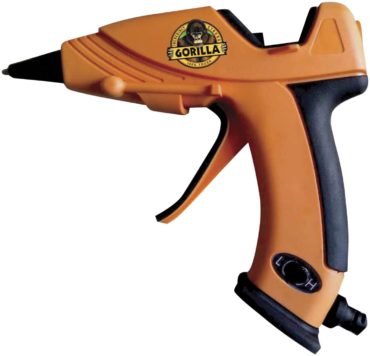 We will start with the one that's highly rated by its customers for its performance and masculine appearance. The Dual Temp Hot Glue Gun from Gorilla comes with a nozzle known for its precision and a trigger that treads the fine line between soft and hard. Its large base makes the gun easy to handle and store while the covered nozzle ensures that there will be no painful skin burns.
Pros
Rubber trigger allows for easy handling
The ergonomic design accommodates more than two fingers to hold and operate
Cons
Despite the safety features, the nozzle can leak, leading to skin burns
The glue can also get stuck inside
9. Pro80 Hot Glue Gun from Adtech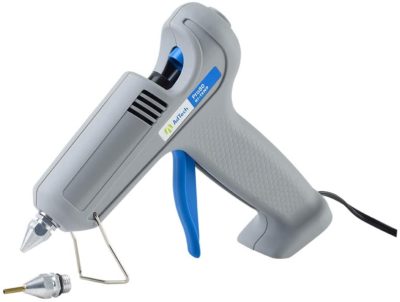 If minor art and craft projects are what you have in mind, you may not need this. But if it's large-scale, long-running renovations and commercial projects, you are looking at the right product, the Pro80 Hot Glue Gun from Adtech. Powered by twin heaters, the Pro80 is 8 times more powerful than others, allowing you to glue faster and in a more effective manner. The precision nozzle and its outer layering of high-end plastic make this an excellent choice for those looking at long usages of glue guns.
Pros
8 times powerful than the rest
Works with glue sticks of varying temperatures
Cons
The nozzle drips in some cases
At times, the gun gets too hot
8. Werktough Cordless Glue Gun from Uniteco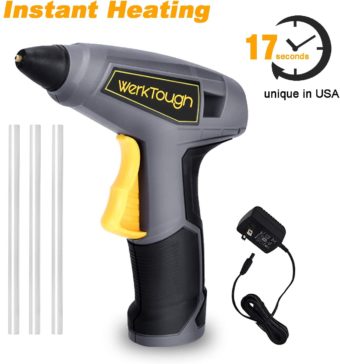 If what you need is a cordless glue gun for art and crafts projects for you or your kids, the Werktough Cordless Glue Gun from Uniteco should fit the bill nicely. It's lightweight, it's compact, it's handy and it's suited for all those not well-versed with complicated gluing tasks. The Werktough's unique temperature management does a nifty job of heating.
All it takes is 15 seconds to heat the glue. It also manages to sustain the heat to let you get your job done. Its customized LED light will show you if the battery, whose single charge can run for up to five hours, is running out of charge, while the silicone cover ensures that there will be no accidental burns. For entry-level projects, the Werktough Cordless is a decent choice.
Pros
LED light to indicate battery charge
Silicon cover to avoid accidental burns
Cons
Despite the guaranteed 15 seconds, customers have found that it takes substantially longer to preheat
The nozzle occasionally leaks and drizzles
The glue stick isn't attached properly and tends to get separated
Inconsistency is a problem
7. Cordless Glue Gun from Fiskars Lia Griffith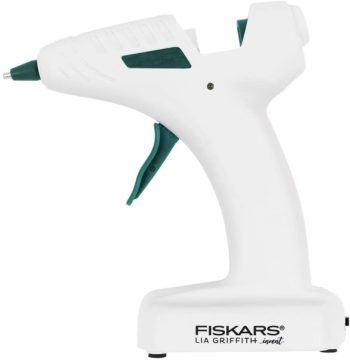 If your primary concern is basic to medium level craft projects, the Low-Temperature Cordless Glue Gun from Fiskars Lia Griffith is worth a look. The 4AA powered battery promises a smooth flow of the glue as the easy-to-manage trigger helps you control the gun without any hassle. The ergonomically designed gun has a base wide enough to guarantee a stable resting position. The sleek shape and colors do stand out in the category.
Pros
Designed to be held and used with ease
The large base makes it easy to store
The ergonomic design gives you greater flexibility
Cons
The battery runs out quickly
It takes a while to preheat
Known to shut down frequently
6. Cordless Glue Gun from Elmer's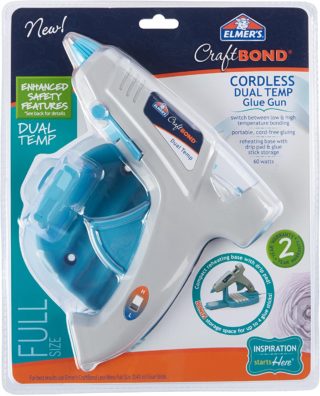 The defining feature of the Dual Temperature Craft Bond Cordless Glue Gun from Elmer's is safety. It achieves it with its dual temperature setting that gives you the freedom to choose the high-temperature mode when working on hard substances like metal, ceramic or leather and the low temperature when used on softer materials like clothing fabric. With its insulated nozzle and lifts on the side, the glue gun is smartly designed to make sure that there are no hot glue accidents.
Pros
Emphasis on safety
Friendly design
Covered nozzle to prevent burns
Cons
Inadequate battery life
Nozzle leaks at times
Doesn't heat up properly
5. Rechargeable Cordless Glue Gun with 20 Glue Sticks from Aonokoy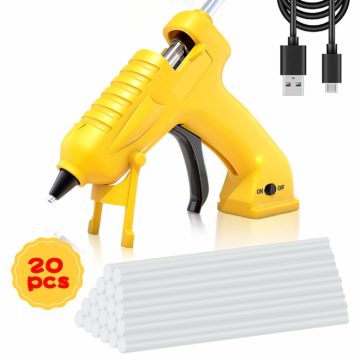 For school craft projects and minor household jobs, the Rechargeable Cordless Glue Gun from Aonokoy is a smart choice. It's built with ease of use in mind, something that's reflected in its user-friendly and uncluttered design. The temperature is controlled automatically, saving you that inconvenience.
The LED light is another step towards ensuring the safety of the glue gun. The nozzle, made of copper, coupled with their PTC technology makes the gun heat up the glue in under five minutes. The additional 20 glue stick pieces make this a sensible offer.
Pros
Safety features
User-friendly design
Doesn't leak, unlike many of its competitors
The base makes it easy to store
Cons
Like most glue guns, takes longer to heat
Battery life is unsatisfactory
4. Cordless Glue Gun from Surebonder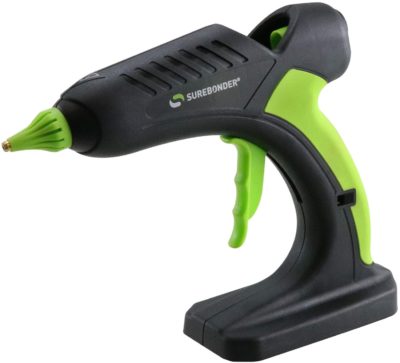 It's time to meet the big boys of the glue gun game and the Professional Full-Size Cordless Glue Gun from Surebonder is a fine way to start. To call it a cordless gun reveals only half the story, as it can also work with a cord. That dual functionality gives you the freedom to work while you are charging the device.
With its sleek, purposeful design, the glue gun is built for maximum efficiency and minimum wastage of both energy and time. It heats up fast using its Ryobi battery and can last up to three and a half hours. No wonder handymen seem to prefer it.
Pros
Corded and cordless modes for minimum stoppage
Lightweight in design
Heats glue quickly
Cools down faster
Cons
Unfortunately, the device doesn't come with a check valve
Surprisingly the charger and battery are also not part of the standard package
3. Hot Glue Gun with 12 Glue Sticks from PROkleber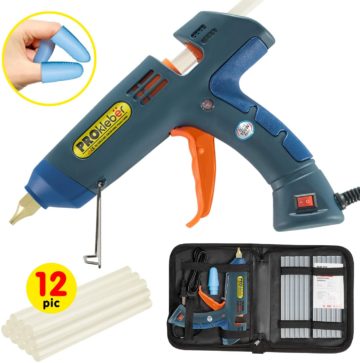 Ideal for projects big and small, the PROkleber Glue Gun is a versatile genius that rides high on its legendary German engineering. And rightly so, when you consider how power-packed the machine is.
With its 100 Watts, the PROkleber melts the glue within three minutes and its superstrong adhesive is undoubtedly cutting edge. The package comes with 12 glue sticks and a handy carry bag that's cleverly compartmentalized for easy storage. The overall design is ergonomic, making it ideal for both men and women.
Pros
Ergonomically structured for easy usage
Gets to work fast
The glue sticks and carry bag are worth the price
German technology
Cons
The glue has been found to drip occasionally
2. Hot Glue Gun Kit from Topelek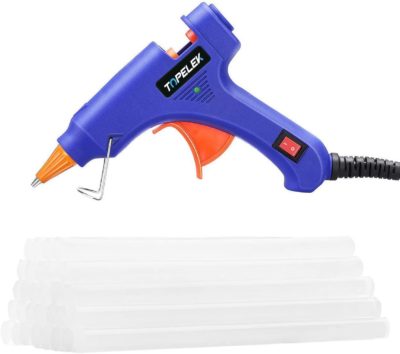 The Hot Glue Gun from Topelek is a machine that truly belongs to the 21st century. With the ability to be charged through a USB portal, the machine defies its small size to deliver exceptional value-for-money performance.
On a full charge, the Topelek can function for up to 100 minutes, giving you more than enough time to finish your project. What makes this lightweight machine more attractive are its unique safety features, including the LED light. For those starting and reluctant to splurge on a high-end machine, this may be the right choice as it never compromises on power or functionality and is suitable for all kinds of home and office needs.
Pros
Value for money
A single charge can give up to 100 minutes of performance
Safety features
Light in weight
Ergonomically shaped
Cons
Only small amounts of glue dispensed
1. Multipurpose Glue Sticks from Ryobi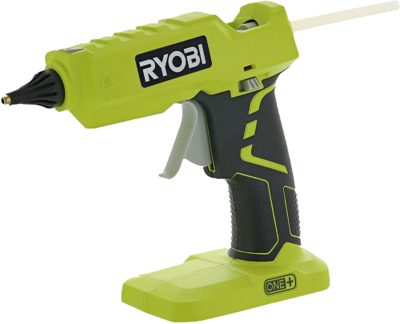 Ryobi knows their glue guns better than most out there and the feature-packed P305 Cordless has earned its place as our number one recommendation for the job it does and the way it looks. Brilliant in its design, once charged, it can run up to a whopping three and a half hours. That's more than what most people expect from a hot glue gun. The rubber grip is a stellar addition to the overall ergonomically designed structure, giving the machine unrivaled precision, while the trigger is cleverly designed to accommodate two fingers operating it. The standard features you would expect from a machine of this caliber are expectedly there, like an LED warning and anti-slippery surface.
Pros
The rubber grip makes it easy to hold and point
Can run on two different kinds of batteries
Spacious trigger
LED light
Excellent base for storage
Cons
Once used, the machine needs some time to lose its heat
Conclusion
Whether you are a professional handyman, an amateur DIY enthusiast or someone who occasionally has to put together school projects, we have you covered with our definitive list of top 10 cordless glue guns. Pick the one that suits your needs and be careful when starting. Read all the instructions, make sure it's properly charged and be careful not to have any burn accidents. Rated highly by both those in the trade and customers, we are sure you will find your pick from our curated list. Get the one you fancy and get going on your project.