The pleasure of relaxing on a patio glider, putting your feet up, listening to your favorite song, and forgetting the worries of the world. Can anything come close to the comfort and peace that a top grade patio glider can provide? Can anything replicate that rustic charm? Or can anything add elegance and grace to an otherwise ordinary part of your house with such ease? We highly doubt so. Therefore, we have scoured the net to bring you the top ten best patio gliders of 2023, all highly rated and recommended by their consumers.
Few pieces of furniture that can transform a porch, patio or backyard like a patio glider. You can snuggle up with your significant other, get lost in your favorite book or, you know, just daydream. While choosing a patio glider, remember that sturdy is what wins in the long run. Your glider should be good enough to last four or five years and be comfy enough for you to spend hours just idling. They should also suit the overall theme and decor of your house. Finally, they should also be easy to move around. With that said, let's get right to our top ten patio gliders for 2023.
Top 10 Best Patio Gliders Reviews
10. Amish Made Pine Porch Glider with 800 lbs Weight Capacity
Move over ordinary gliders, the heavyweight is here. The Amish Made Pine Porch Glider can handle a monstrous weight of up to 800 lbs. Not surprising since it's made of pressured pine. This isn't your backyard glider for occasional use. This is built for daily wear and tear and suited for hotels, resorts, and other commercial establishments. In other words, this is an industrial grade glider. If that isn't enough, the glider is made from eco-friendly resources, using sustainable practices, by Amish craftsmen.
Pros
Extremely sturdy
Built to last
Comfortable seating
Artistic design
Made in the USA
Cons
Difficult to assemble, especially if it's your first time
9. Amish Made Cedar Glider from Kimler Creek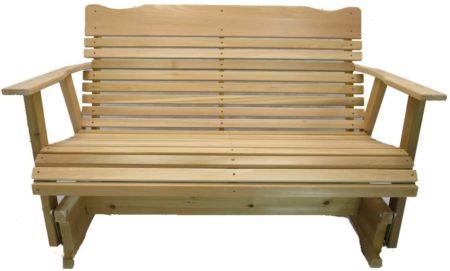 A timeless and elegant piece of furniture, the Amish Inspired Cedar Glider from Kimler Creek can withstand the toughest elements and insects. Lightweight in structure, with curvy, smooth-ended seating, these gliders are easy to assemble, comfortable to use, and perfect for any location. The special cedar used for its construction ensures a long life for your glider, ensuring that it will be a family heirloom. Made by Amish craftsmen using time-honored methods, these are a rustic callback to simpler times and trustworthy designs.
Pros
Insect-and weather-resistant
Comfortable seating
Seamless design
Cons
You may have to recoat it if it's not maintained well as it's prone to staining
8. Cedar Wood Glider from Lakeland Mills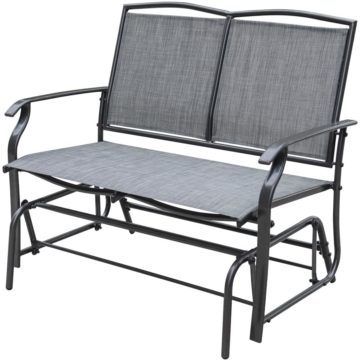 There's wood and then there's cedarwood. The Cedar Wood Glider from Lakeland Mills is what happens when gliders are made by artisans and not assembly lines. Built from white cedar, these feature dropping armrests and curved and angled seating for added comfort.
If the deft artistry and impeccable attention to detail aren't enough to sway your decision, how about this? The gliders are made from renewable resources and completely made in the USA. Get it to show that the furniture you buy isn't just a nameless piece of wood or steel. It has character and it has a soul.
Pros
Built from white cedar
Comfortable seating design
Designed from renewable resources
Eco-friendly building practices
Priced high, when compared to alternatives
Cons
Assembling can be a challenge
7. Loveseat Couple's Gliders in Rocker Steel from Sundale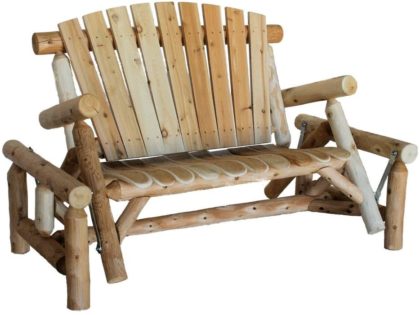 The cuteness overload is one way to describe Sundale's Loveseat Couple's Gliders in Rocker Steel. Your go-to corner for togetherness, these are made with utmost attention to the mood and comfort of its occupants. Which would also explain the lack of partition. Built from durable rocker steel, the gliders feature a beautiful fabric that's both comfortable and weather-proof. The steel frame protects the structure from added weights, while also enabling its smooth gliding motion.
Pros
Durable
Modern and minimal
A unique color
Cons
Assembling can be difficult for the inexperienced
6. Solo Country Glider from Jack Post in Bronze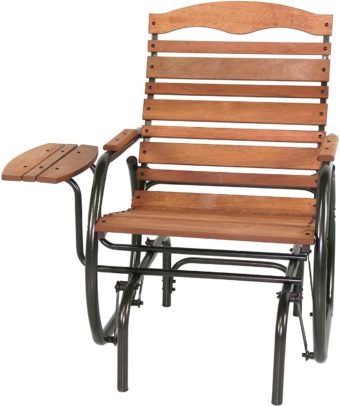 Country life beckons not just couples but solo travelers too. A compelling study in contrasts – the hardwood competing for attention with the steel frame – the Solo Country Glider from Jack Post is a must-have for those who value their privacy. Add it to your patio for an unrivaled rustic touch, one that's both elegant and rooted. With a wooden back and bronze finish, this glider is a reminder to take it slow and, perhaps, take it solo.
Pros
Durable
Attached extension for books and drinks
Relatively inexpensive
Cons
As the name suggests, not for couples or families
Needs some level of expertise in assembling
5. Park Bench Inspired Rocking Glider in Steel from Outsunny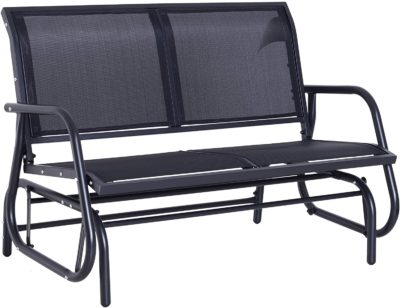 All the romance of a park bench, without the hassle of the crowd around it. Outsunny has given us more than enough reasons to give serious thought to their Rock Glider in steel and mesh. The sling, airy and durable, is suited for lazy lounges on breezy afternoons. The frame is sturdy, durable, and made to support a whopping 440 lbs. The armrests with their curvy flow take the overall comfort to another level. Backyard or porch, these are the gliders to lean back.
Pros
Airy sling
Weather-proof
Easy to clean
Cons
No cushions or padded armrests
First-timers may require assistance in assembling
4. High-Back Patio Glider with Mesh Support from PatioPost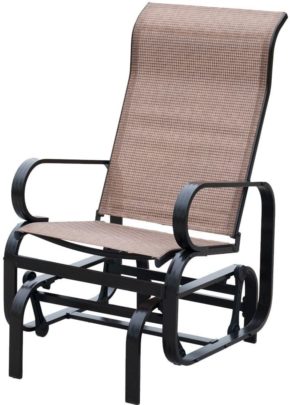 To all the singles out there, don't worry, PatioPost has been listening. Their High-Back Glider with Mesh Support is proof that patios and backyards can be enjoyed solo, with that favorite author or single malt to give you company. Ergonomically designed to fit the contours of your back, these gliders are built with aluminum frames, making them both sturdy and light-weight. With their supports made of mesh, these are water-proof and resistant to the weather as well.
Pros
Ergonomic design
Weather- and water-proof
Weight capacity of 350 lbs
Cons
Not suited for couples or families
Some customers find it difficult to assemble
3. Country Glider Set in Bronze from Jack Post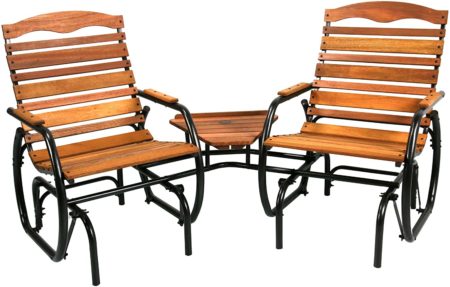 If you can't move to the country, move the country to your patio. That seems to be the mission behind the Country Glider Set from Jack Post in a rustic Bronze shade. Made from the famously sturdy Indonesian hardwood, the table in the middle is at the perfect angle to place your novel or cocktail. While the design gives it a smooth-flowing uniform look, the corrosion-resistant steel makes it supremely reliable.
Pros
Timeless design
Ideal for couples
Three-year warranty
Perfectly-placed center table
Cons
Relatively expensive
Assembling reportedly takes some time
2. Couple's Glider and Center Table from Outsunny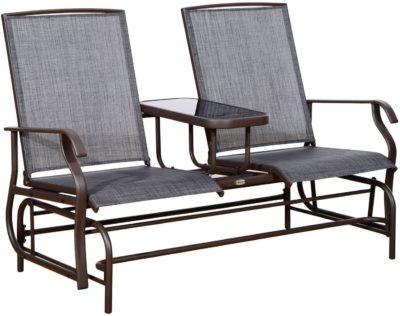 Calling all couples, the Glider and Center Table from Outsunny is precisely what you need but never really thought about. It's classy, it's functional and it's endearingly artistic. With a strategically placed table in the center and ventilated mesh on steel, this glider set is here to elevate your private moments.
Easy to transport and move around, the set is minimal yet durable. The armrests on both sides complement the table, giving you ample space to rest your arms while nursing that drink.
Pros
Appropriated placed center table
Well-spaced armrests
Mesh back for added comfort
Cons
No padding or cushion
Assembly could be a hassle for beginners
Shipping costs may deter some
1. Espresso Coloured Windsor Glider – Ottoman Set From Angel Line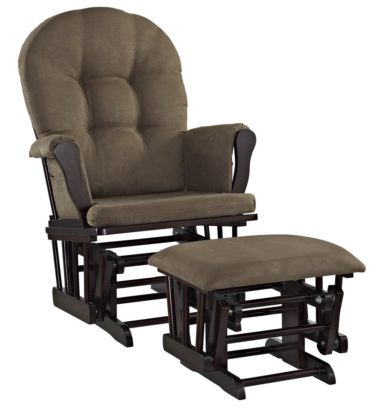 Victorian, you said? Angel Line has you covered with their exquisite Windsor Glider and Ottoman Set in an appealing shade of Espresso. Made completely of polyester, these fine pieces come with sturdy wood frames, built-in metal bearings, padding on the sides and pockets to store your books or spectacles. The cushions are not just exceedingly comfortable, but easy to clean too. Completely imported, the Windsor Glider and Ottoman Set come in a range of discerning colors, but Espresso does stand out.
Pros
Structurally sound
Comfortable cushions
Fluent gliding motion
Cons
Expensive when compared to others
May unfavorably contrast with minimal decor
Conclusion
A glider is the easiest and most creative way to get a makeover for your porch, backyard, or patio. It adds character and depth to your decor while giving you the freedom to tweak and customize to your unique tastes. With our top ten patio gliders for 2023, we hope you will find your solace of calm and happiness, away from all the hustle and bustle of everyday life. There are choices for couples and singles, for those who prefer earthy, classical designs and those with a bias towards all things chic. There are enough options for you to find that space that's private and peculiar, one that you can call your special little island.