Dumbbells are some of the most versatile workout equipment to consider for a home gym. You can use dumbbells alone or incorporate them to increase resistance when performing different workouts like squats, lunges, among others. To save space and ensure the dumbbells stay organized around your home, consider buying the dumbbells sold with storage racks. Such sets are made in pairs with varying weights.
The racks are also made with tiers to accommodate these dumbbells and the weights. So, which are the top best dumbbell sets with racks?
Best Dumbbell Sets with Rack of 2023
10. Hexagonal Dumbbell Set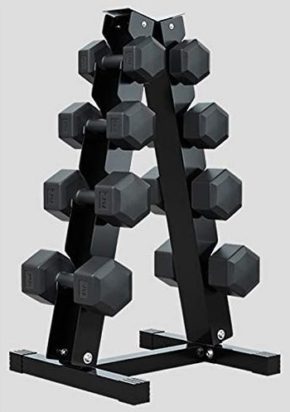 If you need a dumbbell set plus a rack you can travel with, this is a great dumbbell set worth buying. The rack is compact and light in weight, which makes transportation of the rack easy and smooth. The dumbbell sets come in four pairs that you can use to work out the entire body. The set is perfect for all people, including beginners, since they consist of varying weight-resistant levels.
The dumbbell holding sections are equipped with rubber material to firmly hold the dumbbells and safeguard them from scratches when putting. The rack's base provides stability regardless of where you set it up, while the hexagon head prevents the dumbbells from rolling down.
Special features
The dumbbell set is portable
Comes with multifunctional dumbbells
It is easy to use
Has safety design for durability and efficiency
9. XMark Strength Training Dumbbell Racks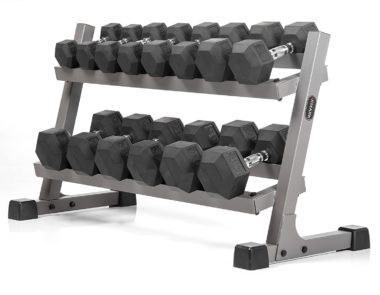 This rack comes as a pack consisting of different weighted dumbbells you will need for various workouts. The dumbbells available are convenient since they target various body muscles, plus create great resistance for reliable fitness results. The rack features heavy-duty material construction that can hold a weight of up to 350 pounds. For those who opt to purchase the rack with dumbbells, the package comes with 7 pairs weighing varying weights.
Working out with the dumbbells is comfortable since they are made with knurled, chrome-plated handles to offer comfortable gripping. The dumbbells have heavy-duty cast iron crafting such that they cannot easily get damaged in case you accidentally drop them when working out.
Special features
Each pair of dumbbells has varying weight level ranging from 10 pounds
The rack holds 350 pounds of weight
The package comes with 7 pairs of dumbbells
The rack shelves have anti-slip materials
8. ATIVAFIT Adjustable Dumbbell Fitness Dial Dumbbell with Handle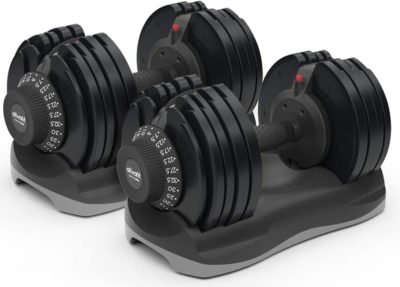 These heavyweight dumbbells come with stands, so you don't need to place them on the floor. Thus, you end up securing the dumbbells and the flooring of your home from scratches. The rack and dumbbells are made of high-quality materials for durability. Note that the weight of these dumbbells is adjustable to accommodate beginners and pros.
This also makes it easy to incorporate the dumbbells on various workouts that require high to low weight resistance. The weight increase from 11 to 71.5 pounds
Special features
The dumbbells are adjustable in weight
Adjusting the weight takes a few seconds
The dumbbells stands have anti-skid bases for stability
The stands are contoured to hold the dumbbells from rolling
7. Ader Dumbbell Rack w/ 3-25lb Rubber Dumbbells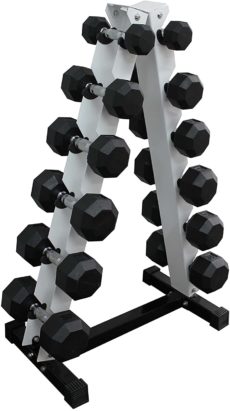 Although these dumbbells are crafted with rubber materials, rest assured they will make your workout effective by adding more resistance. A package consists of 6 pairs of dumbbells that give varying weight limits. On top of that, the dumbbells come with a rack for organization purposes.
The rack has quality material construction and stable to hold a weight of up to 45 pounds. It has a steel material crafting with a coating to safeguard it from rust and corrosion if you carry it to work out from outdoors.
Special features
The weight of dumbbells ranging from 3, 5, 10, 15, 20, to 25 pounds
The dumbbells have rubber anti-skid materials
Comes with a stable rack that can carry 45 pounds
The package has 6 pairs of dumbbells.
6. BalanceFrom Colored Neoprene Coated Dumbbell Set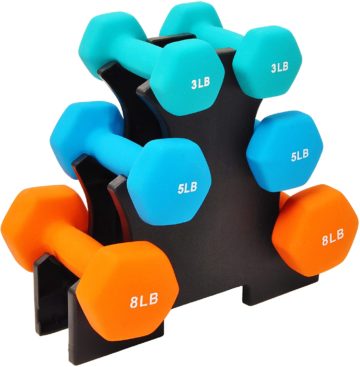 This is another three-tier dumbbell rack that comes with three pairs of dumbbells to incorporate in various workouts. You can incorporate the dumbbells when training various body muscles or performing workouts like squats, lunges, and other toning workouts, considering they don't have high weight resistance.
It is vital to note that the three pairs of dumbbells have varying color finishes for easy identification of the available weights. The weight range from 3, 5, and 8 pounds sequentially. The rack plus dumbbells are made of high-quality materials suitable for both indoor and outdoor kinds of weather. So, you can comfortably carry the dumbbells set to work out from the outdoors.
Special features
The dumbbells holders have nonslip materials
The rack has a neoprene coating
Comes with a 2-year warranty
The rack is easy to assemble
The pack is affordable
5. Fitness Alley Steel Dumbbell Rack – 5 Tier Weight Holder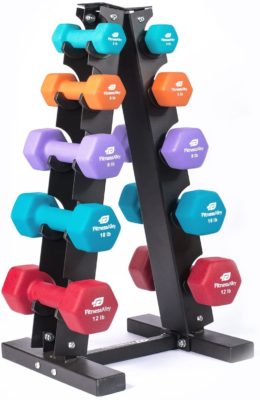 This sturdy dumbbell stand comes with colorful dumbbells that you can use for various workouts involving toning and weight loss. The rack has five tiers that hold five pairs of dumbbells, each pair having varying weights. Note that the dumbbells' weights are 3, 5, 8,10, to 12, plus they are parked in different colors for easy identification. These dumbbells are great for beginners since the weights are favorable.
On the other hand, the rack has quality steel material construction, and it is stable even when set on the slippery floor. The dumbbells holding holes have soft material to secure the dumbbells on the rack while protecting the outer coating to retain original looks for a long.
Special features
The rack set comes with a 1-year warranty
Holds five pairs of dumbbells
Comes with beautiful dumbbells
The rack has a stable construction
4. Sporzon! Colored Neoprene Coated Dumbbell Set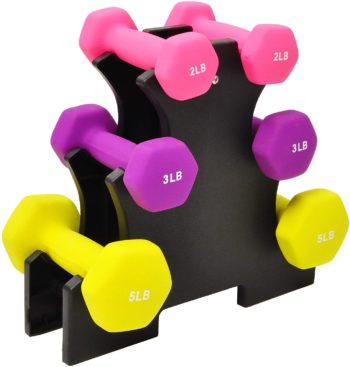 The rack has a non-slip coating that secures the dumbbells from rolling off when moving or storing. It features three tiers, with each tier holding a different dumbbell weight. The dumbbells have three weight categories: the 2, 3, and 5 pounds to use when weight training or toning the body.
These dumbbells have three different color codes that make them look attractive while making it easy to choose the right workout pair. The rack has quality materials crafting, and it is easy to assemble.
Special features
Assembling this dumbbells rack is easy and quick
Comes with three pairs of dumbbells
The dumbbells are color-coded for easy selection
The dumbbell holders have non slip crafting
3. Fitness Republic Solid Steel Dumbbell Rack Holder Combo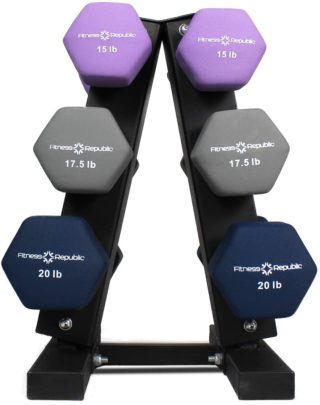 If you need a dumbbell set that you can use when working out with your partner, this right here is the jackpot. The dumbbells come in five pairs plus a rack for holding them. They are five in total and provide varying weight-resistance levels. So, the dumbbells are recommendable for doing workouts that require varying resistances for quicker results.
Although the dumbbells are marked with the amount of weight they have, it is also easy to choose the pair to workout with since they have varying color finishing. The rack has quality material construction, plus it is stable to hold a weight of up to 200 pounds. It also has a protective measure to safeguard the floor from scratches and prevent the dumbbells when storing.
Special features
The dumbbells weights are; 2, 4, 6,8, and 10 pounds
The rack has five tiers
The dumbbells come in five pairs
This rack is strong to carry 200 pounds
Comes with one year warranty
2. BalanceFrom GoFit All-Purpose Dumbbells in Pair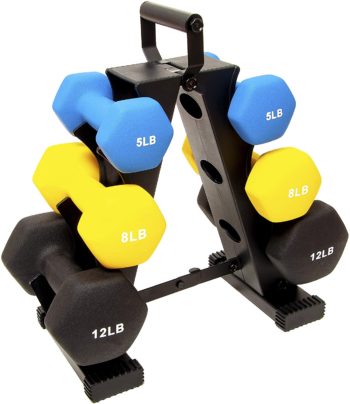 You can comfortably carry these dumbbells plus the rack to work out from different areas since they have an ergonomic top handle. The rack features a compact size that can hold three pairs of dumbbells. The dumbbell's weights are 5, 8, and 12 pounds, which are also marked in different colors for an easy selection to workout with.
The neoprene material coated on the iron cast material guarantees durability and protection such that you can use the dumbbells outdoors. Note that the rack comes unassembled, although putting the parts together is easy with the provided tools and user manual.
Special features
The rack and dumbbells set comes with a two-year warranty
The rack has a handle for easy carrying
Comes with three pairs of dumbbells
You can use them either indoors or outdoors
1. CAP Barbell 150-Pound Dumbbell Set with Rack
This is a must-have dumbbell rack set for your home gym. The rack and dumbbells feature a black matte finish that makes the area look unique and elegant. This is a five-tier rack that comes with five pairs of dumbbells to incorporate different workouts. The available dumbbells have varying weights of 5, 10, 15, 20, and 25 to fit both beginners and pros. The weights of the different dumbbells provide different resistance levels.
You don't have to worry about the dumbbells losing the coating since the holding openings have rubber material to hold them firmly and secure the coating from scratches and other damages. We love the other great feature about the rack as the hexagon design that provides stability to the dumbbells.
Special features
The rack dumbbells set has a beautiful finish
The rack has quality material construction
The A-shaped rack saves storage space at the home gym
The dumbbells have varying weights
Body Dumbbell Workout for Beginner
Conclusion
These are our top selection of dumbbells that are sold with racks. These are great options for home workouts since they help keep the home gym organized and safeguard the dumbbells when stored. The above-reviewed dumbbell sets have varying weight capacities. So, find the best set for your workouts, depending on your needs.