Processing food can be very tiring and troublesome. Especially, the work becomes too tiresome when you need to grate cheese or shred vegetables. Well, this is a reason why you need to opt for an electric cheese grater. This special appliance allows you to finely grate cheese. Also, you can slice, shred and grate vegetables too. In short, food processing becomes very easy and even the hardest cheese will be finely chopped in it. The taste will remain intact and you can enjoy the creamy, cheesy texture.
So, in the electric cheese grater and shredder buying guide, we discuss what to look for while buying one. The products are properly researched before we suggest them to you.
Why are electric cheese graters suitable for hard cheese?
Electric cheese graters are the solution for the modern era but then the question that you might wonder, can you grate hard cheese. You might fancy Parmesan or Romano to include in your Mac and Cheese but hand grating can get really difficult. Electric graters on the other hand can easily do the work and let you create the tastiest dishes in the comfort of your home. No hassles nor overwork or manual labor, the machine will do all for you.
Best Electric Cheese Graters and Shredders Review
10. Presto Salad Shooter Electric Slicer/Shredder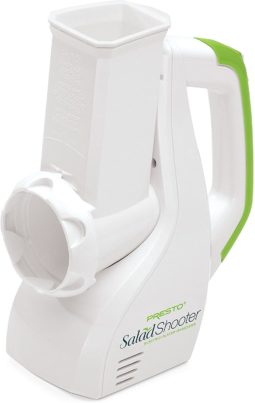 Indeed, a brilliantly designed grater cum shredder that will help you in your everyday food preparations. Hence, make the process as effortless as possible; this machine has all the latest innovations in it. Equipped with interchangeable slicing and shredding cones, attaching and removing them is smooth. Also, this particular machine has an output power of 125W. Therefore, you can deal with multiple types of items and complete the process faster always.
It allows you to add one ingredient after the other without having to clean the shredder every time, not only saving you time but also your energy. The sharp and effective stainless steel cutting blades are strong and never fail to deliver proper shredding.
Key features:
Dishwasher-safe parts, the shredder is quite easy to clean as you can put everything in the dishwasher except the motor base.
Compact and small footprint, the machine is quite small and comes attached with a 5-ft cord for far-reaching.
Innovatively designed, you will not have to use any separate bowl or anything.
9. Aicok Electric Cheese Grater and Shredder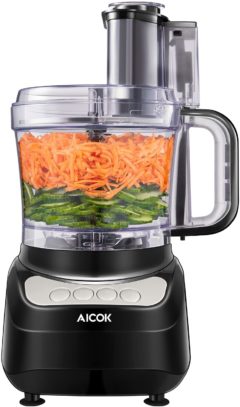 Just not for the purpose of grating cheese, this multi-functional food processing unit is a marvelous product. Thus, it will perfectly fit in your everyday lifestyle. It comes with a big 12 cup BPA free bowl, now you will not have to repeat the shredding process when you need large quantities. Having no brainer operation, there are 4 buttons to deal with when you need to change the speed. There is a pulse button on the unit which allows you to choose a specific time period. Thus, it will always satisfy you with the end results.
Besides, you will receive a wide range of accessories for faster and more comfortable usage. You will get 2 feed tubes, 2 pushers, a reversible disc, 1 plastic S blade and a stainless steel S blade.
Key features:
Of course, it is extremely safe and risk-free. It has 4 safe node settings which make sure the shredder works only when everything securely attaches.
There are 4 suckers on the bottom which makes sure the unit stays stable on any kitchen or countertop.
This comes with an ETL certification for quality check purposes and it is backed by 24 months of warranty.
8. Homdox Electric Slicers, Professional Salad Maker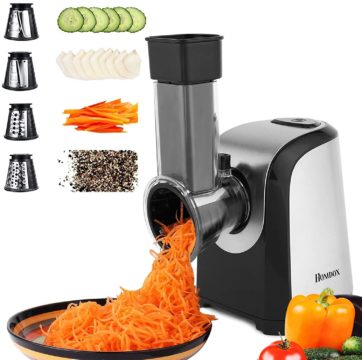 The biggest benefit of a good electric shredder and grater is that it lets you grate cheese and other items with practically zero effort. Thus, making sure you can save the energy to make the tastiest dishes. With some really interesting features and a very user-friendly design, this grater is a great choice for homeowners. From nuts to chocolate and cheese, the 150W of the motor will smoothly slice and chop through pieces. Coming with 4 interchangeable stainless steel cones, now you will be able to change the cones to suit your needs. Choose how you want the grind to be and change the cones accordingly.
Furthermore, dishwasher-safe parts except for the base, this hassle-free unit and the base can be wiped clean with ease. Besides, it is fully stain-proof and will not lose its brand new shine as well.
Key features:
You will also get a single button operation to keep out any unwanted troubles.
Very lightweight and compact, the small footprint of the unit makes sure you can easily set it up anywhere you, please.
Indeed an automatic product for shredding, chopping, slicing any hard, soft and crunchy item.
7. Presto 02970 Professional Electric Slicer/Shredder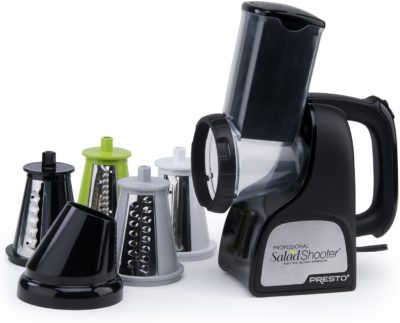 This is a marvelous electric shredder that you can use for multiple different purposes. From shredding vegetables to cheese and frits, preparing pizza, desserts or anything else will be a very trouble-free experience. It lets you work as per your needs because it comes with 4 interchangeable cones. Now you will be able to make regular slices, go for a thick slice, enjoy ripple cut fruits, or have shredded items for the dish you are preparing. The handy funnel guide comes in really useful because it helps you in the process largely.
One amazing thing about this machine is the point and shoot feature. You will not have to use any separate bowl or dish because the shredded cheese or vegetables can go directly into the dish.
Key features:
The plastic housing is very durable and strong and stays away from the risks of rusting and corrosion.
The parts are dishwasher safe for easy cleaning but the base has to be wiped clean.
Food chamber used in the shredder is large allowing you to use whole vegetables or fruits without any trouble.
6. Homedox Salad Maker Electric Slicer Shredder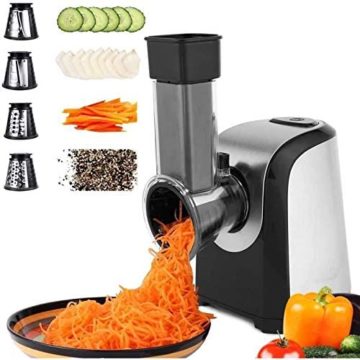 It is not only an electric cheese shredder but also a vegetable grater that is a must-have for a modern home. So, try out brand new fancy recipes that you can relish on. Extremely high quality and heavy-duty, the use of high-end gears ensure to do the slicing and chopping in an uninterrupted manner.
To make sure you can prepare your favorite meal, this grater is designed with 4 interchangeable stainless steel cones. Each has a specific function like fine grating, thick slicing, thin slicing and coarse grating. Besides, it uses high-quality stainless steel blades for fast chopping and doesn't lose its sharpness easily.
Key features:
The sharpness of the blades is going to remain intact for a minimum of 3 years.
You can also grate and slice different vegetables with this electric grater.
Due to the lightweight nature, you can every carry it with you if required.
5. MegaChef 4-in-1 Stainless Steel Electric Maker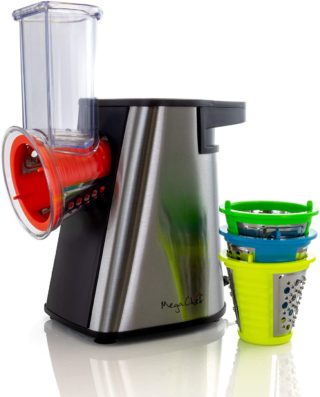 When you are all set to make a delicious for your family or for the guests you have over, it is essential that you always have things handy. An electric cheese grater like this can make the dish as cheesy as you want with practically zero effort. Quite good looking as well, this definitely suits in a modern-day kitchen filled with best in class appliances. The stainless steel housing of the machine is undoubtedly something that will always look pleasing.
In addition to that, you will get blades that are crafted from the best quality stainless steel. Not only they will last you the longest, but they will also keep away rusting.
Key features:
You will get 4 different color-coded pods to work with and use, making the whole process easier.
Grating and grinding are very easy as this gets a built-in food feeding tube combined with a pusher.
For removing stains or cleaning the hard-to-reach corners, simply handwash them.
4. Innomoon Cheese Grater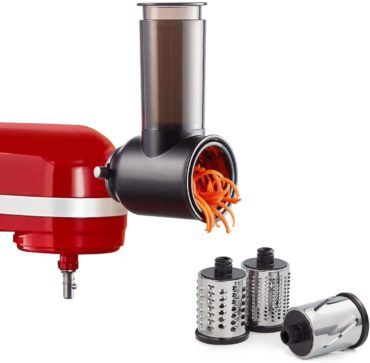 This a professional option of a cheese grater, you have it here with this. It is indeed a perfect machine to replace the kitchen aid attachments because this will cut down on the overall efforts you have been putting. Next, the food-grade plastic black housing will tolerate heavy-impacts, extreme usages and jerking as well. Besides, this gets a premium aluminum metal rotor shaft combined with the stainless steel blades. It looks good and performs even better.
Due to the quick-change design, you can save from wasting unwanted time. Finally, the 360-degrees hole stainless steel design aids in the overall process of shredding. So, it lets you work with vegetables as well.
Key features:
Top-rack dishwasher safe blades, you will not have to worry about cleaning.
It has a humanized design that will certainly protect your hand from getting hurt in the process.
3 different blade types for fine and coarse grate along with another one for slicing.
3. Homdox Electric Slicer Shredder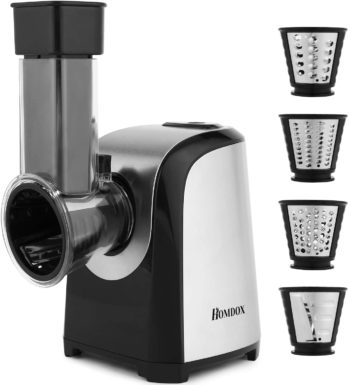 This is one of the most amazing kinds of electric cheese graters and shredders that you can buy today. Rated as an Amazon's Choice product, it has been hailed for quality and smooth functionality. The ease of operation and smart design make sure everyone including the elderly can use the machine without any hold-ups. Very fast and efficient, this features a 150W of a powerful motor that can complete the shredding fast and easy.
Just not cheese or veggies, you can use this for grating chocolates, for chopping nuts and everything else. The 4 interchangeable stainless steel cones make the entire process even more convenient. Owing to the fact that the cones are of stainless steel, you can be sure that they stay sharp always.
Key features:
Comes with a handy funnel guide, you will be able to easily take care of the slightest changes.
Totally BPA-free and risk-free, this electric grater is totally hygienic and always takes care of your safety.
Ideal for modern homes, it shoots the grated items wherever you need and is quite lightweight for easy handling and usage.
2. TIBEK Electric Slicer Grater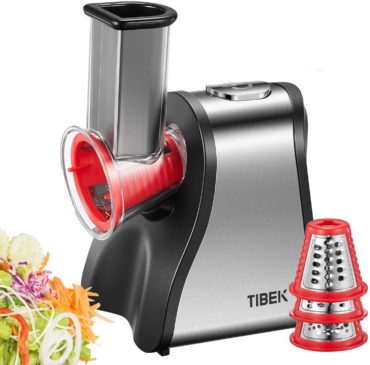 If you are already willing to get the best kind of electric cheese grater or shredder for your home, you need to check this one out. With all the innovative features aimed at delivering you an impressive performance, you can use this for different purposes. From grating cheese to preparing delicious salads, one can do almost anything using this. The 53mm wide filling mouth is a great design innovation because now you can easily put in even big sized fruits and vegetables. Overall, this is a kind of device that will easily blend in with your modern lifestyle.
Cleaning is very convenient because the attachments and parts are dishwasher safe. Only the motor is not safe for the dishwasher. Small and compact, this can sit anywhere. Plus,
Its extremely sharp blades make sure you can grate and shred faster every time.
Key features:
High-quality food grade and BPA free materials are used for making this electric grater.
The hassle-free one-button operation ensures a completely trouble-free user experience.
Powered by a 200W motor, this works very fast and the brand gives you a 24 months assurance.
1. Hamilton Beach Compact Shredder Black (70740)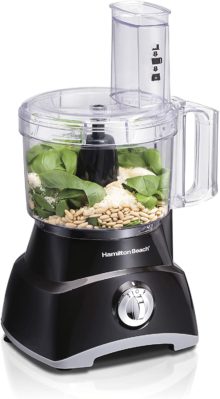 Make your life easier by choosing to waste the least amount of time preparing the kitchen. This is a professional and top-rated electric cheese grater food processor unit that comes in handy. Completely BPA-free and extremely well-designed using the best materials, this is capable of handling a wide range of works. In total, the bowl has an 8 cup capacity and can easily handle most of the kitchen needs.
The most useful feature of this grater is the large feed chute. It is never going to be troubling for anyone to work with large food. A whole cheese block can get inside through the chute.
Key features:
Delivers 450W of power, this quick and efficient unit does the work fast.
Low and high speed plus pulse is an advanced feature to help the ones who make different recipes.
Slide/shred disc combined with an S-blade for chopping and mixing works.
How can one process fruits and vegetables in electric cheese graters?
Although in the reviews you have already seen that these graters are more than amazing for fruits and vegetables, you also need to know about the versatility it offers. With a good quality grater, not only fruits, you can even grind the nuts for adding a different taste and feel. From potatoes to cucumbers, you will not encounter any difficulties working with it. The shredder comes with different blades. So you can put your vegetables and fruits through these blades for getting a fine outcome.
What features to consider while buying electric cheese graters?
When you are picking out an electric cheese grater, you really need to consider the design and features properly. Because you will be working heavy duty with it, the overall quality of make is very important. Also, look for the kind of durability it offers and how easily it can be cleaned. You do not want to spend an entire day just cleaning the cheese. Lastly, understand how powerful it is and what is the size and shape. For home use, you cannot afford to get a big sized grater.
Final verdict
So, make the cheesiest dishes, dip your food in it or add extra cheese, the electric cheese grater and shredder machine is going to help you in the process. Never regret not having extra cheese as these shredders are going to help you fulfill your cheesy expectations.