Every meat lover in this world has a specific preference when it comes to meat cuts. In fact, slicing the meat efficiently can enhance the flavor too. Of course, you step into a store and ask for a specific cut or you want it to be sliced a certain way. The good news is that with an electric meat slicer at home, you can easily slice the meat as per your liking.
We have listed the top 10 electric meat slicers of the year 2023. To make the decision-making process easier, we added a buying guide too. Take a quick look!
List of Best Electric Meat Slicers Review
We have selected each of the products carefully. Compare each of the products before choosing one. You will be able to narrow down your options after going through the buying guide.
10. Kitchener Professional Electric Meat Slicer 9-inches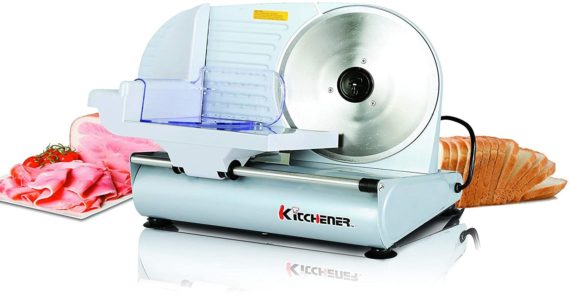 A combination of materials is used for making this supremely powerful and efficient food slicer. Safe-grade food plastic, stainless steel, and die-cast aluminum are used for the entire structure. We personally liked the fact that the product is super portable. You can carry it from Point A to Point B without feeling the heavyweight. You can easily remove the blade and place another one for a different type of cut. The suction cup feet make the product steady and non-shaky.
What's great news? The product does not cost a fortune. If you are looking for a beginner meat slicer that does the job and does not cost much, then the Kitchener meat slicer is a good purchase.
Reasons to buy
It is affordable.
The product is portable.
You can easily remove the blade for easy cleaning.
9. Elite Platinum Electric Food Meat Slicer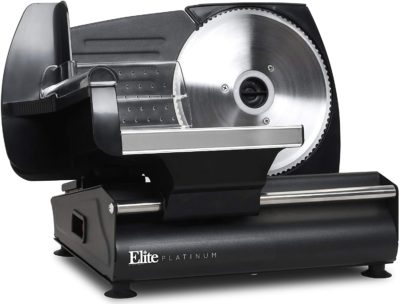 When your friends are over for a satisfying meal, you like to impress them with your cooking skills. You can do so by investing in the Elite Platinum Electric food meat slicer. You can get fine cuts with this mechanism. To top it up, the product is made with convenience in mind. It can help you save time, money, and effort.
You can cut different types of meat such as ham, pepperoni, salami, chorizo, and more. Perhaps you want to make delicious sandwiches or pizzas for your loved ones for Christmas season. Since the product is not as expensive, you could even gift it to your loved ones.
The product is made of high-quality die-cast aluminum. Don't you want a durable product for your kitchen? It will last for years to come!
Reasons to buy
The product is made of high-quality die-cast aluminum.
Allows you to cut different types of meat.
It is super affordable.
8. CUSIMAX Meat Slicer 7.5 Inch Removable Stainless Steel Blade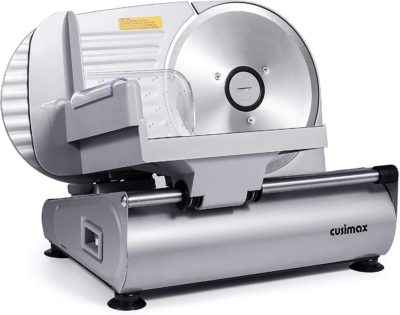 The hidden track design and the conveniently removable blade makes it easy for you to clean up the mechanism. Say hello to CUSIMAX, one of the bestsellers out there. The slicer operation is smooth and does not require any lubrication. It does not burn a hole in your pocket and allows you to get different thicknesses for different types of foods.
The 7.5-inch blade cuts precisely and gives you even cuts. Say goodbye to those meat shops which ask you about your preferred type of cut. Firstly, the meat is expensive and getting it cut can be time-consuming too. You can do that at home by investing in your very own meat slicer. It could be CUSIMAX!
Reasons to buy
The product has a 7.5-inch blade.
It does not require frequent lubrication.
The product is affordable.
7. Gourmia GFS700 Professional Electric Power Food & Meat Slicer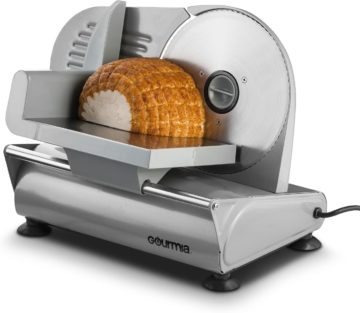 The 180 Watt AC Motor is powerful, and the most important thing is the slicer does its job like a PRO. The stainless steel blade is serrated and can be adjusted as per your heart's desire. Different food items require different types of cuts and thicknesses. Hence, you can do that with the Gourmia GFS700.
There is a special adjustable thickness dial that allows you to seat the meat slices the way you like it. Since the product is small in size, it can fit your kitchen easily. Let's not forget that Gourmia is one of the top brands out there. You can trust the brand at any time of the year! It never fails to impress the clientele.
Reasons to buy
The product is portable and is easy to store
It allows you to adjust the thickness.
The stainless steel blade is serrated.
6. Chef's Choice Electric Meat Slicer with Removable Blade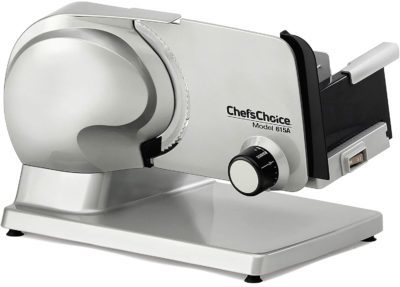 Having a meat slicer with a removable blade makes it easier to maintain the product. Just remove the blade and clean it efficiently. Chef's Choice electric meat slicer is one of the largest selling products out there. Say goodbye to rust as the structural components are of stainless steel and cast aluminum.
The blade can be adjusted as per your preference. Just choose the thickness and slice the meat merely. The 7-inch stainless steel blade cuts through beautifully and allows you to get precise cuts. You can get both thick and thin slices from this efficient electric meat slicer.
The motor power is 120 Watts and a special button locks the food carriage system.
Reasons to buy
You can get both thin and thick slices with this.
It is water-resistant.
The blade does not require frequent sharpening.
5. ChefMan Die-Cast Electric Food Slicer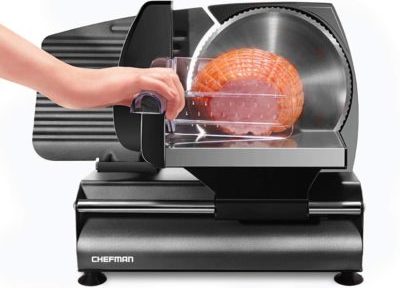 A totally affordable product that is not just efficient in the kitchen, but is highly durable. You can slice your favorite meats in this such as turkey, beef, ham, cheese, veggies, all kinds of fruits, and even bread.
The product has a space-saving design which means it will fit beautifully in your kitchen. If you are thinking of making a party platter or a fruit on display window, then this mechanism will help you quite a lot.
The product's 180-Watt AC motor is powerful. Moreover, the product is easy to clean and store. It comes with a 1-year warranty and is available at a cheap price.
Reasons to buy
It has reasonable pricing
The product has a space-saving design.
Non-slip sturdy feet for stable use.
4. Techwood Electric Food Slicer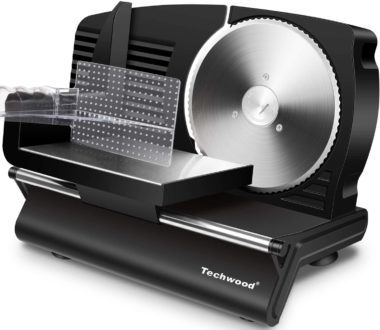 Most people are looking for a meat slicer for home-usage. If that's the case, then you can rely on Techwood Electric food slicer. It does the job flawlessly! The blade is made of premium quality Teflon stainless steel. The blade is 10 inches and considering the quality of the material is premium, you do not have to sharpen it time and again.
The aluminum alloy and stainless steel base ensure that the product does not get rusted. A rusted product is of no use!
Reasons to buy
Powerful 320-watts motor power
Very easy to clean and use
The product is water and weather-resistant.
3. KWS MS-10NT Meat Slicer Electric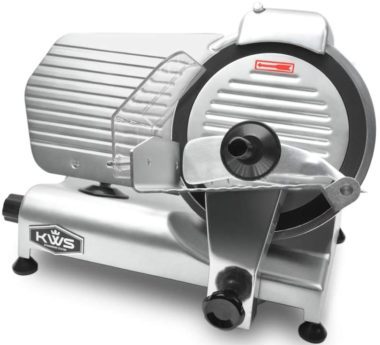 Let's talk about robust and large meat slicer. Here's an electric meat slicer that is tailor-made to slice meat, cheese, veggies, fruits, bread, and ham in all the desired sizes and shapes. The 10 inch Teflon steel blade is of premium quality. The adjustable blade allows you to control the thickness for getting the desired size.
The 320-watts motor makes it quite powerful. The good news is that you do not have to sharpen it frequently. Considering the base is premium-quality aluminum alloy, it will not get rusted.
Reasons to buy
Powerful motor of 320-watts
Does not require frequent sharpening
It has an adjustable blade.
2. CukAid Electric Meat Slicer For Deli Cheese Bread Veggies and Fruits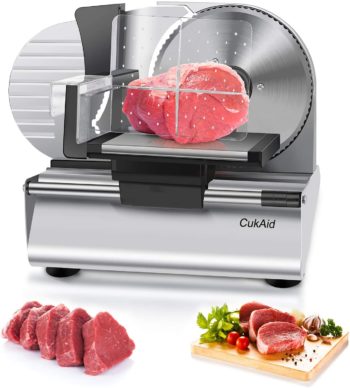 Washing meat slicers without a removable blade can be super tough. But, the CukAid Electric meat slicer comes with a removable blade for easy cleaning. Moreover, this mechanism is dishwasher-safe. You would be pleased to know that a lubricant is not required for the blade to function smoothly. Thickness is adjustable and you can cut a variety of foods with this including cold meats, fish, cheese, veggies, bread, and fruits.
Reasons to buy
Safe to work with
No lubricant required for the blade to function
Removable blade makes it easy to clean
1. BESWOOD 10-inch Electric Deli Cheese Meat Slicer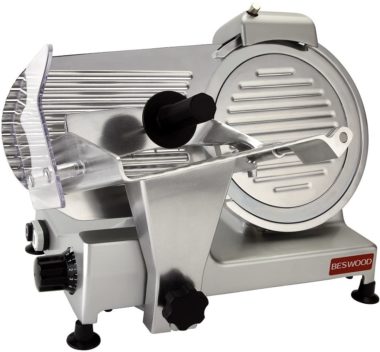 One of the top electric meat slicers out there, BESWOOD does not fail to impress. The blade is made of chromium-plated carbon steel. It protects the blade from unwanted corrosion. Even after using it for long, there will be no rush on the blade.
Moreover, you do not have to sharpen the blade continuously. The versatile machine can slice meat, different types of cheese, fish, fruits, and veggies.
The on/off switch is double-illuminated (24V) and it is also shock-resistant. Overall, a very good product available at a slightly higher price. But, you can consider this as a one-time WISE investment.
Reasons to buy
It is a versatile machine that cuts veggies, fruits, meat, and cheese.
The blade is made of premium-quality chromium-plated carbon steel. Say no to rust!
You get precise cuts with this mean meat slicing machine.
Quick Buying Guide For Novices
When choosing an electric meat slicer, it is important to keep certain things in your mind. As a prospective buyer, you would want the product to be power-packed, durable, and something that gives precise cuts.
Here are some of the things you need to keep in mind while buying the best electric meat slicer:
The Motor: It should have plenty of power. We are talking about a meat slicer with a 130 Watt inducing motor. You can either choose a belt-driven or a gear-driven electric slicer. The gear-driven is more powerful as compared to the belt-driven. But, some models come with both.
The Blade: What kind of cuts do you need? If the meat is thick, it is best to go for a serrated blade. It cuts through all types of food – bread, tough meats, and all the works.
The Type of Cut: Some people want a cut with a specified thickness. For this, the electric meat slicer will have an adjustment knob.
Noise: Let's face it – everyone wants a model that makes less noise. But, the truth is, that most of the models will make some noise while slicing the meat. 60-70 decibels is quite common. Don't be surprised if they make some noise. The meat slicer is doing its job!
Safety: Look for a product that offers safety. You are dealing with a highly sharp blade here. A hand-guard system would help in keeping a safe distance between the finger and the blade. Ideally, look for a product with blade-lock function as well.
Easy to clean: Finally, you would want a product that is easy to maintain. And, by easy to maintain, we mean that it should be easy to clean. Make sure you buy a product in which the blade is removable.
Concluding Thoughts
Did you find what you were looking for? If yes, then share it with your loved ones as well.
It gives us immense pleasure to share the list of the best electric meat slicers in the market. To have a worthwhile shopping experience, you must choose Amazon. It allows you to read the real buyer reviews and ratings. Plus, returns and refunds are easier through the platform.
But, we know that we have selected the best products for you! Just compare the price, features, and utility before purchasing the ideal product for your kitchen.
We are certain that you will make a good decision. Don't forget to read the buying guide before choosing as that gives you an idea of what you should look for in the ideal product. One word of advice would be to choose a product that has a removable blade, is portable, and thickness can be adjusted. Happy shopping!