Electric metal shears are tools used in cutting metallic items and other materials. They are convenient and a powerful alternative to manual metal shears. Also, these tools allow you to cut through various metal sheets, slice materials such as wood or plastic and trim asphalt shingles. Additionally, they have speed controls and versatile handiness that assists in handling various shearing activities. Some of the places you can use electric metal shears include homes, plants, and construction sites. Below is a list of the ten best electric metal shears in 2023 to help you pick the right tool for your task.
List of Best Electric Metal Shears Review
10. Chicago Metal Shears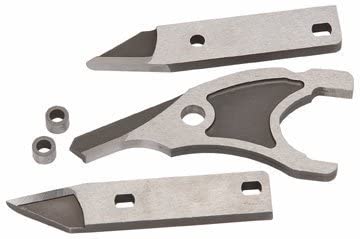 Chicago electric metal shear brings the versatility you require when cutting sheets. Also, it has a top-grade performance and a 14 gauge, effective for metal shearing projects. It is a tool that has a lightweight design, meaning you don't get tired when you use it for prolonged hours. Notably, it has a 4 amp motor and a 360-degree swivel that allows you to cut around irregular shapes and straight lines. To minimize metal distortion, it features a three-blade cutter which is better than a single blade.
9. Grizzly H5503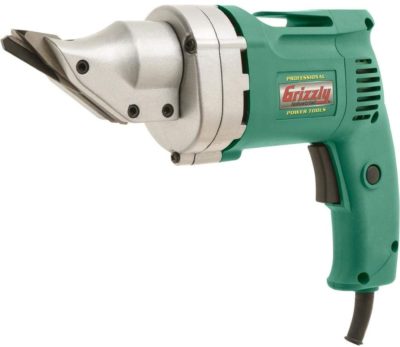 Grizzly H5503 is a powerful metal shear that operates through electric power. It helps get rid of bulky manual metal shear and makes your work easier. Also, it has a variable speed that ranges from 0 to 2500 RPM and enables the tool to run smoothly without vibrations. Therefore, you can trim sheets without the fear of injuring yourself. Note that while cutting mild steel, the shear uses a maximum of 14 gauge and 18 gauge for stainless shear. Grizzly is designed to be used on sheets in circles of 12 inches radius and above.
8. Gino Development 01-0101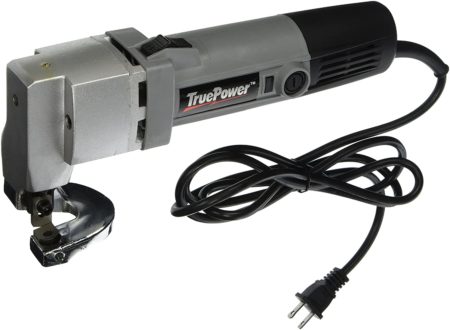 Metal cutting projects require strong electric shear equipment. Gino Development 01-0101 is a single blade cutter that cuts through metal without creating any waste. Therefore, it is engineered to deliver clean slices in all types of metals with an 18 gauge thickness. These shears are bought at a reasonable price and have a 3.5 amp bladed model. Additionally, it accelerates smoothly while its swiveling head enables you to cut from any direction. More importantly, this tool has simple controls making it a top-notch choice for beginners and professionals.
7. Wild Edge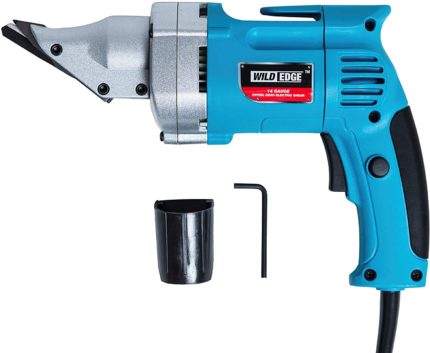 Wild edge electric metal shears are among the 10 best electric metal shears of 2023. These shears have a 5 amp electric motor, hence used in cutting 14 gauge metal sheets without performance issues. Also, it has a high build quality with a two-finger trigger that makes it easy to use; and consists of an automatic lock-on button. Wild edge, like most metal shears, works better in cutting straight lines compared to curves. Notably, you get a one-year warranty after purchasing it. Keep in mind that it has a fully rotatable tool head allowing high precision and accuracy.
6. Malco TSCM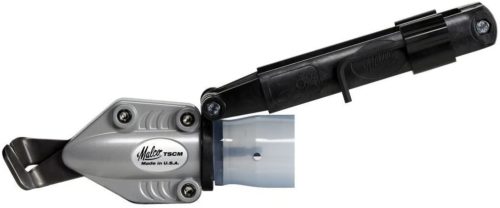 If you are a beginner, it is paramount to search for a tool that performs all basic metal cutting tasks. Keep in mind that when it comes to using a complex gadget, you require more experience. However, you can use a drill attachment metal shear instead of a complete unit. Attach this tool to a regular drill and start your metalwork. Additionally, Malco TSCM metal Shear is highly compatible with other power equipment. It comprises aluminum material which makes it light to carry around. Notably, you can apply it on any surface or angle and let it work smoothly.
5. Makita JN1601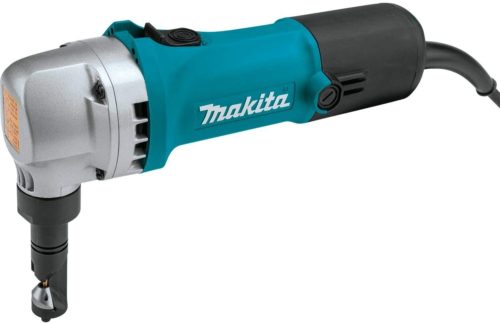 Makita JN1601 has an electric metal shear that will satisfy your needs appropriately. It is designed for anyone looking for high-end power equipment necessary to cut heavy-duty materials. Also, it achieves its performance through the use of a 5amp motor that delivers precision and power while cutting metal sheets. Notably, you can easily control it due to its slim body that is easy to grip. It. has a lock-on switch on the trigger that will save your fingers when slicing long sheets. Additionally, to make straight, angled cuts or straight strips, apply a swivel head from this equipment.
4. Genesis GES40
Electric metal shear can be relied upon for different cutting exercises. Genesis GES40 is known for being a consistent performer with reliable power and speed. Also, it is a versatile tool that handles corrugated metal roof panel repairs and trims metal sheets. Since it has a 4.0amp motor, it consumes less energy while in use. Additionally, it offers a gauge rating of up to 14 when cutting through different materials. GES40 has a cutting system with three blades that reduce metal deformation while slicing sheets and allows precision cutting. It rotates all-around to enable you to cut from any angle.
3. Milwaukee Electric Tool 2470-21 M12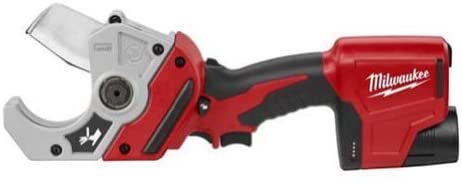 While working on complex tasks, you will require a tool that comes in handy. Milwaukee Electric Tool 2470-21 is a reliable cordless metal tool that shears materials accordingly. Also, you can rely on this equipment since it has a lengthy warranty and lasts for many years while cutting all kinds of metallic sheets. Note that its performance is achieved by a durable 12-volt battery. Thus, since it is cordless, the battery system is used in powering the motor. Due to its cordless model, you can cut materials of up to 20 gauge or 200 pieces per charge.
2. DeWalt Metal Shear (DCS491B)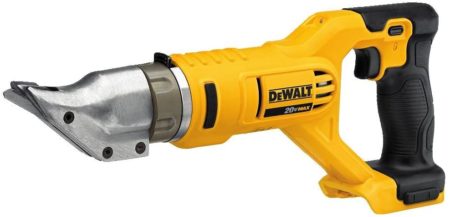 DeWalt is a reputable brand that produces power tools. Therefore, you can make the metal cutting process easier with DCSS491B electric metal shear. Notably, it has an advanced motor and a superior blade that allows you to slice into metal sheets quickly. DeWalt machine consists of an electric motor that endures nonstop cutting without overheating. Also, it comes with a 360 degrees swivel head to enable making side and angled cuts. Additionally, this gadget has the capability of producing a 7/32 inch strip out of a metal workpiece. Such strips tend to curl as you cut them and ensures you don't stop your task to remove excess materials.
1. WEN 3650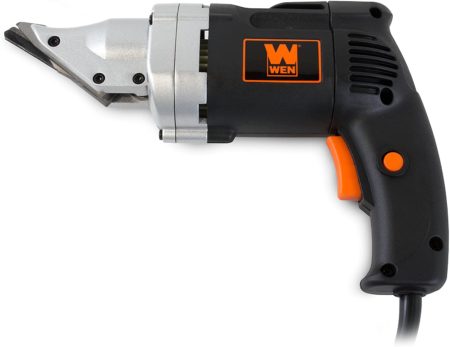 Two main factors that determine the performance of a metal shear are comfort and suitability. Wen's 3650 ensures you are comfortable during shearing to achieve better results. Also, it has a 4amp electric motor that delivers fast and smooth cuts on various kinds of metals. In most cases when you are working with this tool, you can adjust its speed from 0-2000 strokes per minute. Although it is a corded metal shear, it has a gauge rating of up to18 necessary to perform a variety of tasks. When cutting from either side, use the 360 degree
Cutting through metal sheets is difficult and consumes a lot of time while working with manual equipment. Hence, electric metal shears come in hand and make the task much simpler. However, while buying these tools, you are required to read through detailed guidelines. Therefore, use the above list to choose the electric metal shear that best suits your needs.