Planting seeds, especially in extensive gardens manually can be quite tiresome and time-consuming. Therefore, it is time to ditch the manual farming method and acquire a garden seeder. The garden seeders work faster than manual processes and are easy to use too. Some seeders are versatile since they create planting rows, cover the seeds and control the seed dropping. Still, some machines can do more than seeding.
Such garden seeders are ideal for spreading other farming ingredients like fertilizers after planting the crops. One crucial point to note is that the garden seeders are designed with varying holding capacities. Some can carry a load of 5 pounds, and others can have loads of 100 pounds and more. Here are the top ten best garden seeders to find in the market.
List of Best Garden Seeders Review
10. VAROMORUS Metal Precision Manual Seeder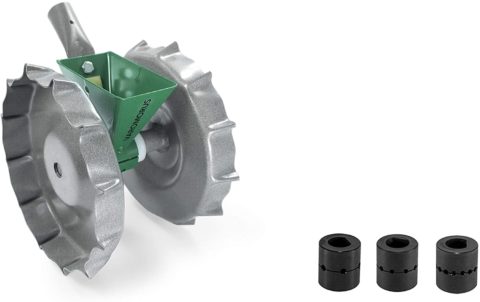 Make your gardening jobs easy by acquiring this seeder. It is a universal seeder since you can use it for planting any plants ranging from vegetables to fruits. This seeder is made of premium and heavy-duty materials so it can withstand different outdoor climates. In this case, you can utilize it when planting during the summer or rainy seasons.
The seeder plates are adjustable in size to ensure you get the right planting distance between the crop rows. The adjustments available are 1, 2, 3 4, and 5-row seeder options. The seeder has a compact and lightweight style for convenience when working on different soils.
Special features
This seeder is made of heavy-duty and durable materials
It is adjustable to different planting rows
It is easy to work with seeder
The seeder has a small and lightweight craft
9. Precision GS2010 Garden Seeder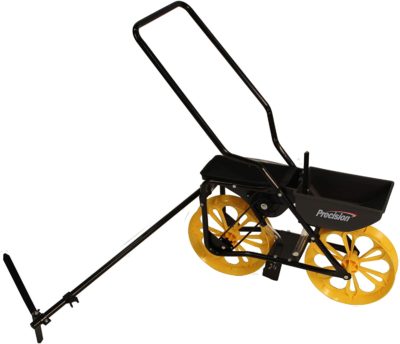 This is a multifunctional farming tool useful for plowing, planting, and covering seeds to save time. So, it is a time-efficient farming tool that you can use in your home garden. Another outstanding feature of this seeder is the high seed compatibility. You can use the seeder when planting different types of crops, including vegetables.
The tool has 7 plates compatible with up to 30 or more seed types. This seeder is recommendable for adding fertilizer to your seed when planting and after planting since it comes with a hopper for this purpose. It has a long ergonomic handle for smooth maneuvering it around the garden.
Special features
This seeder comes assembled for easy use
The seeder machine has concave wheels
The tool has 7 seed plates
You can use it for seeding and adding fertilizer to the crops
8. Chapin 8701B Garden Push seeder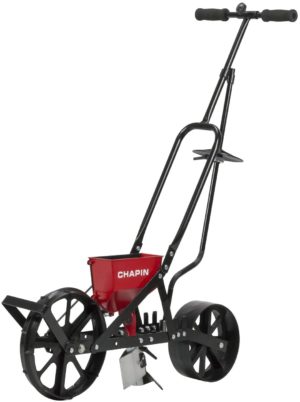 With up to 6 seed plates, this seeder is compatible with over 20 varieties of seeds. So, it is a convenient seeder you can use to plant vegetables, fruits, and other crops for your home garden. It may feature manual control mode, but it is quite convenient in functioning. This seeder is durable and safe to use even in wet seasons.
The reason being, it has stainless steel materials crafting with powder coating to safeguard it from rust and corrosion. The seeder has large 30-inch wheels that mark the planting rows on the farm for easy planting. Also, this ensures uniformity of rows marking in the garden.
Special features
The seeder has a T- designed handle for a comfortable grip
The wheels help to make rows and cover seeds when planting
This seeder is equipped with six plates
This seeder is smooth to push around
7. Brinly BS36BH, 175 lb, Black Tow-Behind Broadcast Spreader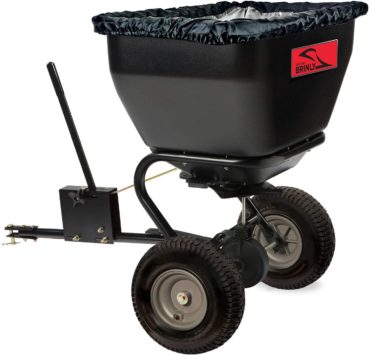 Get this multifunctional farming tool to help you run your farm, especially during the planting seasons. This spreader is ideal for dropping seeds, adding fertilizer and for covering seeds when planting as well. This seeder is recommendable for heavy jobs since it can carry 175 pounds of seeds or fertilizer.
Thus, you can plant 1-yard space before refilling the machine. The seeder is made of heavy-duty stainless steel materials that cannot easily rust or corrode even when touched by fertilizer. A beginner can work with this seed spreader because it has auto-flowed with spread pattern to control seeds spread when the machine stops.
Special features
This seeder has a universal fitting to multiple tractors
It spread seeds to a distance of 12 feet in width
The seeder has a patented auto flow pattern control
This tool is quite durable
6. CKG Precision Manual Garden Home Seeder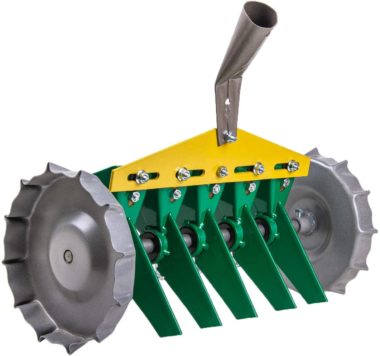 This seeder is compatible with multiple types of farming technics since the plate is adjustable to create different sizes of rows in the garden. The rows adjust from 1 to 5 distances. It is a comfortable tool to work with as it is compact. The seeder is ideal for heavy-duty farming as it saves time and makes the work easy. It has quality materials crafting resistant to outdoor elements.
Special features
This seeder is suitable for planting different types of crops
It is adjustable in varying row numbers
It has quality materials crafting
Operating and controlling this seeder is easy even for beginners
5. Hoss Garden Seeder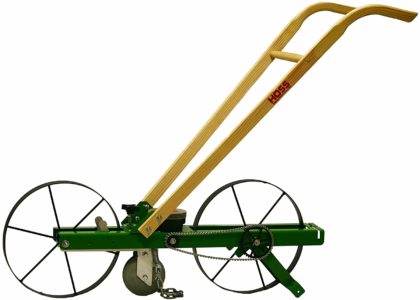 This is a versatile seeder ideal for planting different types and sizes of seeds. You can utilize it to plant carrots, onions and other seeded plants on your farm. The seeder makes work for you easier by doing all the hard work. For example, it is adjustable in-depth since the seeder can plant seed/crops in a depth of 1/4 to 1 1/2 inches.
The seeder comes with a hopper that is also removable for easy adding the seeds. Note that the seeder dumps seeds accordingly without wastage.
Special features
This seeder is built to last you for a lifetime
It is compatible with most types of seeds
The planting depth is adjustable
It comes with 6 pre-installed plates
4. CM Pack of 8 Garden Seeder Seed Spreaders Seed Dispenser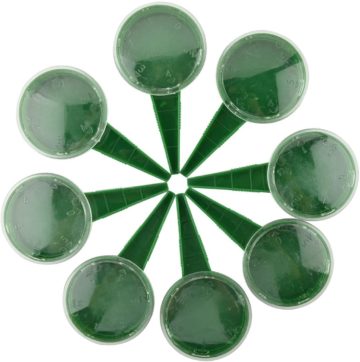 A seeder that you can use for planting different types of seeds is an excellent choice for versatile farmers. This seeder is equipped with five sowing spaces that are adjustable to fit both small and large seeds.
It is made of quality plastic materials resistant to damage even after prolonged use or when used with bulky seeds models. This is also an affordable seeder that retails at less than 10 dollars.
Special features
The package consists of 8 pieces of seeders
The seeder is light in weight
It has five adjustable sowing holes
This model is quite affordable
3. EarthWay 25lb Nylon Bag Seeder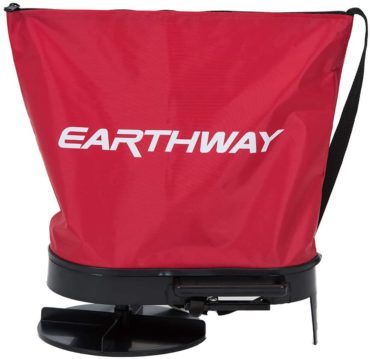 You don't need to make multiple trips when accessing your seeds from the house to plant since this seeder bag can hold up to 20 pounds of seeds at once. So, not only does it make planting work easy, but it saves time as well. Still, this seeder can be used as a spreader when adding fertilizer to your plants.
This tool is recommendable for people who plant grass since it makes panting and carrying such plants easier. Controlling the seeder when moving it around the farm is easy since it has an ergonomic handle. It is made with quality materials that cannot tear or rot after exposure to wetness and fertilizer acids.
Special features
This is a multinational tool useful for seeding and spreading
It is easy to work with
The bag can carry seeds or fertilizer weighing 20 pounds
It has an ergonomic and comfortable handle
2. DYRABREST Manual Seeder, Adjustable Handheld Seeding Machine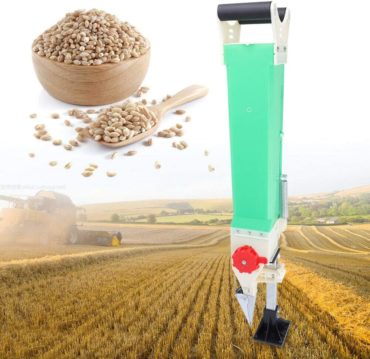 Make your gardening work easy by acquiring this quality seeder for your seed planting jobs. It works fast to save time and energy, unlike traditional farming methods. This seeder is convenient for planting different types of seeds since it is adjustable in planting depth of up to 5 inches deep.
The tool is also multifunctional as other than using it for seeding; you can also use the device as a spreader. For quality assurance, this seeding machine comes with 24-hour customer care services.
Special features
This is a multifunctional working tool
The planting depth is adjustable
This machine is made of quality materials
The device works quite fast
1. Buyers Products ATVS100 ATV All-Purpose Broadcast Spreader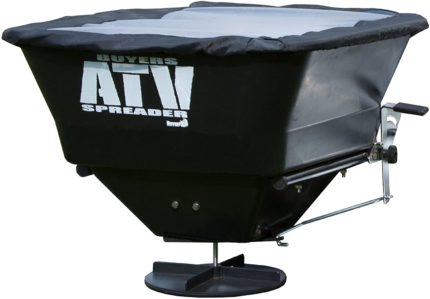 This is another versatile farming tool suitable for dropping seeds and spreading other farming materials like fertilizer. This spreader is considerable since it can carry a load of 100 pounds. This is a versatile working tool you can use for seeding, spreading, landscaping and ground maintenance.
The spreader is equipped with a 12-volt motor that empowers it to work fast and efficiently. The tool comes with a rain cover to secure your farming materials.
Special features
This seeder carries loads of 100 pounds
It is equipped with a powerful motor
This farm tool is multifunctional
Has safety construction
Conclusion
The above-reviewed garden seeders are the top best models on the market right now. The seeders are relatively easy to use and have quality materials resistant to outdoor damages. They are compatible with multiple types of seeds, and some are versatile such that you can use them as spreaders.
Since these garden seeders are constructed with heavy-duty materials, they are suitable for regular use when farming. So, find your preferred seeder for your garden use from these top selections.