Welcome to the world of the 21st century, a time of technological advancements and innovations. Over the years, we have witnessed significant changes in the way we receive and transfer data and information. This push for better and more comfortable living has brought so many technological components to our very doorsteps. A few years ago, the word HDMI must have been quite strange to the hearer, as they try to deduce its characteristic. However, today we know the value of HDMI in transmitting video data from an HDMI-compatible device to a digital output device such as monitors, video projectors, or even our televisions.
However, this High Definition Multimedia Interface device has limited access to one or two ports on your digital output devices. This can pose a huge problem for someone who needs to be connected to the same source while displaying on several devices. How then do you make this process conducive without excessive cables? An HDMI splitter is a solution to that problem, with its ability to take one source and send it to multiple digital devices. In this article, we would look at the Top 10 Best HDMI splitters to help solve your connectivity problem.
Best HDMI Splitters to Buy in 2023
10. Orei 1×2 HDMI Splitter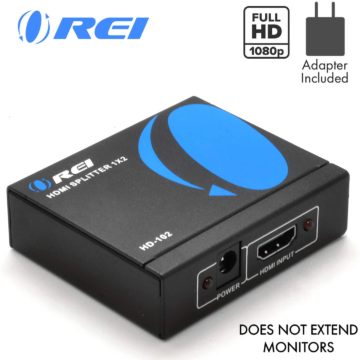 The Orei HD-102 splitter is a topnotch splitter that offers excellent quality in its performance. The Splitter, which is a 1×2 variant, has one input to 2 Output ratio, which does not affect its quality delivery.  Its simple Plug and Play feature allows for easy connectivity and supports Full HD and 3D display. This device takes the HDMI  of the source device and duplicates it at the same high definition.
Customers can be assured of the same top-quality sound on both devices, as the Splitter supports all audio codec. It is built from a sturdy and durable metal material that keeps the insides of the Splitter cool at all times.
Features
Supports all audio codec
Heavy-duty cool metal for a prolonged heat dissipation process
Supports HD and 3D interface
9. Portta 1×4 HDMI Powered Splitter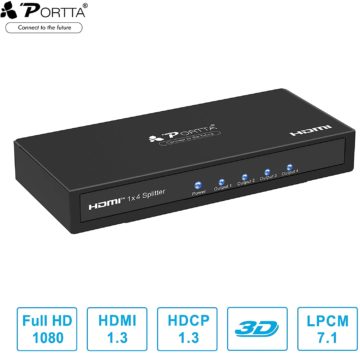 This aesthetically simple-looking Splitter is a power-packed machine that offers the user with a 4 port output channel. The Portta HDMI splitter supports HDCP pass-through and the real HDMI with a rating of 1.3b. Maximizing a total of 1080p video resolution, you can be assured of getting top quality video resolution through its 2.25Gbps per channel bandwidth.
You can use your new HDMI with high-resolution videos, up to the range of 3D Blu-Ray, and high-resolution games. Its audio support ranges from uncompressed files such as LPCM to compressed audio like DTS, and Dolby Digital
Features
1080p Full HD video support
Wide range of Audio support
Supports 3D Blu-Ray format
Durable design and top quality materials
8. Orei UHD 4K HDMI Splitter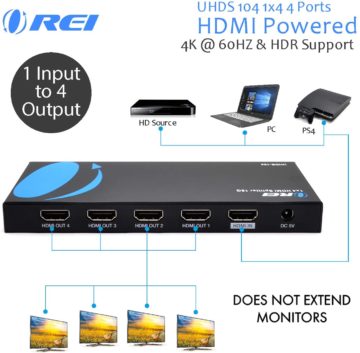 The Orei 4K HDMI Splitter is an improved version of the Orei HD-102, as this version sports 4K and Ultra HD resolution abilities. The 1×4 output unit gives users the ability to duplicate their content over 2 more devices than the previously reviewed HD-102. Its 30 feet range, coupled with a transmission range of 60Hz, promises customers of un-interrupted display transference.
Set up your devices in less time with its easy-to-install design and very compact packing. Like the earlier versions, the frame of the HDMI splitter is made from Heavy-duty metal, which helps with heat dissipation and heat loss.
Features
Heavy-Duty cool metal for easy heat loss
Power input switching ability
4K and UHD resolution
7. Sowtech 1×2 HDMI Splitter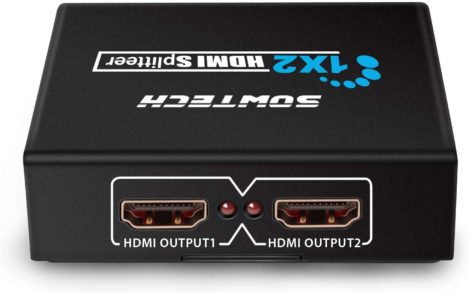 The Sowtech 1X2 HDMI Splitter is the right tool that would make that meeting or presentation pop, with its 4K display capability. Its easy to use format allows customers to display quality videos over several devices without depleting richness and quality. The Splitter has a No-lag capacity for up to 49ft, and its capability range from 1080i/1080p and 3D data transfer compatibility.
Durable materials are used for the construction of the HDMI splitter, as they can withstand prolonged usage. Connectivity device capability includes Blu-Ray devices, PS4, Xbox, and even DirecTV. Its data processing speed is up to 225MHz, and it also allows signal bumping.
Features
Durable and Quality production material
Supports 4K,and 1080i/1080p display resolutions.
Lengthy connectivity range range
6. FARSAIL HDMI SPLITTER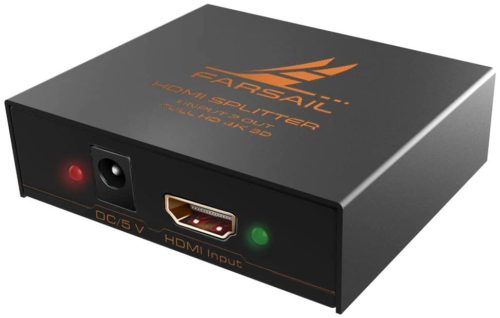 The FS0102B HDMI Splitter is a 1X2 output HDMI Splitter that's capable of displaying simultaneously. It boasts of over 100ft signal coverage, so you have no problem losing the video quality or lag problem. Its 4K HDMI resolution display is just the perfect tool for your heightened digital experience.  The HDMI Splitter also boasts of supporting deep color of 30bit, 36bit, and Blu-Ray.
Audio quality is also considered in the HDMI splitter production, as you can access Digital audio format, DTS-HD, Dolby-true-HD, DSD, and Dolby-AC3.
Features
Supports deep color display
Has a wide range of resolution support
Supports 3D video format
5. IKKEGOL 1X4 HDMI Splitter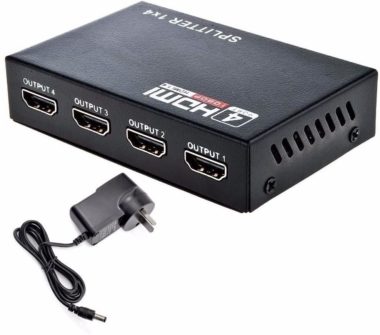 The IKKEGOL HDMI Splitter is a compact 4-way output splitter, built with topnotch materials for durability. The Splitter which sources High Definition content from an input device and sends it split it 4-ways without depleting the quality of the display. Its connectivity range can hit up to 15 meters of uninterrupted signal. Fit this device with your 1080p display device and get seamlessly high-quality images.
The IKKEGOL HDMI Splitter supports audio formats like the DTS, Dolby, 7.1 Channel audio for better quality sound. The connector port of the HDMI splitter is gold-plated to eradicate rust and wear.
Features
A signal distance of over 15 meters
1080p resolution display
4-Way output
4. Techole HDMI Splitter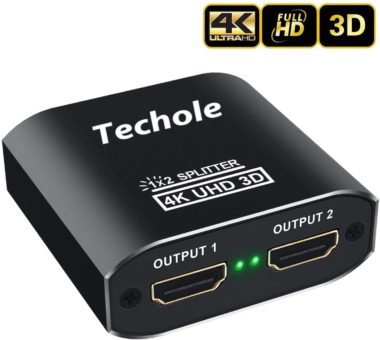 The multi-dimensional Techole splitter/switcher can just be a steal for customers who decide to go with this product. The product, which features both a splitter and switcher, provides customers with a seamless two-way output channel. The HDMI splitter also serves connectivity with crisp 4K images, with a refresh rate of 30Hz to eradicate video lagging. An external power supply is not needed for this HDMI splitter, as it runs on the devices connected power supply.
When it comes to the device build, the devices give users solid aluminum alloy design and build, and the durability is well assured. High resolution should be expected from this device in both the audio and video compartments, as the Splitter supports most audio and video format.
Features
High-Resolution display
Comes in a Splitter/switcher package
Easy Installation
3. eSynic 2-Way HDMI Splitter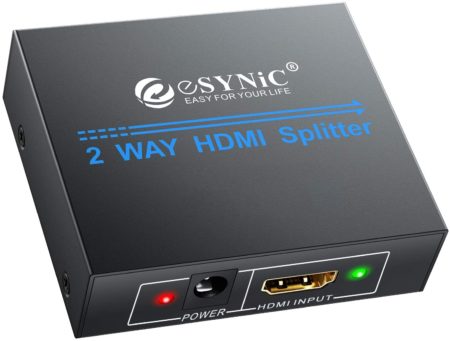 The eSynic 2-Way HDMI Splitter is a device that helps with a dual simultaneous display over a 4k or 3D resolution. The devices which are optimal for use in situations where you have to display data over 2 screens for better coverage. The HDMI splitter supports devices such as PCs, HD-Ready TVs, Blu-Ray, and gaming consoles such as PS3, PS4, and PS4 pro.
The setup for the HDMI splitter is quite simple and can be done without a technician's help. The product wouldn't have any issue if you maintained the 16ft transmission distance. The build is durable due to its Aluminum alloy case design and 24K gold plated interface port for seamless video and audio projection.
Features
Supports display at 30Hz for 4K and 3D for the output video.
Durable Aluminum Alloy build
Easy Installation process
2. HuTools 1X2 HDMI Splitter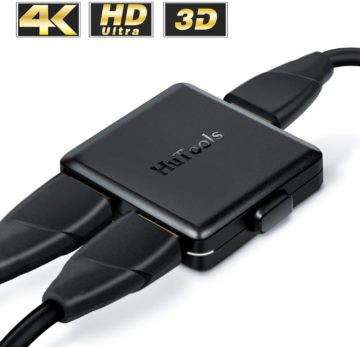 This dual interface, HDMI Splitter, is designed to provide nothing but excellent performance, especially if you consider the powerful Intelligent Chip used in the device. This chip allows users to switch through display without losing the quality of your display to lag or delayed switching. The build of the HDMI is made from durable ABS plastic material to help remove the possibility of electric static damaging the HDMI splitters IC chip.
Most miss the fact that the HuTools 1X2 HDMI Splitter also has the ability of a switcher. Now lets us look at a bit of display power that the HDMI Splitter bears. The device has a bandwidth of 10.2 Gbps for data transmission, the ability to split 4K images without difficulty, and Ultra High Display.
Features
Compact and durable design
High data transmission capability
Excellent resolution through its 4K, and UHD display features
1. Cable Matters 2-port HDMI Splitter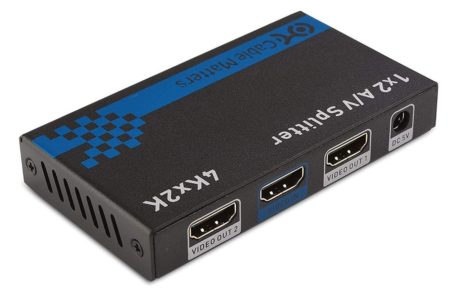 Cable Matters 2-Port HDMI Splitter is a tastefully designed splitter to service your needs with incredible features. You could have a display of the same quality on compatible devices with top quality images on both ends, without signal distortion. When you purchase the Splitter, you get two bonus HDMI cable with 4K capacity.  The HDMI Splitter boosts audio and video at its original quality and 4K display at 60Hz. You could also use the HD and 1080p resolutions feature, as the Splitter got you covered no matter the device display ability.
The Dynamic color mapping allows you to access HDR features on both devices, based on its 2-port HDMI hub. The build of the HDMI splitter features a rugged aluminum casing, which would eradicate any possible interference to image quality.
Features
Comes with bonus 4K rated HDMI cables
Display 4K images at 60Hz
Rugged Aluminum casing
Conclusion
This has been a comprehensive list on the top 10 HDMI Splitter you can get for your image duplicating problems. These devices are well built with excellent features, which made them stand out and be the best. So when you decide on purchasing that HDMI Splitter, look no further than the products on this list.