If you travel a lot or work in an office, a leather sling bag can be your perfect companion. These sling bags have a very stylish design. So, they add a fashionable yet classy look. More importantly, these bags are highly durable. Thus, they can easily withstand the rigors of travel and daily usage easily. Furthermore, these bags also provide optimum storage space with multiple pockets. However, it can be tough to choose the right sling bag out of so many options available.
Need one to showcase your style? Then check these leather sling bag brands that will help you team it up with any outfit and be ready for the go.
What are the benefits of a leather sling bag?
Sling bags can come to many uses. Firstly, you can wear such bags in a number of different styles, depending on your outfit of the day, giving you a new look each day to turn the heads around. Also, sling bags combine the best of both worlds. While backpacks might be easier to carry, they tend to be large and bulky. On the other hand, tote or other types of bags are not that practical, when storage space is concerned. With the unique design of the sling bag, carrying becomes much easier not requiring you to occupy any of your hands, and at the same time, it is also spacious enough to hold various items for a day out.
What are the different types of leather available for sling bags?
You can primarily differentiate leather sling bags into two different kinds. For the vegans and environmentalists, you can go for the PU leather. While this leather is artificial, it will feel nothing short of the real one. Besides, there will be no chances of any strong odor coming from this leather either. The PU material also has better water resistance than the genuine leather, so your electronic devices remain safe inside the bag.
For the traditionalists and vintage lovers, you can opt for cowhide leather, which is the most widely available genuine, full-grain leather that you can get in sling bags. This material has remarkable sturdiness, so the product exhibits matchless durability.
Best Leather Sling Bags Review
Sambor Leather Sling Bag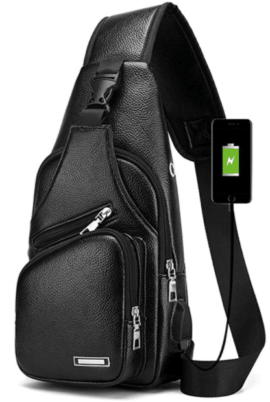 When you need to carry just a few items, but want to keep your hands free, a sling bag is the best answer. The product makes use of the premium grade, Litchi grain PU leather. This material is water-resistant and so, will not get cracks or will not have damages. Therefore, even if it starts pouring down, the contents inside your bag remain safe and dry. Besides, it will be soft and the USB charging port will keep the device's charge intact.
Moreover, the metal zipper on the item is really smooth so that, you can use the bag without requiring to constantly work on it. With the commendable stitching technique applied, the sling bag turns out to be even more durable.
Key Features
Since PU leather has been used, this product is great for the ones who are sensitive to a strong smell.
The strap on the item comes well padded, so that, it does not dig into your skin after long wear.
The strap can also be adjusted, so that, it can fit bodies of all sizes without any problem.
Bullcaptain Leather Sling Bag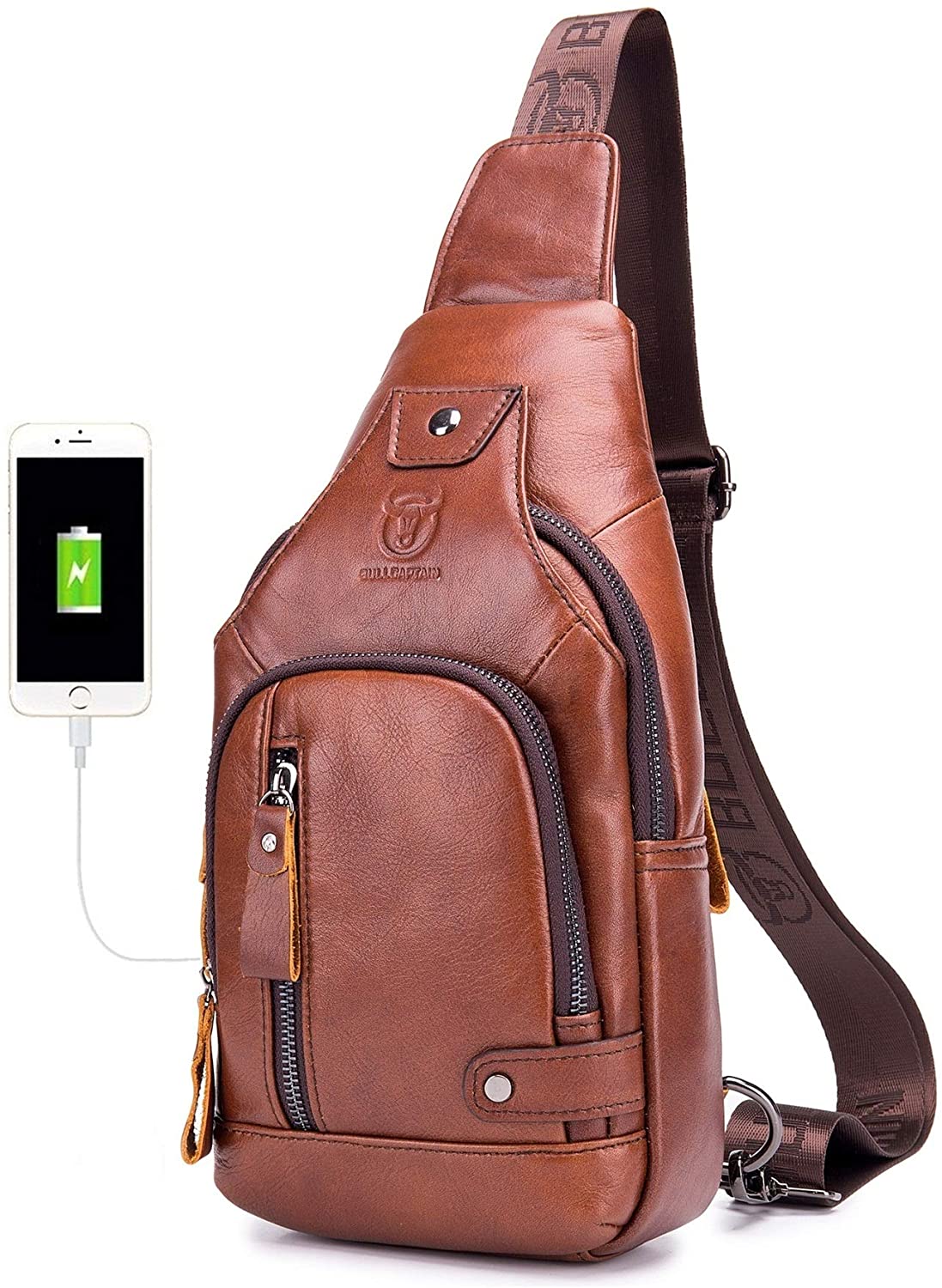 Even though the sling bag makes looks small, it can do much more than you can imagine. The product has a special USB port available. With the help of this, you will be able to charge your phone, from inside the bag itself. Therefore, your hands will be free, not requiring to hold the power bank all the while. The zippers on the bag come covered with fabric. This makes it easier as well as comfortable to hold and pull.
Apart from the port, the sling bag also has a dedicated headphones cable hole. Hence, you can enjoy music without requiring holding the phone in your hand or keeping your bag unzipped.
Key Features
The pocket in the front is great for keeping trinkets, which you need quick access to.
As for the back zip pocket, you can use it to safely keep your valuables, without any fear of it getting stolen.
You even get an adjustable strap to wear comfortably plus weighs extremely light at 0.48-kgs.
AMJ Leather Sling Bag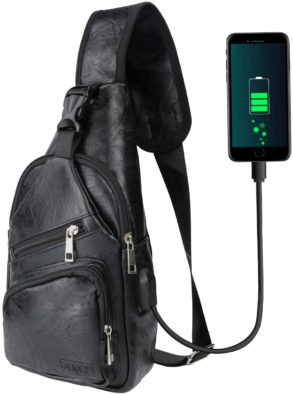 When it comes to a fashion item, functionality alone can never be enough. For that reason, this vintage-looking sling bag comes in three different color variations. Thus, you can choose from to suit your personal taste. In case you are not a big fan of animal leather, you will be glad to know, this sling bag only uses PU leather.
While the PU provides great sturdiness to the structure of the bag, at the same time, it is really smooth to touch. Hence, sitting comfortably on your skin. Moreover, it comes with a special buckle. With the help of the buckle, nothing will be able to slip out of it.
Key Features
Although the product has no zipper pocket, it makes sure to keep your items safe.
The bag is divided into many compartments so that you can keep your items well organized.
It has a charging port as well so that you can keep the charge fill of your devices.
Avyere Leather Sling Bag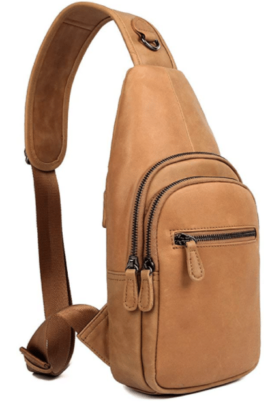 The benefit of a sling bag is that it can be styled however you prefer it. While you can wear it across your chest, you may also wear it like a shoulder bag, if that suits your convenience. The product tries to acquire the top quality material for its bag. For the body, you get full-grain cow-hide leather, making it a great option for those who prefer genuine leather.
The strap on this sling bag has been intentionally designed to be wide. That way, the tension on the skin is well distributed, so the strap is comfortable against your skin. While the product may be compact, it can even fit your 8-inches long tablet with ease.
Key Features
The product has been given a unisex design, so it can be used by anybody.
Zippers are both in the front as well as the backside.
Since the item is compact, it hardly takes up any room in storage.
Polare Leather Sling Bag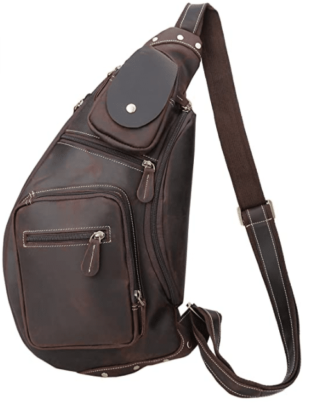 As far as space is concerned, you will never run out with this bag. The product has an exclusive pouch in the front of the bag, which is ideal to keep little essential items like keys. Moreover, the pouch can be removed as well. Besides that, tons of sections have been made in the sling bag. Therefore, you can keep all your things arranged. Now, do not need to keep digging inside your bag to find one item.
As far as quality goes, this product provides a year-long warranty. Thus, taking away all your doubts about the longevity of the item. With the use of YKK zippers, you can be assured of the smooth opening and closing of the bag for years to come.
Key Features
You get the privilege of an upgraded lining, which makes use of soft cotton cloth.
The item weighs 0.6kgs that considered to be mere when carrying.
With the release clip, taking the sling bag off is a hassle-free task.
Sdiyabolo Leather Sling Bag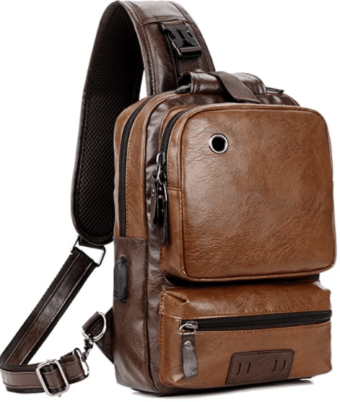 This tiny bag takes care of all your practical necessities, so your hands are not tied holding a number of different things as you go out. A USB port is present on the bag. Therefore, if you are running low on charge, you do not need to sit down with your power bank, you can charge it through the port with much more convenience. Further, if you like bags that are a bit shinier in appearance, this bag checks that box as well.
Using PU leather for the bag, the waterproofing quality on this item is exceptional. Whether it be a drink spillage, or you get caught up in the rain, all your belongings will be safe inside.
Key Features
The earphone jack is great to listen to music when you are running or cycling on the road.
The belt is made breathable, so your skin remains dry throughout the duration you wear it.
Being cushioned, the belt provides ergonomic comfort as well.
Yuan Fan Vip Leather Sling Bag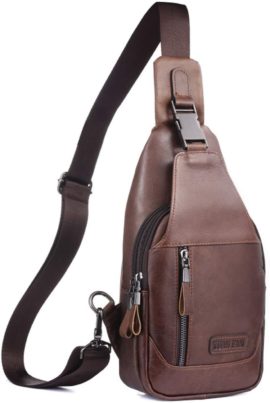 Many things have been considered during the design of this product. The sling bag has been thoughtfully designed to be really light. Therefore, the product does not add to any extra bulk on your shoulder. Besides, you can wear it in many different ways to add a different touch to your look every time, from chest bag to shoulder bag.
Furthermore, the product gives special regard to the security of your items. Therefore, the bag also has a back zippered compartment, which acts as an anti-theft pocket.  This is a men's bag that is pretty lightweight in nature.
Key Features
Even the interior of the sling bag is divided for better arrangement.
Since the strap can be altered as you wish, the bag provides a snug fit on any type of body.
Besides, it comes with 1 main pocket, 3 zipper pockets and an inner layer. So, you get enough storage space.
Leatherio Leather Sling Bag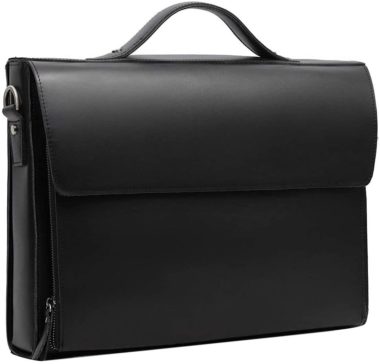 If you are not a fan of tote bags, but backpacks are too big for regular purposes, this sling bag is the perfect compromise. With the skilled line finish coupled with the genuine leather, this bag is practically invincible, having a wear resistance feature. The product has zippers with a fabric cover so they are soft on your hand to pull. The rivet design on this product serves many purposes.
Not only does it look aesthetic, but it also helps with the reinforcement of the leather bag. If that was not enough, the bag also has the feature of being non-slip wear.
Key Features
If you are unsure what to get someone for a present, this can make a great and useful gift for anybody.
You also get a detachable key bag with this product.
The item has multiple pockets all over the bag.
Hebetag Leather Sling Bag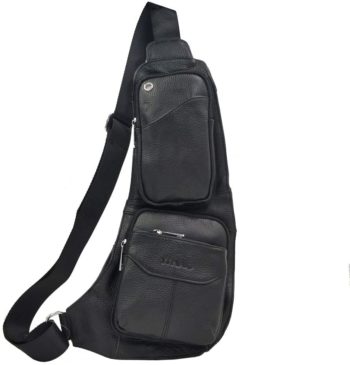 With this product, satisfy the fashionista inside you. Coming in an extensive range of color options, this fashion item will surely have one which best suits your preference. Moreover, the product is much more than just amazing in appearance. Boasting it's impressive performance, this bag has been able to win the title of Amazon's Choice for itself, the title speaking for its superior quality.
Making no compromises, the bag uses genuine cowhide leather for the fabric of the product, which lends it's sturdiness to the bag.
Key Features
You enjoy as many as 5 different pockets on this compact bag.
Whether you want a chest, sling, shoulder or crossbody bag, you can use this product in any way you like.
The release clip on the strap making taking the bag off and putting it on very simple.
Jump Cyly Leather Sling Bag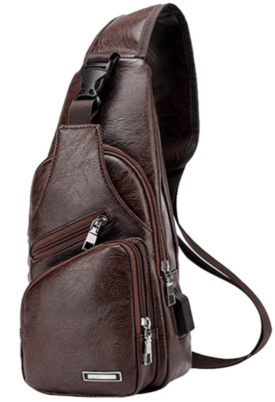 If you need to fit your tablet in a small space, you should go for this item. The product can hold up to a 9.7 inches iPad without any crunches for the room. Even the front pocket is able to house phones. As far as comfort goes, the sling bag takes some extra measures. The strap of the bag has been well padded, so that, it feels comfortable and gentle on your skin.
Not only that, the shoulder strap on this bag can be adjusted, so that, you can suit it to your personal comfort level. Even with so much space, the bag itself weighs no more than 0.8 pounds. So you can carry it for hours without feeling much.
Key Features
The metal zippers are really smooth to pull.
Has a cushioned belt that is also breathable in nature, making it great for use throughout the year.
How to make sure the strap of the leather sling bag is of good quality?
Some pointers need to be marked out before you can call the strap of a sling bag quality material. It goes without saying that every person is not built the same way. Therefore, identical products may not be the right solution all the time. Thus, the strap should be of the d buckle adjustable kind. That way, you will be able to customize as you see fit for yourself, and also keep alternating in case your body changes after a while.
If the strap is to be directly placed on your kind, with due time, it will start pressing against your skin creating tension that causes fatigue. To avoid this trouble, you can go for the straps which come with padding. The padding gives a soft surface to look forward to. Also, you should definitely go for the wider straps, which distribute the weight evenly for ergonomic comfort.
If the strap starts making you sweat under it, it can become a real bother on the summer days. That is why, you should also look after if the strap material on the pad is breathable, which will wick away any accumulating moisture and keep you cool and dry.
Final Verdict
Men or women, anyone can carry stylish leather sling bags and walk in fashion. So, make a pick according to your style statement and flaunt it.