Of course, an aviation headset is one of the most important purchases that you can make if you are a pilot. These specially designed headsets serve as the medium of communication to communicate with others inside as well as outside the aircraft. However, it plays a much bigger role than that. These headsets also protect your hearing completely. It reduces the noise of the engine and in the background completely. Thus, it helps in preventing your hearing from getting damaged.
So, here are some of the best-selling headsets that have caught our attention cause of their impeccable quality and construction. Find out why and how these are unique and brilliant.
How are aviation headsets better than normal headsets?
Aviation headsets are designed keeping some of the requirements of a pilot in mind, making them excellent at noise cancellation. Canceling any passive as well as active noises, aviation headsets are much more suitable for communication through radio signals. Not only do you get noise cancellation on your headphones, but even the microphone usually comes with the noise cancellation technology, so that the person listening to you can understand you without any glitches. Also, one interesting quality of such headsets is that of dual volume controls.
For normal headsets, the volume increases or decreases on both the headphones at the same time. Although, with the aviation headsets, you will be able to control each separately, meant originally for pilots to stay alert and catch every signal even as they might be listening to music.
What should you look for in the ear cups of the aviation headsets?
It goes without saying, the ear cups should be designed to provide you with the utmost comfort possible. To ensure that, few things have to be considered. The ear cups definitely need to be well padded with foam. That not only feels better on your ear muscles but also helps to block out any noise. Besides that, you should also look for a gel in the ear cups. While all headsets may not have it, the good ones definitely will. A cooling gel is added in the ear cups, which provide further relief to your ears, for the best experience.
List of Best Aviation Headsets Review
Wicom Aviation Headset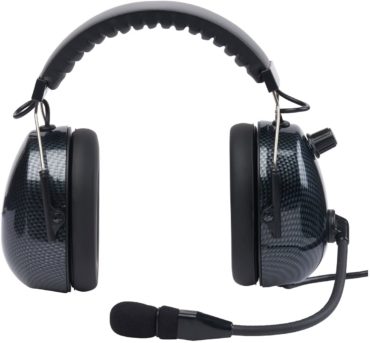 If you are in dire need of a headset that will not burn through your pocket, you can go for this item. The aviation headset is really affordable and does not compromise on the quality of the item. Besides, the product makes use of the top grade GA nickel-plated dual plugs. Because of this, the noise reduction that you get is remarkable.
Moreover, this product sports a molded cord. The cord, therefore, not only allows you to put without any fear of getting torn apart but is also really flexible in nature, so you can move it freely. For the best microphone placement, you also get an articulating flex boom in this product.
Key Features
This microphone also has a noise cancellation feature so that your voice comes out clear.
Its microphone will minus out the annoying wind noises and helps in the clear recording of sound.
The microphone also enjoys the privilege of an amplifier.
ASA HS-1 Aviation Headset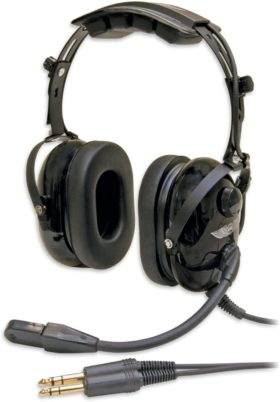 The items for this product have been chosen carefully so they can last you for a very long time. The headset has none other than a gold-plated microphone, as well as headphone plugs. With the great conductivity of gold, the connection you get on this product is unparalleled. Besides, having gold, you can also be free from the tension of any possible corrosion in the future.
Because of its great quality in every component, ASA proudly offers a guarantee on the item till the life of the original owner. Hence, you never have to bother about getting another headset again.
Key Features
It makes use of high-density foam on the ear cups. This makes sure the foam does not eventually get flattened with use.
The foam also works to give the best passive noise attenuation.
It also comes with a noise reduction rating (NRR) of 23 dB. So, it also reduces background noise.
Lightspeed Sierra Anr Aviation Headset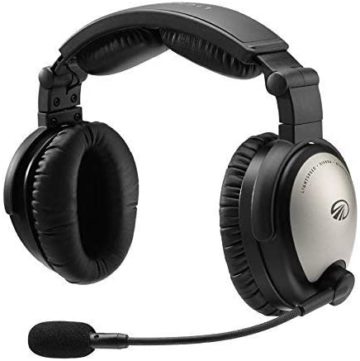 When you are responsible for the lives of many, having a great aviation headset is vital for concentration. This product allows you much more control over the item. You can control the volume of each ear in this aviation headset separately. Also, you do not have to worry about running out of battery in the middle of a crisis.
The product has a battery indicator so you always remain aware of how much battery is left. Besides, all you need are 2 AA batteries in order to run this item. 2 such batteries give you a long life of 40 hours.
Key Features
Whether you want to have a stereo or mono, you get the privilege of switching anytime on this product.
In order to conserve unnecessary battery consumption, the product also has an auto shut off function.
With this product, you get to enjoy full Bluetooth integration.
UFQ A7 ANR Aviation Headset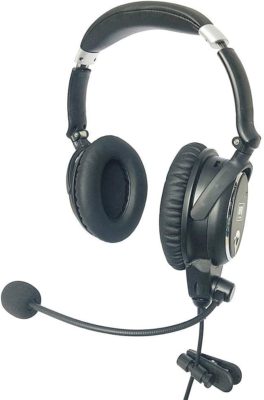 This product may look tiny, but it is much more competent than some of the big bosses. Because of its size, it is much more travel-friendly as well. Besides, keeping practical necessities in mind, the headset comes in a carry bag, making it even easier for you. Since the bag is of the hard case kind, your headset remains protected from any impacts when not in use as well.
Since the item is compact, the product is much more lightweight as well. Hence, making it comfortable for you to wear for long stretches of time without any burden. You get a 3.5 jack on this item, so you can attach it to your cellphone and enjoy your preferred music.
Key Features
For your personal convenience, the mic boom on this product can be rotated from left to right.
The electret microphone keeps the communication distinct and audible.
For keeping the headset safely and unharmed, it comes with a bag for protection.
Faro G2 ANR Aviation Headset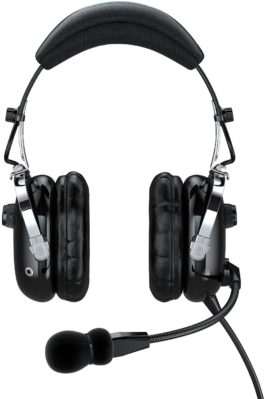 This product has been designed keeping the needs of pilots in mind when they need to focus on flying. Wearing something hard pressed against your skin for long stretches of time can be really tiring. For that reason, this product contains special, soft and light fiber. It gives ergonomic comfort as well as turns out to be really durable, lasting you for ages without any complaints.
Further, the cushions on this headset have a universal design. Therefore, it is bound to fit snug on you, no matter what the size.
Key Features
For the ear, premium quality leather has been used.
Having passive noise reduction, this product offers up to a good 23dB.
As far as the active noise reduction is concerned, you get to an impressive 29dB, making sure no other noises interfere with your work.
Bose A20 Aviation Headset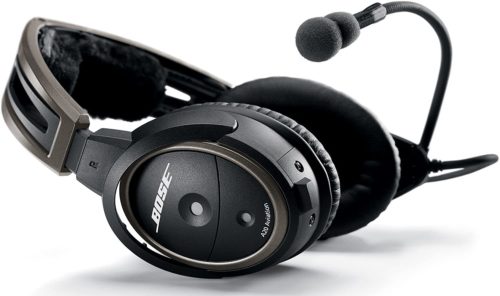 Bose has carved its own reputation with its long line of successful headsets. This is one of their best products, which is sure to meet all your expectations. Carrying this big product can be somewhat of a hassle. For that reason, a sturdy carry bag is provided with a handle, which makes moving it from one place to another a breeze.
With the active equalization working on this headset, the sound will always be crystal clear for smooth communication. One exclusive feature of this product is that it allows you to customize the audio prioritization. This means you can mute an audio signal or mix the two when receiving communication.
Key Features
The batteries required to run the item is provided in the package itself so that you can use the product right out of the box.
You also enjoy the perk of an in-line clothing clip with this product.
The product comes with a Bluetooth control module as well.
Rugged Air RA200 Aviation Headset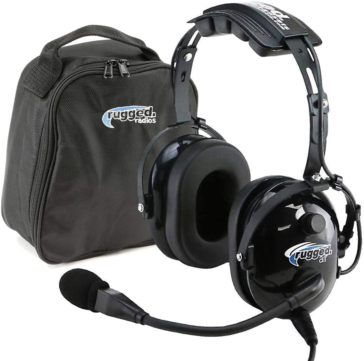 When it comes to a lasting service, you can bet your money on this product. The headset makes use of stainless steel for the headband of the item. Steel lends great strength to the structure, so it can last through the usual wear and tear effects. Besides, the headband is adjustable to suit the comfort of each individual.
Since you have much flexibility with the volume controls, you can prioritize your needs. Your radio volume can be kept higher even while you enjoy music, to always stay alert.
Key Features
The 3.5mm jack allows you to play music with a number of different devices.
With the deep pocket ear canals, you will experience comfort like never before.
To prevent the wind from interfering with the communication, the microphone has a foam wind block mic muff.
Cadence CA501 Aviation Headset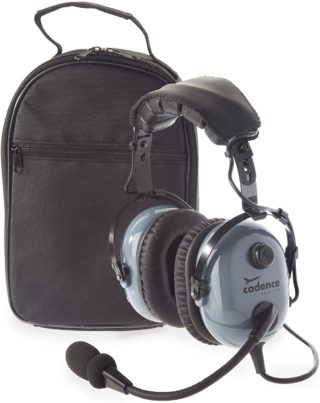 If you are running on a low budget, then this product will be a lifesaver for you. The item even gives enough attention to your personal taste. Coming in two chic colors, you can choose one which you like better. Although, this product is much more than just sleek looking.
To counter the common headset fatigue after a tiring ride, the product makes use of top quality, lightweight materials for the headset. Also, the head cushions come integrated into this headset. Thus, you can count on a tight fit. Furthermore, the headset does not keep falling off of your head.
Key Features
One benefit of this product is that it can work with both stereo as well as mono.
Since the carrying case has a zipper, your headset runs no risk of falling out while you are on the move.
It is completely compatible with MP3 players, iPhone and iPad.
David Clark H10-13.4 Aviation Headset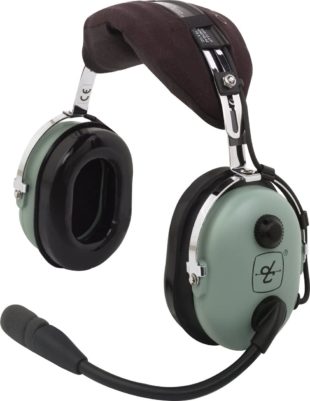 When it comes to quality, this aviation headset outshines many in the market. With the title of Amazon's Choice earned, the product speaks for itself with its amazing performance. Besides, David Clark also offers you a 5-year long guarantee on the product, to drive away all possible apprehensions you may have about the durability of the product.
You will be glad to know, along with the skin-friendly cushions. Besides, you also get a unique comfort gel on this item, present on the undercut ear seals. This helps you to wear it for a long span of time without any issues.
Key Features
The cable of the item being a good 5 feet long will not restrain you in a tight space.
With a universal flex boom to back you up, you always get a perfect microphone placement on this product.
The M-7A is probably the most advanced microphone you can find when it comes to noise cancellation.
Kore Aviation KA-1 Aviation Headset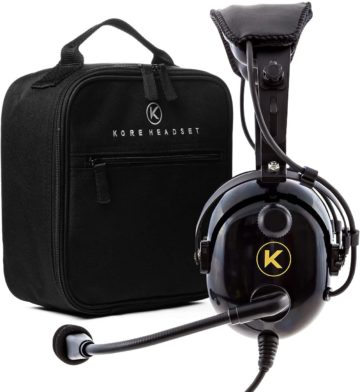 The aviation headset comes with a built-in Y block switch on the cable. This allows you to change the headset from mono to stereo without any major complications. Not only that, but this product also gives regard to your hearing. As a matter of fact, take advantage of the 3.5mm plug to attach it to any device and enjoy your favorite music.
In order to safeguard it from any damages, the headset has a noise reduction rating of 24dB that you can rely on. Since the headband is well padded, the wire will not dig into your head after you wear it for a while.
Key Features
Having the carrying case included in the package, your headset stays clean and tidy rather than collecting dust when not in use.
The product has dual volume control for setting the preferences accordingly.
How does a carry case come to benefit with aviation headsets?
While you may be able to score some compact headsets, aviation headsets are usually larger in size. Therefore, carrying these expensive items roughly might not be a very good idea. If you get one that comes with a dedicated hard case, your headset remains secure inside the case, while you can move around without needing to be on your toes.
What are some of the must-have features of a good aviation headset?
Not all aviation headsets are of superior quality. In order to distinguish between them, you must look for some of these attributes. As far as the microphone goes, it should definitely be the electric kind, so that, there can be no interference of background noises while you are communicating.
It will be great if you can nail one of the headsets which allow you to alternate between stereo and mono as you wish.
Another thing that is vital is the overall weight of the product. If the headset is too heavy, you will end up having headset fatigue very soon, which is a complete no for daily usage. Hence, you should make sure your headset is on the lighter side, the more the light the better.
For the headband, you only primarily need to make sure of one thing at all costs. That is, the headband should be flexible.
Settled your mind about what to get? Well, look for the aviation headset for sale and get a great deal out of it.