What features should an off-road hoverboard possess? A good off-road or outdoor hoverboard should have strong and wide wheels, so you can smoothly move on different surfaces. These hoverboards should also have a powerful motor to propel them to move in different areas, including on hilly roads. The majority of the off-road hoverboards are made with LED lights to illuminate when used in dark areas.
They also have a self-balancing style for safety and to make the work much easier for the user. So, if you need such a hoverboard for your occasional use, the following are the top ten best models in 2023
Best Off-Road Hoverboards Review in 2023
Gyroor Warrior 8.5 inch All Terrain off Road Hoverboard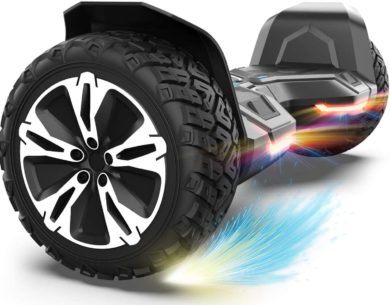 A hoverboard that can ride on any road is a great deal for people who love outdoor activities. This model from Gyroor Warrior has materials and design that ensures it can withstand all roads. The hoverboard is made with UL-approved materials that provide stability to the rider and durability to serve you for a long. Another feature that qualifies this is the best off-road hoverboard is the quality and thick tires.
It has 8.5 inches wide tires that can move on any surface, even on wet grass. This hoverboard is powered by a potent motor that gives a power output of 700 watts. The hoverboard has an inbuilt speaker and Bluetooth integration to suit people who love music. So, get some motivation while on the road by listening to your favorite music.
Special features
Has self-balancing mode while on the road
Features LED lights for illumination
Has inbuilt Bluetooth and speaker for music lovers
Operates at a 700 watts power output
GYROOR T581 Hoverboard 6.5″ Off-Road All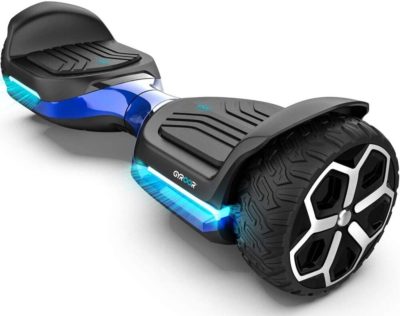 I believe this model will suit you for beginners or kids who love riding a hoverboard since it comes with a go-kart seat for more stability. The best part is that you can detach the Go-kart and use the hoverboard alone once you learn how to balance on it. Otherwise, this hoverboard is quite functional on multiple terrains and has a powerful motor that delivers 600 watts of power.
So, you can effortlessly move even on rocky roads or slippery surfaces. The hoverboard is safe to use at night as it has inbuilt LED lights that provide illumination. For more stability, this hoverboard has an app that helps to improve one's balance.
Special features
The hoverboard is powered by 600 watts
Comes with a Go-kart seat
Has a balancing app
Has a speaker and Bluetooth as well
Swagtron Swagboard Outlaw T6 Off-Road Hoverboard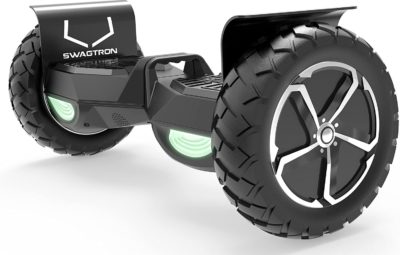 What stands out on this off-road hoverboard is the premium quality materials crafting. This hoverboard is super sturdy such that it can comfortably carry and balance the weight of 420 pounds. So, if you are searching for a family hoverboard or a model that you can share with friends while outdoors, this model will suit you right.
There is no limitation while on the road as the wheels are crafted to move on all terrains. The hoverboard automatically inclines about 30 degrees high when moving on uneven surfaces or the areas with bumps.
Special features
The hoverboard can move at a high speed of up to 12mph
Comes with 10-inch tubeless tires
Carries a weight of 420 pounds
The dual motors work at 300 watts
RIDE SWFT Sonic Hoverboard Self Balancing Scooter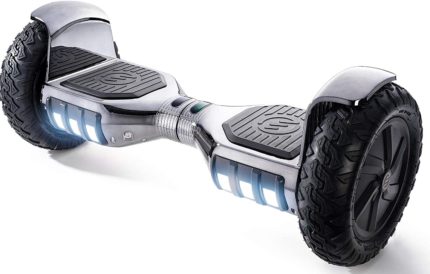 Take your hoverboard riding skills outdoors with this amazing model from RIDE SWFT Sonic. It is crafted for outdoor use; hence, the top quality materials and safety measures. The hoverboard puts the safety of the user at the forefront with the shock-absorbing and non-slip pedals.
So, you can comfortably ride it on wet grass or bumpy areas worry-free. Still, this hoverboard has thick and quality 10 inches tires that move swiftly on any surface. The hoverboard has a rechargeable battery that can last for around 5 hours or approximately run at 8 miles.
Special features
The hoverboard has LED lights for illumination in dark areas
It has safe and non-slip pedals
The charge can run for 5 hours non-stop
Comes with a 1-year warranty
CBD Flash Hoverboard, All-Terrain Off-Road
From the color design to the inbuilt features, I believe this hoverboard is crafted to suit people who may need to use it at night. The hoverboard has a white color finish and inbuilt LED light that boost visibility when spinning it in a dark area or moving at night. So, your safety on the road is fully guaranteed.
The hoverboard has a good inbuilt battery that can run for 3 miles and function for 3 hours consecutively. So, I would recommend it for use around your neighborhood. The two wheels are equipped with 6.5 inches tires with a non-slip design to easily maneuver on different terrains. It is easy to control such that even a kid can ride it.
Special features
Has 6.5 inches wide tires
The hoverboard is safe for adults and kids
Has inbuilt Bluetooth and speaker
Can hold a person weighing 200 pounds
SISIGAD Hoverboard with Bluetooth Speaker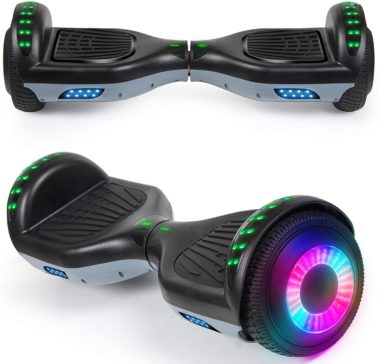 This model is a good recommendation if you need a durable and safe off-road hoverboard for your kids. I recommend this model is the high safety mechanism it possesses to suit both pros and beginners. The hoverboard has a self-balancing mechanism that enables the kid to focus on the road while on the move.
The hoverboard has inbuilt Bluetooth and speakers such that if your kid enjoys listening to music, they can integrate the hoverboard with phones or music gadgets. The LED lights provide safety and good visibility when moving in dark areas.
Special features
The hoverboard has 6.5 inches wide wheels
It has LED lights and a Bluetooth speaker
Features self-balancing system
This hoverboard is affordable
XPRIT 8.5″ Wheel Hoverboard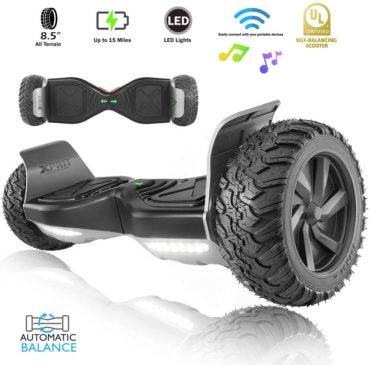 With wide tires of 8.5 inches, this hoverboard stands among the best outdoor models since you can comfortably move on any surface with it. The hoverboard is comfortable to control as it has non slip pedals with a shock-absorbent mechanism. With a rechargeable battery, this hoverboard can move to a distance of 9 kilometers with a full battery charge.
This hoverboard is safe for both kids and adults since it can hold up to 264 pounds. Recharging its battery does not take much time since it can fully recharge between 2 to 3 hours. Besides, the hoverboard is light in weight for easy portability.
Special features
This hoverboard has wide and non-slip tires
The hoverboard can carry a weight of up to 264 pounds
The hoverboard is quite portable
HOVERSTAR All-New HS2.0 Hoverboard All-Terrain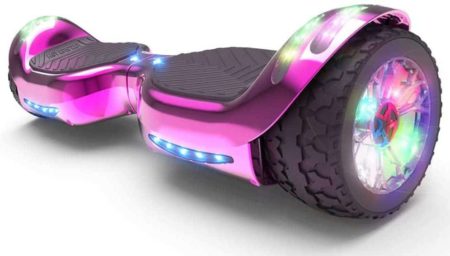 One of the top best features on this hoverboard is the anti-fire materials crafting. So, you don't have to worry about it burning out when used continuously or even heating when charging it. Besides its bright, beautiful colors, the hoverboard also has a flashlight that provides perfect illumination while moving in dark or poorly lit areas.
You don't have to get bored for music lovers when riding this hoverboard outdoors since it has an inbuilt Bluetooth speaker. So, you can connect to your smartphone to listen to your favorite music.
Special features
This hoverboard has strong and fire-free materials
Has excellent speed control to suit beginners and kids
Carries a weight of up to 165 pounds
The battery runs for 10 hours at a speed of 10 Mph.
TOMOLOO Hoverboard with Bluetooth Speaker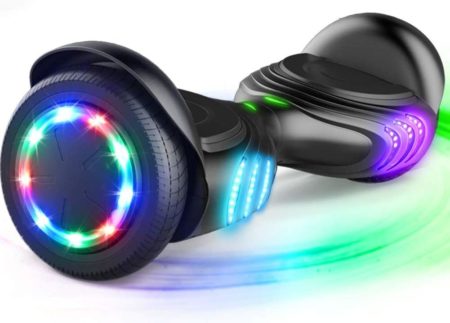 This off-road hoverboard has been certified, which means that the user's safety is fully guaranteed and taken care of. Even a beginner can quickly master how to ride a hoverboard with this model since it is comfortable to control and has a self-balancing mechanism.
The hoverboard has wide wheels with 6.5 inches tires that are non-slip, such that you can move on any terrain, including wet grass. The pedals are other parts of the hoverboard that provide security. They are shock absorbent and non-slip to provide great stability while on the move.
Special features
The hoverboard has a Bluetooth speaker
Features inbuilt LED for lighting
It is comfortable and safe for beginners
The hoverboard has quality materials crafting
City Cruiser, 6.5″ Scooter Hover Board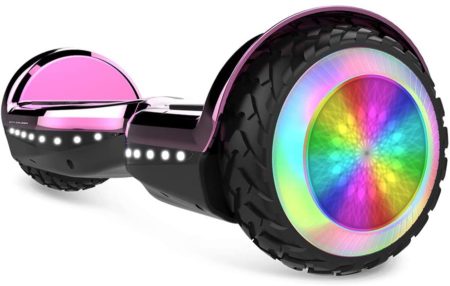 For the safety of the users, this hoverboard has been tested and approved by the UL2272 standards. So, it is a safe and comfortable hoverboard to cruise the city with if you love the outdoors. This hoverboard is made with tubeless rubber tires with a non-slip design, so you can easily maneuver different terrains, including on wet surfaces.
This hoverboard has a Bluetooth speaker, which allows you to connect it with other smart devices so you can enjoy some music while riding it. Even a beginner can comfortably ride this hoverboard since it has a self-balancing mechanism to ensure the users' safety.
Special features
This hoverboard has LED lights for illumination
The wheels are 6.5 inches wide
The hoverboard is certified for safety
Has a self-balancing mechanism
Conclusion
Take your hoverboarding skills outdoors with these great and quality off-road hoverboard models. They are designed to move on any surface since they have wide and strong wheels. The above hoverboards are strong and feature a self-balancing style for the safety and comfort of the users. So, find your match from our top ten reviews!