Boxing is a sport that requires eye coordination technic. So as you train to get physically fit and learn tricks on how to attack your opponents, it would help if you also prepared on your eyes coordination; thus, the need to buy boxing reflex balls.
What are boxing reflex balls?
The boxing reflex balls are multifunctional training tools used by people involved in boxing and other MUA and martial art sports. The reflex balls are helpful for training in eye coordination and speed when throwing blows with hands and elbows. You can still use the boxing reflex balls to train on balance, agility, and precision.
Benefits of the boxing reflex balls
Advances the hand-eye coordination
The reflex ball works magic in helping you to have excellent eye-to-hand coordination. The ball ensures you put your focus and brain to the ball to have consistent punches of the ball as you anticipate its return. Good eye and hand coordination in the boxing ring is crucial since it helps you have a significant exception, and focused reaction on the thrown punches, and be quick in general. It may be a bit hard to master the tactic of the reflex ball at first but, once you get used to it, the process tends to be smooth.
Improves balance and agility
Body balance and foot agility is a critical trait in martial art and boxing sports. You need to have an excellent balance to resist a fall from hard punches, and so you can have a better aim when throwing punches to the opponent. Reflex balls are quite dangerous, and I bet that you will get a few face punches in the long run before you get used to them.
So, training with the reflex ball helps you figure out how to put your feet to work when dodging the ball hits. Good foot stability should involve learning how to balance your body so you can escape as you throw punches.
It helps train punch accuracy.
You are not guaranteed the reflex ball will bounce back in the same positions, which is where accuracy comes in. Learning how to technically aim at the ball even when moving to different angles helps to improve your accuracy in throwing punches. This allows you to employ accuracy in the boxing sport, mainly when aiming for under chin knockouts.
Weight loss aid
Not only does the reflex ball help with training for boxing and other martial sports, but it also helps with cardio training at home. It involves many body movements and the throwing of hands which significantly improves one's metabolism for the quick fat burning process.
Improve defense skills
Your ability to dodge the reflex ball hits without missing your hand punches back helps improve your defense skills in the ring. When training with the reflex ball, the body movements enable you to learn; how to sway in the ring and easily see when punches are coming your way.
What to look out for when buying the reflex balls
The style
Boxing reflex balls come in two different styles, where some are meant to be fastened on the head, while others may need to be mounted on a surface. The choice between the two styles is determined by one's skills, flexibility, needs, and where to use it from.
If you need a reflex ball that you can carry to use from anywhere, then I believe the model with a headband is the best choice as you are not limited to using it from one area. The installed boxing reflex balls are suitable for gym areas since you can set them to a specific area to use whenever you need to.
The headband
The majority of the reflex balls are tied to canvas strap that one needs to fasten around the head when training. The headbands are supposed to either be secured using a hook loop or adjustable snaps. Just choose a reflex ball that has an adjustable headband for your comfort when fitting.
The adjustment mode should be flexibility especially if the reflex ball is to be used by more than one person. Another thing to check out on the headband is the materials. Choose a headband that has padding for the safety of the head and comfort when wearing it.
The elastic connector
The elastic connector helps join the reflex ball to the headband. The elastics are naturally stretchy to ensure the ball moves smoothly as you hit it. As you consider the stretchiness of the elastic ball, consider how long it is as well. The length of the elastic plus the level of stretchy effect determines how far the reflex ball will move when you hit it. The thickness of the elastic may affect its movements since the thick elastic is relatively slow compared to thinner models but helps to increase the challenge when training.
The weight
Considering you will be equipping it around your head, you need to be cautious about how much the reflex ball weighs. As you choose a reflex ball that helps you with training, select a light model for your comfort.
The attachment style
Some boxing reflex balls feature a detachable style whereby you have to attach the elastic and ball to the headband every time you want to use it. The attachment should be strong for such types of reflex balls to withstand constant removal and extension without the connector point getting too loose.
Do you want to excel in boxing? Or are you just a beginner in the field? Do you want to improve your speed? Are you looking forward to bettering your reflexes? Now all these demands will be fulfilled. A boxing reflex ball setup is a great way to improve your skills by enhancing your speed and technique. If you are looking for a way to enhance your stability, agility and stamina, you should give boxing a try.
Even if there are numerous brands available online, you can't trust them all. So, here we bring the top boxing reflex ball brands that will help you in the fitness process.
Best Boxing Reflex Balls to Buy in 2023
10. Revo Fight Upgraded Boxing Reflex Ball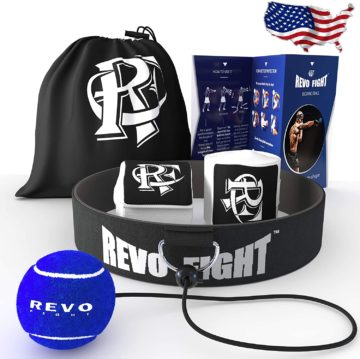 There are different options for boxing balls that you will find over the internet, but only a few can match the excellence of the Revo Fight Upgraded Boxing Reflex Ball. This lovely set comes with an adjustable headband that is easy to fit on various head shapes. The ball is attached to this headband through a sturdy wire ensuring a long life for the setup. This setup allows you to excel at hand-eye coordination as well as reflex development.
As a matter of fact, it is also a great exercise routine. Therefore, allowing you to burn up to 200 calories in just 15 minutes' time.
Key Features
When you go for this, you will receive a pair of premium armbands to go with your boxing apparel.
The ball has construction from neoprene and mixed with nylon for long-term usage.
It gives you a non-allergenic setup that you can use to the fullest.
9. American Fist Boxing Ball Reflex Set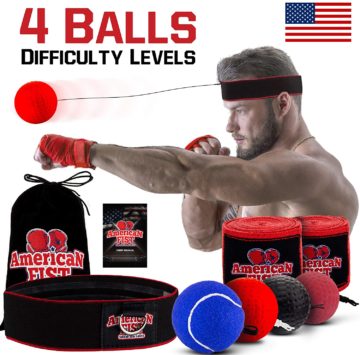 With the American Fist Boxing Ball Reflex Set, you can start training at your home only. This is a set of 4 punching balls aimed to enhance muscle growth and improve your boxing sped and technique. Next, the balls are graded at 4 levels starting at the novice level. And you can go all the way up to a beast mode. The balls have lobster lock attachments that allow you to easily fix and replace the balls from the headband. Hence, allowing you smooth progress from the lower to higher levels.
Lastly, the headband packed into this package. Thus, has an anti-slip design such that it easily fixes to your head and holds its position.
Key Features
When you buy this set a special gift awaits you- MMA-type wraps for your hands to give the professional boxer-like feeling.
The headset has an adjustable design for fitting anyone perfectly.
You even get a user manual to give proper instructions for using it.
8. TEKXYZ Boxing Reflex Ball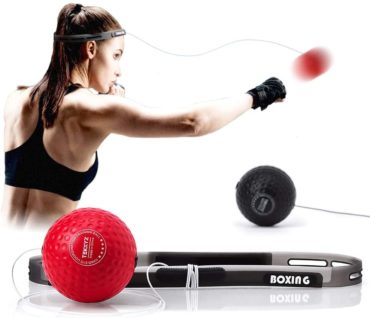 Indeed, a great setup either to stay in shape or to better your skills, you should go with the TEKXYZ Boxing Reflex Ball. This is a routine that you can easily do alone without anyone's help. The headband attaches snugly to your head. As a result, holds its place as you try your moves on the ball attached to it via a string. The set comes with a black and a red ball. This black one is much easier to maneuver. And now master the technique while the red one is to pave your way to excellence.
A 15-20 minutes' intense bout with this small ball will tone your body. And burn your calories very efficiently as it will charge all your muscles.
Key Features
Whether you like to exercise in the confines of your home or like to work out outside, this is a tool that you can easily carry to different places.
One gets two difficulty levels when using this.
Interestingly, it is ideal for any individual of any age.
7. Rantizon Boxing Reflex Ball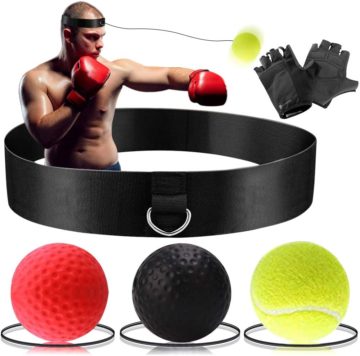 This is an amazing companion to aid you in your boxing movements. It is an innovative tool that can help you practice all your movements. Hence, gives you a full-body workout in just 15 to 20 minutes. The headband attached to a softball through an elastic string allows for fast movement and imbibes in you a sixth sense about impending attack. Thus enhancing your reflexes.
This tool comes with a 25 g, a 65 g, and an 85 g ball to help you progressively increase the difficulty of training. Lastly, the boxing reflex ball set is lightweight. And it is a portable set that you can easily take places and train anywhere you like.
Key Features
Whether you want to go gloves-free or with gloves on, the light and softballs make both easily possible.
Both professionals, as well as beginners, can use this for training purposes.
You get a carry bag with this set-up that will help you in easy transportation.
6. Gdaytao Boxing Reflex Ball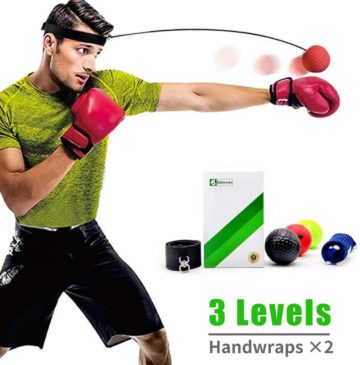 If you are going for a boxing ball reflex you should spare a look for the Gdaytao Boxing Ball Reflex. This is an innovative tool that helps you to progressively enhance your skills. It comes with a headband that can be wrapped around anyone's head between 5 and 95. An elastic string is attached to it from which hangs t softball which you will be punching.
The ball has a construction of foam rubber that will certainly not harm you in any way. Lastly, fast movements are a great way to improve hand-eye coordination and also make your reflexes better.
Key Features
The headband has an innovative design. Hence it fixes tightly around your head while ensuring there is no headache after use.
Easy to put on hand wraps that ensure the protection of your hands even after strong hits.
This offers three different intensity levels for offering diverse options.
5. NDGDV Boxing Reflex Ball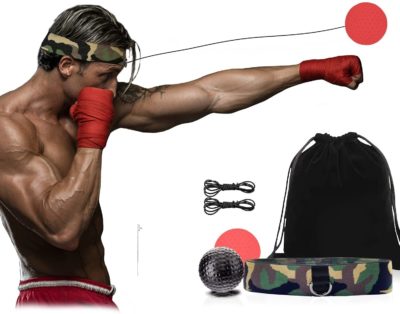 A boxing reflex ball set is an excellent way to get your body in shape while also getting better at boxing. The NGDV Boxing Reflex Ball is a lovely companion when you want a tough workout routine and you want to go solo. Next, the pack is loaded with 4 balls and 4 string attachments to fix the ball to the headband. The headband is innovatively crafted such that it can go about anyone's head, be it a child or an adult.
There are 4 balls corresponding to 4 different levels of hardness. As you progress the balls become more difficult to control and you need faster reflexes.
Key Features
You also get a storage bag that you can use to carry around to your favorite spot for a workout.
All you need is a 15 to 20-minute session with this arrangement every day. Hence, you will greatly benefit from all the tough body movements.
4. BOXERPOINT Boxing Reflex Ball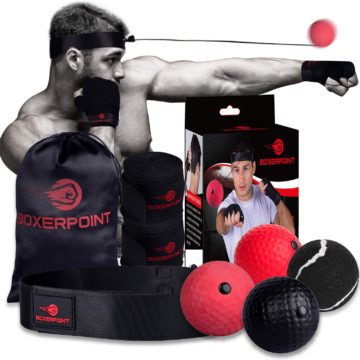 Are looking for a superior arrangement to help you with your boxing moves? You should give the BOXERPOINT Boxing Reflex Set a try! This is a set of 4 levels in progressive levels of difficulty to deal with. The balls are attached to very durable strings which are built to last for a long time. Even if the string breaks you need not worry, this pack is loaded with 4 extra strings to help you out.
Besides, the setup will enhance your reflexes by improving your hand-eye coordination and helping you with your speed. Lastly, the exercise routine is built to be tough and is sure to burn a lot of calories for you.
Key Features
The headband has an absorbent layer that easily absorbs your sweat and gives you a seamless training experience.
This headband is adjustable and operated through a Velcro arrangement. Therefore. allowing you to easily and tightly adorn it irrespective of the head shape and size.
It is certainly eco-friendly in nature and the strings will not lose their efficiency soon enough.
3. YMX BOXING Reflex Ball Set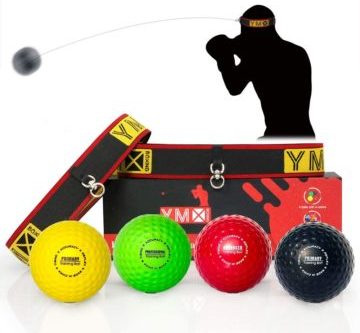 Want to convert boxing into a playful act while also learning to improve your skills? Well, you need not look far with the YMX BOXING reflex Ball Set around. This is a truly admirable setup to help you with improving your hand-eye coordination. With this amazing setup, you can easily tap into your inner boxer and try out all the moves. The set has two different weight balls to help you with your training.
You can easily tackle the lighter ball even without gloves. One can even use it without any training while the heavier ball will help you to improve your skills.
Key Features
The balls are so light that they will not hurt you but will greatly help in improving your skills.
This set comes with two headbands and two sets of balls for a solo or a double training session.
It will help in improving the coordination of developing skills.
2. Champs MMA Boxing Reflex Ball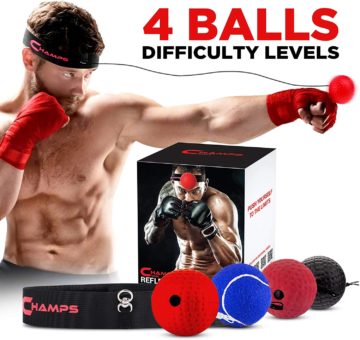 All of the situations may be easily handled with the amazing Champs MMA Boxing Reflex Ball. A simple tool with high functions, this setup is great if you are going for solo exercise routines. The portable setup can be used anywhere you feel like. It is loaded with 4 balls with increasing difficulty in maneuvering. Thus you can train your way up while giving your body a daily joust of good exercise with this set.
Finally, the headband is adjustable in all kinds of head shapes and sizes and always assumes a snug fit!
Key Features
This is such an easy-to-use setup that anyone from a child to an adult can use it to develop their skills.
It comes in a universal size and so, will fit everyone.
This is indeed a safe product for use as it is pretty soft.
1. Tech Tools Punching Reflex Bag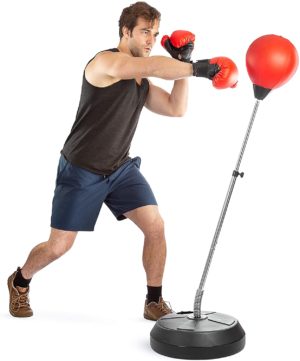 There are different versions of a punching ball that you can go for and a standing ball is as effective. Talking about standing punching balls, the Tech Tools Punching Reflex Bag is an innovative solution that can help you get the training done. This is a routine to develop your speed and thus, in turn, it also improves your coordination and your reflex. Next, the spring-loaded EVA foam keeps striking back as long as you need to work out.
Furthermore, the base can be easily stabilized by filling it with 66 lbs water or even 100 lbs of sand. The ball comes with a very durable spring such that it always comes back to position and lasts a long time.
Key Features
This is ideal for individuals of any gender and anyone above 13.
You can place it on any surface. Grass, concrete and anything you can think of.
Due to its height-adjustable nature, anyone can use it.
A soft boxing reflex ball is an innovative setup that gets you working out relentlessly while also improving your poise for a fight. So, why ditch your fitness routine?
Frequently asked questions
Q: Does a boxing reflex work?
The answer is yes! The boxing reflex ball does work in improving one's performance in boxing sport. The reflex ball enables one to develop good focus, stability, and speed when throwing without forgetting excellent hand and eye coordination.
Q: When is the right time to train with the reflex ball?
There is no better or particular time to train with the boxing reflex ball. Technically, you can use the ball from anywhere and at any time since it is convenient and comfortable to use from multiple spaces.
Q: how long should the reflex ball measure?
The length of the reflex ball is measured on the string. The string should be the height of your shoulder to your waist. This is the perfect length to ensure you have enough space for your training.
Q: Can I use the boxing reflex balls for a workout?
Yes! Boxing reflex balls involve a lot of body movements which results in cardio workouts. You can use the ball to tone muscles and facilitate calorie burning in your body.