Roller skates for kids are definitely one of the most fun things that you can own. Whether you are hanging out with your friends or having a friendly little competition, these things always call up for maximum enjoyment. Most importantly, roller skates are always fashionable and serve as a testament to your exquisite taste. Available in different colors and designs, you can choose the right one from a wide spectrum of choices. However, that can be intimidating in a way too.
Furthermore, there are several things to consider too as you must ensure that the skate is completely safe to use. To help you out, we are selecting and reviewing the best-rated roller skates available. Take a look and select the right one.
What are the best roller skates for kids to buy?
When you go for a roller skate for kids you need one that is both comfortable and designed in such a way that they can easily learn skating. The Hikole Roller Skates is one such design that will efficiently teach your child to skate while also bring food to their feet. The Roller Derby Tracer is also a very good choice and will give your kid the ultimate essence of roller skating!
Top Best Roller Skates for Kids in 2023
10. Sulifeel Rainbow Roller Skates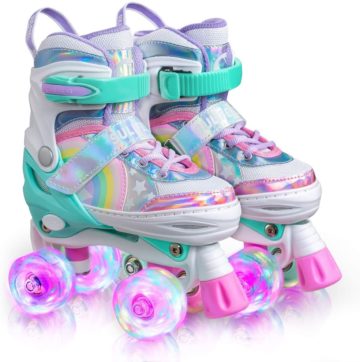 The Sulifeel rainbow Roller Skates is bright, colorful, and just the perfect pair of roller skates for your child. This pair of skates are designed to keep a child in mind and how fast they grow. Thus, these are so designed such that you can easily change the size of the shoes to fit your child's growing feet.
The wheels light up in a rainbow hue when your child is moving. And there is no need to add a battery for that. Next, the wheels are resilient and crafted from PU polymer which makes springy enough to give a smooth ride. Finally, the roller skate is built on an aluminum frame which makes it very stable and strong.
Key Features:
You are backed by Sulifeel's promise to replace or even refund this pair of roller skates if they are not to your liking.
The skates have a protective buckle lock which makes it very easy to put it on and off!
The wheels are loaded on to the shoes by means of Speed ABEC-7 bearings. Hence, are strong and efficient and are not likely to come off.
9. Otw-Cool Roller Skates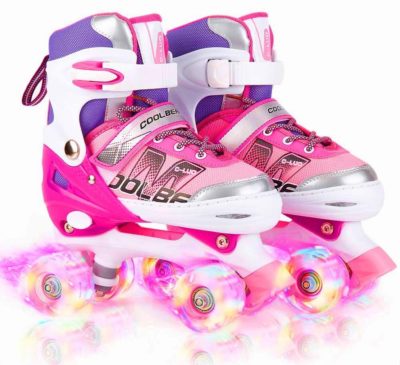 Indeed, a pair of dazzling roller skates in which you princess can gleefully float around, this would be an impressive choice. The shoe, the framework, and the wheels are all from high-grade durable materials that ensure long and smooth life. Next, the wheels are very strong and can take quite the load. They are attached to the boots through ABEC-7 connectors. Hence, these are some of the best inline and promises secure attachments.
Moreover, the wheels are so designed that they light up on their own when they are moving to give off a brilliant dazzle. The size is adjustable at the press of a button and designed to accommodate children for some years to come.
Key Features:
The boot is from a resistant polymeric material (polyurethane). Hence, gives it soft padding such that it is always comfortable to your child's feet.
Its wheels are from urethane which is a solid polymeric material and can be used both indoors and outdoors.
The skates use buckle locks instead of laces. This makes it very easy to put on and take off even for young children.
8. Kuxuan Roller Skates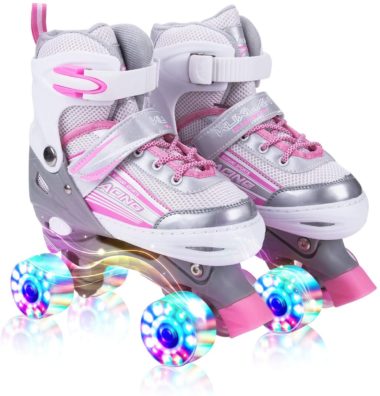 Certainly, a comfortable pair of roller skates that your child is just going to love, you could try the Kuxuan Roller Skates. These amazing skates come in a fancy and attractive design and made from high-end materials. The boot is from polymeric plastic and has quite a resistive nature towards wear and tear.
Furthermore, the inner lining is well-padded to be comfortable with your child's feet as they go skating. The wheels are from polyurethane plastic and have quite a sturdy body. They are resilient and easily run on indoor as well as outdoor surfaces smoothly!
Key Features:
The after-sales services from Kuxuan are great and they will take care of any problem. If for any reason, these skates do not live up to the expectation, you can even return them for a full refund.
Though the roller skates show a fancy lace design they are tightened by a buckle lock. Hence, makes it very easy to use by children.
This will fully light up to keep your child in style.
7. Chicago Kids Quad Roller Skates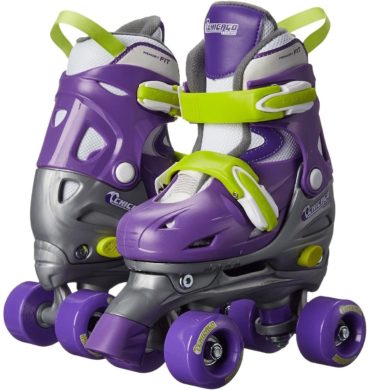 The Chicago Kids Quad Roller Skates bears quite the sporty look and has some of the finest features out there. This amazing roller skate feature 4 different sizes which can be interchanged by the press of a button. This was done to ensure that the fast-growing child would be able to use it for a couple of years before having to give up the skates!
Besides, the boots are made from a polymeric material and have a breathable nylon lining. The collar to the boots is padded to keep the feet comfortable and can be tightened through the micro-ratchet buckles.
Key Features:
Both the skates have hardy toe breakers that get you a smooth and easy braking experience.
The wheels are loaded on to the boots by using 608ZB semi-precision bearings. These are designed to hold components together even at high speeds.
Stopping it isn't hard at all as the stopping power is immense.
6. Roller Derby Roller Skates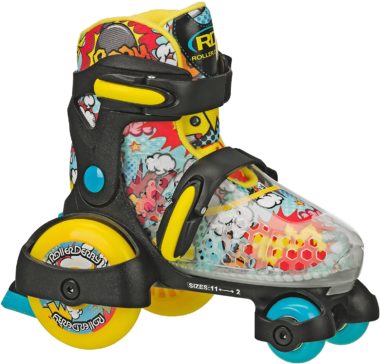 The Roller Derby Roller Skates is a remarkable and fun toy to gift your child. This will inculcate a love for skating in them. Well, it is just the perfect set of beginner boots that your child could ask for as they are comfortable to the feet. And it is so designed that it eases the learning to balance process.
The skates are loaded on urethane wheels which are strong, durable, and have high elasticity. Therefore, allowing it to run smoothly on a number of terrains. The most striking feature of this pair of skates would be a small lever. Hence, allows the wearer to alter the size of these skates by up to 4 sizes.
Key Features:
The skate is skilfully designed such that it automatically features a lower center of gravity. Hence, making it very easy to balance oneself on these skates!
It features cool graphics that further has more options so that there is no chance of feeling upset.
The wheels on these skates have a cushiony effect. So, you could even use it in indoor environments.
5. New Bounce Skates for Kids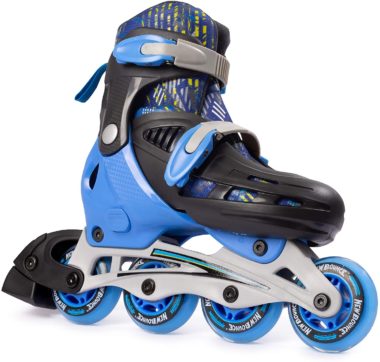 The New Bounce Skates for Kids is strong and has a sporty feel to it. This inline is innovatively designed, particularly to match the growing size of their feet. The boots have an ingrained lever which allows the wearer to modify the boots up to four sizes. This is an impressive feature because it means that a child can use it for a longer time.
Moreover, the boots are from a comfortable polymeric material. This made even better by layers of extra padding. Finally, the wheels are from gel material which makes it ideal to run on all kinds of surfaces smoothly.
Key Features:
This hardy set of roller skates has an aluminum construction which gives it immense durability.
The skates are paired up with liners. One can easily remove to give them the occasional wash in a machine to keep it clean and tidy.
A beginner as well as a professional can wear this and gain balance.
4. Roller Skates by Crazy Skates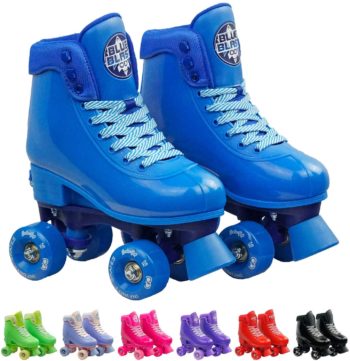 The pair of Roller Skates from the house of Crazy Skates has a great feel to it. And is the right pair of skates to go with if your child is just a beginner. These have a simplistic look but a clever design that allows the wearer to modify the size of the boots. The collar is well padded and so is the interior of the boots. As a result, your child's feet are all comfortable as they go whizzing.
However, the solid wheels are from urethane, a very durable and elastic polymeric material. The wheels will not break easily and can easily run along on different types of lands inside or outside.
Key Features:
These amazing skates are available in all kinds of attractive solid color shades!
The design of this skate is very simple which makes it so ideal for beginners.
Both the skates come with brakes at the toes. This allows your child to smoothly apply brakes when they need to.
3. Hikole Roller Skates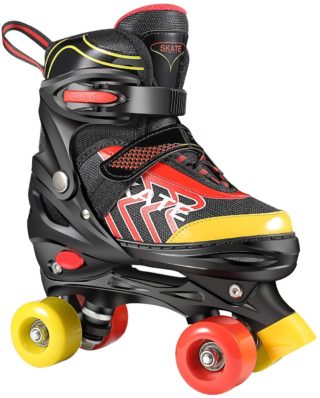 Indeed, a cool and blazing pair of roller skates to gift to your kids, then the Hikole Roller Skates is the best deal. These are attractive and have a great design which will inculcate in your child a love for roller skating. The boots are very comfortable on their feet. Plus, the wheels attached to them are crafted from PVC keeping it strong and durable.
Furthermore, the wheels are attached to the boots using ABEC-7 bearings which are the best speed semi-precision bearings out there. Each of the skates comes with 4p wheels that run smoothly and a brake to allow smooth stops when needed.
Key Features:
The boots have three layers of protection. These are including lace, Velcro, and buckle making it one of the safest boots to wear.
Since the roller skate has a mesh-like surface, it makes it breathable.
It successfully keeps your child's feet cool as they are having a ride.
2. Cifaisi Roller Skates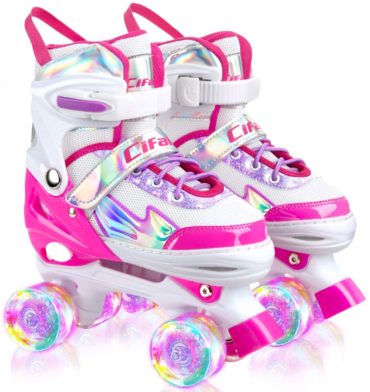 This one of the finest pairs that you could ever ask for. These premium quality skates fit on to the feet of your toddler. Well, it will be their companion for a long time to come. The toddler will grow but cannot outgrow the boot. Thanks to its 4p adjustable sizes to meet your kid's feet requirements. The wheels also brightly light up as your kid goes on a run on it.
Both the skates are loaded with brakes to allow for easy and smooth braking action. The 82A wheels are durable and have exceptional stability when moving!
Key Features:
The extra padding within the sneaker-like boots gives extra support to the ankles and aims for enhanced protection.
Its liner is pretty soft to keep the child's feet unharmed.
The lights on the wheels do not require any battery and light up from the moving action of the wheels.
1. Roller Derby Tracer Roller Skates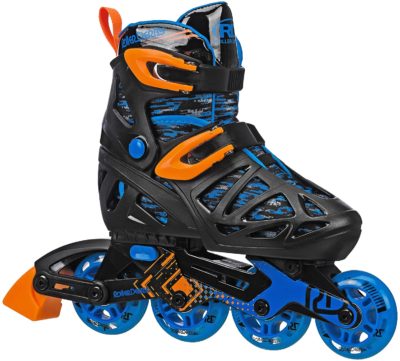 Well, this is going to one of the most amazing pairs of skates that you are going to buy for your kid. This is a unique pair of skates molded in a versatile design. The skates are so designed that the size can be changed with the click of a button. Given that, this added maneuverability ensures that the pair of skates can be used for a long time.
As a matter of fact, this itself grows with the child. The skates run on urethane wheels which are very sturdy with just the right bit of elasticity. Hence, allowing your kid to easily cruise through different kinds of terrains, even rough ones.
Key Features:
The wheels are attached using GForce carbon bearings which are very robust and cling on tightly!
Its wheels are removable and the liner is washable allowing you to keep your skates clean and tidy.
How to buy roller skates for kids?
When you are buying a set of roller skates for a child or even for an adult, you have to mostly take care of similar things. The very first criteria for buying a set of roller skates would be that it has to be sturdy enough to support the load. This may not hold for the boot but is equally important for the wheels and the bearing connections. If the wheels are light or brittle it will easily break, maybe even while riding, causing dangerous accidents. It is essential to check the wheels properly and choose a material such as PU or PVC for the wheels. The bearings and connections are equally important as it holds the wheels and aids them in moving. You want to get a pair of roller skates loaded with the best quality bearings, if not anything else.
Why should you check on the material of roller skates for kids?
The material of the boot is also significant as it is difficult to deal with heated feet. The boot should be made from breathable material and should have enough padding to keep the foot comfortable.
Final Verdict
A sporty pair of roller skates really sets the mood for a good ride and can help get your child out into the open. Hence, get the fashionable roller skates for kids and they will never complain about style or fun.