Professional artists require a lot of brushes, makeup kits, and other beauty products while doing makeup. These makeup kits have plenty of shadows, blushes, and it is challenging to keep track of all of them. Also, it gets very messy to put them all in one place. Just to avoid this messy situation, rolling makeup cases are designed, which helps you to store all your products in just one case.
These makeup trolleys have multiple features for your easiness. They have built-in mirrors, LED lights, removable drawers, brush holders, and much more. So, to help you with choosing the best case, below is the list of the top 10 Best Rolling Makeup Cases. Go through the article and study their pros and cons given along with each case.
Top Best Rolling Makeup Cases in 2023
10. SORISE Makeup Case Professional Rolling Aluminum Trolley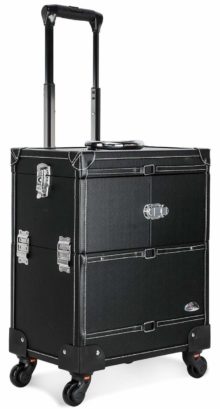 This makeup case is available in two colors that are black and matte black. It is a trolley case that is convenient to carry while traveling. The high-quality premium PVC leather is used in its construction, which makes it durable and reliable. All the corners of the trolley are metal-capped to add extra sturdiness. Your cosmetic products are kept safe while going outdoors in this trolley.
The four wheels of the trolley rotate at a 360-degree angle and can be easily replaced if needed. It also includes a mirror with a stand and has a lockable feature to keep the privacy. The space inside the trolley is vast. It contains three extendable trays where you can keep small items like polish, lipsticks, etc. The bottom compartment is large enough to store big products.
Pros   
Large storage space
Extra mirror and keys available
Durable and sturdy
Effortless rolling
Cons
The size of the trolley is a bit small
9. BYOOTIQUE Black Rolling Makeup Case with Mirror
BYOOTIQUE has designed this large makeup trolley case in black color. The four wheels attached to the trolley have 360-degree swivel motion, and 2 of them can be handled with brakes to keep the case steady. It can handle 33.1 lbs of weight. You can store a high-temperature hot blow dryer, hairdryer, and more at a high resistance plate included in the trolley.
Six pieces of LED lights with dimmer control gives a bright look and no uneven shadow. It is ideal for makeup artists, enthusiasts, and hairstylists. The lock and key feature provide security to the trolley. It includes four extendable trays, an appliance holder, and a brush holder on the doors, a bottom case, and two drawers. You can illuminate your face with perfect light by the touch screen design of the trolley.
Pros
Vast space
High-temperature resistance plate
Touch screen design
LED lights
Cons
The handle of the case is not strong enough
8. SHANNY REBEL Series PRO Makeup Rolling Case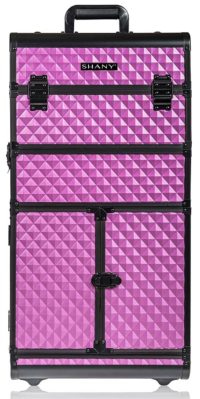 It is an all-in-one 30-inch makeup case with rolling wheels. The case is made of aluminum and has detachable top and bottom partitions. You can carry it anywhere easily. The cosmetics brush holders, large drawers, and smooth lock ensure safety for all of your cosmetic products. It has a gorgeous design that allows you to travel without comprising the design.
You get a free set of mesh cosmetic organizer bags with the case. The brand also gives a 1-year warranty on the product. The inside of the trolley case is made from ABS plastic, which is robust and long-lasting. A mirror is included in the trolley, which is rotatable and extendable. Also, the interior of the trolley case is lined with washable as well as dust resistant material.
Pros
Multiple color options available
Removable compartments
1-year warranty
Stylish design
Cons 
No plug port is available on the case
No LED lights built-in
7. Rolling Train Case 4-in-1 Portable Makeup Case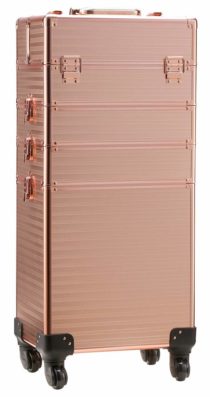 The rolling train case is available in black, rose golden and silver color. When you receive this package, don't be afraid of the missing top section. It is hidden inside the bottom section. You can use this trolley in 4 different combinations from small to large size. As clear from the name, it is a 4-in-1 versatile trolley. This trolley has separate compartments to hold all the cosmetic items.
Just to avoid the messy situation, brush holder, lipsticks, polish compartments are made separately for easy access to all the products. This makeup trolley is built with an aluminum frame, ASB surface, stainless steel corners, and velvet lining. For easy assembling, the top section can be easily put into the bottom section. The four rolling wheels have 360-degree swivel motion, which makes it easy to carry it while traveling.
Pros
3 color options available
Multiple compartments
Sturdy and durable
4-in-1 trolley case
Cons
LED lights are not present in it
No extra mirror
6. OLLIEROO 4-in-1 Aluminum Rolling Cosmetic Makeup Case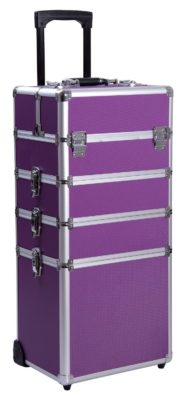 It is the top rolling cosmetic makeup case with a silver color aluminum frame. The brand has designed it in two colors that are black and purple. All the corners of the makeup case are of stainless steel. Two wheels help in providing smooth motion. You get a total of 8 keys along with this makeup trolley, 2 for each compartment. The upper surface is of ABS and has velvet lining inside.
You can use this rolling trolley as your small-sized kit, large trolley to fit in all the beauty products, and much more. It can be used in 4 different styles due to its removable layers. The exterior material of the trolley is heat resistant to keep all the products fresh inside and protect them from the harsh rays of the sun.
Pros
4-in-1 rolling case
Heat resistant material
Versatile
Large capacity
Separate lock feature for each layer
Cons
2 wheels rolling feature instead of 4 wheels
5. OUDMAY Rolling Cosmetic Makeup Case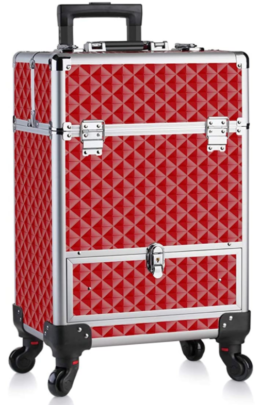 OUDMAY rolling train has three different trays and one side drawer in which you can store all your large beauty products. It is a four wheels rolling case, which is very convenient to carry. Don't go by its outer look; it can carry all your products easily. The look of this makeup case is very stylish and is fair for all hairstylists, salons, beauty centers, etc.
It has an ABS surface with an aluminum steel frame and stainless steel corners. The aluminum frame makes this trolley case highly durable and sturdy. The lock and keys are included with the case to ensure the safety of your expensive products. This brand offers you a 1-year warranty for this case. Plus, if you are not satisfied with the quality of the product, your 100% money will be refunded within 90 days of purchase.
Pros
Stylish and elegant design
Excellent after-sales service
Drawers and locks available
Portable small box
High-quality hardware parts
Cons
No LED lights and mirror in the case
4. AW Classic Black 2-in-1 Soft Sided Rolling Makeup Case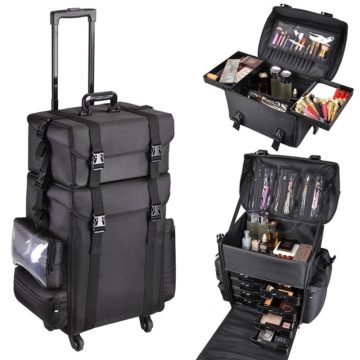 AW Classic Black is a signature style makeup trolley that has soft sides. It is designed in a way that it never gets outdated in a year. You can use it as a 2-in-1 combination case. The upper portion can be used as a bag with strips to hang on the shoulders. The bottom portion can be used separately with rolling wheels and a telescopic handle. Four wheels provide 360-degree swivel motion for smooth movement.
There are eight replaceable drawers in this makeup case. You can use these drawers to keep small items, and if in case you need to store large items, you can remove the drawers. This brand offers you an excellent after-sales service. There is 30 days return policy, 90 days manufacturer warranty, and a 1-year warranty for the wheels in case they break down during regular use.
Pros
Long-lasting trolley
A 2-in-1 makeup case
4 wheels for labor-free movement
Includes eight drawers and four keys
Cons   
After filling, it is heavy to lift up
3. MEFEIR 4-in-1 Rolling Makeup Train Case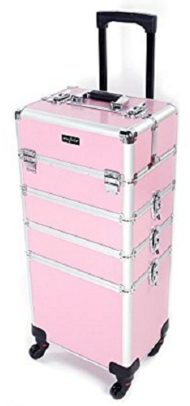 The pink and black color aluminum frame rolling trolley case is durable and sturdy. The reinforced steel corners of the body give it a solid look. It is a 4-in-1 trolley case with eight lock keys to ensure the safety of your expensive products. You can carry it as a small makeup kit or can store all your beauty products at a time. It has an elegant and stylish design.
It has four rolling wheels, which are easy to rotate at a 360-degree angle and does not toddle. You can detach the wheels when not needed. The process of attaching and detaching the wheels just takes a few minutes and is not a tough task to do. The velcro straps around the telescopic handle are used to provide more stability to the case. For greater comfort, it has a padded handle, and you can adjust the height of the telescopic handle as per your need.
Pros
Padded handle
8 lock keys
Steel cornered frame
Easily transportable
Cons
2. YAHEETECH Rolling Professional Lock Case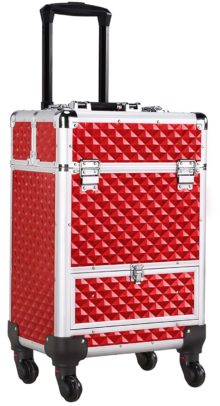 YAHEETECH makeup case has detachable four wheels, which have swivel motion for easy transport. The innovative hexagon handle provides excellent steadiness. Four removable trays are designed to store small items, and the bottom of the case can be used to store big products. It is a versatile train makeup case. It includes two lock clamps that keep your products safe.
You also get two keys along with the rolling makeup trolley. The top-grade ASB plastic with polyester lining has been used in its construction. The aluminum sliding track provides corrosion resistance movement. You can choose between three colors for this case that are- black, multiple, and red.
Pros
Small and compact design
Top-quality material used
Hexagonal rods
Ergonomic handle
Sliding rails
Cons
No extra mirror available
No LED lights for illuminating the face
1. YAHEETECH 3-in-1 Cosmetic Train Case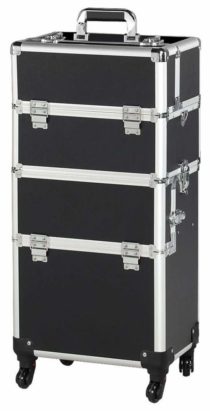 YAHEETECH trolley makeup case can handle up to 66 lbs weight of your large beauty products. It is available in four different colors. All the colors are attractive and good looking. It comes with four detachable multi-directional wheels and a telescopic handle for easy transport. You can carry the upper portion of the trolley on your shoulders by detaching it.
The interior of the makeup case includes large dividers to store all the products neatly and for easy access to all the beauty items. Also, the outer case of the trolley is built with the top-grade plastic outer case, metal, and aluminum edges. Just to protect the accidental damages of the items, soft oxford cloth lining is done inside the rolling case.
Pros
4 top/side clamps
Easily portable
Sturdy and durable
Color options available
Cons
The handle is not so durable
Factors to Consider Before Buying Rolling Makeup Cases
The makeup cases should be designed for top-grade material for long term use. Also, they must be heat resistant to keep the products cool as the beauty products are highly volatile to temperature. The excellent material marks the safety of your expensive beauty products.
Check the space of the makeup trolley case before buying it. So, this is the most crucial feature as you need to store all your beauty products in it. There should be removable drawers and brush holders to avoid a messy situation. When going to a customer and you don't know her taste, so, you have to carry all your products with you, which would require ample space. Thus, choose accordingly.
Make sure that the trolley case you choose has 360-degree swivel motion wheels for labor-free movement. It should have four wheels for easy transporting. The wheels should be strong enough to handle the weight of the makeup case.
Beauty products require the utmost care. So, your trolley case should be sturdy and must not toddle. It should be waterproof to keep the products dry in case of rain. The best makeup case is the one with hard exteriors and soft interiors.
Conclusion
To conclude with the article, the makeup trolley case is for storing all the beauty products when you need to travel along with all of them. So, in short, your train case must be sturdy, durable, waterproof, and made of top-grade material, should contain vast space, LED lights, mirrors, and much more. Choose one among the Best Rolling Makeup Cases and enjoy the benefit of it.