The mercury is rising and the temperatures are soaring day by day. Whether you are at your office, home, or lounging at the library reading your favorite book on your laptop, the most popular choice nowadays is a USB desktop fan that is compact, portable and provides you fresh & cool airflow. However, the market is flooded with dozens of best USB Fans. It is quite tiring and difficult to understand what is right for you amid those numerous choices. There are multiple factors like, size, design, cost, shape that can impact your buying decision.  A USB desktop fan can easily be connected to your laptop and makes those gloomy summers soothing again.
Our research team has evaluated tens of products and eased your search. We are listing down the top 10 Best USB Desktop Fans for you. The list has been compiled on various factors and you can make up your mind to buy the best USB Fans.
We have researched hundreds of products and went through thousands of product reviews to bring you the list of top 10 USB Fans. Let's go through the list in detail while accounting for Pros & Cons to help you make the right buying choice.
Here is a list of USB Fans in 2023
10. OPOLAR USB Desk Fan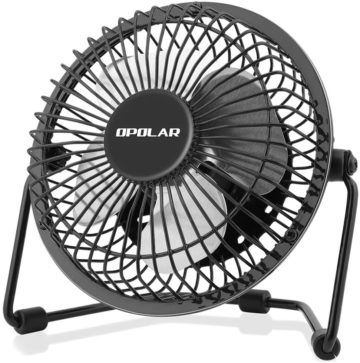 This personal mini USB fan from the house of Opolar is available in multiple colors. Due to its small size with a 6-inch frame, it makes your perfect partner at home, office, library, or study room. It is capable of producing a strong cool breeze due to its sturdy metal body. Easily compatible with your desktop, laptop, or portable charger, this is among the best USB Fans to save space. Polar offers 24/7 customer care and a one year warranty on the product.
Pros
Compact design
Sturdy metal structure
24/7 customer service
One year warranty
Cons
Construction does not look very good
Some customers complained of too much noise
9. Fancii Desktop USB Fan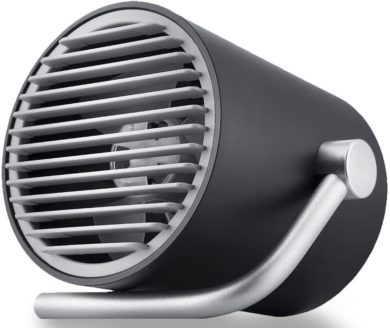 With its cyclone blade technology, Fancii Desktop USB Fan provides you with double the airflow as compared to its counterparts. The company claims it to be much quieter and powerful than other fans in its segment. The fan can rotate 180 degrees to provide you cool air in all directions, anytime anywhere. The USB Fan offers twin speed settings with touch control making it one of the best USB fans available in the market.
Pros
Cyclone blade technology for more airflow
25% more quieter
40% more powerful
Portable lightweight design
Twin speed setting with touch button
Rotation of 180 degrees provides airflow in all directions
Cons
The power button is extremely sensitive
Though it is noise-free, sometimes it rattles.
8. Arctic Breeze USB Fan
The Arctic Breeze USB Desktop Fan has a list of features to count for. It comes in multiple designs to make your workplace look vibrant and fresh. Its gooseneck is flexible enough to be bent in any direction providing cool airflow in all directions as desired. With 1.8 m long power cord, you can move the fan in any direction to get the right airflow. What more, the fan comes with rubber padding on its foot to prevent slippage and any scratch marks on your table.
Pros
8m long power cord
Multiple colors to choose from
A flexible neck that moves in any direction
Padded bottom to prevent slippage
Cool airflow in all directions
Cons
The construction looks poor
Fan arm looks unsteady
7. SUNPOLLO Clip On Desktop USB Fan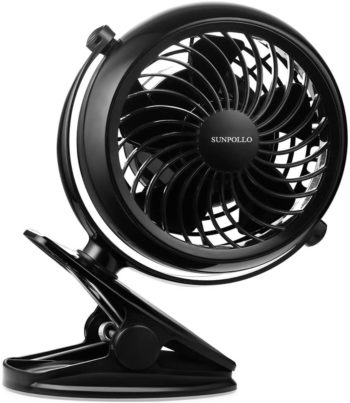 Sunpollo has made itself into our list of best USB Desktop Fans because of many reasons. The fan can be battery operated as well along with USB Port making it useful even when you are not using your laptop or personal computer. The fan comes with two types of clips that can be adjusted to multiple objects including a baby stroller, or even a pole. The strong clips and 360-degree movement ensures you get cool airflow in all directions.
Pros
Can be used as USB or battery operated
Two clip-on is strong enough to hand onto any object
Fresh cool air in all directions
Black super cool design
A strong flow of air
Cons
The fan is a bit loud
The batteries die soon so remove batteries when not in use
6. Arctic Breeze Mobile USB Fan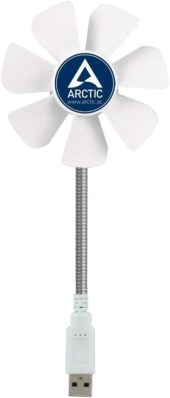 With 92mm fan blades, the Arctic Breeze Mini Mobile USB fan provides excellent cooling airflow. As it is portable, it gives out fresh & cool air on the go, making it one of the best USB Fans. Its flexible gooseneck provides airflow in all directions. With a spinning speed of 1700rpm, it can provide quick and cool air to anyone in its close proximity. The motor is one of the quietest ones available in USB fans.
Pros
Mini compact design
The flexible neck provides airflow in all directions
Quiet working
Individual design
Cons
May not be very effective on hot days
5. iMBAprice USB Desktop Fan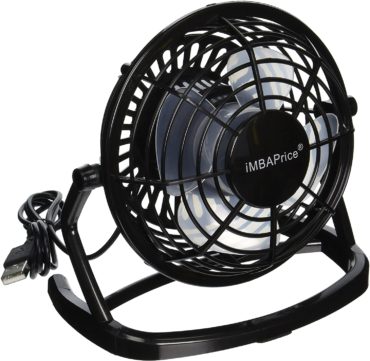 In case you are looking for a no-frill product, iMBAPrice is the right USB desktop fan for you. It provides you with just an ON/ OFF switch for easy operation. The sides can be adjusted as per your requirement and the USB fan gives a consistent flow of cool air in directions as desired.
Pros
Easy to operate
Quiet operations
String and consistent flow of air
Provides cool air in all directions
Cons
The plastic structure looks cheap
Some users complain of unnecessary noise.
4. Keynice USB Fan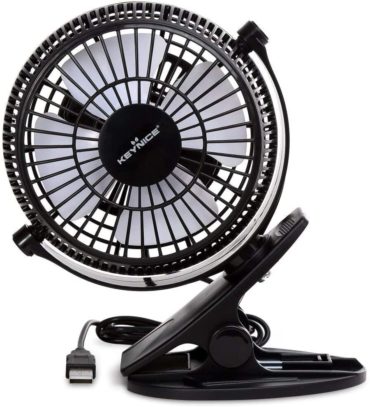 Keynice offers you the most compact yet effective portable USB desktop fan. The blades are 4 inches making sure it does not occupy much space. Additionally, it comes with a clip-on to make sure you can use it anywhere you go. The head can move 360 degrees making sure to give you a cool soothing breeze in all directions. The fan is quiet to add topping which makes it to the list of best USB Desktop Fans.
Pros
Compact design
360-degree movement of head circulating air in all directions
Clip-on technology
Quiet operations
A consistent flow of air
Cons
The fan needs to be plugged in a USB port, hence not portable.
3. WellTop Mini USB Desktop Fan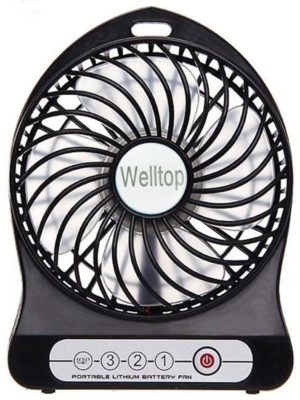 Welltop offers you a true portable fan that you can carry along. It comes with three speed settings, High for hot summers, Medium and Low for all kinds of weather conditions. Though when switched on, you can't change the settings and it is fixed at medium. Though compact, its brushless motor provides it with great power that can dispatch continuous airflow in all directions. It is one of the quietest USB fans available in the market.
Pros
Compact palm size design
Three-speed settings for all kind of weather conditions
Portable, battery-operated
Design is solid
Cons
Ineffective speed settings
Too small, may not be effective always
2. Ucio Portable USB Fan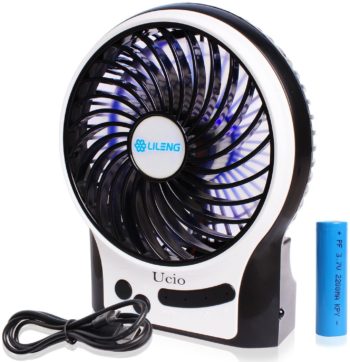 The runner up in our list of best USB Fans is from Usio. Its powerful 3200 RPM motor makes sure to provide you with stagnant airflow without noise. The USB Desktop fan comes with rechargeable batteries to make it truly portable. Additionally, it comes with an emergency light. The fan comes in three-speed settings making it ideal for all weather conditions. It can be used both indoors and outdoors due to its compact design.
Pros
Strong 3200 rpm motor for consistent airflow
Three-speed settings for all kind of weather conditions
Portable, 2200 MAH battery operated
Additional emergency light
Compact design
Cons
Some users complained the battery was ineffective
1. OPOLAR 8 Inch USB Fan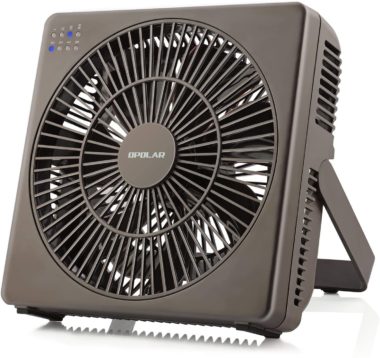 Opolar's unique design makes it a true masterpiece. With 7 blades of technology, the fan is competent enough to give a consistent flow of cool air. The 4-speed function makes it the best USB Fan in all weather conditions. The fan comes with a Timer to switch off automatically. Now you won't need to wake up at night to switch it off. The fan comes with a one year warranty. The head rotates at 90 degrees providing airflow in almost all directions.
Pros
Seven blades technology for consistent airflow
Four-speed settings for all kind of weather conditions
Quiet operations
Powered by USB as well as AC adapter
Additional timer for automatic cutoff
Cons
Speed is inconsistent as observed by some users
Final Thoughts
We have done our best in bringing you the best USB Fans list for 2023. The research was based on multiple factors including reviews, customer feedback, ratings, and consistency of a product in the market. Choosing the right fan will now be easier for you and we are sure you will be able to pick up the best soon.