There was a time when vacuum sealing technology was only available in a professional kitchen. In today's world, home cooks can invest in a vacuum sealer and reap the benefits.
What does a vacuum sealer do?
A vacuum sealer is used for storing food items to keep them fresh for a long. What would a restaurant do without a vacuum sealer? Since everything is supremely expensive, storage is the best way to save up money and avoid wastage.
When you keep the food on a plate or a bowl and store it in the fridge, the freshness and taste get affected. When you vacuum seals the food, it stays fresh and tastes pretty much the same when you use it next.
Another benefit of vacuum sealing is that you can do the preparation part one night before the big day. Let's take the example of hosting a house party the next day! You have a fear in your mind that the food items will go stale if you cut the veggies and meat one day before the party. With a vacuum sealer, you can prepare the items and not worry about the food going stale.
Vacuum Sealers Can Be Used For:
Sous Vide Cooking
Jar Storage
Preserving Wine
Saving food ingredients
Removal of oxygen – SAY No to Oxidation
Protecting and preserving bulk food items
Since you have never purchased a vacuum sealer before, we thought of helping you pick the best one. We have reviewed the top 10 best vacuum sealers in the market. You can compare each of the products and find the best one for your kitchen.
Let's begin with the reviews! Moreover, you can find a quick buying guide after the reviews. It will help you get familiar with the features you need to look out for.
List of 10 Best Vacuum Sealers – Review
10. CEKAY Vacuum sealer machine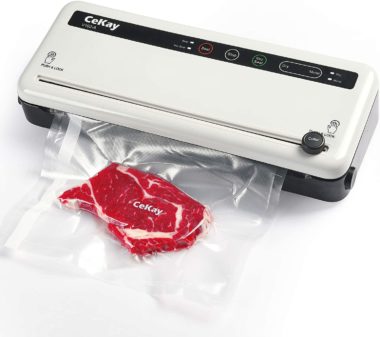 Here's an efficient vacuum sealing machine. The CEKAY vacuum sealer has two sealing modes and it helps in saving time and money. It also provides a starter kit, to begin with! The starter kit includes a roll vacuum bag, hose, and vacuum sealer (of course).
The built-in cutter allows you to cut the bags at the right length. You will also get a 1-year warranty along with the product and access to a friendly customer support system. Moreover, the price is not exorbitant.
Reasons to buy
It is affordable.
The product contains a starter kit.
It has a built-in cutter.
9. NutriChef PKVS50STS Commercial Grade Vacuum Sealer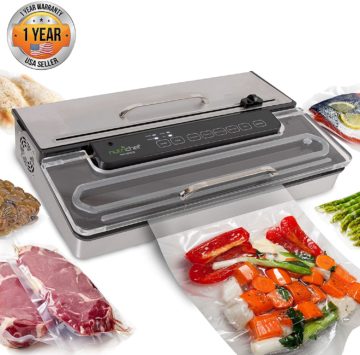 NutriChef PKVS50STS is one of the best commercial-grade vacuum sealers out there. The price may seem high to some, but the product is worth the money. Most professionals prefer NutriChef over the slightly inexpensive home-friendly vacuum sealers.
This mechanism creates strong airtight bags and has the ability to steal both dry and moist foods. The digital touch control panel is easily accessible and makes the operation easy.
The product does sealing that preserves the food 5 times longer. So, go ahead and purchase this good-looking, efficient, and professional vacuum sealer.
Reasons to buy
It has a digital control panel.
Seals the food efficiently and preserves it 5 times longer.
Creates stronger airtight bags.
8. Elechomes Vacuum Sealer (Built-in Bag Storage)
The Elechomes Vacuum sealer helps in preserving food almost 8 times longer than any conventional method. In fact, it will hold all the natural flavors and juices of the food within the sealed bag.
Getting an airtight seal is required to lock in the freshness. This mechanism has both dry and moist modes. The removable drip tray design makes it convenient to remove any moisture that goes into the machine while sealing.
A professional starter kit is included with the product. Plus, it has a built-in cutter too. The cost of the vacuum sealer is not expensive, and it does the job effortlessly.
Reasons to buy
It has a built-in cutter.
The product is dishwasher-safe.
Bonus starter kit included.
7. CRENOVA V60 Plus Vacuum Sealer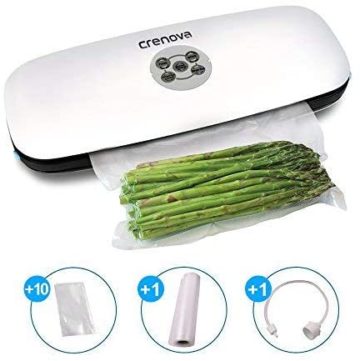 The CRENOVA V60 Plus vacuum sealer has a modern design that catches the eyes of most homeowners. It is not just good-looking but offers multi-modes such as dry, soft, moist, and delicate.
The product has a built-in cutting knife that cuts like butter. This is required to cut the bags in proper length. The controls are quite easy. It has 'seal only', 'vacuum and seals', and 'cancel' buttons.
The cancel button is used for stopping the operation whenever you want. It is meant for your safety! The buyers will get a starter kit along with the product. This includes an air suction hose, vacuum bags (both large and small), and vacuum bag roll.
Reasons to buy
It has a built-in cutting knife
The product has multi-modes – soft, dry, moist, and delicate.
Stylish and portable design.
6. KitchenBoss 3-in-1 Vacuum Sealer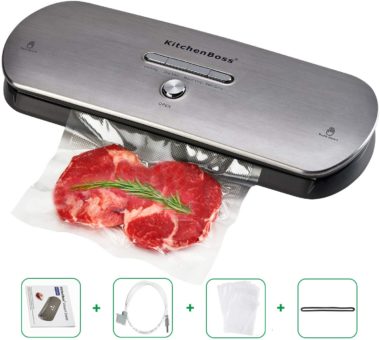 If you are looking for a visually appealing and potent product, then check out the KitchenBoss 3-in-1 vacuum sealer. It is available in a number of colors such as red, coral, white, silver, stainless steel, and graphite ash.
The product's housing is heat and fire-resistant. This is a must-have feature, especially when there are accidents involved. There are different modes of sealing that include seal only, vac-seal, inching, and individual vac-hose.
The product offers a super-powerful suction too. We love the fact that this product is highly portable and does not take up much space in the kitchen. KitchenBoss is at the #1 position for multiple reasons. Moreover, it is pocket-friendly too.
Reasons to buy
Supremely good-looking and is available in different colors.
Compact in size which makes it easy to store
Offers multi-sealing mode
5. GERYON Vacuum Sealer Machine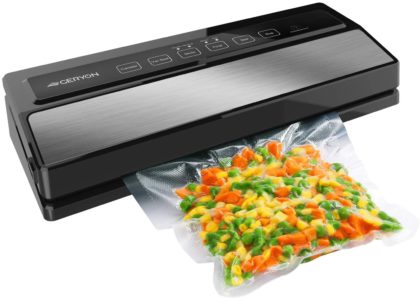 We always recommend buyers opt for a product that comes with a starter kit. As you read the whole post, you would know that a starter kit makes life super easy. The starter kit that comes along with GERYON sealer includes a suction hose, heat seal bags, roll, vacuum sealer, and user manual.
There are digital buttons on the mechanism (soft-touch) which makes the operation straightforward for any user. GERYON offers you a user-friendly experience and nothing seems too complicated.
Since there is a separate design, you can remove the top lid and clean the mechanism easily. The most alluring feature of the product is that it is compact and lightweight. Move it from point A to point B without any mammoth effort.
Reasons to buy
This is an automatic sealer that reduces human effort.
The separated design makes the machine easy to clean.
There are two sealing modes to choose from.
4. POTANE Vacuum Sealer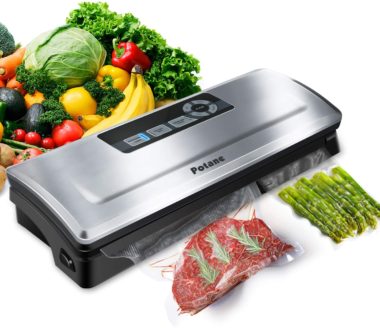 Most of the sealers use 3mm heating wire and a super cheap motor. But, the POTANE vacuum sealer uses a 7 mm heating wire. The brushless motor is power-packed.
POTANE is a good brand and this particular product ensures that your food stays fresh. There are in total four sealing modes four other operation modes. The top design is slope-like so that juices do not spill out, especially while vacuuming meats.
POTANE also offers five years warranty. Moreover, the customer care service is available 24 hours throughout the week. The product does not cost a fortune and is UL and ETL certified.
If you are looking for the right vacuum sealer that comes with a starter kit, opt for POTANE.
Reasons to buy
It comes with a starter kit.
It has eight-in-one presets to choose from.
The product comes with a 5-year warranty
3. Anova Culinary ANVS01-US00 Anova Precision Vacuum Sealer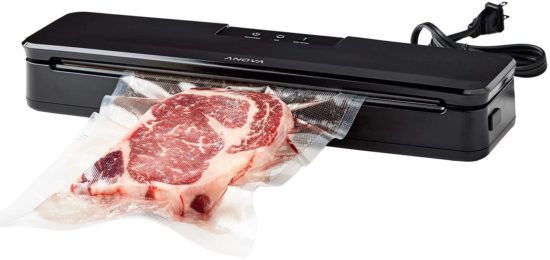 Weighing just about 2.30 pounds, the Anova Culinary vacuum sealer is quite compact and easy to use. Just one touch of a button will help you operate this mean machine. Don't go by the size of the product – it works like a beast!
Lock in the flavors of spices, wine, and juices. This is the perfect mechanism for sous vide cooking. You will get airtight results time and again because this mechanism has the ability to work efficiently all the time.
Moreover, there is a pulse mode through which you can have more control over the amount of air that is extracted. Since it's small, you can easily store it in your kitchen.
Reasons to buy
Perfect for sous vide cooking.
Compact and simple to use.
One-touch button operation.
2. NESCO VS-12 Deluxe Vacuum Sealer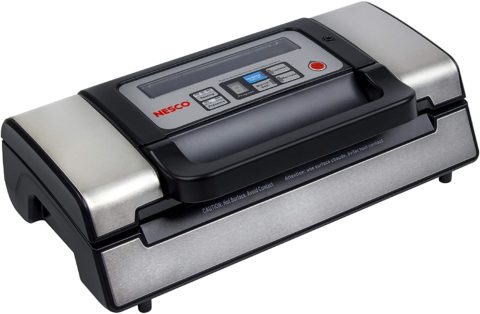 The NESCO VS-12 vacuum sealer does the job of sealing in all the juices and even helps you to prevent wastage. Doesn't your heart sink when you have to throw away all the expensive goodies in your refrigerator?
Learn to save money and preserve the leftovers, vegetables, meats, and other goodies in a sealed bag. It locks in all the freshness. This particular machine has two variable settings – gentle and regular. Plus, you have three sealing choices – dry, double, and moist.
The mechanism provides hands-free sealing along with a locked handle. For added strength, there is double-line sealing.
Overall, it is a good product and delivers what it promises.
Reasons to buy
Hands-free sealing
Offers three sealing choices
It has double-line sealing.
1. FoodSaver V4400 Vacuum Sealing Machine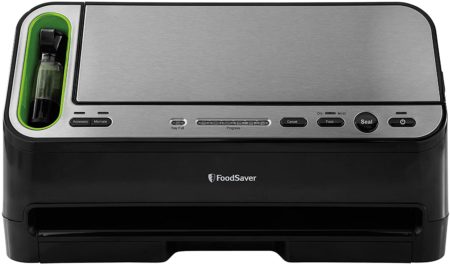 The FoodSaver V4400 Vacuum Sealing machine is efficient in handling all your food-sealing requirements. It is known for sealing all the freshness inside the bag. The product is fairly easy to use and has a simple mechanism.
The automatic bag and moisture detection are some of the greatest features of the product. With automatic bag detection, you just need to place the bag in the chamber and the rest of the procedure is done by the product itself.
The sealing is consistent and ensures that it is airtight. As for the compatibility, it works fine with both 8 inches and 11 inches seal rolls, pre-made bags, and zipper bags. Store food for weeks or prep the meat by keeping all the juices intact inside the sealed bag. This mechanism is very efficient at doing its 'sealing' job.
Reasons to buy
Seals freshness inside the bag
Easy to use
Automatic bag detection
Quick Buying Guide For Prospective Buyers
We have made a must-have features list. These are the things you need to look for in the best vacuum sealer.
What type of vacuum sealer do you wish to buy?
There are three types in the market – hand-held, automatic, and semi-automatic. The automatic and semi-automatic ones are better. The automatic one seals automatically and vacuums and semi-automatic ones are more like a clamshell. The user has to open the top lid and insert the bag to do the job.
Starter kit: The buyer should get a starter kit with the product. It includes a vacuum hose, bag rolls, and bags. You can purchase the bags and replacement rolls in bulk. This will help you get the task done whenever you like. Please check the material compatibility before purchasing the bags.
Pulse vacuum: Some users like this feature because it allows you to select how much vacuum is required. This feature is required when you are sealing soft food items such as vegetables or seafood.
Cleaning and Maintenance: These are two of the important factors. If the machine is difficult to clean, it will be a hassle for you. Hence, buy something which is easier to clean. Opting for a model that is user-friendly is recommended.
As for the pricing, it depends on your budget. Some people like to invest in the best quality product. If you are someone who wants quality and durability, don't shy away from paying extra bucks for a HIGH-QUALITY vacuum sealer.
Concluding Thoughts
We hope that the product helped you to make a decision. Whatever you choose from the list, make sure it has a starter kit or at least a built-in cutter. The majority of the products would come with a starter kit.
All the products mentioned above are of high quality. Since the price range is different, you can easily find one that fits your budget. So, go ahead and purchase a product that suits your needs.