We all know the importance of vegetables to get a healthy and fit lifestyle, the most critical aspect of life that everyone is aiming for. Eating healthy vegetables not only makes you fit and strong, but it also saves you from paying huge hospital bills in the future. But still, most of us do not enjoy this super healthy food. Parents, in general, face a tough time feeding children this super-rich food, full of vitamins, minerals, and roughage. The reason is simple – because they look unappetizing and uninteresting, plus they take a lot of time to be chopped, sliced and prepared.
So, this is why vegetable slicers were invented. They not only give you different styles of chopped vegetables as per your requirement, but they also reduce cooking time to a great extent, thus giving you more leisure time. Whether it's a simple salad or sophisticated food like zoodles and pasta, everything seems comfortable with the vegetable slicers. So, let us review the ten best vegetable slicers available in the market to pick the best one for you and your family.
Top Best Vegetable Slicers in 2023
10. Mandoline Slicer by Grocery Art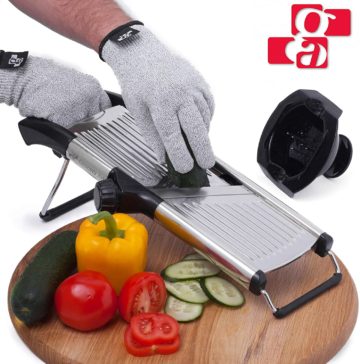 Mandolin kitchen slicer is an outstanding slicer that includes exceptionally sharp blades with cut-resistant gloves and blade guards to protect your fingers while giving you desired cuts of different vegetables.
Regarded as one of the best slicers for hard vegetables and fruits like sweet potatoes, zucchini, apples, etc., this slicer has adjustable stainless steel blades to give you different cut sizes of the vegetables. With a thick, and removable rotating blade, it is strong enough not to bend after multiple uses and doesn't require any sharpening, either. Along with gloves, blade guard, and a food holder, the slicer provides three layers of protection from any injury because of its ultra-sharp blades. A perfect tool for your kitchen, it can cut chips, French fries, juliennes, circles, etc. with perfectly flat slices and make your cooking effortless and enjoyable.
Pros
Cut-proof gloves and blade guard
Extremely sharp blade for extra-fine cutting
Sturdy and durable
Easy to clean
Cons
Not meant for non-vegetarian products like meat, salami, and sausages
9. DASH Safe Slicer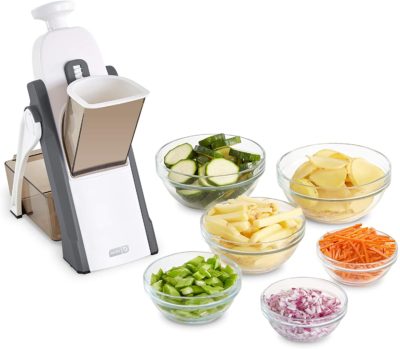 Intended to provide much-required assistance to persons who either are new to cooking or want to finish cooking in lesser time, DASH slicer is a perfect choice for every kitchen.
Designed expertly to keep your fingers and hands away from accidental cutting, this slicer has a spring-loaded handle that pops up to make fast and perfect slices in seconds. With adjustable blades to give you 30 different types of cuttings, it provides you with slices, juliennes, dices, etc., helping you prepare your meal more efficiently. With an additional recipe guide and a clear instruction manual, it can be a perfect gift to a newly married couple to enjoy cooking together. You can also involve your kids in cutting and slicing of vegetables and enjoy fun family time together.
Pros
Variable thickness for 30 different slices
BPA free and kids' friendly
Precise cut with safety features
1-year manufacturer warranty
Efficient design and clear instructions
Cons
Cleaning is a little difficult
8. Mueller Mandoline Slicer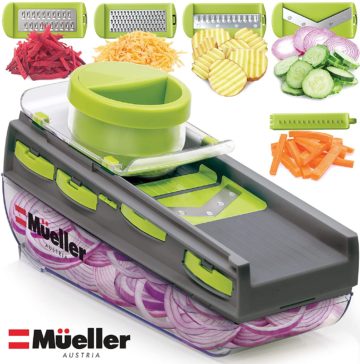 This premium quality slicer from Mueller Austria is a great multi-use kitchen tool. You can use it as a slicer, grater, cheese cutter, and many more, and you will be happy with the results that you get.
The slicer is equipped with five stainless-steel blades, perfect for giving you different varieties of cuts and helps you cook your favorite meal in no time. It is very well made, and the sturdy anti-slip container holds well while chopping the vegetables. Thin juliennes to salads cut to cheese grate, everything is possible with this slicer. Made from hardened 420 stainless steel, the blades are very sharp and make super- fine cuts of the veggies.
Pros
Affordable
Anti-slip food container
5 super-sharp blades for varieties of slices
Different fitting notches to fit the bowl of any size
Dishwasher safe
Cons
Non-adjustable thickness size of blades
Firm vegetables are difficult to cut
7. Brieftons 10-Blade Spiralizer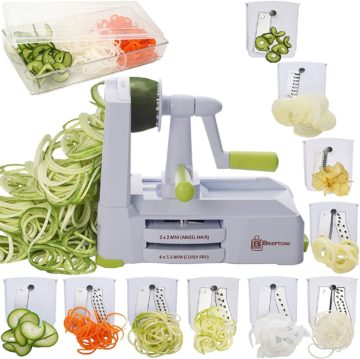 Guaranteed to be more reliable than most others in the market, Brieftons spiralizer comes with ten exchangeable stainless steel blades to give you different styles of spiral cuts for making delicious recipes quickly.
The ten blades of this spiralizer are made from 420J2 Japanese steel that does not need any re-sharpening and stays ultra-sharp over the years. The suction pad sticks firmly to the countertops providing skip-free and injury-free use. The blades are sharp enough to fine cut the hardest vegetables like butternut squash and beetroots, etc., with precision. The food container keeps the waste veggies inside to give a clutter-free cutting experience.
Pros
Replacement guarantee for a lifetime
10 finest blades for varieties of spiral-cuts
4 recipe e-books for recipe ideas
Food container for mess-free cuts
Large suction pad provides secured attachment to countertops
Cons
6. Mandoline Slicer by Prep Naturals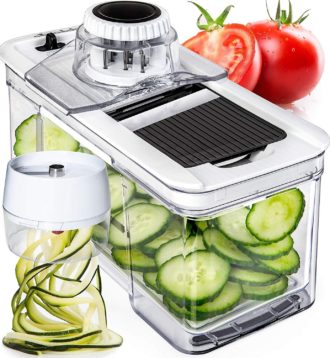 Designed with adjustable blades, this mandolin slicer from Prep Naturals is an ideal purchase to help you cut, grate, slice, or chop vegetables with fine-precision.
The slicer has sturdy, razor-sharp, and interchangeable stainless–steel blades that give you the perfect cut for every meal that you prepare. It also has a non-skid removable tray for skid-free and mess-free chopping and a finger guard and protective glove for fine-chopping without getting injured. The additional handheld spiralizer gives you ribbon cut, julienne thick or thin, etc., helping you make the best noodles or pasta. It comes in a compact size for secure storage, and you can disassemble it fully and wash each piece in the dishwasher.
Pros
3 exchangeable blades for different types of cuts
Cut-proof gloves and finger-guard for added protection
Spiralizer provides ribbon-cut, julienne cut precisely
Non-toxic and BPA free ABS plastic
Dishwasher safe
Cons
Vegetable holder is not big enough
5. Fullstar Mandoline Slicer and Spiralizer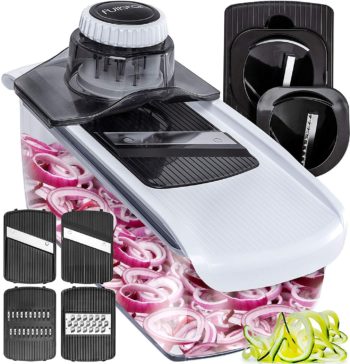 With six sharp blades, Fullstar Mandoline slicer is everything you are looking for to prepare a quick and well-organized meal in your kitchen.
With six different compatible blades, the slicer meets all your chopping requirements and gives you the perfect meal to be enjoyed with your family. The sharp blades are made from high-quality stainless steel, thus retain its sharpness even after everyday use over the years. The finger guard and the protective glove protect your fingers and hand, while you get busy with chopping vegetables quickly. The slicer also has an additional spiralizer, for ribbon-cut and julienne cut vegetables, making the perfect zoodles and pasta. This compact-sized slicer comes with a specialized cleaning brush and is also dishwasher safe.
Pros
Includes blade organizer for proper storage
Can be fully disassembled for dishwasher clean
Razor-sharp blades for fine-chopping
Protective gloves for additional safety
Cons
Glove might not fit someone with big hands
4. Brieftons 7-Blade Spiralizer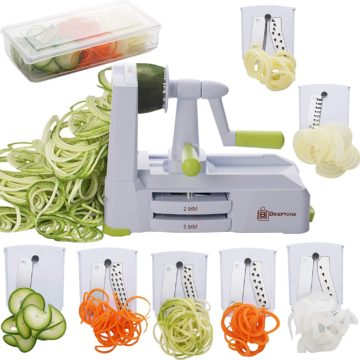 Considered to be one of the strongest and most substantial, this Brieftons spiralizer is their latest 2019 design and is a great little gadget that gets all the stars from its customers.
This improved version of Brieftons spiralizer comes with seven robust, detachable and exchangeable blades, made from the best quality 420 grade Japanese hard stainless steel that retains its sharpness after continuous usages. The suction pad at the base is sturdy enough to stay firm while in use and catch container makes sure not to create a mess in your kitchen countertop. The container, with an airtight lid, doubles as storage and keeps veggies fresh for a longer time. Made from 100% BPA-free and ABS plastic, it is quite strong to withstand pressure while cutting the hardest vegetables. Use the elaborate guide book with colorful pictures to cook and enjoy the most delicious meal with your family.
Pros
Anti-slip suction-pad at the base
Extra blade storage organizer
Low height container for mess-free countertops
Hassle-free lifetime replacement guarantee
Cons
Suction pad works better on glass top than a wooden top
3. Fullstar Vegetable Chopper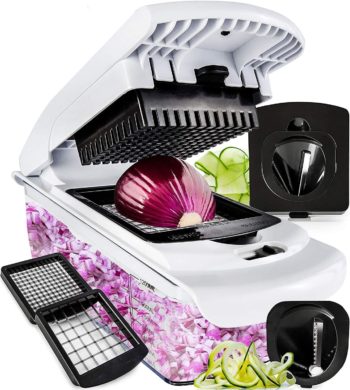 Fullstar vegetable chopper is a multi-purpose kitchen gadget that works like a kitchen miracle to solve your chopping issues. Compact and easy to use, this versatile chopper is an excellent help in your kitchen that makes meal preparation much faster.
The four interchangeable blades are ultra-sharp to cut through any vegetables and fruits you put on them. You can quickly dice an onion, green peppers, zucchini, carrot, even eggs, in a uniform size with this chopper. The spiralizer gives you the ribbon cut, julienne cut of the veggies as per your choice. The catch tray is significant and can store a lot of veggies. You can easily separate all the parts of the chopper and put them in the dishwasher.
Pros
Large catch tray for storing veggies
Easily changeable blades with safety lock feature
Sturdy body to withstand cutting of hardest vegetables
Rubberized anti-skid base for a firm position
Cons
Big vegetables might not fit the blade opening
2. Mueller Austria Vegetable Slicer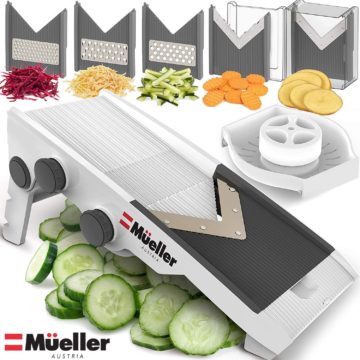 This premium quality vegetable chopper from Mueller Austria is a high-quality kitchen gadget, a perfect fit to solve all your meal preparation worries in minutes.
The chopper comes with five interchangeable ultra-sharp blades, suitable for all your chopping requirements like slicing, grating or julienne, etc., with extreme precision. With an adjustable thumb dial control, it gives you the unlimited options to decide the thickness of the veggies you chop, and the non-toxic ABS plastic body guarantees healthy food on your table. You can easily separate all its pieces for faster cleaning.  At an affordable price, this is a must buy to make your life easier by saving lots of your time in the kitchen.
Pros
Sturdy and durable food-safe plastic body
Adjustable blades with a patented design
Razor-sharp, hard surgical stainless steel blades
Unlimited thickness setting with dial control
Cons
Blades don't come with a protective guard
1. Spiralizer 5-Blade Vegetable Slicer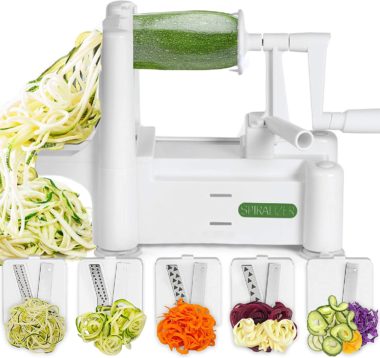 Coming from a brand that people trust, this vegetable slicer from Spiralizer is the best in the market. This 3rd generation model is shown on many food channels and magazines across the country and is regarded as the strongest and heaviest of all.
The stainless steel blades are made with high carbon cutlery grade features and are strong and sturdy to cut harder root veggies like sweet potatoes and turnips easily. Spiraling takes only a few seconds to get the finely-sliced veggies and makes cooking time quicker and the meal tastier. Cleaning this slicer is very easy using the dishwasher. A perfect slicer to cook for Keto and Low carb diets, this is an ideal gift for newlyweds or anybody who is health-conscious or looking for a healthy lifestyle.
Pros
Guarantees lifetime replacement
Strong blades to spiralizer toughest fruits and vegetables
Compact and lightweight
4 excellent e-books with nutritious and delicious recipes
Cons
Storage unit is not spacious to store all extra blades
Buying Guide On The Best Vegetable Slicers
To buy the best vegetable slicers to fulfill all your requirements, you need to consider a few essential points, as mentioned below.
Generally, this should be on the top of your list while buying a vegetable slicer. Since the slicers come with extremely sharp blades precise cutting, there should be safety blade guards, finger guards, and a protective glove to give you the injury free cooking experience. The slicer body should also be made of non-toxic, BPA-free, food-grade material to provide food, safe from non-healthy substances.
The blades are the most critical features of any vegetable slicers and thus need to be robust and ultra-sharp to slice the toughest veggies and fruits easily. These should be made from food-grade stainless steel material and should be able to retain its sharpness over the years. The slicer with multi-use adjustable blades is more preferred as they give you different types of cuts, as per the meal you are cooking.
A buyer always looks for a slicer that is not only durable and long-lasting, but also sturdy to withstand pressure while you cut tough and firm vegetables with it. The plastic body of the slicer should be made from high-quality ABS plastic. Also, the base of the slicer should have an anti-skid pad to stay firm for hours while you cut vegetables.  A catch or a food container adds as a bonus point to allow you to store your veggies directly and give you a mess-free countertop. Also, check whether the parts of the slicer can be easily disassembled and are dishwasher safe.
Apart from the points mentioned above, you must also keep in mind some other aspects like the price, warranty, and easy availability of replacement parts, while choosing the right vegetable slicer for you or your loved ones.
Conclusion
Now that we have reviewed the top 10 vegetable slicers available in the market and also have discussed the different points to consider while buying the right one, you do not need to use those risky and tiresome traditional knives to cut your veggies anymore. Upgrade your kitchen tool and cook a delicious full course of a meal and enjoy a fun and relaxed time with your family.