Big and tall office chairs are the most functional chairs that accommodate different users. Even a 6 feet tall person can comfortably sit on this chair with the tall backrest and still get good back support. They are also designed to accommodate big people who weigh more than 200 pounds.
These chairs are made in ergonomic styles, including adjustable seat height, reclining backrest, and adjustable armrests to ensure one gets the right sitting angle and position. The big and tall office chairs have varying materials construction because some have mesh and fabric materials, while others are made with leather materials. Which are the best big and tall office chairs in 2023?
Best Big and Tall Office Chairs Review
10. SAMOFU Office Chair – Ergonomic High Back Desk Chair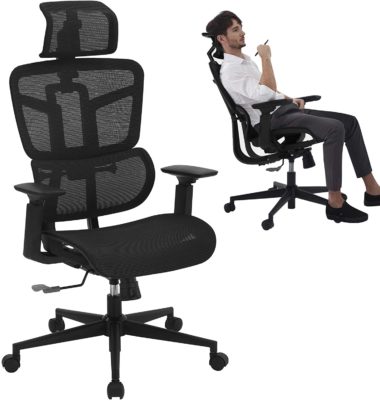 Your comfort in the office guarantees your productivity when working. So, if you always get tired after sitting for too long in your current chair, you need to ditch it and get this model from SAMOFU. This chair is designed to fit both tall and wide people; hence, the extra-large design.
The backrest and the lumbar section of this chair are adjustable. So, if you suffer from back pains, this office chair ensures to offer excellent back support. The chair's height adjusts by 2.4 inches, plus you can recline it at a 90 to 135 degrees angle. The backrest has mesh material for breathability purposes. Thus, you can lean on it for as long as you want.
Special features
This office chair helps to relieve back pain
It is adjustable in height
The chair leans backward and forwards
Has a padded seat
9. Qulomvs Ergonomic Office Desk Chair with Wheels
The fact that this office chair swivels at 360 degrees ensures you don't need to get up to access items around your working area occasionally. You can move the chair around to access something. It is a perfect executive chair with a premium structure that can hold a weight of 300 pounds. Maintaining this office chair is easy as it has a leather cover that you can always wipe off any spillage.
The chair is designed to contour to one's body to reduce pressure and provide a good weight balance for more comfort when working. The chair's seat measures 20.87 x20.1 inches while the back measures 20.87×22.1 inches, a perfect sizing to accommodate tall and large individuals.
Special features
Assembling this office chair takes little time
Comes with 30 days money refund warranty
The chair can hold 300 pounds
It has great padding all around
8. KLIM K300 Office Chair – Ergonomic Office Chair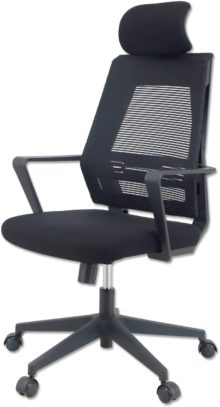 This is another tall and big office chair that provides overall body support. The chair has armrests, a tall backrest, and a headrest. So, you can work for long hours without feeling much fatigue. The chair is contoured at the back to position your lumbar at the right posture for safety and reduce back pains.
So, if you cannot maintain a natural posture, rest assured this chair will help you. It has a mesh backrest for airflow and prevents heat from building up when you lean on the backrest for long. The seat and the headrest of this office chair are made with the finest cushioning to ensure you get the right support. This chair is adjustable in height and the armrest to accommodate all employees.
Special features
The chair has swiveling casters
It helps align the back to a natural posture
This office chair holds a weight of 300 pounds
Comes with a five-plus years warranty
7. Ergonomic Office Chair – Modern High-Back Desk Chair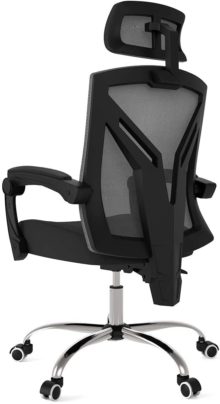 A modern ergonomic office chair that offers lumbar, back, and head support while seated. This is an office chair that will help correct your sitting posture as it supports an upright posture. Speaking of materials crafting, the chair has mesh materials at the backrest to ensure breathability.
The seat is padded for that extra support while seated. This chair is ideal for tall and large people since the long backrest provides spine pressure relief and fullback support. The backrest can adjust at an angle of 90 to 120 degrees, plus it is lockable.
Special features
The back is extra-large for support
The chair comes with 12 months warranty and 30 days money refund
Has casters that swivel at a 360 degrees
The height and depth are adjustable
6. LORDWEY Ergonomic Office Chair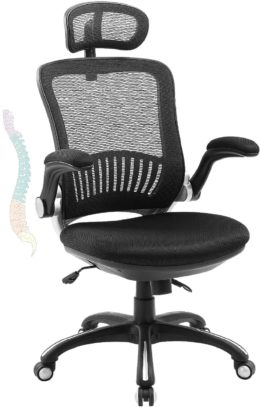 This office chair's large size plus thick padding ensures you have the right support and comfort when working. You can sit for long hours to work on large projects since the chair ensures your back has support to prevent straining while ensuring good weight balance. You don't need to keep on getting up to access items as the casters on the chair swivels at 360 degrees.
The chair is quite strong to hold a weight of 300 pounds. For optimal back support, the backrest adjusts at three different angles, plus it is lockable. So, you can set it to fit your sitting angle or position. The headrest of this chair can also rotate to ensure you position the head and neck properly.
Special features
Assembling this office chair is easy
The chair holds a person weighing 300 pounds
Comes with five years plus warranty
The back and height are adjustable
5. HON Ignition 2.0 Mid-Back Adjustable Lumbar Work/ Computer Chair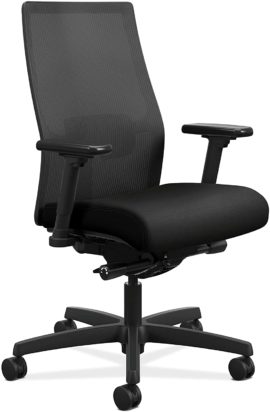 This is a versatile chair ideal for people who work or rather sit for too long. The chair provides lumbar support, so your back does not strain or even curve when working with a computer. If you have back problems mainly when you sit for long, I suggest you get this chair for your office use.
The chair helps to current one's posture while offering the right support. The height is adjustable to fit people with varying heights, while the backrest reclines in a different position to accommodate your sitting angle. The armrests are adjustable to match up with your height and position.
Special features
This office chair can hold a person weighing 300 pounds
It is adjustable in height and angle
The backrest has breathable materials
The chair is multifunctional
4. BOSMILLER Office Chair High Back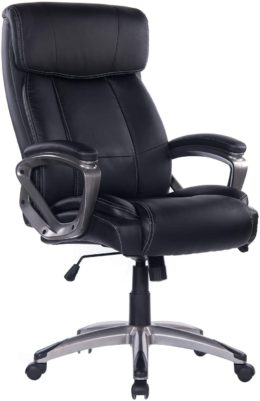 You can comfortably use this chair with multiple working desks since the height is adjustable for comfortable reach. The design and materials crafting accommodate both tall and short individuals. The backrest is extra-large and well-padded, so even the tall and large people can get enough support from the chair.
This office chair has padding all around on the backrest, the seat, and even the armrest. So, even when relaxing your body after long hours working, the chair will offer support. The structure is strong to hold 297 pounds, while the casters swivel at 360 degrees for easy maneuvering while seated.
Special features
The chair is easy to maintain
This is a comfortable chair
It supports 297 pounds
The chair comes with one year warranty plus 30 days money refund
3. La-Z-Boy Fairmont Big and Tall Executive Office Chair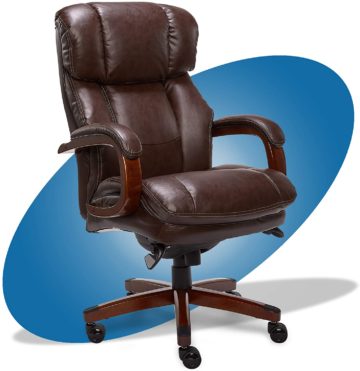 Other than offering great support, this office chair is super durable. This office chair has a strong frame that can hold a person with a weight of up to 400 pounds. The premium memory foam padding provides total comfort and support around the seat, the back, and even the armrests.
This chair ensures you maintain the right sitting back posture to prevent back pains and pressure. The chair is recommendable for large and tall people since it has an extra-long backrest to offer full back support and a strong frame that holds high weights.
Special features
The height of the seat is adjustable
The backrest can recline to various angles
The chair has premium foam padding
It holds 400 pounds
2. AmazonCommercial Ergonomic High-Back Bonded Leather Chair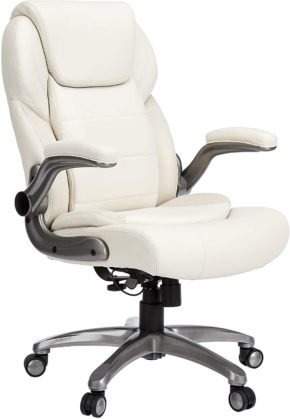 Grace your office with this magnificent working chair from Amazon Commercial. The chair has a beautiful color finish, plus the construction guarantees your comfort. So, if you have long projects that require you to work for long hours, this is the right office chair to get.
The seat of the chair measures 21.5 W x 21.5 D inches to fit even large people. The backrest of this chair is extra-long to offer fullback support. It is also wide, so you don't strain when seated. Still, you can recline the backrest to form the right sitting angle for your back.
Special features
The five-point feet have casters that swivel
The seat adjusts from 19 to 12 inches high
The chair has extra thick padding on the back and the seat
It has beautiful cream finishing
1. Leather Executive Chair Adjustable Reclining Swivel Office Desk Chair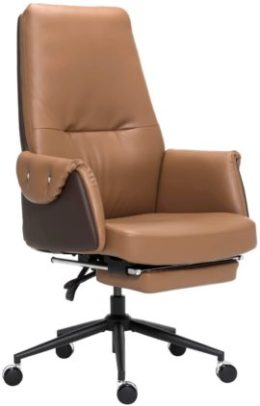 This ergonomic executive office chair has a hidden footrest so you can stretch your feet to relax after working for long hours. The padding is another great feature on the chair that offers great support for as long as you sit. The backrest is quite long and wide, so you don't strain when leaning on the chair.
The entire chair measures 28 x 27 x 46.5 and has a strong frame structure to hold 350 pounds. The backrest of this chair adjusts from 90 to 150 degrees so that you can relax your back fully.
Special features
The chair has 0.1″ thickened explosion-proof chassis
Comes with an inbuilt hidden footrest
Holds 350 pounds
The backrest adjusts from 90 to 150 degrees
Conclusion
Even tall and big people can get the right working chair for home or office use. These are the top ten best tall and big office chairs in the market. The chairs are made with thick padding, large sizes, and long backs to offer all people ample support.
They are adjustable in height so both tall and short people can achieve the right sitting position. Therefore, get the right office chair from our top ten reviews.