Perfectly baked bread needs to be cut in precise slices of equal thickness. If you love baking, then you know what we are talking about. Having bread slices of different shapes and thicknesses is such a spirit dampener and makes even the best-baked bread look average.
Moreover, for making sandwiches, you would need the pieces of bread with equal thickness, and uneven slices would spoil the taste. Apart from cutting the bread is equal slices, bread slicers also reduce food wastage and save a lot of time.
We have come up with a list of Bread slicers made of good quality material and are easy on the pocket.
Best Bread Slicers to Buy in 2023
10. HYAM Multipurpose Foldable Loaf/Roast Bread Slicers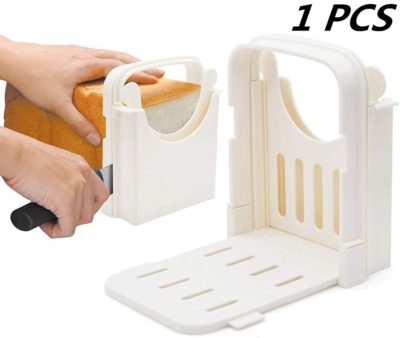 One of the best features of this bread slicer is the safe ABS resin material that it is made of. You can be assured that it is non-toxic, does not absorb any smell and no side-effect to the human body. Moreover, the bread slicer from HYAM lets you choose the thickness of the bread slices from 1cm to up to 3 cm.
Further, you need not worry about storing the slicer safely because it folds up and is compact. While cutting the slices, the slicer skidding is the least of your worries as the equipment comes with anti-skid design.
Key Features
Multipurpose Bread Slicer used for cutting homemade bread, bagel, toast, cake, etc.
You can choose the thickness of the bread slice between 1 cm and 3 cm depending on the use
It can be folded and stored quickly, thereby saving the space in the kitchen and easily adjustable in the drawer.
9. Purenjoy Crumb Catcher Bamboo Bread Slicer
This slicer from Purenjoy comes with slicer slice guides collocation in 3 sizes that let you cut the loaf in three different sizes. Convenient to use and easy to store, the bread slicer comes with non-slip stickers in the base to prevent accidental slip.
Further, a Foldable bread slicer takes you to worry about cleaning away because of its design. The bread crumb catcher collects all the crumbs in a tray, thereby making it easier to clean. Above all, you get to choose the thickness of the loaf from three different thickness options, thus making it easier to make a different type of sandwiches and dishes.
Key Features
Slicer comes with a crumb catching plate that collects all the crumbs keeping the area clean
The user gets three thickness options to decide from for cutting the slices
You get a 12-month warranty, and a 100% refund or replacement guarantee in case of any issue encountered.
8. Better Multiple Width Enclosed Ends Bread Slicer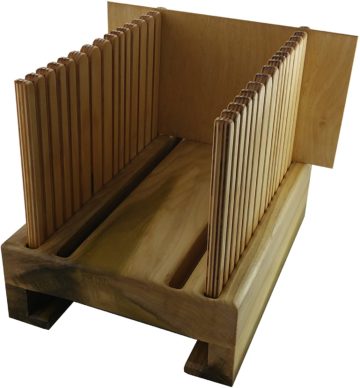 A perfect offering for the most experienced bakers to the amateurs, the bread slicer from Better is straightforward to use. It is an improvement over the current offerings in the market with various useful features. For instance, the taller side panels, rounded slots, and innovative side panel storage are few features making the bread slicer a must-have.
Aesthetically also the slicer looks quite good with a matte finish but without the use of tung oil, etc. that might cause nut allergies. Just make sure that you do not put the slicer in the dishwasher or soak it in water.
Key Features
Rounded Tops and Backstop for keeping the cut loaves in their place and enclosed panels to avoid slippage
Bread slicer provides the option of cutting the bread loaves in multiple slices
It is made of real wood rather than pressed bamboo and different type of glues
Good and convenient design clubbed with excellent customer service makes the slicer worth the consideration
7. Comfify Bamboo Foldable Compact Bread Loaf Cutter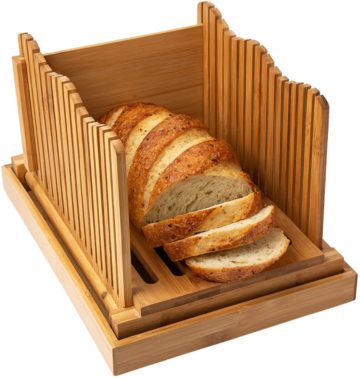 Cut perfect slices of any home-baked bread with this easy to used Bamboo loaf cutter. Moreover, you can cut the slices of different thicknesses depending on the requirement. For instance, have thicker slices cut for cakes and thinner for the sandwiches. You can choose the slices between different sizes of 1/3″, 3/8″ and 1/2″ slices.
From the health perspective also, since the slicer is made from 100% bamboo slicer, it does not cause any side-effect on the health. Apart from being eco-friendly, the simple design and material make it even easier for cleaning.
Key Features
Made from bamboo and eco-friendly this bread slicer is stable on the kitchen top and keeps the finger safe.
You can fold the slicer and keep it in the drawer thus saving the space in the kitchen
The slicer can cut the loaf in different thickness from 1/3″, 3/8″ and 1/2″ slices
6. Kitchen Naturals Crumb Catcher Knife Rest Bread Slicer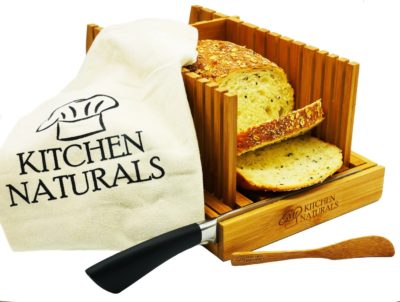 Carved out of the highest quality bamboo-this bread slicer is nothing short of perfection. Apart from a foldable bread slicer, you also get bread crumb holder and knife resting slot. Moreover, you can cut the slices according to the desired thickness, depending on what you are making.
Bread slicers are usually a great way of saving time, but this one takes the things a notch above as you do not have to worry about cleaning the kitchen top after slicing. Moreover, the knife holder ensures that you do not keep a knife anywhere else, thus reducing the chance of staining.
Above all, the manufacturers are super confident about their product, and to demonstrate the same; they let customers claim a 100% refund. You can claim the refund in case of any dissatisfaction during the use of these bread slicers
Key Features
Knife rest and Bread crumb holder to keep the surrounding clean during bread slicing
Easy storage with foldable design, thereby saving the right amount of kitchen space
Good for everyday use as it is easy to maintain with a smooth finish and compact design
5. BambooSong Crumb Holder Adjustable Bread Loaf Slicer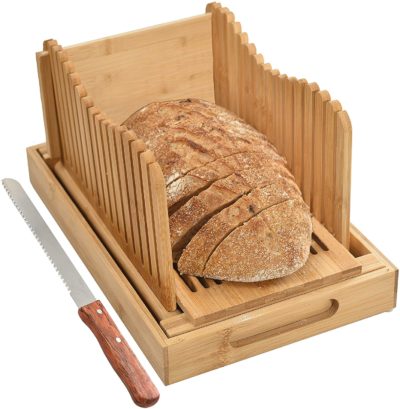 Your hard work of making a perfect bread loaf is rewarded with an ideal loaf cutter for that end product satisfaction. This adjustable loaf slicer from BambooSong does precisely that, offering you the perfect thickness loaf every time.
BambooSong is made of all-natural material; this loaf slicer is eco-friendly, water-resistant, and free from any toxic material. Bamboo is known to be a highly durable material, therefore, making the end product equally strain resistant. Apart from that, you would agree with us that a kitchen tool made of high-quality bamboo would be pleasing to the eyes.
Key Features
Rounded rod tops prevent the knife from nicking compared to the boxed rod tops in most of the loaf slicers
The anti-skid platform comes affixed with four non-slip silicone stickers
Bamboo separator for keeping the fingers safe and away from the knife
Crumb tray to hold the bread crumbs during slicing.
4. Eon Concepts 5 Thickness Rubber Feat Padding Bread Slicer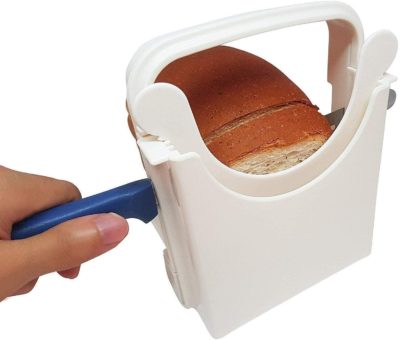 A flawlessly made slicer which is also environment friendly as it is made of ABS resin to avoid any side-effect on the human body. You do not need to worry about the temperature as the board can resist the heat between -10°C and 90°C.
With this slicer, you can cut the bread into four different thicknesses of 1.0cm, 1.5cm, 2.0cm, and 2.5cm. Further, to make the slicer anti-skid, two rubber paddings can be pasted on the base.
Key Features
Design is foldable, space-saving and comfortable to store after slicing the loaf
Multipurpose slicer that can be used to slice bagel, loaf, and sandwich
It can support the loaf of up to 6 inches high and 4.5 inches wide
3. Bambusi Organic Bamboo Crumb Tray Loaf Slicer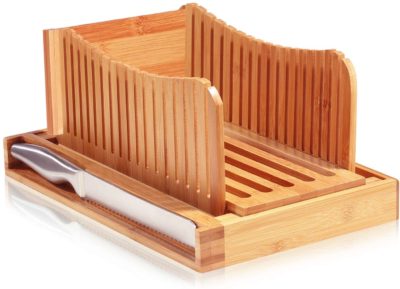 The bread slicer is made of organic bamboo and comes with a long stainless-steel bread knife. Moreover, the sides are extended for the bread knife, allowing you to choose from 3 slices thickness to get the perfect slices.
Since the bread slicer is made of bamboo, it is 100% environment friendly and has antibacterial properties. Moreover, compared to the standard, low quality plastic cutting boards, the slicer is excellent and stable. Even though it is made of bamboo, the slicer is lightweight and easy to clean.
Key Features
Slicer comes with 13″ knife and 8″ blades for securely fitting into the magnetic slot
Loaf slicer has crumb catcher that doubles up as a serving tray
Allows you to cut slices of three different thickness
2. Skater Japanese Sandwich Size Bread Loaf Slicer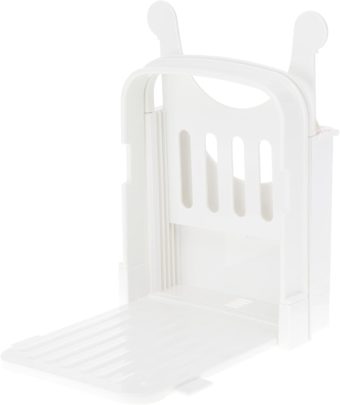 Easy to use and compact bread slicer comes with three slicing options of 1cm, 1.5cm, 2cm, 2.5cm. Moreover, the cleaning of this slicer is a breeze as all you need is a damp cloth and wipe it off. The loaf slicer is multipurpose and can be used for slicing cheese and ham other than the bread loaf.
Knowing that it is made in Japan, quality should be the least of your worries when buying this Bread slicer.
Key Features
Cuts the bread loaf into three different thickness
Easy to clean and store because of its folding feature
It is also used for slicing ham and cheese as well
1. DBTech Easily Foldable Compact Bread Slicer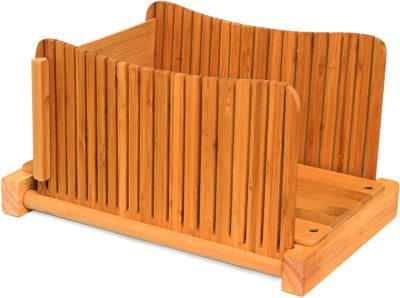 Aesthetically pleasing to the eyes, this bread slicer is also top-notch when it comes to the performance. You get three options when it comes to deciding on the thickness of the bread slices from average store-bought slices to cake slice thickness.
Since this is a bamboo slicer, it is 100% environmentally friendly, non-toxic, and durable. Moreover, the spring-loaded design of the bread slicer makes it easy to open and fold the slicer when not in use.
Key Features
Three thickness option let you cut the perfect loaf for every recipe
Made from 100% bamboo wood making the slicer environment friendly and durable
Easy to use and a compact foldable design makes it a secure storage
Bread slicers make your life so much easier by removing the hassle of using different kitchen tools for slicing the loaf. Gone are the days when you have to find a perfect surface, decide on the thickness, and then wasting time to determine if the thickness is consistent.
Buy a bread slicer from our diligently curated list to cut those perfect slices and take your baking game higher.