Phone mounts are designed to make your life trouble-free and effortless in all possible ways. Almost every individual these days has the phone in their hands, even when they are driving. But when you need your cup of coffee even when you are driving, then you need a place to keep it securely. With innovations like cup holder phone mount, you can accomplish two tasks with one product. To be precise, it's a 2-in-1 solution as with one installation, you can keep your phone as well as a cup. And that also without the tension of tripping or falling.
If you want to have a cup holder phone mount installation at your home, check the list below. Along with the top brands, we even recommend the features to spot.
Who needs a cup holder phone mount?
If you are someone who is into driving on a regular basis or often craves long drives to unknown roads, this is a kind of accessory you should have at your arm's reach. This smart mount lets you keep your phone at your arm's reach at all times, letting you pay full attention to the road ahead and also use the phone for navigation, music, Bluetooth, etc. Anyone who finds it difficult to manage the phone when driving should definitely use this smartphone mount.
What is the best cup holder phone mounts?
When it comes to accessories like phone mounts, the popularity and demand are humongous. Although that steadily increases the overall production of these devices, it often leads you to choose the wrong product. However, if you pay a little attention when choosing the mount, it will be fairly easy for you to choose the right one. The quality of construction is a primary factor to consider while judging how flexible and user-friendly the design is. Not all can be moved as per your needs and demands.
Sopownic Cup Holder Phone Mount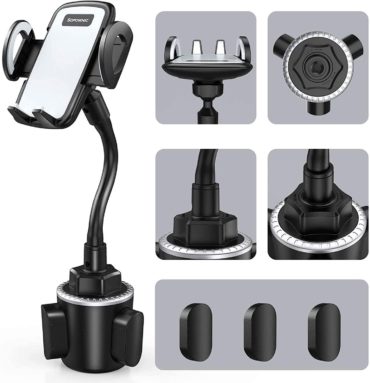 If not anything else, you definitely need a phone mount inside your car. This universal phone mount is one of the top-rated products on Amazon and fits precisely in the cupholder. All you need to do is put the base inside the cup holder and twist-lock it. It is designed with a stretchable range of 2.7-inches to 3.4-inches. Besides, when used with the included pads, it can go up to 4.2-inches.
In addition to that, there is a one-press release button on the backside for easy opening as well. Ideal for all different kinds of phones and GPS devices, there are no limitations when it comes to which phone to use.
Key features:
Ball-shaped pivot joint lets you move this mount in every direction for easy usage and handling.
With a one-press release button, the clamp will automatically open and close to keep the phone in place.
Flexible gooseneck design very easy to work with and is 4.8-inches long.
TopGo Cup Holder Phone Mount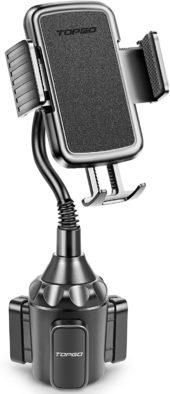 This cup holder phone mount has won the trust of many customers around the globe. The brand believes in a customer-first policy, they have upgraded their mount based on your feedback. Very simple and convenient to use, this goes in perfectly in all kinds of automobiles and their cup holders. Owing to the adjustable design, you can be sure of a tight and secure fitting, never lets your phone hang loose.
Any phones falling within the width range of 2.01-inches – 3.54-inches can be used with this universal phone mount. Also, it allows for both horizontal and vertical orientation. It has soft sponge cushions to keep the phone away from scratches or damages.
Key features:
The 8-inches long gooseneck design adds a great amount of convenience to your daily working.
Heavy base and high-quality durable plastic have been used for making this, ensuring long-lasting usage.
The secure grip and anti-slip surface keep the phone safe.
TopGo Adjustable Car Cup Holder Phone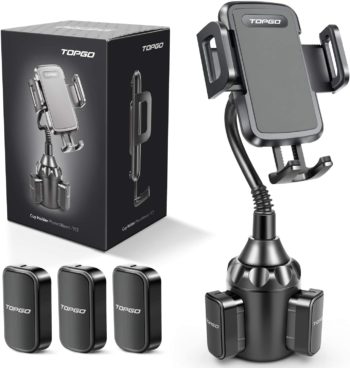 Likewise, the previous option you saw, this one is also designed and manufactured by the reliable name of TopGo. With a seriously interesting and user-friendly design, you will get maximum confidence to use your phone and not lose it every now and then. This deeper and wider phone holder has a one-button release curved arm along with extendable feet. The silicone pad is soft and meant to keep the phone safe from unwanted scratches and marks. When used with the included rubber extender, this can go up to 4-inches in diameter.
Now, even the bigger sized cup holders of RV, boat, golf cart, and trucks can also fit this phone mount. All you need to do is a twist and the phone mount will be securely attached to the cup holder.
Key features:
Uses an 8-inches long gooseneck which is totally flexible and can be used in all different angles and ways.
Offers 360° rotation, making it super convenient for you to use the phone however you need.
Supports almost all different kind of phones up to a maximum thickness of 0.8-inches.
ATTAINABLE TECH Cup Phone Holder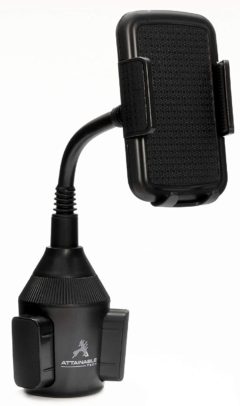 When your entire concentration is on the road ahead, it can get really difficult as a whole. This flexible and smartphone mount is a really useful product on a daily basis. You will be able to rotate the phone 360°, as per your need. Thus allowing you to use the phone however needed. Although at first glance you might think this phone mount will not go inside the cup holder, don't get worked up.
The stretchable base of the mount offers an extension range of 2.5-inches to 3.5-inches. All kinds and types of cup holders can be used with this mount. Just not attached, the mount is practically locked for enhanced confidence.
Key features:
Customer satisfaction is of utmost priority to the brand, you will get a full refund policy of 30 days.
Designed for phones and devices within a width of 2.1-inches to 3.8-inches, almost all the phones are within this range.
The setup demands no effort or complications, as hassle-free as you can imagine.
Lepso Upgraded Cup Holder Car Mount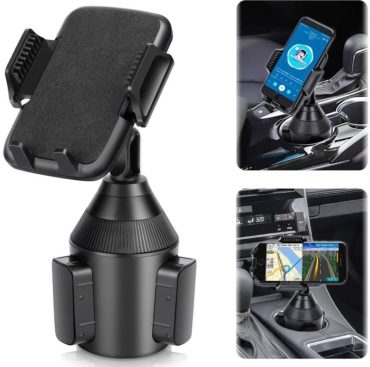 If you get this super simple to use and install the cup holder phone mount, then the entire process of checking maps and directions will become so much easier. Traditional mounts fit on the windshield or window, either killing your full view or making it difficult to handle. This one the other hand attaches to the existing cup holder, which you might not use on a regular basis. With an expandable range of 2.2-inches to 3.5-inches, it will be compatible with almost all different kinds and styles of cars.
You can even use the pads that are provided to expand the width up to 4-inches in diameter. When it comes to compatibility with the smartphone, there is no hold up at all. It works well with phones from 2.1-inches to 3.4-inches in width.
Key features:
Comes with a long 6.7-inches flexible gooseneck along with a rotatable holder, move it however you need.
There is a quick-release button at the back of the holder. It will help in safely and even help release the cup properly.
Adjustable and heavy base offers more durability and the high-quality materials promise risk-free usage for a long.
Andobil Cup Holder Phone Mount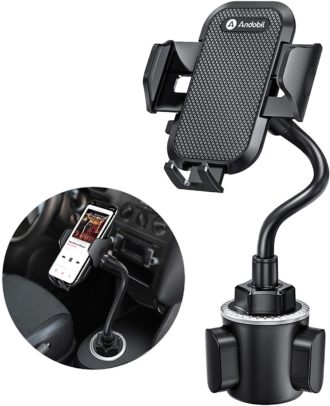 Have you wondered where to find the best cup holder phone mount for your car? Well, this one from the house of Andobil is an Amazon's choice product with huge ratings and reviews. The superior quality of make using the best quality materials speaks for its overall quality and reliability. You get a PTFE plastic body, the aviation material quality. In addition to that, the scratch-resistant cushioning aids in keeping your phone perfect always.
Every phone up to a size of 7-inches can be easily used with this mount. The knob type base of the mount is a fantastic innovation that enhances the overall user experience. In addition to that, there are anti-slip rubber pads for keeping the phone in a more secure position.
Key features:
No risks of shaking or wobbling, the entire fitting mechanism is very stable at all times.
The long 8.3-inches of flexible gooseneck promises maximum flexibility at all times.
The connection points are thickened to improve the overall quality. Besides, the gooseneck is 0.24-inches thick aluminum for extra strength.
Lorima Car Cup Holder Phone Mount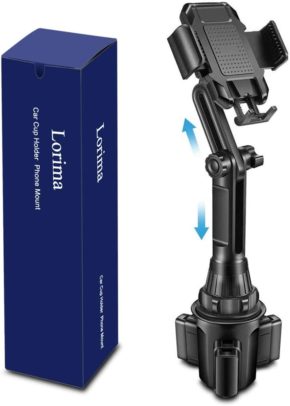 Most of the regular and standard phone mounts that are cup holder compatible are often too small to fit in the latest cars. Innovation needed to step-up and with this extendable mount, it is easier to have a constant check on navigation. It is possible to even when you are driving. No loss of vision or attention, this securely fits inside the car cup holder, saving you hassles and space.
Simply extend the width of the base from 2.28-inches to 4.6-inches, whatever your car needs. Also, there is an extendable neck. Now you will be able to raise the height and make sure you have the best access at all times.
Key features:
Updated and latest phone holder clamp, change the size easily from 2.2-inches to 3.8-inches.
Comes with a flexible swivel arm for 360° viewing.
It even features a joint arm for 270° rotation for viewing from every angle.

This is a top of line and extremely convenient for your daily drives and even the long ones. If you need an accessory that can securely hold your phone and also lets you use it, this is the one. Having an adjustable and firm grip, keeping the phone secure is something you will never have to worry about. From the tiniest of the smartphones to the biggest, the mount fits all with ease.
With an adjustable base, it is going to be totally effortless to fix it and use it on the go. Be it your car or the truck, this works well with all. Very easy to even detach, this is a one-button mount that detaches with the press of a button.
Key features:
Has an 8-inches long flexible gooseneck to offer you the most flexibility when you are handling it.
The holder is 360° rotatable, making it convenient for you to use the phone however you wish.
The size range offered is 1.77-inches to 4.1-inches, two extreme sizes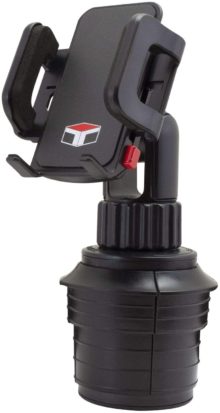 Make your everyday vehicle more accessible and user-friendly with the right set of accessories like this brilliant cradle cup holder phone mount. Assuring the tightest grip of your phone at all times, this smart and unique looking mount has an adjustable arm. The base is also designed to fit all vehicles without a challenge or hold up. Besides, the easy to grip and release cradle is very easy to operate, even when you are driving.
A must-have for people checking GPS on the go or attending calls on Bluetooth. The promise of high-end performance and reliable durability is always guaranteed with this phone mount.
Key features:
You will get a limited lifetime warranty, allowing you to choose this mount without any doubts in mind.
The base is adjustable for maximum compatibility and the twist-lock secures the attachment.
The quick-release button promises easy detaching and the articulating arm promises better handling.

This is one of the most reliable options of cup holder phone mounts out there. Coming from the brand Cellet store, this phone mount comes in handy in everyday usage. Besides, it promises a much simpler way of seeing the phone, only when needed. The 10-inches arm is extra strengthened for durability. Also, you can extend the height up to 13.5-inches for more benefits on the go.
You will get to rotate it 360° so that everyone in the car can see and use the phone. Having sidearms, these are strong and one can extend it well to view or have a grip of the cup.
Key features:
The soft holder grips promise never to scratch or damage the phone.
The adjustable base between 2.86-inches to 3.47-inches for easy compatibility.
What kind of design is best for cup holder phone mounts?
Unlike regular phone mounts that attach to the windshield or window of your car, these mounts go inside the cup holder. Not only it saves you space but also offers unrestricted viewing at all times of the road. Choosing to go with a gooseneck mount is always preferred because they can be moved with just one hand. In addition to that, these can be set at any position, enabling you to find the best angle of viewing and driving. Do consider buying that has an extendable base for wide compatibility.
Final verdict
Drive miles, cover long distances and sip on your cup of coffee. The best cup holder phone mounts will keep the cups in the exact place even when the car is on speed.