If you are a parent then you know that you cannot leave your house without diapers and other essentials. When traveling, your baby will need a change of diaper. So, it is essential to bring everything necessary with you. But carrying all the items in different bags can be problematic. Hence, you need to opt for a diaper bag. A good diaper bag is capable of holding diapers, wipes, toys, baby powder and other things. So, it keeps you ready for a diaper emergency.
You will never fall short of space if you have the right kind of bag with you. In this diaper bag review, we are taking a look at the best options in the market. Without any hindrance, make the right pick.
List of Best Diaper Bags Review
10. Baby Boom Diaper Bag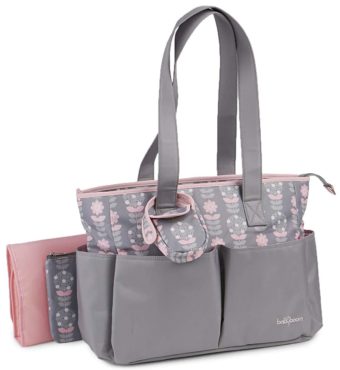 For the ones with a space crunch, you can go for this item. The diaper bag, although very compact in its appearance, is really space-efficient. While the interior opens into a large space to hold bigger items, it also sports as many as 5 different exterior pockets. That way, you can keep all the little trinkets within your hand's reach, without requiring going through your entire tote bag.
Moreover, this bag has 2 shoulder straps, so that, one strap does not dig too much into your skin. For keeping your child happy, you get the special addition of a colour coordinated pacifier holder with this bag.
Key Features:
Since the bag is wiped down, you can make sure it remains clean and tidy at all times.
Due to the organized sections, the bottles are easy to find.
The changing pad lets you get the job done in no time, no matter where you are.
9. Miss Fong Diaper Bag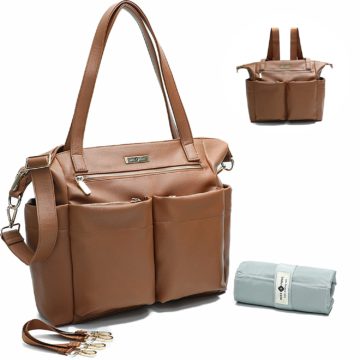 Just because you are a mom, you do not have to compromise on your fashion statement. This diaper bag works as good as it looks. Keeping different tastes in mind, the bag comes in an array of 4 different chic colours. You are sure to find one which suits your liking. The product has some really innovative additions to it. In order to let you try different styles, it also has backpack straps.
However, you do not need to worry about them coming in between when you wear it on the side. The straps are detachable and are storable when not in use. Plus, you can wash them for hygiene. Apart from having 6 outer pockets, you even get 9 inner pockets as well. Interestingly, there are 2 insulated options inside and 2 insulated ones outside.
Key Features:
Both the backpack as well as shoulder straps are adjustable, so you can fit them to suit your own comfort.
Since the interior of the bag is waterproof, you do not have to worry about any dripping issue.
The PU leather on the outer later extends the life of the product.
8. Maman Diaper Bag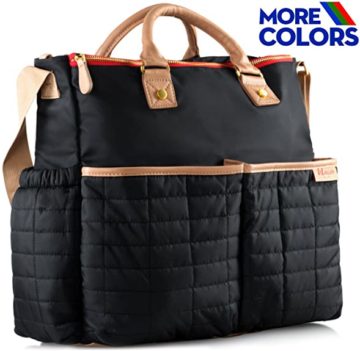 Of course, a marvellous choice, this product has been designed with a lot of care. To make moving easier with a stroller, the bag boasts some stroller straps. Besides, you do not have to worry about compatibility with this bag. The stroller straps have been given a universal design.
As a matter of fact, you do not have to worry about getting the bag dirty with a simple spill. Since the fabric is waterproof, a quick wipe takes care of most messes that might occur. In order to make taking small things out easier, the bag has also included magnetic pockets in the design. Interestingly, you will get 10 pockets in this amazing bag that lets you bring every item with you.
Key Features:
To store your important items or money, the diaper bag also has a dedicated inside pocket. Plus, it also comes with a zipper, so you do not have to worry about theft.
It also provides you with stroller straps and changing pad.
The pockets at the front have magnetic closure for easy access of every item.
7. Confachi Diaper Bag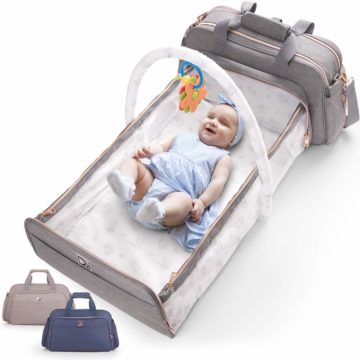 Innovation has a new name with Confachi. This product is so much more than just a bag. The entire item converts so you can allow your baby to catch their snoozes anywhere you go. Keeping little touches in mind, the structure also includes a toy bar along with extended rods for the bassinet. If that was not enough, this diaper bag also comes with a lifetime warranty, assuring you of its superior quality.
Making use of 600D polyester for the material, you can count on this product when it comes to durability. With the sidewalls, you do not have to worry about your baby rolling out in sleep.
Key Features:
The drawstring bag is completely waterproof, so you do not have to worry about any spills.
To give you ergonomic comfort, the shoulder straps on this bag have been well padded.
One amazing feature of this product is that it comes with a special side pocket for easy access to things like baby wipes.
6. SoHo Grand Central Station Diaper Bag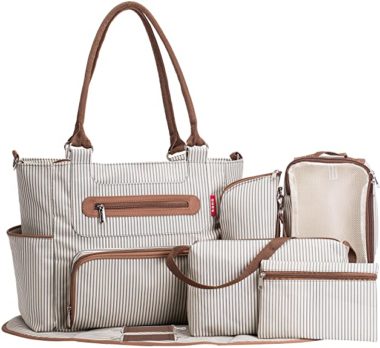 When it comes to quality, SoHo goes out of its way to provide you with the very best that is out there. The product makes use of imported multilayered fabrics for the material of the bag. These fabrics are not only waterproof but strain resistant as well. Therefore, they do not get all dusty and dirty easily.
Furthermore, cleaning is a complete breeze with this diaper bag. For the more obstinate stains, the diaper bag is machine washable. Hence, you barely have to put in any time or effort to keep the product clean.
Key Features:
From the hardware to the seams, everything is reinforced to make sure this bag lasts you for ages without any complaints.
To keep the bottles warm throughout the day, the bag also has insulated pockets.
Keeping safety in mind, the fabric for this bag is free from any phthalates.
5. Ruvalino Diaper Bag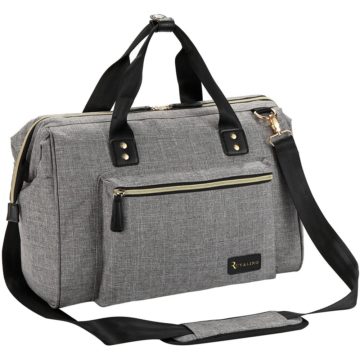 You cannot go wrong with this diaper bag. The product has been able to bag the title of Amazon's Choice for itself, after winning the approval of many with its spectacular performance. Surely, it will win your approval as well. You get not one, but two different insulated pockets. As a result, you can stock up on the delicious milk to last through the day. The nylon fabric used for this product proves to be really sturdy. Hence, the product lasts you for a much longer time. It even has the facility of insulated pockets so that your baby's milk can stay at the right temperature.
Moreover, it can handle a good bulk without any damages. Finally, one great thing about this is that it has a unisex design, so mom and dad both can use it.
Key Features:
The diaper mat will come to your aid when you are outdoors, with no clean spot for a diaper change.
Having non-fraying stitching, the material is pretty strong. Besides, the golden hardware brings out the beauty of the product.
With as many as 11 different pockets, all the little items can be kept well organized inside the bag.
4. Lekebaby Diaper Bag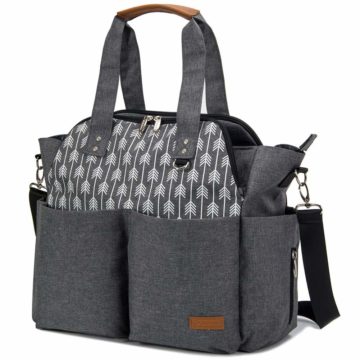 This product can be used in more ways than one. The diaper bag can cater as a tote, messenger, or even a pushchair bag. But unlike messenger bags, this diaper bag is really spacious. It is large enough to be able to hold items enough for twins, so you can reduce the multiple bags hassle. Besides, the bag also comes with adjustable straps which allow you to use the bag as a messenger bag.
More than that, these straps are detachable when they are not being used. The changing pad has been thoughtfully cushioned, so your baby has a soft ground to lie on.
Key Features:
With the high-quality aluminium foil, you can have faith the insulation on this item is really effective.
The handles have faux leather, which gives you a firm grip on the diaper bag.
This bag is absolutely free from any threat of BPA or phthalates.
3. Willow Wood Diaper Bag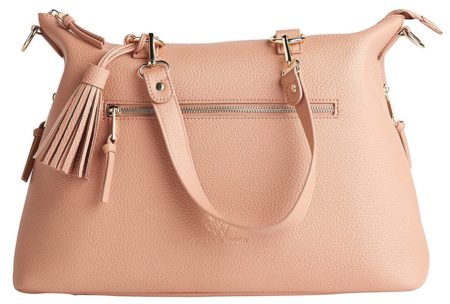 While you can use it as a tote bag, the product also doubles up as a backpack, so you can occasionally distribute the bulk between both shoulders. Both the purse and backpack straps are detachable, so the bag always looks as stylish as ever. Only the best quality materials have been used to make sure your bag is matchless.
The inner lining has polyester. This material is known for its durable properties. Needless to say, when it comes to long-lasting usage, you can rely on this product.
Key Features:
The changing pad comes with a Velcro closure so you can easily fold it down to take lesser space in storage.
This leather is vegan and does not contain any toxic material.
Since the leather is water-resistant, the contents inside stay safe from getting wet and soggy.
2. All Baybee Diaper Bag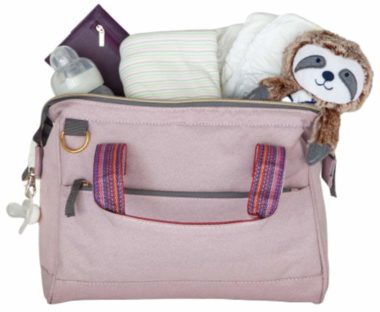 If you are looking for the best bags for diapers, then this one proves to be an excellent buying option. Name what you are looking for, and this bag is sure to be already providing for it. The diaper bag catches your attention with both its functionality and appearance. Arranging and accessing things is really convenient inside this bag. With the availability of multiple compartments and pockets, you can store a lot on this bag.
At the same time, the diaper bag is compact enough so you can easily move around with the bag, without any difficulty.
Key Features:
The product is really lightweight so you do not feel any extra bulk when you are carrying the bag.
Because of the exclusive addition of a wire top, the bag will maintain its shapes even when completely unzipped.
More importantly, it provides you with 3 different ways to carry the bag as per your convenience.
1. Baby Essentials Diaper Bag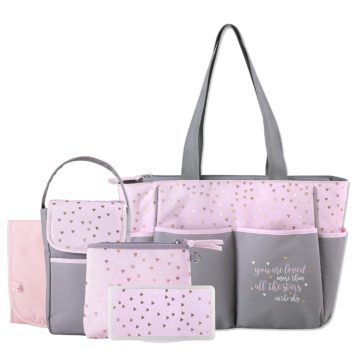 Functionality cannot be enough when you are looking for a practical accessory item. This product is a whole set of 5 different items. As a result, you do not need to worry about buying anything else once you have this set. At the same time, this comes in a beautiful colour combination of 3 different choices for you to pick from. All the different items colour coordinating with each other. From a pacifier pouch to a bottle holder, the product makes going out much more convenient than it used to be.
Since the interior is lined, whatever spills inside, will not be able to escape out of the bag. Plus, the bottle holder is also insulated, so it can lock in the original temperature of the bottle.
Key Features:
You also get many exterior pockets, so you can easily reach for diapers.
This product offers a large capacity to keep every item in check.
What types of diaper bags are available out there?
There are a number of different diaper bags that you can select from, varying with the functionality as well as the look of the bag, to make sure it can match the trend of the day. For parents who tend to travel a lot, you can pick a convertible diaper bag. These innovative items will allow you to place your baby inside, so they can have a good sleep, without you needing to hold them or worry about them rolling off.
Contrarily, for the ones who cannot deal with straps on a single shoulder weighing them down, many diaper bags come with backpack straps. This way, you get to wear them like a backpack, while the straps can be detached anytime you need to change your style. Also, another such variant available with such straps is that of the messenger bag, which comes with a similar single strap. All of these additions can be found in addition to a tote bag, which is the common design of most diaper bags.
How many essential factors to consider when buying a diaper bag?
When out with a baby, you may need to change a diaper at any sudden moment. Although, if you are outdoors, like in a park, it can be a real trouble to find a suitable spot to put your baby down without worrying about infection, or other such problems. Therefore, what you need is a diaper changing pad, which goes with inside the bag. The changing pad readily provides you with a clean and soft spot to put your baby down, and you can get the job done in a matter of minutes. If you can find one which is foldable, you can ensure the pad stays inside, while it does not occupy too much room inside the bag.
Since no two people are built the same way, it will not do if all the straps are of the same fit. Thus, getting a bag with adjustable straps, especially when you turn it into a messenger bag, or a backpack is a must.
Moreover, to ease out the fatigue on your shoulders, you should choose one bag which has a pad, or some type of padding on the handles, to take some of the pressure from building on your shoulders. It goes without saying, choosing a water-resistant material will be a lifesaver, to prevent the embarrassment of any spillage.
Why are numerous compartments important to have in a diaper bag?
With a baby at hand on the move, you cannot be expected to dig through a huge tote bag, to get little things like your keys out. Hence, going for bags which come with as many compartments and pockets as you can imagine will be wiser. That way, you can organize everything, from diapers, to wet wipes. Besides, you will need at least one trustworthy zippered compartment. You can keep all your valuables there safely, as you will hardly be able to keep track of little, important items once out.
Final Verdict
Now you can keep both your belongings as well as your kid's necessary items beautifully organized in a spacious diaper bag. So, just pick the right match and start moving freely.