Storing essential items in your kitchens such as spices, lentils, and other items can be a daunting task. It shows how you manage your home. Moreover, it keeps the food items safe from any fungus or bacteria. Keeping the food items fresh and well-organized is your responsibility. You can do so by purchasing glass canisters for storage.
We have reviewed ten of the best glass canisters of 2023. These are not only high-quality but are also durable and efficient. Take a look at the ten best products – the description and the pros and cons. We have also added a quick buying guide for prospective buyers. Let's get started!
List of Best Glass Canisters in 2023 – Review
We prepared a list of the top 10 products (glass canisters) just for you. These are easily accessible on Amazon. Moreover, you can check the ratings and reviews too. Let's begin from the bottom.
10. Anchor Hocking Heritage Hill Storage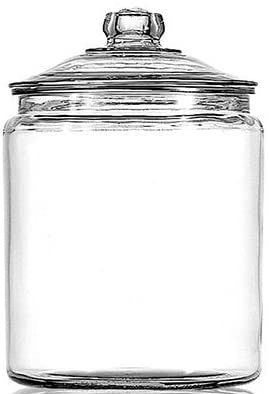 America loves this classic glass jar. You do not get a set here, but this one is a good canister to store your favorite food item. Anchor Hocking is known for adding style to every corner of your home. This is a great design to opt for. The positive features of this product is that it does not absorb odors and does not stain. Those are two of the most striking features of the glass canister.
The product is dishwasher-safe. Since most of the families use a dishwasher, you can easily wash this without destroying the look or damaging the product.
The round food storage jar has a unique design too. Keep your teas sealed perfectly in these glass jars. The size is 3-quart which is good to hold most of the items.
Reasons to buy:
This is a good-looking glass jar.
It has 3-quart capacity.
The product is dishwasher-safe.
9. ComSaf Glass Food Storage Canister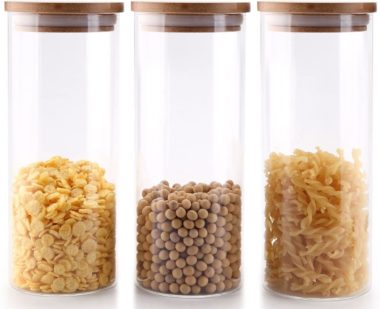 Some buyers like to invest in a good-looking product. That's the key factor in choosing the product. If you fall into that category, you would like the ComSaf glass food storage with a cork lid. The design is unique, and it is available at an attractive price.
The borosilicate glass does not trap odor and is non-toxic too. The BPA-free product is safe for storage of food items. The food inside the jars stays safe, moisture-free, and fresh. You can take a quick glass inside the jar as it is crystal-clear.
If you would like to gift someone this product, we would totally recommend it. The product is good-looking, durable, air-tight, and pocket-friendly. The 1240 ML capacity allows you to store as much food as you like.
Reasons to buy:
It is pocket-friendly (comes in a set of three).
The product keeps all the food air-tight.
The product is BPA-free
8. Premium Quality Plastic Apothecary Jars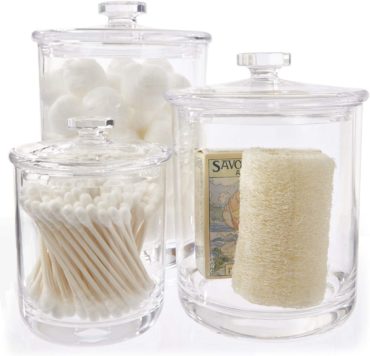 The premium quality plastic apothecary jars are durable and versatile. Why just keep it in the kitchen? You can easily keep it in the bathroom, outdoor, or any room in your house. At the end of the day, it is your wish. You can store cookies, bakery items, pulses, rice, and flour in this good-looking glass canister.
Please note that the product is made of clear acrylic. The removable lids are sturdy and the product itself has a durable construction. We personally love the design of this glass canister. It comes in a set of three. Some people might find it expensive, but it does the job and is highly appealing to human eyes.
Reasons to buy:
The product has a durable construction.
It is versatile – can be used for storing all kinds of food items/other items.
The product looks visually appealing with a unique design.
7. Luxury and Grace Pack of 4 Glass Canisters
Don't waste your precious time and money on items that break easily. The Luxury and Grace glass canisters are highly resistant and hygienic to keep all your food items.
The product is easy to clean and corrosion-resistant. What else do you require? There is more to this product. The wide mouth of the canister allows you to clean the product from within easily. The design is versatile and quite modern. You can use it as a decorative piece or can store the exquisite pasta in your kitchen. On second thoughts, you can store any food item you like.
Reasons to buy:
It is BPA-free
The product is quite durable.
The design is versatile and modern.
6. Glass Canister Set for Kitchen or Bathroom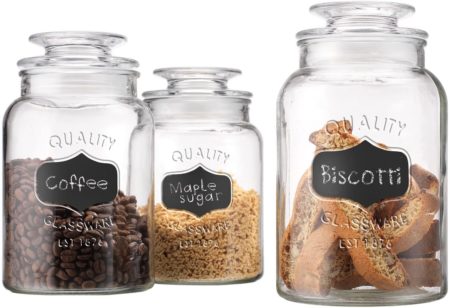 Here's a product that can help in storing all your dry food items. Let's store candies and cookies in this good-looking glass canister. It comes in a set of three and has a unique design too.
The versatile glass canister can be kept in the kitchen or the bathroom. The product is highly durable and is made of high-quality glass. You do not want something that breaks too easily. Hence, this glass canister set is a must-buy!
You can all the contents with ease as the glass canister is clear. Chalk and labels are included for marking the food items. It helps in sorting your kitchen items or things you store. For a modern or traditional kitchen, this product is perfect.
Reasons to buy:
The product is highly durable.
The design is unique and fun.
Chalk and labels are included for easy marking.
5. Style Setter Canister Set Retro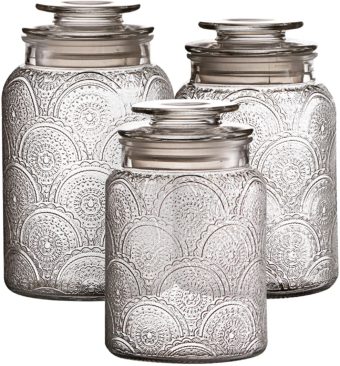 If you are bored of the usual designs in the market, opt for the Style Setter Canister retro three-piece set. It looks quite unique and completely seals the air.
Your guests will be impressed by your choice of glass canisters. If you are throwing a party in your house, keep these on display and add cookies and tea cakes in the jar. These have a wonderful design and are quite heavy too. Most people look for durability, and with this heavy-duty glass canister, you can be sure that it will not break easily.
Clutter-free kitchens are visually appealing. The ornate retro borders on this glass jar are attractive. If you are looking for something different, this product is the best.
Reasons to buy:
The canister is made of heavy-duty glass.
The product seals the air completely.
It has a unique design.
4. ComSaf Glass Storage Canister Set of 3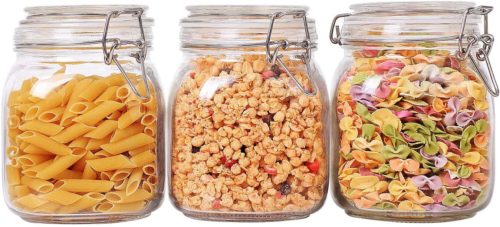 A modern kitchen should have glass canisters for easy storage. Plus, it looks appealing to the human eye. If you want to gift someone an attractive set of glass canisters, this product will be a top recommendation from our end. It is a perfect Mother's Day/Father's Day or Thanksgiving gift. The product is safe within the dishwasher and can be used for storing all kinds of foods including biscuits, pasta, pulses, and coffee beans.
The product contains different sizes of glass canisters. The sizes/capacity are 500 ML, 1000 ML, and 600 ML.
Reasons to buy:
It is dishwasher-safe
The product looks elegant
It comes in three different capacities.
3. KooK Glass Canister Storage Set of 2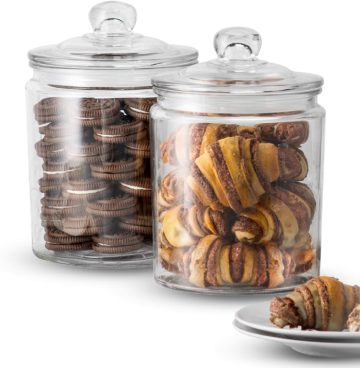 A clear glass canister is what you need to store the necessary items. It could be cookies or a couple of treasured spices. The KooK glass canister comes in a set of 2. These have a super sleek and clean look, plus it keeps your food items fresh and free from exposure to air. What's the icing on the cake? It is dishwasher-safe.
Note – The product has 1/2 gallon capacity. Use it to store your baked goods or even the flour/spices in your kitchen.
Reasons to buy:
It is affordable.
Comes in a set of two.
It has 1/2 gallon capacity.
2. Lawei 3 pack Glass Storage Jars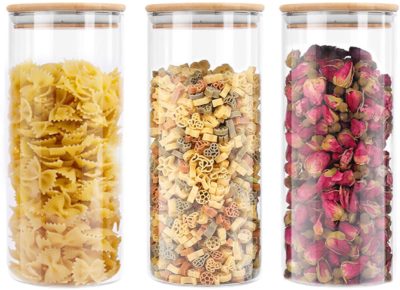 Say hello to a wonderful cylindrical glass canister. It is tall and has enough space for all your food items. The jar/canister has a bamboo lid which seals the air inside. When you purchase this product, you get three canisters. The capacity of each of the canister is 51 oz. Moreover, you can use it to store anything you like – coffee, tea, pulses, baking goods, and even candies.
To make your home tidy, use these canisters to store food items. It does not take up much space in the cabinets.
Reasons to buy:
A combination of glass and bamboo. The lid is made of bamboo.
It saves space and helps in storing all kinds of food items.
It is affordable. Three canisters in one package.
1. Glass Kitchen Canister Set of 5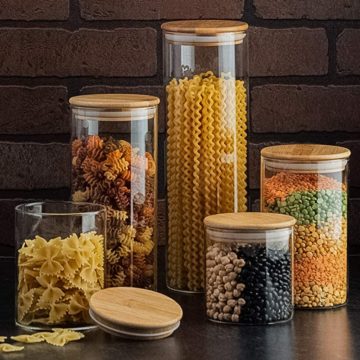 If you are looking for affordability and efficiency, this product offers both. The cost is low, and you get a set of five canisters. All of the canisters are not of the same size. You get an assortment of the sizes. In some canisters, you can keep pasta and in the others, you could keep treasured spices. The seal closure is air-tight which keeps all the moisture and air away from your food items.
Storage has never been so easy and convenient! Note: Glass is safer than plastic. Hence, this product is worth the purchase.
Reasons to buy:
You get five canisters at affordable pricing.
Air tight seal keeps away all the moisture and air.
The product is BPA-free.
Quick Buying Guide For Prospective Buyers
Buying the best glass canisters should not be a tragic or stressful task. However, you need to keep certain things in mind while buying the best products in the market. Let's take a look at them:
Quality of the glass: If you are looking for the best canister, choose one that is made of heavy-duty glass. This lasts for a longer time. In case the intention is to use it in the kitchen, cheap-quality glass is not recommended. Anything that breaks in the kitchen can be messy and lethal for everyone's health. If there are accidental falls time and again, go for a heavy-duty glass canister.
Size: You are the best judge of what needs to be stored in the glass canister. What do you wish to store in these? What size would you prefer? It all boils down to your personal requirements. If you are someone who likes baking regularly, then getting a bigger canister is advisable. If you have a smaller kitchen cabinet, then getting a small canister is better. You have to look at the storage part too. If the canister is too big, it might not fit into your small kitchen cabinet.
Design: You can get glass canisters in multiple designs. Some come in cylindrical, box, and round form. What is your pick? This depends on your personal preference. Cylinder shape is the most common, but you can choose the one you prefer. Design is supposed to be a unique and personal taste. It all depends on your choice! Most people look for attractive shapes, but it also boils down to availability.
Ease of cleaning
Always purchase a product that is easy to clean. It saves you from spending too much time in the kitchen.
Airtight lid: The materials you wish to store should not get soggy. The airtight lid will ensure that all the ingredients such as spices, lentils, and other food items stay crisp, fresh, and consumable.
Concluding Thoughts
We selected the products on the basis of personal experience, features, pricing, and reviews/ratings. You can feel free to choose the one you like and can afford.
It is good to compare each of the products and see what fits your budget/personal preference. Make sure you buy the best product in the market. After all the glass canister will be used in your kitchen. It should not only be good-looking, but durable and efficient.