Eyes are very crucial to the overall beauty of your face. However, due to the strenuous lifestyle of the modern age, dark circles and bags under the eyes have become common. It surely berates the way you look and present yourself. A Korean eye cream can be particularly helpful to help you get rid of these problems. Koreans are known for their superior beauty products. The eye creams they offer thus help you to fight all skin problems and slow the aging process greatly. More importantly, they help in hydrating your skin and maintaining its natural glow.
You will find in-detail reviews of the best Korean eye cream brands below. Know what ingredients do these cream have and how effective these are.
Why should you buy Korean eye cream?
When it comes to skincare products, Korean products are the new rage after the Japanese products, and they are rightly so. If you get puffy eyes every time when you wake up in the morning, this cream will help to reduce down the puffiness overtime. Also, the eye creams have other anti-aging effects as well, to keep the area around your pupils, as timeless as the pupils themselves. Not only puffy but if the skin tends to sag down, this eye cream also takes care of that, by enhancing the elasticity of your skin, so that, it becomes firmer. Since the skin elasticity improves, you can also expect the wrinkle lines to vanish to such creams.
Not only that, most Korean eye creams tend to be really light, so that, you can wear them around your eyes without feeling like a blob is settled on your skin. They are usually very light in their consistency. The cream also helps to rejuvenate the skin to give you your lost youth back, by making it soft and supple and taking care of the dull skin to make it brighter than ever. In some Korean eye creams, even the blemish and acne spots are taken care of, so you can flaunt that flawless skin wherever you go.
Which Korean eye cream will be the most organic in nature?
While most Korean eye creams tend to use much more organic components than their western counterparts, somebody has to win that race. In this case, Korean Skin Care Snail wins the race. The product is highly concentrated with snail mucin extract, as much as 97%, something which is known widely for having magical effects on healthy skin. The product promises to have as much as 72% of its components be organic, making it a sure favorite for those who prefer going for natural items. Besides, everything used is sourced from an ethical, cruelty-free environment. While the item is as natural as it can get, you do not have to worry about quick rotting either. It stays fresh and effective at least for a whole year after opening the seal.
Best Korean Eye Creams Review
10. COSRX Advanced Snail Peptide
Corsx presents to you one of the best Korean eye creams that money can buy. Unlike other Korean eye creams, this one doesn't feel heavy on your skin. You won't feel like you have an extra layer on your face. It feels very natural. With regular application of the cream, you can reduce your dark circles significantly and eliminate the puffiness around your eyes after some time.
The cream moisturizes the region around your eyes so that you can keep fine lines in check and have a youthful appearance. Moreover, the cream enhances the elasticity of your skin and keeps it younger with 5 kinds of peptides.
Key features:
It's great for dull skin and has visible rejuvenating effects.
Niacinamide in the cream helps you to even the skin tone of the area around your eyes.
The airless bottle helps you to discharge the cream without any waste.
9. Innisfree Korean Eye Cream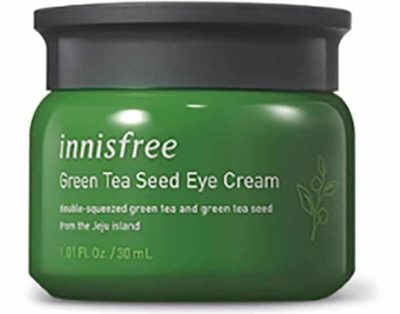 This eye cream is made from very high quality and advanced materials. Hence, it can have quick effects without damaging your skin. The primary ingredient of this cream is green tea seed extracts of Jeju island that are known for their skin benefits. It fills your dull skin with dense moisture and revitalizes it. The nutrition penetrates deep into your skin and starts working wonders.
Furthermore, the cream has a very light consistency that doesn't leave an uncomfortable feeling on your skin after application. Works for most types of skin since the cream is very light.
Key features:
Amazing fresh green tea fragrance that puts a lot of perfumes to shame.
Brightens up your under eyes and makes y our skin look healthier.
The cream comes with a seal to prevent any tampering throughout the supply chain.
8. COSRX Advanced Snail 92 Korean Eye Cream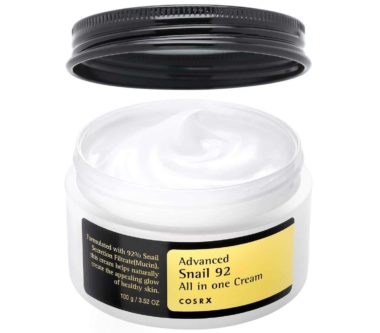 A lot of eye creams have alcohol and there's nothing wrong with it if it's the right kind of alcohol. However, most cheap manufacturers make their cream with denatured or drying types of alcohol that aren't great for your skin. This cream on the other hand has Cetearyl alcohol that's a good fatty alcohol and works great for moisturizing your delicate skin.
Other than that, the cream is rich in snail secretion filtrate that makes a whopping 92 percent of the product. This thing soothes your skin to make it plump and leaves it radiant at the end of your skin routine.
Key features:
It's neutral when it comes to scent and has no fragrance that may throw you off.
Suitable for all kinds of skin including dehydrated and dry skin.
Gel type cream is non-greasy and sinks in quickly.
7. THE FACE SHOP Yehwadam Eye Cream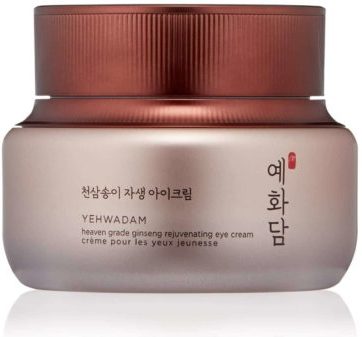 One of the major problems with most eye creams is the risk they pose to your sensitive eyes. Some of them are so harsh that they irritate your eye even if you carefully apply the cream around your eyes. This cream doesn't suffer from that problem. It is made from a low-irritant formula that is gentle both to your skin and your eyes. You won't have to break into tears for no reason.
Besides, the cream is packed with rich nutrients that brighten the dull area under your eyes due to lack of sleep or stress. It also reduces sag and makes your skin firmer.
Key features:
For anti-aging the cream has premium quality LG patented ingredients in it.
The wrinkles around your eyes get eliminated when they are filled with the superfine pearl powder and polymer powder in the cream.
Comes in an attractive beige packaging that looks nice.
6. ETUDE HOUSE Moistfull Korean Eye Cream
Unlike regular collagen, this cream contains super collagen. This is a pure collagen protein and is the building material of your body. When you apply this cream to your skin, the super collagen water is readily absorbed. It is small and can quickly seep into your skin to deliver moisture to your skin to make it more bouncy. You will have soft and supple skin instead of dry and puffy skin around your eyes when you use this cream.
Another key ingredient inside this cream is white lupin. The seed-derived protein from the plant also goes to keep your skin moisturized and healthy for a long time.
Key features:
You don't have to worry about a goopy layer on your skin since it has a rich and tight texture.
It is clinically tested so that you don't have to worry about skin irritation.
Also, it has triethanolamine to balance the pH levels of your skin.
5. I DEW CARE Glow-Key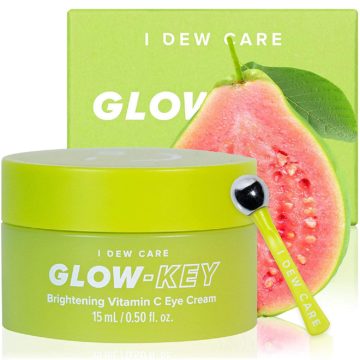 I DEW CARE presents to you an awesome eye cream that provides you with top-quality skincare without puncturing a hole through your budget. The eye cream is guava inspired and is mostly made out of natural ingredients. It doesn't leave any harmful side effects on your skin. Next, it has been boosted with hyaluronic acid, Vitamin C and caffeine. As a result, your tired eyes get hydrated and your skin glows with unparalleled brilliance. Unlike most other creams, this one has a cushiony texture that doesn't feel slimy.
You won't have any trouble using this daily. Your skin also breathes to new life when it absorbs the natural eyebright and guava extract present inside the cream.
Key features:
Comes with a free applicator that lets you apply the cream without any mess
Has a generous quantity so that one pack can last you for months.
Furthermore, it makes use of FSC packaging. So, it stays safe and ready to use.
4. SeoulCeuticals Store Korean Skin Care Eye Cream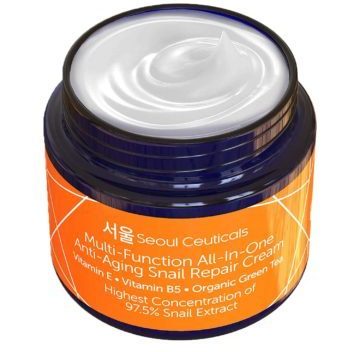 You may have come across hundreds of snail creams that promote healthy skin. However, this one from Seoul Ceuticals beats them all and leaves them in the dust. It has a tremendously high concentration of snail mucin extract – over 97 percent. Hence, it also shows extreme potency and works much better than its cheap knock offs and poor alternatives. Irrespective of your skin type, you won't have any trouble using this cream since it is anti-microbial.
You won't suffer from skin irritation after using this special eye cream. The cream is also loaded with super nutrients. These are readily absorbed into your skin for a youthful radiance and healthier complexion.
Key features:
The ingredients that go into the cream are sourced from an ethical, cruelty-free environment.
Great cream for naturalists since it's composed of 72 percent organic ingredients.
With a long expiration period, the cream stays fresh and potent even after a year from opening the seal.
3. Mizon All in One Snail Eye Cream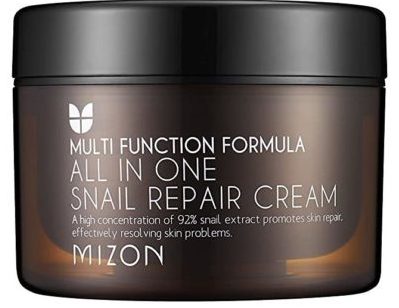 Among all other eye creams, this one is probably the most affordable. It has snail extracts that seep into your damaged skin to repair it and gets rid of the tired puffiness under your eyes. Applying it is also very easy. Take the cream on your finger and tap it around your eyes after cleaning your face. Pat it with your fingers and it will get absorbed very quickly without leaving any greasy feeling on your skin. The snail mucin present inside the skin also works wonders for your skin in many other ways.
It works on your blemishes and reduces your acne scars to a great degree. With continual use, you would have more beautiful flawless skin.
Key features:
Your wound skin gets healed with copper peptides.
Gives you wrinkle care and adds elasticity to your skin.
Of course, both men and women can use this product.
2. Laneige Laneige Perfect Eye Cream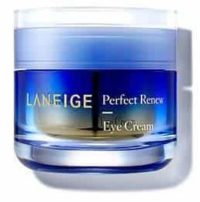 Laneige has formulated its eye cream with ceramide water and galangal root. Ceramides in the cream form a protective layer over your skin and hold it together. This prevents damage to your skin due to environmental stress. It also keeps your skin soft to the touch and highly supple. The galangal root is a powerful ingredient that holds its ground against free radicals. As a result, you can maintain young and graceful skin for a long time.
Moreover, unlike other eye creams, this one doesn't have a strong fragrance that interrupts your daily routine and may be distracting. Use this cream regularly so that you can look fresh and gorgeous and remove those dark circles.
Key features:
Helps with the sagging under your eyes to make your skin firmer.
The display pot looks sleek and goes well with your style statement.
It also helps in reducing the puffiness of the skin.
1. Sulwhasoo Essential Korean Eye Cream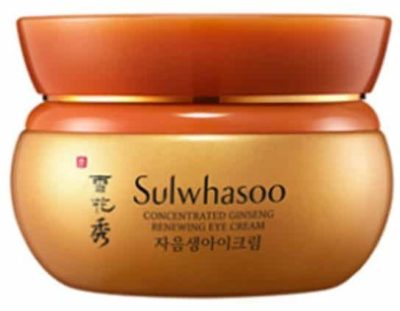 Numerous eye care creams boast more than they offer. Sulwhasoo is different and always makes products that deliver and their eye cream is one of a kind. It is nothing like the cheap and substandard products offered by the competition. The cream comes in beautiful packaging and sits nicely on your nightstand. With this eye cream, you get powerful arms to fight free radicals that do extensive damage to your skin. That gives you anti-aging effects and helps to maintain the youthful appearance of your skin.
People would be left to guess your age by your radiant skin. Finally, it has highly matured six-year-old ginseng that is known to have miraculous positive effects on your skin.
Key features:
The pomegranate and green tea extracts in the cream promote organic and natural treatment for your skin.
Besides, it hydrates the skin and adds glow to it.
What is the one essential characteristic of a good Korean eye cream?
With the cheaper alternatives available in the name of eye cream, your skin might feel irritated, beating the whole purpose. For that reason, a good eye cream will certainly be suitable to be used on all skin types before and above everything else, so there can be no chances of any side effects. This usually happens with the damaging alcohol content in the creams among other things, so you will be good as long as you scrutinize the ingredients list of your eye cream.
Which Korean eye cream is suitable for people with a sensitive nose?
When we talk about extracts, you might not be familiar with all the items, putting your senses through a whirlwind of you smell something unknown in your cream. For that, you can choose the COSRX Advanced Snail 92, which has absolutely no odor, and coming in the form of a gel, will get absorbed before you can even feel any greasiness.
Final Verdict
So, preserve your glow and keep your skin will always be at its best. Take the aid of the Korean eye cream for puffiness, dark circles or any other issue and look fresh always.