Choosing the best motorcycle wheel chock for your bike can prove to be pretty overwhelming. These wheel chocks are available in variable qualities, based on sturdiness and reliability.
Wheels chocks have proved to be a lot safer and reliable tool for motorcycles, in comparison to emergency brakes or side stands. These wheel mounts promise an upright safe anchor of your motorcycle for hassle-free parking, transportation, or for stabilization during repairs.
Here in this article, we have listed the top 10 best motorcycle wheel chocks available in the market.
The Best Motorcycle Wheel Chocks in 2023
10. Venom Front Tire Motorcycle Wheel Chock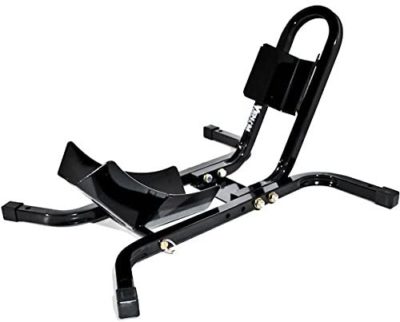 The lightweight wheel chock is made from high-grade steel, making it a heavy-duty material tool. It is fantastically designed, with three adjustable positions to fit the front wheel with a 17 – 21inch base.
Specially designed for safeguarding your bike upright during shipping, storage, or parking. Plus, it comes with rubber end caps that prevent scratching of the surface. Available in black color only. It is an easy to use chock, to remove your bike all you need to do is pull back your bike, and the chock automatically releases the wheel.
Key Features
The wheel chock has three adjustable cradle positions that fit any wheel with base size between 17-21inch.
This device comes with 4x concrete anchors for mounting and is easy to use.
The chock is built from high-grade steel and has rubber end caps, which prevents surface scratching and slipping.
9. Marson USA Motorcycle Wheel Chocks 5.5."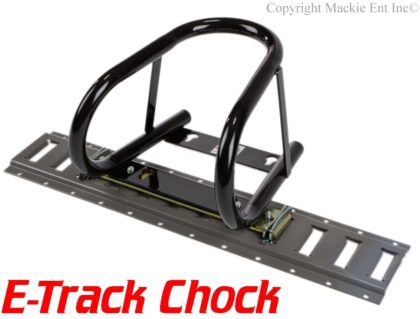 Marson chock comes with a single wheel chock, an Etrack mounting plate, and a side straps which guarantees added firmness and durability. Thanks to its 1″ heavy-duty steel tubing construction covered with black powder coating, give it a sharp look.
With a built dimension of 8.25inch width at opening and 5.5-inch-wide at the start, this chock supports a variety of motorcycles that comes within these dimensions without any distress. Uniquely built, this chock protects tire sidewalls and prevents contact with the brake discs.
Key Features
The chock features quick installation and removal and is constructed from 1-inch heavy-duty steel tubing.
This product has a sharp appearance with black powder coating and weighs as low as 7 pounds.
All necessary hardware and instructions included in the package.
8. YITAMOTOR  Motorcycle Wheel Chock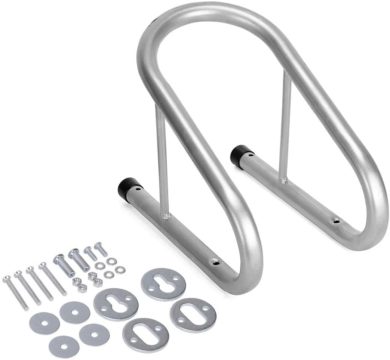 Yitamotor chock is a regular stopper cradle holder for your motorcycle. The thick-wall steel tube built gives it a high sturdiness and durability and features a chrome finish. This chock fits a wide range of motorcycles with front wheelbase up to 5.5inch wide.
Packed with the hardware makes it a quick installation and removal chock, without the use of extra tools. Using the chock is very easy, as all you need to do is slide your bike's front wheel into the chock, and the wheel gets locked automatically. The chock remains securely attached to trailers, floors with the help of ratchet straps.
Key Features
This device is easy to use and easy to install or remove the facility when not in use.
The chock is made of thick-walled steel tube and fits wheels up to 5.5inch of the base.
The package includes all necessary hardware like mounting washers, mounting brackets, ratchet straps, and T-bolt screw.
7. Goplus Motorcycle Adjustable Wheel Chock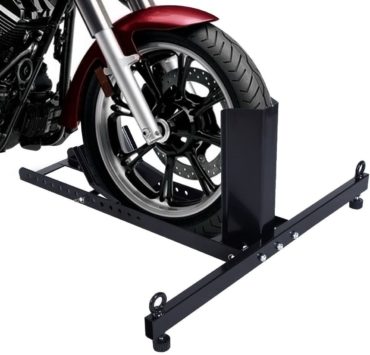 Goplus Wheel chock has a sturdy steel design that gives it high stability and strength. The chock's powder-coated finish prevents it from potential rusting and damages making it a highly durable tool.
The adjustable wheel lock feature allows it to fit in both the front and rear wheel, with wheel dimension supporting from 15-22inch wide tires. The patented locking feature gives your motorcycle an upright on any surface or conveyance platforms
Key Features
The chock has an adjustable wheel lock with 15-22inch wheels and supports both front and rear wheels.
The product has a sturdy steel construction with powder-coated finish and high capacity load up to 1800 pounds.
The Patented locking system and high stability Crossbar with two bolts give an upright position on any surface.
6. Lock N Load Deluxe Motorcycle Wheel Chock BK1000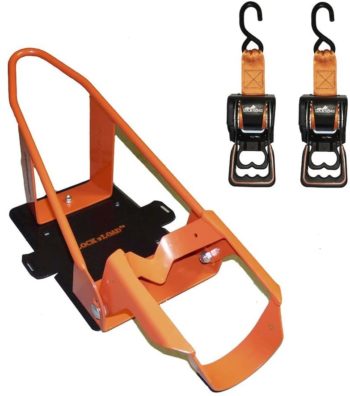 Lock N Load wheel chock is a complete kit for secure and stable transport of your motorcycle. It comes with a wheel chock, two quick-release D-rings and strap clips, a front-tire ratchet, and a mounting plate.
As far as stability is concerned, the front ratchets and rear back ties D-rings give high stability as your motorcycle remains securely tightening from both ends. Using the chock is pretty easy, all you need to do is slide the front wheel, and it gets locked automatically.
Key Features
The chock is made of solid steel, making it a durable chock.
It is simple and easy to use chock, also ensures pure stability and security with front and rear straps.
This product fits almost all available motorcycle wheels and has a quick release anchor feature for easy removal.
5. MaxxHaul Motorcycle Adjustable Wheel Chock 70271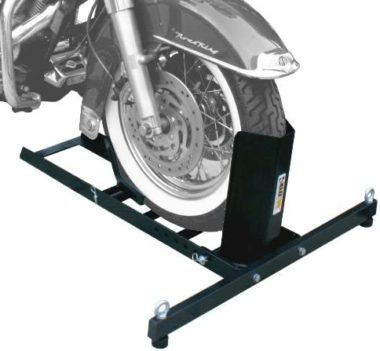 MaxxHaul 70271 chock promises high durability with its steel built and corrosion resisting black powder coating, allowing you to use it outdoors with ease. Features an adjustable locking mechanism that fits wheels with diameter from 15 to 22inch and 3-5inch wide.
The self-locking feature uses the weight of the bike to give it a stable upright position. MaxxHaul supports up to 1800 pounds of load. The offered cradle six adjustment positions, providing unmatched security and stability.
Key Features
The chock has 1800lbs of load capacity and provides extra stability with anchor points.
It is rust and corrosion-proof.
The device fits a wide range of wheels with the help of six cradle adjustment wheel positions and has a Self-locking mechanism.
4. Pit Posse Universal Motorcycle Removable Wheel Chock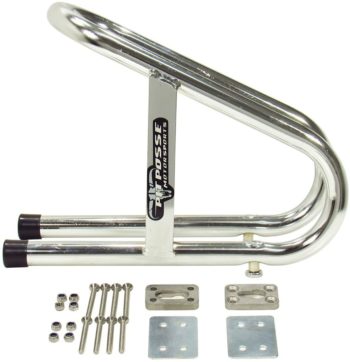 Pit Posse chock promises to fit all types of motorcycles, with wheelbase up to 6.5inch width. With durable and sturdy construction, this wheel chock is perfectly designed to withstand even the strongest jerks in a ride or travel. The Pit Posse wheel chock keeps the front week about 3.5 inches wide, for almost any motorcycle.
In case the trailer or truck bed is required for any other loads, the mounting points in the chock helps you remove it almost seamlessly. Also, it does not require too much pressure to be operated and can be used by a single person quite easily.
Key Features
The Self-locking system makes the chock easy to use.
The chock has a sturdy built and includes hardware for mounting.
The wheel chock is rust and corrosion free and has a unique design.
3. CONDOR Pit Trailer-Stop PS-1500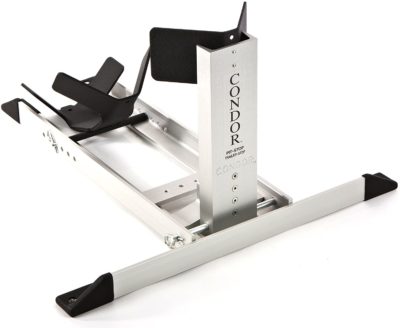 Condor offers this chock, which has an adjustable wheel locking feature, working both with the rear and front wheels. The chock can accommodate wheel sizes of about 15-22 inches or that are 80-220 mm in width. With a patented locking mechanism, the pit stop sturdily supports the motorcycle in to stand in a vertical position on any flat or transport platform.
Condor chock can also be used as a trailer stop as it comes with a trailer adapter kit. The trailer adapter kit helps you attach or detach almost effortlessly. Also, the pit stop can simply be operated by one person to release or load all kinds of motorcycles. You can also use the two tie-down straps for both front and rear wheels securing the motorcycle for transport.
Key Features
The wheel chock is made from heavy-duty steel, giving it high load capacity up to 3000lbs.
The patented locking system makes it easy to use and install chock and fits a wide range of motorcycles wheels.
2. MaxxHaul Motorcycle Wheel Chock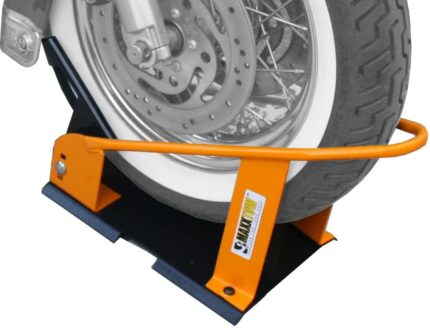 MaxxHaul 70075 is an exceptional product given all the features it provides. The wheel chock features three-position adjustable holes, ensuring you to accommodate almost any motorcycle. It has a single person operation with the strap-down make, which helps you roll the tires in the chock while keeping it locked, so it does not move.
Also, a notable mention is the exceptional durability of the product along with the corrosion and dust-resistant powder coating. It also comes with the generic mounting and assembling hardware.
Key Features
The 3-position bracket helps the chock to accommodate most tire sizes, and the powder-coated makes it rust and corrosion-proof.
The device is easy to install hardware with an automatic locking feature for the front wheel.
The chock is easy to use and can be operated by a single person.
1. Extreme Max Standard Motorcycle Wheel Chock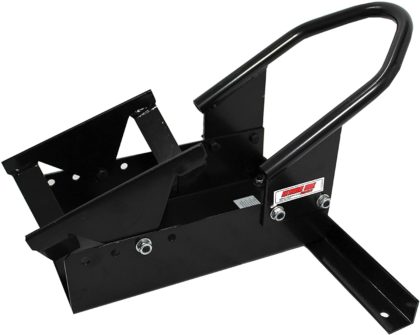 Our top choice is Extreme Max, a device with a sturdy steel design and a matte look. Features an easy to use chock which automatically locks the front wheel as you slide it in. The chock is a highly versatile tool that accommodates wheel size from 17inch to 21inch and has a rear-wheel adjustable cradle as well.
The added sturdy boot and steel crossbar ensures potentially high stability. This chock can easily be bolted to any sort of surface like a truck bed or trailer floor.
Key Features
The wheel chock has a sturdy, durable design and has proved to be a heavy-duty wheel chock with an Automatic locking system and multiple adjustable back wheel cradle.
The chock has chrome-plated steel tubing built and also includes all the mounting hardware.
Now that we have provided you with ten best motorcycle wheel chocks in 2023, you can with ease figure out which of the product mentioned above suits your interests and solves the purpose.
Remember, a motorist will always find a motorcycle wheel chock useful while managing repairs or transport as it makes it a lot more secure and hassle-free.