Cooking rice is an essential task for families who eats rice, and also for those who do not. A rice cooker is not only for cooking rice, but it can also be used to cook other dishes like oatmeal, veggies, soup, and more. And so to help you make your decision about your purchase, we are featuring the top 10 best stainless steel rice cookers in 2023.
All the products you can see in this post are made from premium quality stainless steel. We have chosen this type of rice cooker because they are extremely durable, and they are resistant to rust and corrosion. They last for many years as well, providing excellent cooking performance.
Best Stainless Steel Rice Cookers to Buy in 2023
10. Tatung TAC Stainless Steel Rice Cooker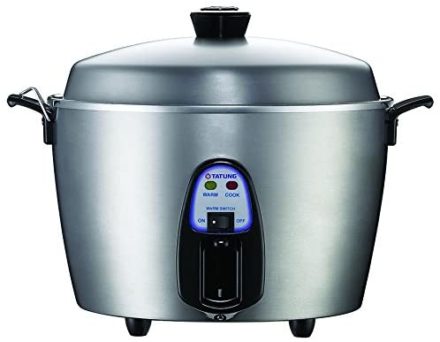 The Tatung Stainless Steel Rice Cooker is a great addition to your kitchen utensils and appliances. It has an elegant design that is made from premium grade stainless steel material. This multi-functional cooker can accommodate 11 cups of uncooked rice, making your cooked rice at 22 cups. This is absolutely perfect for a large family, or whenever you have a lot of guests.
Reasons to buy:
Manufactured using sturdy 18/8 304 food-grade stainless steel for durability and lustrous appearance
Utilizes the indirect heating technology that is responsible for steaming the whole stainless steel pot
Designed with four different cooking modes: braise mode, steam mode, stew mode, and rice cooking mode
9. Maxi-Matic Electric Rice Cooker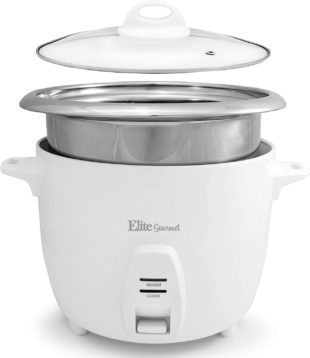 The Maxi-Matic Stainless Steel Rice Cooker can perfectly cook 10 cups of uncooked rice that leads to 20 cups of cooked rice. It is an innovative product that is 100% hassle-free to operate and clean. Plus, the inner pot is made from surgical grade 304 stainless steel and it is not coated for extra safety. This rice cooker does not burn the rice and has a non-stick pot that does not discolor.
Reasons to buy:
Extra-large rice cooking capacity that utilizes 300 watts, 120V 60Hz
Non-stick rice cooker with a dimension of 12.28" x 8.11" x 10.67", with a weight of 5.31 pounds
Features a tempered glass cover, cool handles, indicator lights, and stainless steel pot
8. Instant Pot Instant Zest Rice Cooker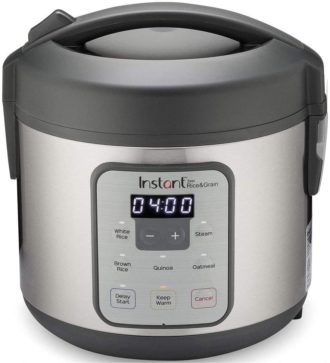 The Instant Pot Stainless Steel Rice Cooker has an innovative design that is perfect for all types of rice, oatmeal, quinoa, and grains. It is capable of cooking 8 cups of rice, and it can also be used as an efficient warmer for your favorite dishes. This product is made from high-grade stainless steel, and it is designed to provide excellent cooking performance. And it keeps your healthy rice warm for hours.
Reasons to buy:
Fast cooking process using a one-touch operation for creating fluffy rice
Offers access to more than 1,000 recipes through a free app download on your Android or iOS device
The dimension of 11.4" x 10.5" x 10.5", with a weight of 6.3 pounds
7. Zojirushi Micom Rice Cooker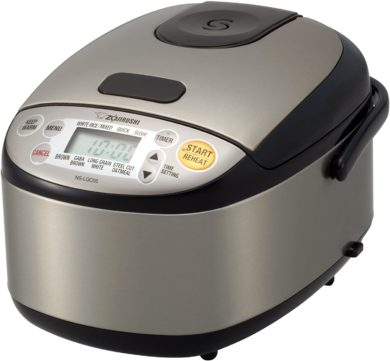 The Zojirushi Stainless Steel Rice Cooker has a unique design that is absolutely sophisticated in appearance. It is a multi-cooker that can handle any type of rice and quick cooking of some dishes. This product is very easy to store, and it is effortless to clean as well.
Reasons to buy:
A triple heater rice cooker that efficiently heats your rice from the side, bottom, and lid
The dimension of 1 1/8" W x 11 7/8" D x 7 ½" H, with a cooking capacity of 3 cups uncooked rice
Equipped with a microcomputer that handles the automatic modification of the time and temperature
6. Tiger Corporation Rice Cooker and Warmer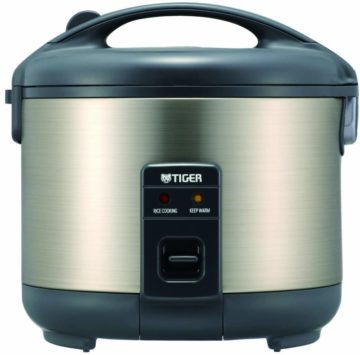 The Tiger Stainless Steel Rice Cooker has a simple and sleek design that is perfect for your kitchen. It is an extremely durable product that is made from premium materials, most especially the stainless steel. You can cook rice in perfection using this product, and it automatically transitions to "keep warm" when the rice is fully cooked. And it can accommodate a maximum of 5.5 cups of uncooked rice.
Reasons to buy:
Keep warm feature can last to a maximum of 12 hours without causing havoc to your rice
Crafted with a removable power cord, a detachable steam vent that is washable, and a non-stick pan
Comes with a detachable collector of dew, steam vent cap, spatula, and measuring cup
5. Cuisinart Rice Cooker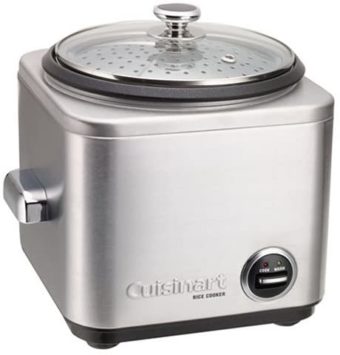 The Cuisinart Stainless Steel Rice Cooker is excellent in producing exquisitely fluffy rice thanks to the brushed finish of the pot. It has a steam vent that is expertly engineered to avoid the splattering of moisture, and the cool handles are chrome-plated. Plus, the square shape is absolutely modern and attractive.
Reasons to buy:
Dimension of 10.7" x 10.1" x 9.9", with a weight of 5.4 pounds
Indicator lights signal if the rice is cooked and you can see if the automatic warm feature is turned on
The cooking pot is made from high-quality stainless steel, with a durable rice spoon and measuring cup
4. Hamilton Beach Rice Cooker & Food Steamer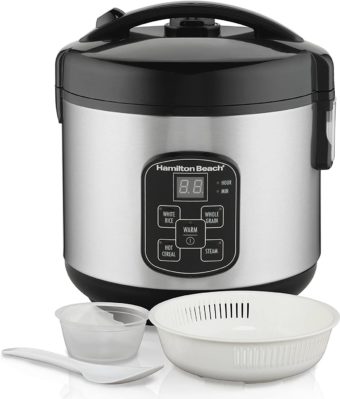 The Hamilton Beach Stainless Steel Rice Cooker is a reliable multi-cooker that cooks rice and one-pot dishes excellently. It is made from premium quality materials that makes this product super durable, and it has a longer lifespan. This rice cooker allows you to cook healthy and delicious meals without worrying about complicated processes. It is very easy to operate, and seamless to clean as well.
Reasons to buy:
Rice cooking capacity of 8 cups, with a steam basket and rice rinser for your cooking convenience
The non-stick pot that is dishwasher safe, with a reliable countdown timer and a highly functional automatic preservation of warmth
Rice cooker dimension of 8.5" x 9.74" x 9.88", with a weight of 4 pounds
3. Zojirushi Rice Cooker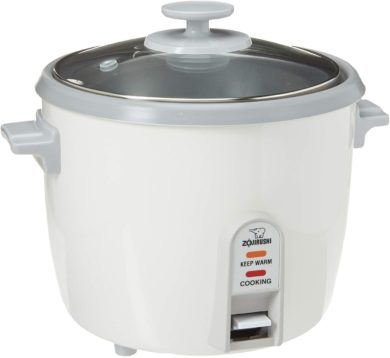 The Zojirushi Stainless Steel Rice Cooker is capable of cooking rice to perfection. It can keep the rice warm for hours, thanks to the efficient automatic warming feature. This product is made from sturdy stainless steel so it is expected to have a longer lifespan. Plus, it is easy to operate and the cleaning is a breeze. And when not in use, you can easily store this compact rice cooker and remove the electrical cord.
Reasons to buy:
Cooking capacity of 6 uncooked rice, and it comes with a measuring cup, spatula, and steaming tray
Durable handles stay cool at all times, and the non-stick pot and steamer are very easy to clean
Safe to use a rice cooker with 120 volts / 500 watts electrical rating
2. Aroma Housewares Simply Rice Cooker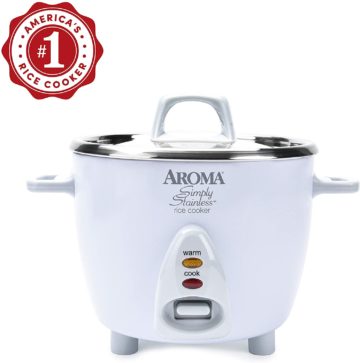 The Aroma Housewares Stainless Steel Rice Cooker offers a seamless one-touch process that is coupled with auto switches for preserving the warmth of the rice. It is crafted with a tempered glass cover so you can easily see the progress of your cooking. And, this product comes with a spatula holder so it is easier to scoop the rice unto your serving dish. This rice cooker is incredibly compact and it is high in strength. It is also very easy to clean and store.
Reasons to buy:
Cooking capacity of 7 cups uncooked rice and 14 cups cooked rice
Pot is made from 304 stainless steel material that is 100% surgical grade for excellent durability
BPA-free rice cooker with an energy consumption of 500W 120V/60Hz
1. Aroma Housewares Food Steamer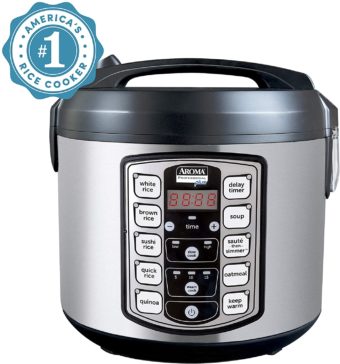 The Aroma Housewares Stainless Steel Rice Cooker is a versatile product that can cook different kinds of healthy food. It is made with a stainless surface and non-stick pot for even cooking and extreme durability. This product offers superior performance, and it is designed to last for many years. Plus, this rice cooker has innovative features and a user-friendly interface. And it cooks with excellent quality, so you never have to worry about uncooked rice or meals.
Reasons to buy:
A multi-functional rice cooker that is capable of cooking steamed veggies, hearty jambalaya, fluffy cakes, and more
The cooking capacity of 10 cups uncooked rice and 20 cups cooked rice
Utilizes the STS or Saute-Then-Simmer Technology, with options for steam, delay timer, and slow cook
Conclusion
We have created an informative list of rice cooker details for you to check out. Our goal is to assist in your purchasing choices, so you can buy the most suitable product for your kitchen. It is crucial to choose only the best because the healthy food for your family is at stake when you cook. And you definitely need a rice cooker for achieving perfect rice, as well as keeping your food warm for hours. Fortunately, all the products we have listed are innovative and safe to use. They are all highly qualified to cook fluffy rice and healthy dishes for the whole family, and guests too.