In the areas with considerable snowfall in the previous winter, you may notice thatch of brown dried grass in the lawn. Thatch refers to those stems, grass shoots or roots which may be living or dead, found on a lawn. Note that it is highly important to remove thatch regularly so that the grass remains healthy and looks beautiful. Therefore, today we have listed the top 10 best thatching rakes for you to check!
To remove that thatch, which reduces the aesthetics and health of your park, you will definitely require thatching rakes. Of course, it is not at all wise to buy those big commercial machines, but at the same time to save your time, it is better to use a good thatching rake to get the job done easily.
A typical thatching rake might appear like those gardening rakes. The difference is that a thatching tool is created in such a way that ensures that the dried brown grass or the thatch among the healthy green grass is removed effectively. Through this article, you will get to know in detail about the top 10 best thatching rakes in 2023.
Best Thatching Rakes to Buy in 2023
10. Gardenite Garden Leaf Rake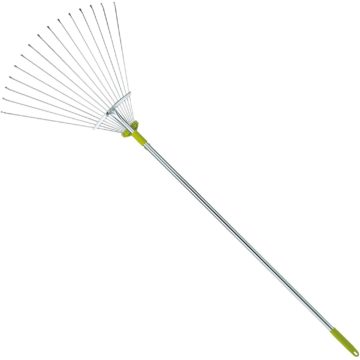 This thatching rake is one of the best thatching rakes, which makes your work hassle-free. The rake's length is 63 inches. The longer length of this rake is quite favorable for the taller people.
The feature that makes it so special is that the head can be expanded from 7 to even 22 inches. Now you can adjust the length of the head according to the total area you want to clear. You can even conveniently use it for raking leaves. The handle is zinc-plated, so there will be no problem with rusting. Another advantage of using this rake is that it is very lightweight despite its larger length.
Pros
The expandable head is a useful feature
Very comfortable to be used by tall people
Useful and effective in raking thatch as well as leaves
Cons
Note that after long term use, teeth may bend.
9. Bully Tools 92312 : Leaf & Thatching Rake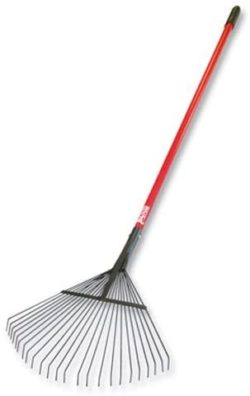 A superior quality product wholly manufactured in the US, it has a total length of 66 inches. The length of the head can be expanded up to 22 inches. But, if you are looking to take with a considerably smaller head, then it's advised to buy another product.
With a handle made up of fiberglass of robust strength, there are very few chances to break easily. It is a handy tool and does not rust easily.
Pros
Teeth made up of highly thick steel makes it very effective
100 % Made in USA product
Fiberglass handle offers sustainability and is very lightweight
Cons
Note that as reported by some users, it is heavy, so it is quite challenging to use it.
8. Truper 32120 Thatching Rake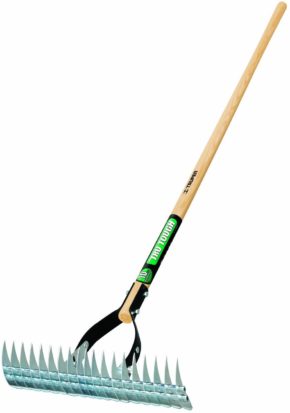 Its length is 54 inches. Truper Rake is one of the best products to buy. Having 19 teeth, this tool can be used for raking thatch as well as leaves in your park. Additionally, it comes with a heavy-duty grip, a collar made of steel, and head coated with steel, which makes it convenient to use. It is also suitable to be used by people with smaller height. It also offers a 10-year replacement warranty.
Pros
The long length of 54 inches
Comes with 19 teeth that makes it very effective in removing thatch
A ten-year warranty
 Cons
Bending of teeth after long-term use
Users have reported about their lawns getting damaged because of thatching with this tool
7. Ames Thatch Rake: Adjustable Thatch Rake

The head is 15 inches long. No need to spend too much time cleaning it. It is a self-cleaning tool because of the presence of curvy tines. It will help to keep your lawn not only healthy but also improve the aesthetics.
With a handle made up of hardwood, it is very strong but also heavy at the same time. It is always advisable to place it indoors after it is used since it is made up of hardwood.
Pros
Useful in raking thatch, leaves or weeds
Handle made up of hardwood provides durability
Self-cleaning steelhead
Cons
Heavy, so it is quite challenging to use it.
6. C2F Professional Metal Rake Head
Note that this thatching rake is slightly different from the above suggestions. A rake handle will be needed if you want to use this tool for raking thatch. Maybe if you have a rake already at home, you can remove it's handled and attach it conveniently to C2F Professional Metal Rake Head to use it properly. The head length is 13 inches.
Since the head is thermoset coated, there is no chance of corrosion. Also, the best thing about this rake is that its teeth will not bend after rough and tough use. It can be used for a variety of different purposes as well.
Pros
Since it is made up of steel, this adds high durability to the product.
There are no issues like bending of teeth.
Very versatile tool
Cons
It has just one rake head, point to be noted, so you will be required to attach a handle separately.
5. Gardena 3395 Thatching Rake Having Ergonomic Design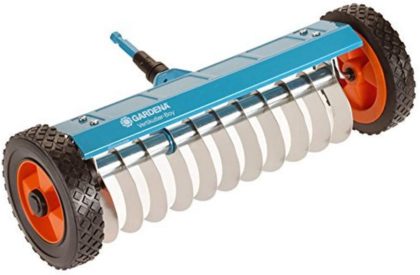 It is an excellent thatching rake that can be used conveniently to give your lawn a complete makeover without damaging it. It comes with curved tines to help you dethatch the lawn quickly.
You will never be required to purchase any particular tools to operate it for multipurpose jobs. To make the process of taking more convenient for the user, it features two wheels of superior quality on rake's each side.
Pros
A multifunctional tool
Design is ergonomic
High-quality wheels to make it more useful and comfortable to use.
Cons
It does not have any handle, so you will need to purchase it additionally.
4. Xclou Dethatching Garden Tool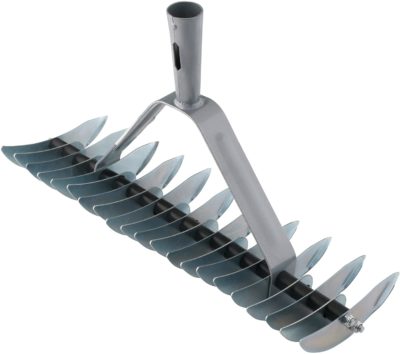 Buying an Xclou Dethatching Garden Tool is the best option for you in case you own a smaller size lawn. It is quite compact, so this tool is very efficient in detecting those places where you can't reach easily.
Also, it has tines of excellent quality; one end has small and curvy blades while the other end has lengthened blades. To make sure the tool is rust-proof, Xclou dethatching rake is made up of galvanized metal.
Pros
Highly durable
Quite affordable comes with ergonomic design
Made up of galvanized metal making it resistant to corrosion
Cons
3. Wolf-Garten Dethatching Intelocken Rake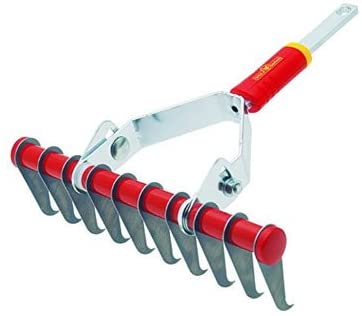 Now, this is one of the top 10 thatching racks, which would be a prudent and robust option for all of your gardening needs. It offers high durability so that it can be used over a great span of time. It comes with a ten-year guarantee.
With the help of the extended blades, you can use this tool conveniently to remove thatch from your lawn.
Pros
Light in weight, the head can be adjusted according to your requirements
Comes with a ten-year guarantee
Blades are robust
Design is ergonomic
Cons
It doesn't come with any handle.
2. True Temper Thatching Rake

This is also one of the most impressive thatching rakes which you should consider buying.
The head of the rake is 15 inches long; it helps you to remove thatch from your garden quickly and in a gentle manner. The hardwood handle, 54 inches long, is stable and durable. To make its use very comfortable, there is a slight cushion-like grip at the handle's end.
Pros
Robust and ergonomic design
Blades can be adjusted according to individual requirements.
It has a handle.
Cons
Due to extreme amounts of force, the blades can bend.
1. Omni Products Thatcher & Garden Rake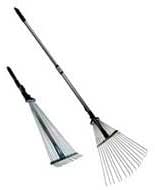 Now, this is also an adaptable thatching rake that comes with a handle. Even the steel tines of this unit can be adjusted easily.  Also, another best feature of this tool is that the fork length on the head can be changed according to your requirements for thatching.
The telescopic handle is made up of aluminum. This ensures that it is lightweight, making it comfortable to use and adds to the durability of the tool, hence enhancing efficiency.
To store the Omni Thatcher and garden rake, you just have to close its stem after use.
Pros
Can be used for multiple purposes
Robust and light in weight
Steel tines are adjustable
The handle is also adjustable
Cons 
Several users have reported that being unaware of how the telescopic handle of Omni thatching Rake can be adjusted.
Conclusion
All this thatching rakes list is curated based on customer reviews and ratings, but before you make a purchase, make sure you take into account your individual needs to make the right bet. If you have anyone thatching rake you want to recommend, share with us in the comment section of this blog post