A clean and fresh shower can totally eliminate any sort of tiredness. Not only that, but it will help you to even feel clean. However, it is a very common fact that it is hard to reach the back area. How much we try, it becomes truly challenging to clean it all by ourselves without taking any help. So, to ease things up, the back lotion applicators are truly helpful as they will help to have access to those hard to reach spots. You could get yourself clean and even apply lotion without taking anyone's help.
But the quality of each product must be known and have guarantee cause mostly the cheap quality products break-off. In order to avoid such situations, read our back lotion applicator review.
Top Best Back Lotion Applicators in 2023
10. Euphny Back Lotion Applicator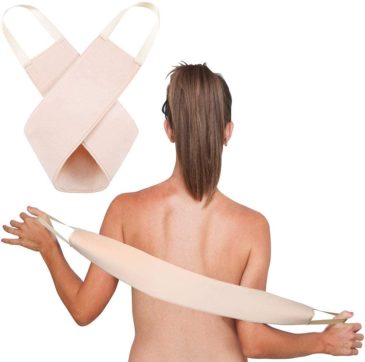 If you do not like the trouble of handling a wooden applicator, then you are in luck. This product entirely makes use of fabric that can cover a large surface of your back at once. This essentially helps to save time while applying the lotion as well. One great feature of this product is that the applicator can be used on both sides. Hence, you do not have to fuss about using the right side of the applicator.
Having loops on both sides, you can control the product much better with both hands. Since the product has strong and reliable stitching, you do not have to be concerned about any tearing either.
What we like
The applicator is really skin-friendly and will feel really soft, so you can use it without feeling any irritation on the skin.
Its loops can also be used to hang the product.
The length of 10.43-inches will help you cover a lot of areas with ease.
9. SP AblewareMaddak Roll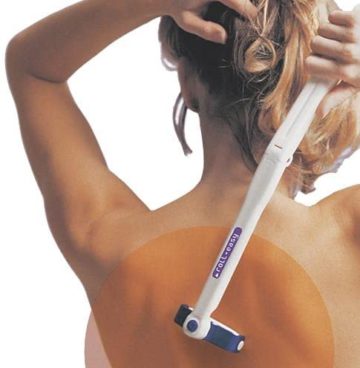 Innovation has a new name with SP Ableware. The product does not only aid you to apply lotion but with the unique design, it can even help with medicines, among other things. Keeping practical necessities in mind, the applicator provides 2 different types of rollers with the product.
With the help of the inverted roller head, the natural curves of your body will be easy to maneuver. While the round roller head comes in great use for the back and will clean with great care.
What we like
In case the rollers get damaged, you do not need to buy a new product. The heads are replaceable.
One very useful feature of the product is that the handle can be folded down, to occupy less space when the product is not in use.
With a swiveling head, applying lotion cannot get any more convenient than this.
8. GranNaturals

When one product can come to many different uses, it is of great benefit. This one applicator can be used to apply your lotion, sunscreen, or any other cream on your back, and other places in your body that are not within your hand's reach. It has been thoughtfully given a curved handle. This helps to contour to the natural curves of your body, so you can reach every corner without straining your back or your hand.
With the much-needed addition of grooves on the bottom of the handle, you can have a sure hold on the product.
What we like
Since the sponge is of the non-abrasive kind, it can also be used for aftercare after getting a tattoo.
The fabric of the pad easily wicks away moisture, so the product dries fairly quickly.
Just put it under running water, the pad will fully come out clean.
7. Exyformula Lotion Applicator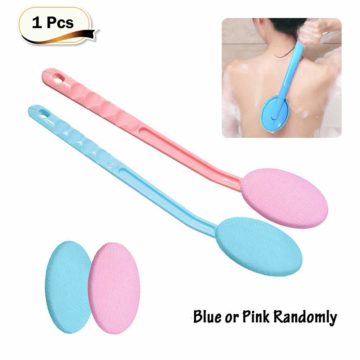 Name your requirement, and this product is sure to be already providing for it. With the help of the extended long handle, you can comfortably apply lotion to your back without needing to bend and hurt your back. If that was not enough, this applicator also comes has a high-quality fiber fabric as the material for the pad. This provides ergonomic massage on the back, which also helps to improve your blood circulation, as well as get rid of your cuticles as an added advantage.
Furthermore, the handle of the product has ABS material. ABS is known for its durability, you can rely on this product when it comes to long-lasting service.
What we like
It comes with protective head covers, which keep the bristles of the applicator intact, so they last for a long time.
This allows you to replace the place for keeping it hygienic always.
The headcover also makes the cleaning really easy, as it is removable.
6. Back loss Lotion Applicator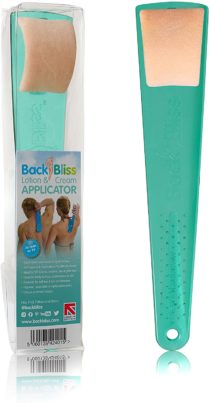 A lot of thought has been put into the design of this product. The lotion applicator has a velvet pad, which facilitates the smooth application of the lotion without absorbing many lotions. Moreover, the pad covers around the head, so that no sharp edges hurt your skin. With the two extra pads coming in the package, you do not need to get a new applicator.
Interchanging the pads will make the product as good as new. With a patented 'reach and rub' system, you will surely get every spot on your back.
What we like
It comes with the added trinket of a travel pouch, which keeps the product clean when it is not in use.
To appeal to your visual senses, this applicator is available in a wide range of colors you get to choose from.
The product sports a flexible head, which is easier to control the natural curves of the body.
5. Toem Lotion Applicator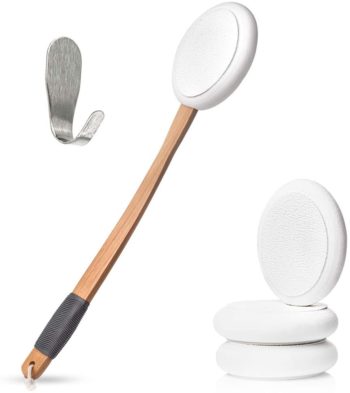 Reaching your back by yourself can be quite difficult. With this product, you do not need to struggle anymore. The applicator provides you with the privilege of having more pads. You are offered a total of 4 different pads. Therefore, the applicator will last you for a long time without requiring going for new pads. As a matter of fact, the specialty of the pad is that it helps in the proper application without absorbing anything. Moreover, with the new design, the pads promise not to absorb any solution, so that you do not waste your lotion on the pad.
Because of the unique texture of the pad, the lotion does not slip down from the applicator either. So you can use the product without any worry.
What we like
The applicator has a special layer of clear coat. This not only makes the surface smooth but makes the applicator durable enough to withstand any wear and tear effects.
For hanging it at any given location, you get hooked along with it.
The length of the applicator helps in reaching 17-inches of your back area for proper cleaning.
4. Slick Solutions Lotion Applicator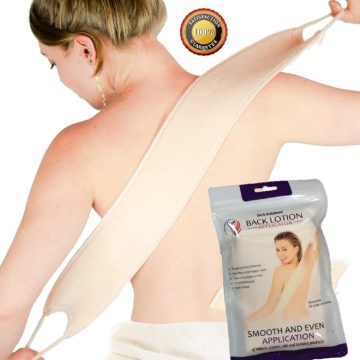 This product will not fail to come up to your expectations. With the exceptional performance, it has already won the hearts of many and bagged the title of Amazon's Choice for itself. The applicator makes use of premium-grade microfiber cloth for the material of the applicator. This turns out to be really comfortable on the skin, as well as makes applying the lotion even more smooth.
The material makes the applicator really stretchable. Therefore, no matter how broad you are, the applicator will be able to satisfy you.
What we like
When it comes to maintenance, you hardly have to put in any time or effort. The item is machine washable.
Since the product is a piece of clothing. It can be folded to hardly take up any space when it is not being used.
The product is also machine dryable and you do not need to put in any sort of extra effort.
3. Remedy Lotion Applicator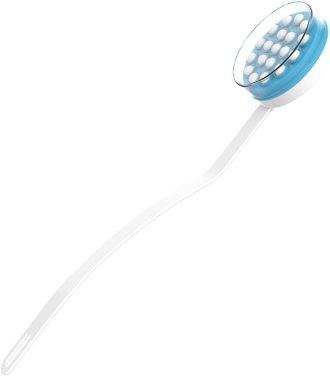 This product doubles both as a lotion applicator as well as a body massager. With the availability of 19 massage rollers on the head of the applicator, all your sore muscles will be put to this with one use of this product. One much-wanted feature of this product is that the applicator can be used wet as well as dry. As a result, this means it works just fine with or without the use of lotions or any other cream.
The product makes sure not to dry up. With an airtight cover, you do not have to worry about leaving any residue lotion inside.
What we like
The applicator can be opened to put lotion inside. This way, there is no wastage of lotion by absorption.
A loop has been added on the handle itself, so it can hang without any issues.
2. Steugo Back Lotion Applicator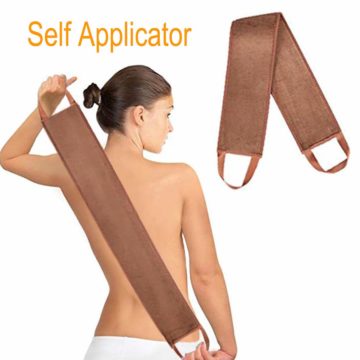 If you love to travel, this product has been made just for you. Weighing a bare 0.1lbs, this product is so lightweight, you will not even remember carrying the lotion applicator in your luggage. Besides, since the product is all out of fabric, it can be folded down to take minimum space when you are traveling. Hence, you can enjoy a good application anywhere you go.
As a matter of fact, it assures that it is rip-resistant. Therefore, you can count on it to last you for a really long time. The product has a microfiber cloth. This makes the applicator really smooth, so you can apply the lotion evenly on your body.
What we like
Having extra-long ropes to hold on to, stretching the applicator becomes even easier.
With sturdy stitches, you do not have to worry about any threads coming out any time soon.
Washing it is as hassle-free as using it is.
1. Vive Lotion Applicator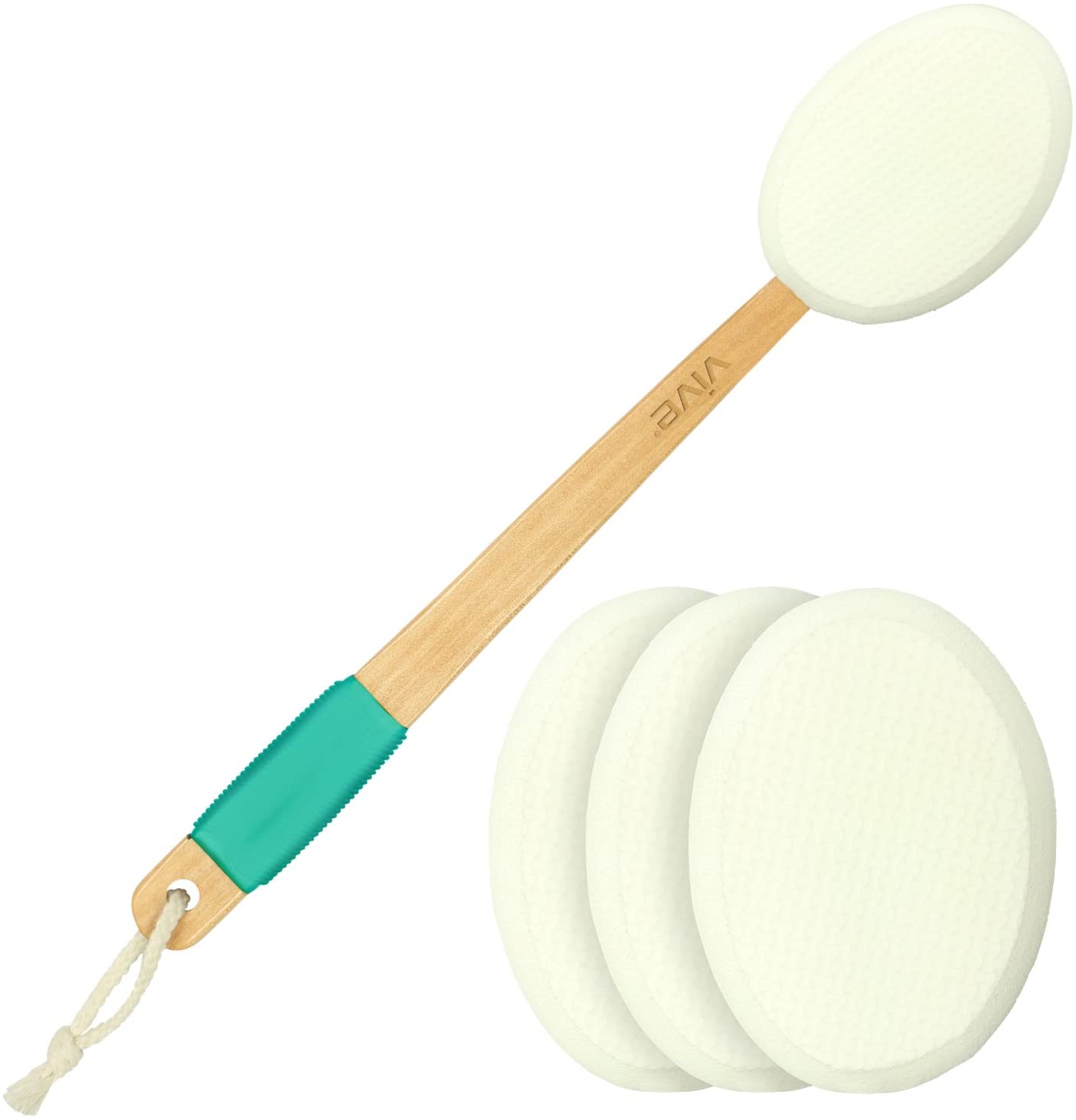 When it comes to quality, you cannot get any better than this product. The applicator makes use of high-quality lotus wood for the handle of the product. This makes the applicator immune against any chances of splitting or cracking while using the product. Furthermore, the item with its clear coat also proves to be waterproof. Thus, it will not swell and damage no matter how wet the handle gets.
Because of the high-density foam used for the pads, the applicator is able to hold the lotion much better, so you can apply it with ease. Finally, it has a 17-inches handle and even minimizes the chances of having splitting or cracking in any scenario.
What we like
In order to give you a more firm grip on the handle, a rubber layer is provided on the handle.
The product has been given the added feature of a cord loop. This allows you to suspend the applicator from any hook.
Since you can suspend the product, the applicator barely takes any space in storage.
Reaching your back while taking a bath will not be an issue. The back easy lotion applicators will help you in cleaning yourself properly and there will be no chance of missing the spots.