When making work calls through smartphones or paying attention to your colleagues on Zoom calls, you may be experiencing audio feedback or distracting background noise especially if you are working in a loud environment. To solve that problem, you need to have the best Bluetooth Headsets. They not only sound better but also do not have crazy annoying cords. A decent Bluetooth headset minimizes distractions and captures clean sound for uninterrupted conversations. After testing several pairs of Bluetooth headphones, we have come up with the top 10 best Bluetooth Headsets in the market.
List of Best Bluetooth Headsets Review
10. Plantronics Over-the-Ear Voyager 5200 (Poly)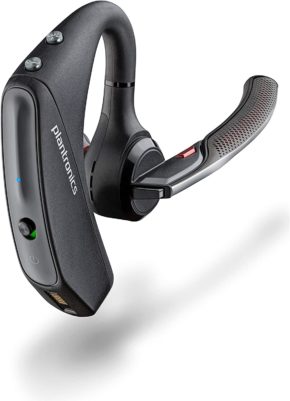 If you want to treat yourself, you should check at this Bluetooth Headset. It delivers crystal clear audio quality with wind canceling and cutting edge noise-canceling technology. Typically, this Bluetooth Headset can be connected to your phone allowing you to receive or take calls without touching your phone.
This device has a roaming range of 98 feet and allows up to 7 hours of talk time. The portable charging case has a docking stand that provides up to 14 extra hours of power. It is also included with a Micro USB. Finally, this product is offered with a 1-year warranty.
9. Sennheiser Enterprise Dual Connectivity Wireless Bluetooth Headset (Black)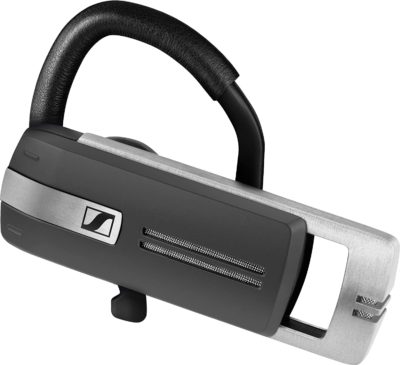 The next pair of Bluetooth headset that comes at a budget-friendly price without compromising quality is this one from Sennheiser. It features improved flexibility where you can connect 2 cell phones, PC or mobile phones allowing seamless transitions between the connected devices.
The headset comes equipped with an ear hook, ear sleeves, and USB charging cable to ensure that you are ready to use it irrespective of where you are. All the headset comes with two years warranty.
8. Jabra Steel Bluetooth Headset Ruggedized – Black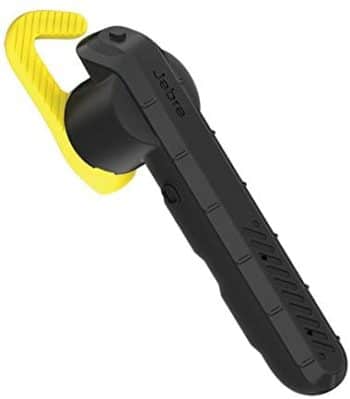 If you want a great Bluetooth headset that will replace the one included in your smartphone, then consider purchasing this one from Jabra. It features Dual microphone technology and HD voice where it removes the background noise to ensure that you have a clear call every time. What's more, it has extra-large Buttons and Siri/Google now button for one-touch control.
This product has NFC for easy pairing. It also allows you to connect to two devices simultaneously while allowing you to have up to six hours of talk time.
7. New bee Bluetooth Earpiece Handsfree Ultralight Bluetooth Headset (Black)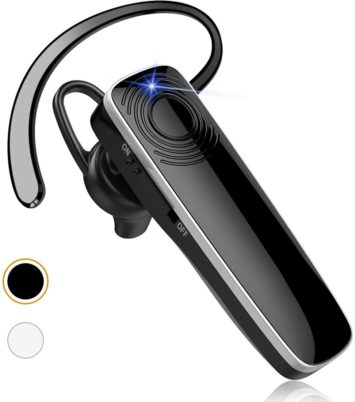 This Bluetooth Earpiece is comfortable in your ears and brings an amazing HD stereo sound quality. It is lightweight and only weighs 0.018lb hence it does not cause a burden to your ears. Other than that, this gadget is equipped with the latest Bluetooth 5.0 chip that provides a stable and fast signal transmission. This makes it compatible with the iPhone series, Laptop, SONY, LG, etc.
With its NB-12 intelligent sleep mode, it will power off automatically to saves battery power. Moreover, it has 12 hours of talking time, 10 hours of music time, and 720 hours of standby time.
6. YAMAY Truck Driver Wireless Bluetooth Headset with Microphone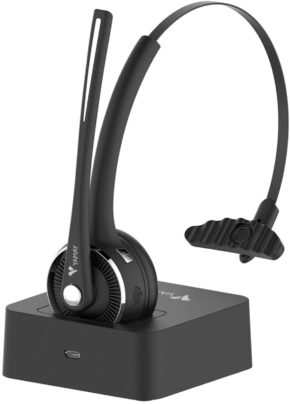 The YAMAY Bluetooth Headset is the best headset perfect for hands-free calls. It allows you to connect two Bluetooth devices at the same time. Moreover, its flexible microphone has noise-canceling tech where it blocks the noise from surrounding and picks up your voice exactly. This ensures crystal-clear conversations even when using it in a noisy environment.
The headset is built with a flexible headband and skin-friendly soft ear pads. This allows you to focus on your talk without feeling the burden to your ears and head. Finally, this headset has a Long-lasting Battery that allows 200 hours of standby time and 17 hours of continuous talking time.
5. BlueParrott B450-XT Wireless Noise Cancelling Bluetooth Headset- (Renewed)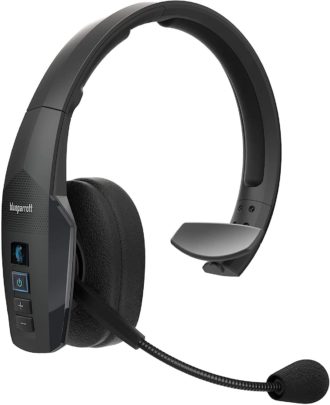 Many customers love this Bluetooth Headset as you can comfortably wear it for long periods of time. It features large, cushioned earcups and a padded headband for improved comfort all day. Typically, the headset has an ultra-durable design making it ideal for truck drivers, hospitality, retail, field services, and warehouse workers.
It will block out 96 percent of background noise for you to be heard and hear clearly wherever you are. Another thing, this device is upgraded to Bluetooth 5.0 to allow better connectivity.
4. Sennheiser Single-Sided Grey UC (508342) Bluetooth Headset (Black)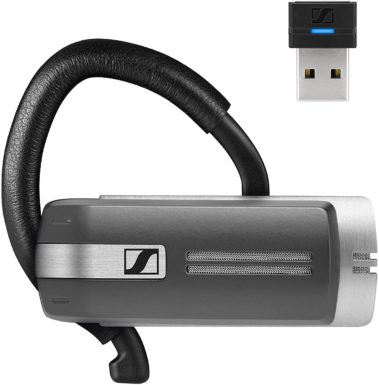 For extremely loud environments, this Bluetooth Headset by Sennheiser promises industry-leading sound. It features advanced own-voice detection technology where it usually detects your own voice while optimizes speech intelligibility. Moreover, the Headset has three digital microphones that provide the user with constantly clear sound.
This headset is included with an ear hook, USB dongle, a USB charging cable, and a carrying case. What's more, you can connect it to 2 devices, e.g. your PC, Cell phone, or mobile Phones for seamless transitions between the devices. Finally, the product is offered with two years warranty.
3. TaoTronics Trucker Wireless Bluetooth Headset with Noise Cancelling Mic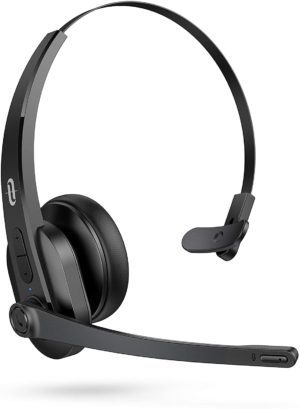 TaoTronics Bluetooth Headset works for multiple uses, in offices, outdoors, for both music and calls. It is also a perfect choice for Studying or working from home. The device features an AI Noise Reduction Technology and slashes background noise for up to 40dB. Therefore, your voice will be heard clearly even in noisy conditions.
This 2. 8oz lightweight headset has an adjustable headband for it to fit any head shape. Besides that, the anti-slip pad and soft earpad stay securely in place to ensure all-day comfort. Micro-USB Charging Cable and User Guide are included.
2. Plantronics Bluetooth Voyager 3200 Earpiece Headset, Diamond Black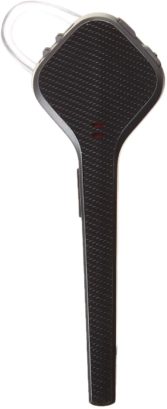 If you sit through a long call all day and you want a headset that will not squeeze your ears or clamp too tightly onto your heads. This is the best choice for you. Ideally, this Headset comes with a 93 mAh non-replaceable lithium-ion Rechargeable battery that allows the user to have 6 hours of non-stop talk and up to 7 days in standby mode.
The Bluetooth headset has up to 98 feet/30 meters enhanced wireless freedom hence you can connect to the device that is away from you. It is a hand-free device as it will inform you of the connection status, who is calling, and talk time level.
1. ZEEYU Waterproof Noise Canceling Bluetooth Earpiece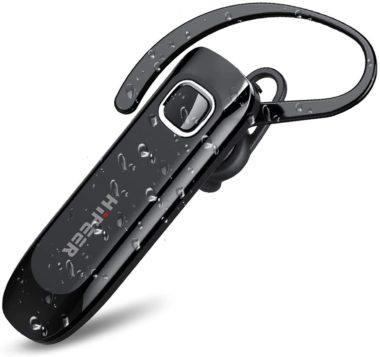 ZEEYU Waterproof Bluetooth Earpiece is equipped with Bluetooth V5.0 technology hence it can work perfectly with any devices that are Bluetooth-enabled including PC, smartphone, Android, Samsung, iPhone, etc. It has a connection distance of 33 feet. Moreover, it has a high-efficiency power cell that gives 400 hours standby time and 16 hours talking time.
This device support Siri and Google voice assistance. Its waterproof protection allows it to keep running and playing in the rain. It will effortlessly resist rain and sweat. Above all, it has CVC8.0 noise-canceling technology to ensure that crystal clear sound even when driving.
Conclusion
These are some of the best wireless Headsets you can find out there. We hope that after going through each one of them, you have found the ideal one for you. Happy shopping!